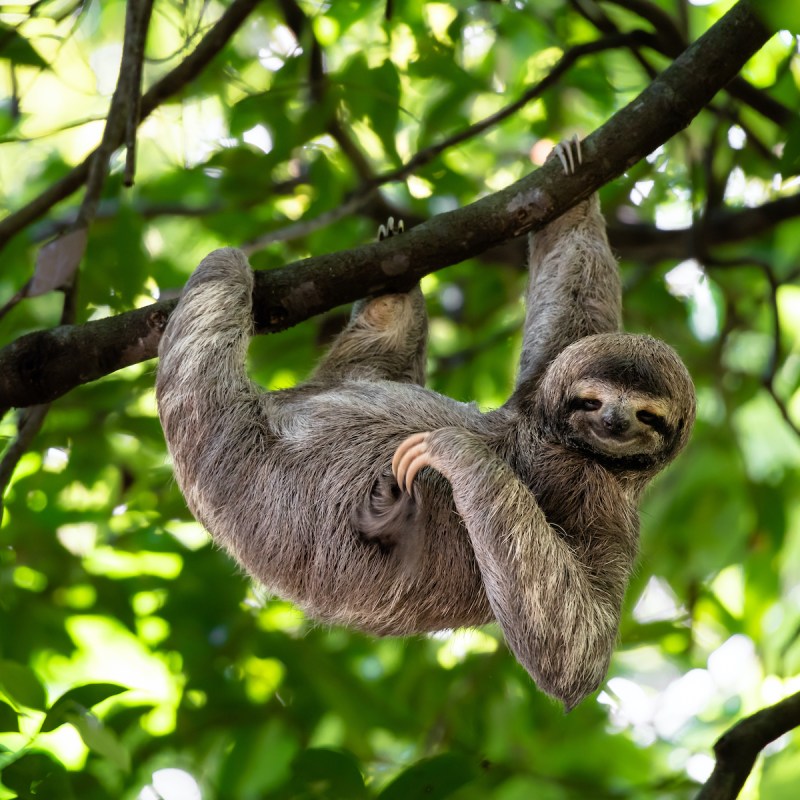 It's imperative to feel comfortable and safe while traveling.
Medjet
provides premier air medical transport, travel security, and crisis response memberships, providing peace of mind for an affordable price.
I could never have predicted the richness of my experiences while living in Costa Rica for 4 months. Many of the most profound moments came from wildlife encounters and sightings. Perhaps it was the combination of that laid-back philosophy of life "Pura Vida" and the intense biodiversity that resulted in opportunities to marvel at the magic of our natural world.
This article is a mere teaser to the wonders of wildlife that Costa Rica holds!
1. Monkeys In Costa Rica
I love hearing monkeys call to each other in the jungle. Often, you hear the call and if you're quiet, then the swishing of the branches as the monkeys move through the canopy. Living near Puerto Viejo, I spent a lot of time observing howler families swinging on branches to gain momentum to leap from one tree to another, crossing electrical wires (not safe for them), and always admired the mothers leaping while carrying their young.
There are four species of monkeys in Costa Rica: the mantled howler monkey, the Central American spider monkey, the Central American squirrel monkey, and the white-faced capuchin. The first three species are endangered or threatened. Howler monkeys and white-faced capuchin monkeys can be seen in all parts of Costa Rica.
Where To See Monkeys In Costa Rica:
Howler monkeys and white-faced capuchin monkeys can be seen in all parts of Costa Rica.
Spider monkeys are found on the Osa Peninsula in Corcovado National Park.
Squirrel monkeys are found in Rincon de la Vieja National Park, Sirena Biological Station, Tenorio Volcano National Park, Penas Blancas Wildlife Refuge
2. Resplendent Quetzal
Travel to the Monteverde Cloud Forest Reserve to see the most beautiful bird, the resplendent quetzal. The gorgeous turquoise and red feathers of the resplendent quetzal make an impression that you'll never forget. Read more about the resplendent quetzal here and about the other highlights of the Monteverde Cloud Forest Reserve.
Where To See The Resplendent Quetzal In Costa Rica
Monteverde Cloud Forest Reserve, Curi-Cancha Reserve
3. Baird's Tapir
I had heard about Baird's tapir before I went to Costa Rica, but never did I imagine that I would actually see one in the wild. On a day trip to Corcovado National Park, a Baird's tapir came sauntering out of the jungle and headed to the beach. Normally they are sleeping at midday, but this tapir knew he would make our day!
A large, slow-moving herbivore, the number of Baird's tapirs in the wild is dwindling. Apparently, there are less than 6,000 today and they are listed as vulnerable to extinction. Said to be a mixture between a pig and a mule, (I think they look a little like an elephant with a very short trunk), the Baird's tapir is related to a horse or a rhinoceros.
Take a guided jungle tour and cross your fingers you'll cross paths with a Baird's tapir.
Where To See A Baird's Tapir In Costa Rica
Corcovado National Park, Santa Rosa National Park, Rincon de la Vieja National Park
4. Red-Eyed Tree Frog
My first introduction to the diverse wildlife in Costa Rica was the red-eyed tree frog. Its bulging red eyes and orange webbed feet with its neon-green body is a wild sight. But that's not all. Their flanks are striped blue and yellow and there is a stripe of bright blue on their thighs. All these brilliant colors are in fact nature's way of being strategic. Startle coloration is the effect these amphibians use to surprise their predators and give themselves an extra second to escape. During the day, red-eyed tree frogs sleep camouflaged on tree leaves, just the neon-green showing! Red-eyed tree frogs are not venomous.
Where To See A Red-Eyed Tree Frog In Costa Rica
The best place to see red-eyed tree frogs is in their natural habitat. National Parks are a great place to see these amphibians. Keep your eyes open in Manuel Antonio National Park, Tortuguero National Park, and Monteverde Cloud Forest Reserve.
5. Sloths
There are six species of sloths, two of which are found in Costa Rica. Hoffman's two-toed sloth and the brown-throated sloth, which is a three-toed sloth, both live high in the tree canopies of Costa Rica. Sloths seem to be smiling at you as they hang from branches and they are the slowest moving creatures! Perhaps they are a good reminder to slow down and enjoy life! Sloths have the slowest digestive system of any mammal. To save energy, they sleep up to 20 hours a day and move incredibly slowly. Seeing sloths in the wild is delightful. I once found one on the road and with my Costa Rican neighbors, we called the closest sanctuary, the Jaguar Rescue Centre, to come and move it. Never touch or pick up a sloth as their fur is virtually an ecosystem unto itself harboring mites, moths, and fungi.
Where To See Sloths In Costa Rica
Puerto Viejo, Tortuguero National Park, Manuel Antonio National Park, Uvita, Dominical, the Osa Peninsula
There are several sloth sanctuaries where you can see sloths in Costa Rica. This Sloth Sanctuary is near Cahuita and the Jaguar Rescue Centre usually has orphaned sloths.
6. Tropical Birds
There just can't possibly be an article on wildlife in Costa Rica without mentioning birds.
It was in Costa Rica that I became a "bird nerd" and discovered my passion for birding. Who knew there was more than one type of toucan or macaw? This of course involves lots of jungle time with a guide or solo, listening and watching for signs of birds. The rewards are immense. My only regret was not having a high-powered zoom lens. A variety of toucans, hummingbirds, macaws, trogons, parrots, and parakeets are just a few of the colorful birds found in Costa Rica. Some of my favorite encounters were watching toucans toss berries in the air, visiting the great green macaw sanctuary near Puerto Viejo, and spotting scarlet macaws just hanging out in trees!
7. Turtles
Costa Rica has many important nesting sites, on both the Caribbean and the Pacific coast, for turtles. Turtle species found in Costa Rica include green sea turtles, leatherback turtles, hawksbill, and Olive Ridley. All species are considered vulnerable, endangered, or critically endangered due to loss of nesting habitat, bycatch in commercial fishing, and climate change.
Maybe that's what made standing silently in the dark of night in Tortuguero National Park watching green sea turtles lay their eggs such an unforgettable experience.
Where To See Turtles In Costa Rica
There are many places and protected sites to see turtles nesting and/or baby sea turtle releases in Costa Rica. Some key places are Tortuguero National Park, Corcovado National Park, Ostional Wildlife Refuge, Las Tortugas research station, Las Baulas National Park.
8. Snakes
There are over 130 species of snakes in Costa Rica. Snakes sightings are quite rare and most visitors never see a snake. But they are there, in the jungle, and play an important role in the ecosystem.
Costa Rica has venomous snakes such as the fer-de-lance and the Costa Rica coral snake and also non-venomous snakes such as the boa constrictor and the tropical milk snake.
Stay on the paths in the national parks and don't go wandering off into the jungle. Often a guide will spot a snake that a tourist would walk straight by.
I did find a boa constrictor in my garden near Puerto Viejo. My adopted cat was staring transfixed under a bush so I approached to see if it was our other adopted cat giving birth to her litter. I saw nothing. Looked again. Nothing. And then I saw it. Perfectly camouflaged. A boa.
After a little shriek, my neighbor and I called the Jaguar Rescue Centre to come and move the snake deeper into the jungle. We watched the boa constrictor for over an hour. I learned to admire its beautiful markings. And eventually, it slid its way into the jungle, minutes before help arrived. Living in a fairly open-concept house, I checked for the boa under my bed every night!
Where To See Snakes In Costa Rica
With a guide in one of the National Parks, at the Jaguar Rescue Centre and at La Paz Waterfall Gardens Nature Park which is a 45-minute drive from the San Jose airport.
9. Whales
Seeing humpback whales bursting forth from the sea is a marvelous sight. I did not witness humpback whales off the shores of Costa Rica but, if you happen to be in Costa Rica during the migration season, you might want to hop on a whale-watching expedition to observe these majestic and massive creatures.
Costa Rica has humpback whales in residence for more months than anywhere else in the world as two different migrations overlap. The Alaska/ California migration arrives in December and leaves in April while the Antarctic migration arrives in the waters of Costa Rica in July and leaves in November. The whales breed and raise their young off the shores of Costa Rica. Situate yourself in Uvita for the best chance to see whales.
Where To See Whales In Costa Rica
Marino Ballena (Whale Marine) National Park and Drake Bay.
Pro Tip
If wildlife sightings top your list of things to do in Costa Rica, pick a hotel or eco-lodge close to a national park. When I was traveling in Costa Rica, I researched towns near national parks and read the reviews. Often people will mention that there were monkeys, macaws, toucans, and other magnificent wildlife on the grounds of the hotel.
Costa Rica offers visitors many opportunities to see flora and fauna: