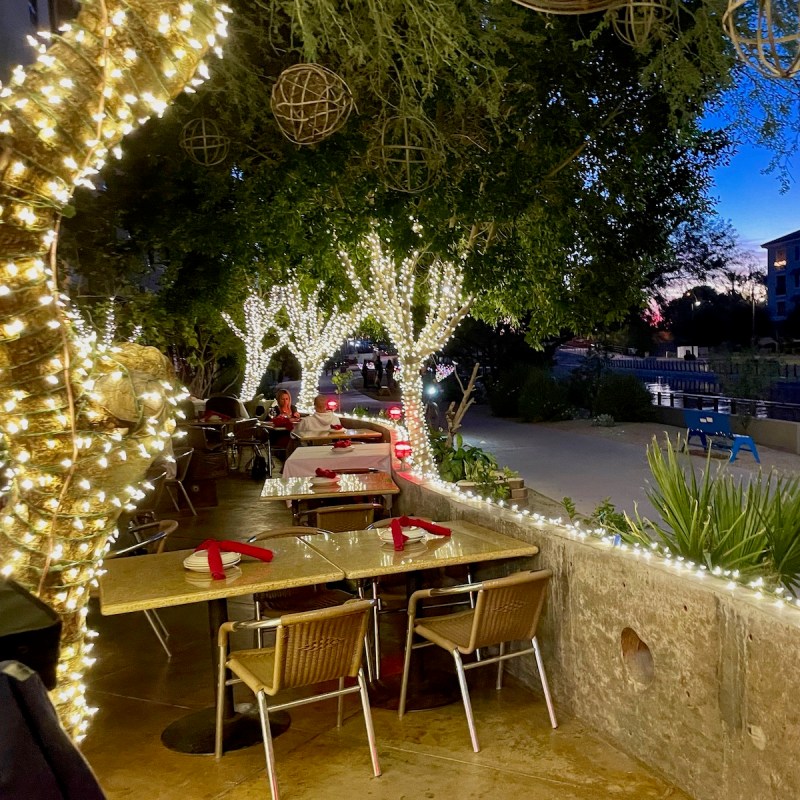 Every year, Scottsdale attracts millions of tourists looking to golf, hike, and enjoy the sights. Visitors come to Scottsdale mainly to enjoy the sunny, warm weather. Local restaurants take advantage of this by offering outdoor dining, and tourists pack their patios.
Many of these restaurants have merely set up a fenced-off area of sidewalk next to a parking lot. Yes, you feel the outdoor air, but for actual pleasant patio dining away from the sounds of traffic, try out the following Scottsdale restaurants.
Pro Tip: Be sure to reserve a table ahead of time, especially during peak tourist season during MLB spring training.
1. Olive & Ivy
Olive & Ivy boasts one of the best dining patios found anywhere. Located alongside the Arizona Canal in what is called the Waterfront area, trees and umbrellas provide shade while a green hedge surrounds diners. A French Riviera atmosphere fits the Mediterranean menu. My husband and I enjoyed our meal next to the beautiful tiled fountain.
Start your meal with one or more of the five types of bruschetta, such as my favorite, prosciutto and fig. Add on some savory bacon-wrapped dates. Another great starter is one of the interesting flatbreads, including one with artichoke, black truffle, goat cheese, and garden herbs. Enjoy these with one of several interesting cocktails. My choice is usually the strawberry ginger margarita.
If you have room left for an entree, wonderful pasta, fish, and meat dishes await. The lasagna Bolognese competes for my attention with the sweet potato cannelloni. My husband usually is drawn to the Pacific sea bass or shrimp scampi risotto. Pair your meal with one of Olive & Ivy's fine collection of wines for a perfect experience.
Save room for the warm butterscotch cream cake served with vanilla bean gelato. A cappuccino, port, or digestif adds a finishing touch.
Pro Tip: A part of the patio has couches, so stop by for dessert and a drink.
2. Tapas Papa Frita
Just across the canal, Tapas Papa Frita sports a low wall so you can look out on the canal and watch the passersby. This family owned and run restaurant delights with its Spanish ambiance. Lights and fountains on the patio along with the brickwork and tiled interior evoke an old-world charm. Enjoy live Cuban music on Thursday and Sunday and flamenco dancing on Friday and Saturday.
My husband and I enjoy visiting Tapas Papa Frita with another couple and sharing a bunch of tapas. Our most recent choices included apple bacon–wrapped dates stuffed with rosemary goat cheese, roasted potatoes with cilantro aioli and Serrano ham, portobello mushroom with goat cheese, and a leek tart in a puff pastry purse. It was difficult to choose among the almost 50 options of tapas, including gluten-free and vegan tapas. All of our dishes came with a wonderful presentation and delicious taste. The menu also offers five types of soup, seven of paella, and multiple entrées, from a jambalaya of shrimp, mussels, and calamari with mint aioli to Catalan style rabbit with tomato sauce.
Pro Tip: The food comes quickly. Order a couple of dishes per person, then see what you still have a taste for and order more.
3. Marcellino Ristorante
Walk away from the canal and past the fountains to reach Marcellino Ristorante. A vibrant mural of Castel Sant'Angelo brings a relaxing Italian charm to the cozy patio.
Chef Marcellino Verzino was born in the Campania region of Italy and opened restaurants in Rome and other towns in Italy before moving to New York City. His goal is to create true Italian cuisine with fresh seasonal ingredients.
My husband and I chose Marcellino for our anniversary this year. The waiter brought us a couple of complementary glasses of champagne and a small plate of bruschetta to celebrate. On a trip to Italy, I had discovered that I really enjoyed a Bellini and was not disappointed when I ordered one here.
The presentation of the special appetizer that night was only surpassed by the taste. Burrata wrapped in prosciutto was topped with fresh basil leaves and paired with roasted red peppers.
Our waiter then presented a platter with each of the types of fresh, hand-crafted pasta and explained the ingredients and tastes of each dish. My husband enjoyed the scialatielli alle vongole with clams. My hankering for a steak that evening led me to choose filet mignon al cognac. The steak and sauce were amazing while the sides of potatoes and vegetables were a bit boring. Next time, I will choose one of the pasta dishes. Marcellino's vast collection of Italian wines likely includes your favorite.
Dessert continued the celebration, as it arrived aflame. A rich, flourless chocolate espresso cake topped with caramel and chocolate sauce sat aside a mound of whipped cream.
Pro Tip: Visit on Thursday or Saturday evening to hear music.
4. Barrio Queen
Across a small plaza, Barrio Queen offers authentic Mexican dishes on an open, comfortable patio. Iron fencing and green plants provide a bit of privacy to diners. Be sure to check out the Día de los Muertos décor inside the restaurant while waiting for your meal.
Start with your margarita order from their list of 13 options. While you can also choose other appetizers, you must order the Barrio Guacamole. Your waiter will cut up the avocado right next to your table and add ingredients according to your instructions.
While the menu includes burritos, enchiladas, and tortas, it is difficult to pass up the tacos. Twenty-six varieties of street-style tacos are made with corn tortillas, including vegetarian, carnitas, carne asada, and pescado.
Pro Tip: Try the nopalitos taco so you can say you ate cactus while in the desert.
5. The House Brasserie
Relaxing in the tented patio of The House Brasserie among the candles and trees, you feel like you traveled to the French countryside. Scottsdale's oldest pine tree, planted in 1943, provides shade and a feeling of history. The House uses local food sources and fresh ingredients to create a delicious, globally inspired meal.
As is fitting their old-world style, cocktails tend to the classics, such as the old fashioned and green lantern. I chose something lighter, a wonderful prosecco. Our waiter helped us choose the perfect wine for our meals.
My husband and I started our meal with the chicken meatballs, which were tender and flavorful. More adventurous diners can try the Linz beef tartar or hamachi yellowtail crudo.
Dinner entrées start with standard fare, but the chef adds flare with various tastes from around the globe. My filet mignon was enhanced with Mexican flavors of shishito chimichurri and cotija cheese. My husband's Chilean seabass had a southern European influence with ndjua veloute.
It was difficult to imagine eating dessert but we couldn't pass up the House Chocolate Cake with hazelnut ganache and espresso meringue.
Pro Tip: If you are in Scottsdale during the summer, the beautiful Victorian interior is also worth experiencing.
6. Kelly's At Southbridge
For a more casual atmosphere, dine at Kelly's. Old gas lampposts and trees wrapped in lights welcome you to this brick patio reminiscent of a Chicago neighborhood.
A long list of unique craft cocktails are on offer, including the Irish Tom Tom with Jameson Irish Whiskey, Absolut Pear, lemon juice, passion fruit, and plum bitters. There is also a wide selection of champagne, wine, and craft beer.
Kelly's menu ranges from burgers and sandwiches to penne with chicken and Argentine grass-fed ribeye. For a tasty starter, try the truffle fries or the prosciutto, apple, and brie bruschetta. I enjoy their strawberry goat cheese salad with steak and honey balsamic vinaigrette. The Kelly's Classic burger provides a wonderful Angus-brisket blend with Guinness cheddar, caramelized onion, and applewood bacon.
If you can squeeze in a bit more, order another glass of red wine and enjoy the rich tiramisu or cheesecake while you chat on this patio.
Pro Tip: Inside Kelly's is a lively place to watch your favorite team.
7. Brat Haus
Even more casual, enjoy the best brats in town in between a game of cornhole or giant Jenga. Behind its small restaurant, Brat Haus's patio opens up to a large courtyard with brick pavement and some lawn area topped with comfortable picnic benches. There are some tables and chairs also for us old folks who need to rest our back on something.
A sandwich board greets you with a list of 28 craft beers on tap. This is one place where I know I can enjoy a good dark beer. They also offer a couple of wine options and a few cocktails, such as a pomegranate margarita or the Arizona 75 with prickly pear liqueur.
You might start with a Belgian pretzel, crispy on the outside and soft on the inside. A large group can order the giant pretzel, which feeds several people.
Then it is on to the brats. You can choose from seven types of brats and six toppings. My favorite, the sweet brat, tastes amazing with the sweet onion jam. The menu also offers salads and burgers, including an Impossible burger. The Belgian-style fries arrive crispy and very flavorful.
Pro Tip: Brat Haus is very welcoming to kids and dogs, and they even offer puppy parties.
8. AZ88
Seated on the patio of AZ88, you look past glass panels and cacti directly onto the Civic Center Plaza. The molded plastic tables and chairs don't take away from the elegant vibe the restaurant exudes. The 44-foot-long fiberglass canoes that hover over the patio light up at night to give off a warm glow. As you go through the interior restaurant to the restrooms you can check out the artwork that changes every few months. Not to give away the surprise, but you will want to visit the restrooms at the back of the restaurant near the large mirrors. Look for the sign at the bottom of the doors.
Currently, the City of Scottsdale is completely renovating the Plaza in the center of Old Town. In the Spring of 2023, a fabulous oasis of green space to relax and enjoy festivals and concerts will make AZ88 the best patio on which to dine.
Start your visit with one of their specialty cocktails. If you like martinis, you have 16 options, including one in just about every type of fruit. For those of us not into martinis, 16 other cocktails await our perusal. My favorite is the bellini made with white Napa Valley Peach puree and prosecco.
AZ88 presents classic cuisine with obvious care for the taste and comfort of diners. The menu trends to the casual with an upscale vibe. The waiters are professional and very friendly and attentive. The appetizers have a unique spin, from water chestnuts wrapped in bacon to shrimp ceviche.
The dinner menu offers six choices of burgers, seven types of chicken sandwiches, and six other sandwiches, including a portobello mushroom or seared ahi tuna. A local butcher delivers fresh ground beef patties, which creates an amazingly juicy and tasty burger. My typical order, a cheeseburger, comes smothered in cheese and topped with vibrantly fresh tomato and lettuce. Waffle fries that accompany the sandwiches are great at holding just the right amount of salt.
AZ88 also offers various fresh and delicious salads, such as the spinach salad with a warm bacon-and-lemon dressing. Several plates are also available including grilled vegetables and tuna Niçoise. My husband's favorite, the S.S.S., includes cured and cold-smoked salmon served open faced with pumpernickel bread, red onion, cream cheese, and capers.
Finish off your meal with an espresso and the chocolate mousse cake topped with butterscotch, hot fudge, and whipped cream.
Pro Tips: Park in the parking lot behind AZ88 to approach the restaurant during the construction of the plaza. AZ88 does not take reservations, so try enjoying an early dinner to beat the crowds.
Multiple restaurants fill the Old Town/Gallery area. Your choice of cuisine ranges from take out to fine dining. While waiting for your table or to help you digest after dinner, stroll around the canal, the galleries, and the Old Town shops.
Further Reading: