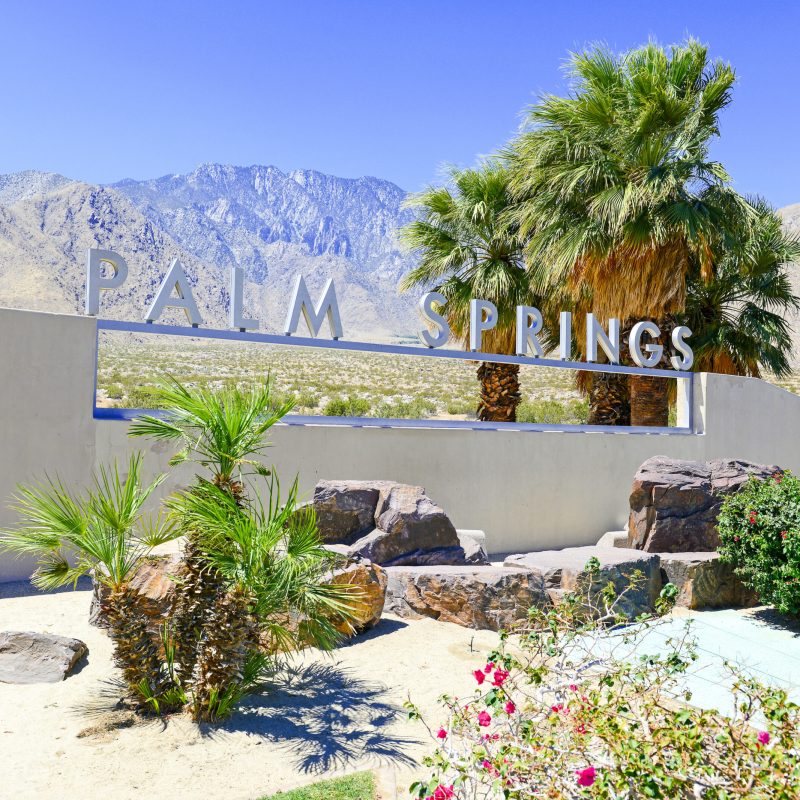 Since the days when the Rat Pack reigned supreme, Palm Springs, California, has been a dreamy desert escape from Hollywood. But with its quirky historic hotels, the largest concentration of mid-century modern architecture in the world, creative cuisine, and stunning natural landscapes, it's a destination worth pursuing from anywhere in the United States.
Here's how to make the most of a weekend getaway in Palm Springs.
Best Time To Go To Palm Springs, CA
Palm Springs weather is best between January and May, when temperatures stay a comfortable 70 to 80 degrees. Try to plan your weekend getaway in mid-February. That's when Palm Springs hosts its annual Modernism Week, a celebration of the city's mid-century modern architecture, design, and culture that features more than 350 tourist-friendly events.
What To Do In Palm Springs
Nature and culture collide in this desert playground. Here are three things to do in Palm Springs that should be on every traveler's itinerary.
Ride The Palm Springs Aerial Tramway
There's no better way to take in the views of Palm Springs than on a ride on the Palm Springs Aerial Tramway, the world's largest rotating tram car. The 2.5-mile ride starts from the floor of the Coachella Valley and takes travelers along the cliffs of Chino Canyon and through the stunningly wild Mt. San Jacinto State Park in just 10 minutes. Bring a sweater—the peak, Mountain Station, is often 30 degrees chillier than the desert floor and has gorgeous spots to view the scenery.
Visit The Palm Springs Art Museum
For more than 80 years, the Palm Springs Art Museum has dedicated itself to bringing world-class art and culture to the desert. The museum in downtown Palm Springs features permanent collections of modern and contemporary art that focus primarily on architecture, photography, and contemporary glass.
Its event calendar is chock full of musical performances, outdoor yoga classes, insightful lectures, and dance recitals. Plus, there's tons more to take in at the museum's two other outposts, the Palm Springs Art Museum Architecture and Design Center and the Palm Springs Art Museum in Palm Desert.
Walk The Moorten Botanical Garden And Cactarium
Pack a picnic and plan an afternoon in The Mesa at the Moorten Botanical Garden and Cactarium. This botanic garden was founded by silent film star Chester "Cactus Slim" Moorten and his wife, Patricia (a botanist), in the 1930s when the couple started collecting desert plants.
It now boats more than 3,000 examples of desert plants—like succulents and cacti, arranged by the geographic region they call home—and crystals. Don't miss the sideways-growing tree in the garden's Little Tahquitz Falls area. Its peculiar S-shape is the result of a lightning strike when the palm was growing in the open desert.
Other Great Attractions In And Around Palm Springs
If you have some extra time, here are a few more places to check out in and around Palm Springs.
Joshua Tree National Park
For a memorable day trip, rent a car and head to Joshua Tree National Park, less than an hour away from Palm Springs. It's the meeting place of two distinct desert ecosystems—the Mohave and the Colorado—creating a striking environment dotted with twisted, spiky Joshua trees and a landscape sculpted by strong winds and bouts of torrential rain.
The park offers more than 20 trails, ranging from quarter-mile nature walks to strenuous hikes that climb 1,000 feet in elevation.
Indian Canyons
Natural wonders abound just 20 minutes away from Palm Springs at Indian Canyons, the ancestral home of the Agua Caliente Cahuilla Native Americans. Andreas Canyon features more than 150 species of indigenous flora and fauna in a half-mile radius.
A moderately strenuous foot path takes visitors through Palm Canyon, which has abundant California fan palms and a serene stream. Animal lovers should keep their eyes peeled for the endangered Peninsular bighorn sheep, mule deer, and other wild creatures in Murray Canyon.
Shields Date Garden
You can't leave the California desert without sampling dates, and Shields Date Garden is the best place near Palm Springs to give them a try. The shop off Highway 111 in nearby Indio features 10 varieties of dried dates, plus creative date-infused concoctions like milkshakes and ice cream.
The quirky attraction also showcases a film about the "romance and sex life of the date" in its on-site theater.
Where To Eat In Palm Springs
No matter your flavor preferences or dietary needs, Palm Springs has a restaurant to suit you. Here are a few favorites that emphasize local ingredients and cuisine.
Azúcar
Tucked away in La Serena Villas, Azúcar is a treat for both the eyes and the palate. The poolside restaurant features portraits of muse Frida Kahlo on kaleidoscopic wallpaper, boho-chic furniture piled high with cozy pillows, lanterns with flickering candles, and desert plants—perfect for a romantic evening in the heart of downtown Palm Springs.
Watch the sun set as you sip a cherry sour on the rooftop cocktail lounge, Sugar High, then make your way downstairs to dig into a moderately priced menu of Southwest-inspired dishes (like poblano stuffed with Dungeness crab, manchego and cotija cheeses, chorizo, and pinto beans), that celebrate bold, fresh California flavors.
Farm
Farm might have taken inspiration from the South of France for its menu and decor, but when it comes to the offerings on its extensive brunch menu, the Provençal-style restaurant stays close to home. Local farmers supply all the produce, eggs, and artisanal meats used in the kitchen.
Plan to linger at this affordable, lovely spot—the French-press coffee and loose-leaf teas take a few minutes to brew, while every item on the menu (from the mushroom-cheese crepes and fruit French toast to the croissant sandwiches and eggs Florentine) is made to order with utmost care from the chefs.
Chi Chi
Want a taste of healthy California cuisine without venturing too far into granola cruncher territory? Look no further than Chi Chi. The restaurant in Palm Springs' Avalon Hotel strikes the perfect balance between nourishing and indulgent (bartenders here encourage guests to get a splash of rum in their fresh young coconut!).
The all-day menu offers a mix of sweet and savory brunch-style options, while dinner switches to a pricier, more upscale menu of heirloom veggies and meats (like Wagyu beef meatballs, diver scallops, smoked eggplant, and pork schnitzel). This is the go-to spot to experience Palm Springs' lively, modern dining scene.
Where To Stay In Palm Springs
You're spoiled for choice when it comes to hotels in Palm Springs. Consider staying at one of these three beloved hotels, each of which has its own unique charm.
The Willows Historic Palm Springs Inn
Get a taste of old Hollywood glamour at The Willows, a historic hideaway just one block south of famous Palm Canyon Drive. The circa-1927 Italianate Mediterranean-style villa was built as the winter retreat of a millionaire from Los Angeles, and has gone on to welcome a long list of notable guests, including Shirley Temple, Albert Einstein, former President Gerald R. Ford, Robert De Niro, and Cameron Diaz.
Nightly rates on the eight distinctive rooms (filled with artful antiques and character) start at $375, but often go much higher.
Hotel California
Guests are never more than a few steps away from the pool at Hotel California, a boutique hotel in a Spanish Mission-style building in The Mesa. The hotel features a number of unique accommodations, including a private casita with a heated patio, a two-story townhouse with a full kitchen and king-size bed, and a junior suite with a spacious living area and cozy sleeping nook. Rates start around $200 a night.
The Saguaro
If you're looking for some color in Palm Springs, book a stay at The Saguaro. The hotel's famous rainbow-color exterior exudes just the cheerful vibe you're looking for on a California vacation. The Saguaro carries its vibrant palette throughout the splashy rooms, each of which has a private balcony or patio and your choice of view: pool, mountain, courtyard, or city lights. Budget-travelers, take notice: You can occasionally score rates as low as $150 at this trendy hotel.
Palm Springs offers something for everyone, whether you're an architecture buff, a foodie, a nature lover, or just someone who enjoys exploring creative places. A weekend getaway offers the perfect amount of time to get a taste of all the great things this destination has to offer—and to whet your appetite for a future visit to this desert escape.