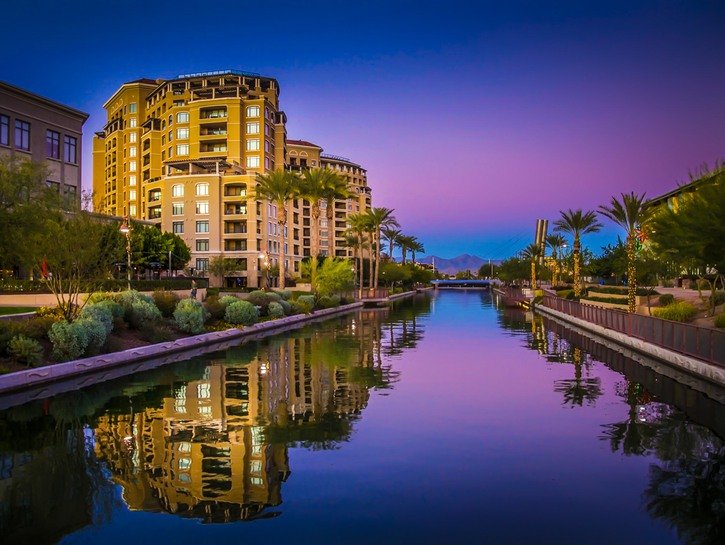 As the stylish sister among the family of communities that make up Arizona's massive Valley of the Sun, Scottsdale, Arizona, has all of its bases covered — literally.
Boasting two major-league spring-training baseball stadiums, Scottsdale is at the epicenter of the Cactus League phenomenon that brings tens of thousands of sun-starved baseball fans to Arizona every February and March.
But that barely covers the first inning of what "The West's Most Western Town" has to offer.
Think wildflowers, Western art, wild horses, a chic open-air dining scene, rugged mountain trails, classic desert resorts, and then you'll have a taste of what is in store in Scottsdale.
The Best Time To Visit Scottsdale, AZ
It's not exactly a well-kept secret that springtime in Scottsdale is hard to beat. The entire Valley of the Sun, which encompasses nearby Phoenix and Mesa, is arguably at its best in the spring, with warm breezes, sunny skies, and blooming cactus flowers.
While summer brings extreme heat, it also can come with sizzling deals on hotels and resorts. Rates for accommodation tend to rise dramatically in the winter with the annual flood of temporary visitors from northern states.
Regardless of the season, though, or how much time you have in Scottsdale, there's plenty to choose from on a day out in Scottsdale, Arizona.
Pinnacle Peak Park Trail
To take in the stunning desert landscape while getting your heart pumping, the Pinnacle Peak Park Trail is the perfect morning choice. The 1.75-mile trail (one-way) passes by towering saguaro cacti and spiny ocotillos as it circles the imposing Pinnacle Peak.
The rocky peak is visible for miles, and the park gets fairly heavy hiking traffic. With a 1,300-foot total elevation gain, the out-and-back hike is classified as moderately difficult.
As with all Scottsdale/Phoenix trails, beware hiking in the heat of summer. Even in the spring and fall, it's best to beat the desert heat by heading out in the early morning or evening hours.
Downtown/Old Town Scottsdale
After working off a few hundred calories on the ups and downs of Pinnacle Peak, the downtown/Old Town area is a prime spot to refuel. There are dozens of dining choices clustered in the charming downtown and rustic Old Town areas.
The trendy indoor/outdoor Farm & Craft offers uniquely healthy brunch and lunch choices, such as a breakfast veggie bowl featuring seasonal vegetables and quinoa topped with poached eggs; a custom bowl with grilled steak and roasted vegetables; and a shaved-chicken sandwich served on ciabatta bread.
Or go full vacation mode and skip brunch altogether, opting instead for a refreshing dessert at the classic Sugar Bowl — a bubble gum-pink spot that has been serving up ice cream cones and sumptuous sundaes at its Old Town location since 1958.
A walk through downtown will take you past numerous sculptures, many with Western/horse themes, plus rustic shops. For a deeper dive into Western culture, consider stopping by Scottsdale's Museum of the West: Western Spirit.
Scottsdale Stadium
A visit to downtown Scottsdale in February or March wouldn't be complete without taking in a spring-training game at the Scottsdale Stadium ball field, where the home-team San Francisco Giants take on a changing roster of Cactus major-league teams from around the country.
The stadium sits right in the heart of the Old Town/downtown area and is the hub of activity throughout the spring. Scottsdale is also home to the nearby Salt River Fields at Talking Stick, the homefield for the Arizona Diamondbacks and the Colorado Rockies.
For a late lunch or snack, Salt River Field offers ballpark classics including ice cream by Cold Stone Creamery and tacos from the Salty Senorita Taco Bar, while the Scottsdale Stadium has Bay Area favorite garlic fries and street tacos.
Bartlett Lake
If spring training isn't your thing or if the season has passed, a drive to Bartlett Lake is a cool option on a hot day.
Located in the Tonto National Forest on the eastern edge of Scottsdale, the lake is known for a few things: spectacular vistas of desert plant life, boating, and fishing. Oh, and wildflowers. Especially in wet years, the Mexican gold poppies practically explode along the shores of the lake in late March and early April.
If a "super bloom" is going on, it's definitely worth the hour-long drive from Scottsdale to Bartlett Lake.
Scottsdale Waterfront/Fashion Square
After a day of hiking, sightseeing, baseball, and flower peeping, an evening dinner-and-drink stop will definitely be in order. The beautiful Scottsdale Waterfront — sandwiched between Old Town and the thriving Scottsdale Fashion Square — definitely fits the bill.
The Waterfront district optimizes its location along the Arizona Canal with an array of bold modern art and upscale eateries. Among the premier dining choices is Olive & Ivy, an elegant restaurant and marketplace with a Mediterranean-inspired menu.
Although the interior is lovely, the prime seating choice at Olive & Ivy is on the patio bordering the canal. It's the perfect spot to sip white-wine sangria and nibble on the airy focaccia served with pine nut and parmesan pesto while waiting for your entrée of seafood, pasta, or lamb meatballs.
If You Have Extra Time In Scottsdale, Consider…
Going Out To See The Salt River Wild Horses
A side jaunt that's worth the drive from Scottsdale is the 40-minute trip to the Salt River, where you can check out the Salt River wild horses that roam up and down the river.
Wild mustangs have called the Salt River area home for centuries, and today the state-protected herd attracts thousands of people each year. It can take some persistence to locate the herd once you get there, but seeing the majestic animals grazing along the riverbank offers a glimpse of the Old West and nature's enduring beauty that's unlike any other.
A Day At Scottsdale Resort And Spa At Gainey Ranch
An afternoon frolicking among the pools, lazy rivers, and waterslides at one of Scottsdale's destination resorts is never a bad idea — especially during the piping hot days of summer.
The Hyatt Regency's Scottsdale Resort & Spa at Gainey Ranch features a 2.5-acre water park with a sand beach and a three-story waterslide. Day passes are available and start at $45. A number of other Scottsdale resorts offer day passes as well — all available at various rates through the Resort Pass website.
While visitors with just one day won't be able to take in everything Scottsdale has to offer, those willing to hit the trail early and keep up a steady pace of exploring, dining, and cheering on their teams can get a good taste of the city.
Headed to Arizona? Don't miss the best day trips from Tucson or the wonders of Horseshoe Bend.
Photo Credit: Tim Murphy / Shutterstock
Photo Credit: BCFC / Shutterstock