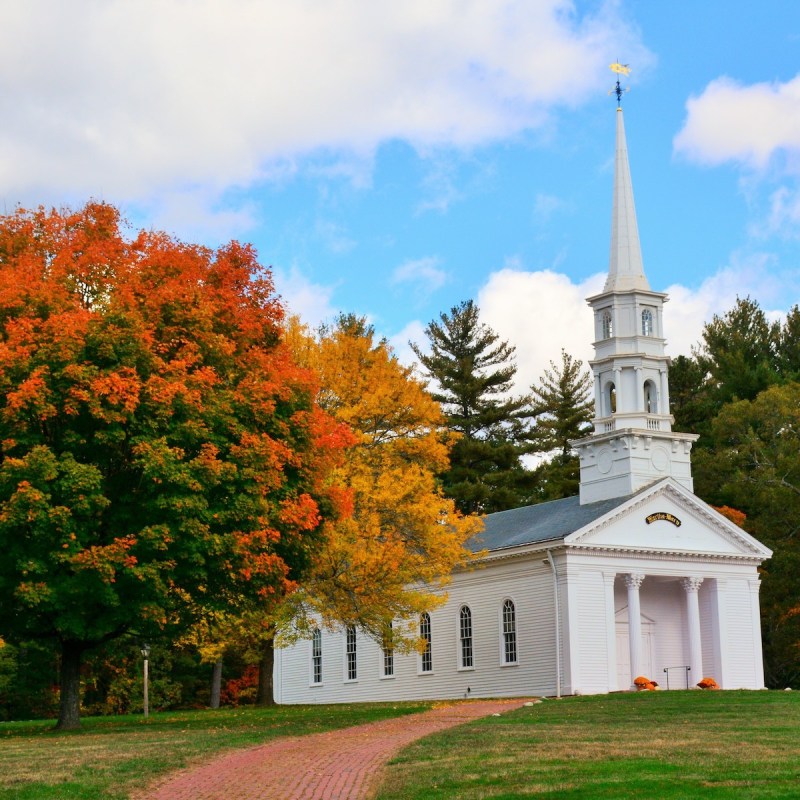 Small towns offer a change of pace, inviting you to slow down and relax. They also tend to be charming and friendly. From apple picking in Nebraska City to river rafting in Michigan to a classic autumn in New England, here are the best small towns in the U.S. to visit in fall according to TravelAwaits writers.
1. Leavenworth, Washington
"Leavenworth, Washington is such a darling small town to visit in the fall. The town's architecture resembles a German village which was designed to draw in tourists. The last weekend in September and running for three weekends is the annual Oktoberfest in the nearby town of Wenatchee, which will make you feel like you are in a Munich beer hall.
"The weather is still pleasant and you can see some fall foliage as well. I love visiting the Leavenworth Reindeer Farm before the peak Christmas season. It is such a sweet, family-owned business and of course — reindeer!! It's also apple harvest where you can visit some of the many fruit stands offering fresh-picked fruit and other local products. Leavenworth is on the Cascade Scenic Loop, Washington's ultimate road trip. The Cascade Mountains are lovely in the fall and there are plenty of opportunities for hiking." — Peggy Cleveland
2. Summit County, Colorado
"Late September is the anticipated time for leaf-peeping adventures in Summit County, Colorado, approximately 2 hours from Denver International Airport. Whenever time permits, I take a drive from my metro Denver home to experience the golden-colored Aspen leaves, along with a smaller assortment of orange and red deciduous tree leaves. Each cluster stands against a backdrop of towering coniferous trees, interspersed with rocky mountain peaks.
"A wide array of hiking, biking, and horseback trails surround the small towns of Breckenridge, Frisco, Silverthorne, and Dillon, along with nearby Keystone and Copper Mountain resorts. I appreciate the cooler temperatures and less congested trails. Before the snow begins to cover the slopes for the next ski and snowboarding season, golfers take in their last rounds, water-lovers paddleboard and sail on Lake Dillon, and fishermen fly fish in local creeks and rivers. Breckenridge's festive 3-day Oktoberfest showcases live music, food, and an abundance of local beers." — Sandy Bornstein
3. Nebraska City, Nebraska
"Nebraska City is the epicenter of the fall season in Nebraska. As the birthplace of Arbor Day, trees are plentiful to enjoy the colors of the season as they change to red, yellow, brown, and orange. For a beautiful view of the changing leaves, tour the grounds of Morton Mansion, once home to J. Sterling Morton, a former territorial governor who founded Arbor Day. Resembling the White House in Washington, DC, the mansion is part of a state park with several acres of trees ripe for fall foliage viewing. The Missouri River Basin Lewis & Clark Visitor Center is another great spot for fall viewing, with wooded areas on bluffs overlooking the river. The river valley is a majestic sight.
"Nebraska City celebrates the fall season with apple harvest at its area orchards — Arbor Day Farm, Kimmel Orchard & Vineyard, and Wostrel Family's Union Orchard. Each orchard features apple picking, with visitors traversing rows of apple trees looking for the perfect specimen to create caramel apple treats, apple pies, crisps, or just to enjoy plain. From Honeycrisp and Granny Smith to Red Delicious, is there anything better than the first crunch as you bite into a freshly-picked apple?
"Nebraska City's orchards take apple harvest season a step higher with nature trails, programs, and unique attractions, such as Arbor Day Farm's Treetop Village adventure. Nebraska City loves its apples, and celebrates harvest with the annual AppleJack Festival each September, featuring parades, games, and food. Before leaving town, don't forget to pick up some apple cider, pie, and maybe a dozen apple doughnuts." — Tim Trudell
4. Winterset, Iowa
"Winterset, Iowa, is one of my favorite small towns in the fall, with the crimson, burnt orange, and amber foliage showcased against the barn red color of the covered bridges and bright blue sky. Located in south central Iowa, about 30 miles southwest of Des Moines, the closest airport is Des Moines International airport (DSM). With the Madison County Covered Bridges Festival in October, you'll find the perfect time to road trip through the county to view the six covered bridges and do some leaf peeping along the way.
"My last visit was in May when I stopped by the Speckled Hen Farms and enjoyed a glass of Covered Bridges Wine on their patio. The farm is a tiny, locally owned farm that provides home-grown produce in their farm store.
"In downtown Winterset, stop by the John Wayne Birthplace Museum, where you'll learn about his life from America's Heartland to Hollywood." — Amy Piper
5. Hartselle, Alabama
"Just outside of Decatur, Hartselle, Alabama, is a charming, historic town in North Alabama that owes its existence to the arrival of the railroad in 1869. Hartselle is proud of famous sons who made their mark in political and literary history. William Bradford Huie, for whom the town library is named, wrote 21 books and hundreds of articles for major newspapers. That winning mentality continues today through the academic and athletic achievements of Hartselle High School students.
"Hartselle's Main Street is the hub of activity with numerous shops, boutiques, and restaurants, and one of the premiere wedding apparel salons in the state. Fall kicks off with the annual Depot Days festival in mid-September, and downtown merchants host Christmas open houses in early November. Hear the train rumble past while you dine at the Freight House Restaurant or enjoy other eateries when you break from shopping at the attractive stores." — Connie Pearson
6. Indian River, Michigan
"My favorite small town to visit in the fall is Indian River, Michigan, located about 30 miles south of the Mackinac Bridge. Because it's in Northern Michigan, showcasing a variety of hardwoods and state forests, it's a great place to visit in the fall. The woods are a riot of color. My last visit was in mid-August, as I couldn't wait for the colors to change in this year-round destination.
"Besides driving the country roads, you'll find several ways to go leaf peeping in Indian River. First, you can take a guided ATV tour with Big Bear Adventures. You have the fun of driving their ATV while their guide drives another, and you follow. You'll never need to fear getting lost in the woods.
"Another way to view the fall color is on a raft trip down the Sturgeon River. Big Bear Adventures also offers these rafting trips, and since the Sturgeon River is only a Class I/II River, it's easy to view the fall colors as you guide the raft." — Amy Piper
7. Alpena, Michigan
"Alpena, Michigan, is a great spot to visit in the fall — the drive is beautiful. The things I enjoy in the 'Sanctuary of the Great Lakes' are the Great Lakes Maritime Heritage Center and The Lighthouses at Presque Isle. Take a stroll at Ocqueoc Falls & Bicentennial Pathway, with the largest accessible waterfall in the country.
"You'll want to explore the cute downtown and its shops, too. Try the small plates or GR8 burgers at Fresh Palate in the evening and a beer flight at HopSide Brewery.
"Dinosaur Gardens is a fun roadside attraction you'll take many pictures at. But most importantly, fall means hard cider and cider donuts. You can find them nearby at Knaebe's Apple Farm & Ciderworks. You could spend hours here — the activities are off the charts. The weekly Alpena Farmers' Market is another big draw." — Melody Pittman
8. Beckley, West Virginia
"Beckley is an excellent leaf-peeping destination in the southern part of West Virginia amidst the Appalachian Mountains and near the New River Gorge Bridge National Park. Explore West Virginia's coal-mining history at the Beckley Exhibition Coal Mine, then have an Italian lunch from Pasquale's. Quench your thirst with craft beer, wine, or coffee at Weathered Ground Brewery, Daniel Vineyards, and Chocolate Moose Coffee, respectively.
"Stay at the luxurious Resort at Glade Springs, with beautiful golf courses, restaurants, a bowling alley, and dozens more amenities in a gorgeous 4,100-acre rustic setting.
No visit would be complete without stopping by Tamarack Marketplace off I-77. This eye-catching facility is full of West Virginia-made crafts, artwork, jewelry, and gourmet foods. Order a WV staple, pinto beans and cornbread, from the onsite restaurant, where the peach cobbler is the star.
"Plan your trip around Bridge Day in October, which attracts 100K people to watch tandem base jumpers plummet 876 feet from the bridge." — Melody Pittman
9. Sudbury, Massachusetts
"Autumn in New England is one of my favorite times of the year. The air turns crisp and chilly; perfect for apple picking, harvest festivals, and hay rides. Seasonally warm tones of red, burnt orange, and gold cling to the trees and blanket the ground with color.
"Sudbury is located in central Massachusetts. It has a rich history steeped in the revolutionary war and is neighbored by Concord and Lexington. The historic Wayside Inn Grist Mill, a 1929 water-powered stone mill, is a picturesque backdrop, particularly in fall. A family favorite for Sunday picnics, you will almost always encounter a wedding party taking photographs. Down the road, The Wayside Inn, operating since 1716, still serves as a gathering place for celebrations and a rustic inn for weary guests. Also on the property is the Martha-Mary Chapel, a charming, much sought-after wedding venue.
"A Sunday drive through the winding colonial-era roads is a favorite fall pastime. A stop at Honey Pot Hill Orchards for a freshly baked cider doughnut (or two) and pressed apple cider brings back wonderful childhood memories. I love to spend a few hours wandering the orchard picking apples — my favorite are the late-season Macouns — crispy, sweet, and tart.
"New England is the best place to be in autumn — picture postcard perfect." — Sandi Barrett