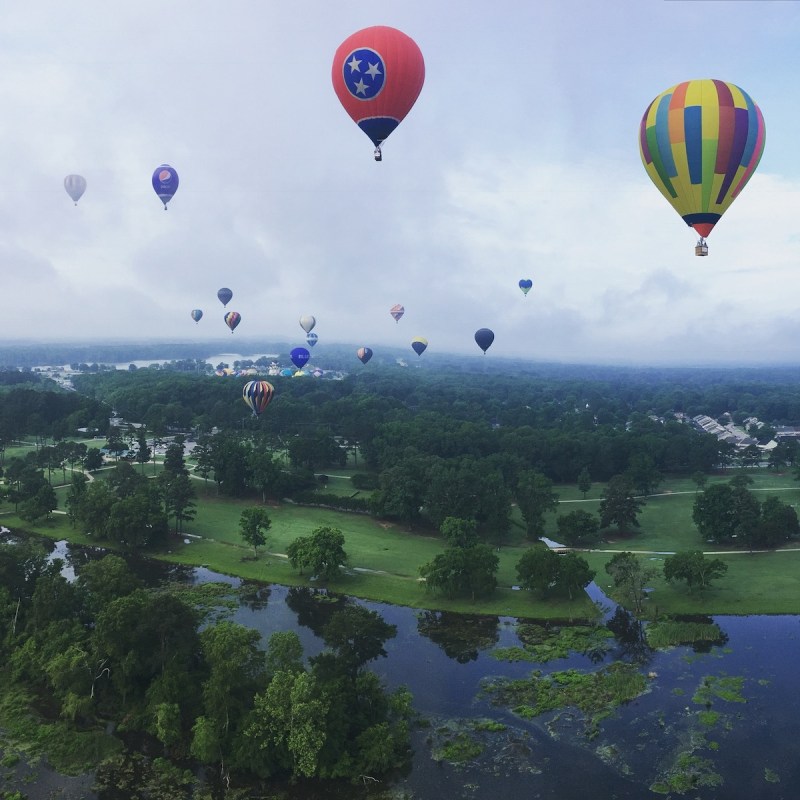 Decatur, Alabama, known in North Alabama as "River City," is bordered by the Wheeler Lake portion of the Tennessee River. It lies 35 miles from the Alabama/Tennessee state line and 25 miles from Huntsville, which is now Alabama's largest city by population. This fortunate location creates a mecca for anglers and puts it within an easy drive for those seeking big-city offerings. However, Decatur has plenty of attractions for all ages on its own making it a wonderful place to spend a day or a week.
1. Explore A New, Nationally Acclaimed Museum
Cook Museum of Natural Science was voted the Best New Museum in the United States by USA Today's 10Best.com within a few short months of opening its doors in 2019. State-of-the-art presentations and displays attract visitors of all ages, but children are particularly drawn to the immersive opportunities for touching and having up-close encounters. A kinetic sand table, live animals, a 15,000-gallon saltwater aquarium, a recreation of an Alabama cave, thousands of insect displays, and much more provide hours of fun for families, as well as lessons about paleontology, zoology, and geology. Nature's Table is a health-oriented café inside the museum, and the museum store is the perfect place to buy a gift or a memento of your visit.
The Cook family started its Cook Pest Control business in Decatur in 1928 and grew to 36 offices spread over 5 states. John Cook, Sr. put his ever-growing insect collection on display for public viewing in 1968. That collection grew to include mounted wildlife, rocks, minerals, seashells, and fossils, while the Cooks developed a vision for an exciting and engaging world-class museum that would be an educational tool for generations to come. That vision became a reality with the Cook Museum of Natural Science on 4th Avenue NE in Decatur.
2. Observe A Sanctuary For Resident And Migrating Birds
Wheeler National Wildlife Refuge is a permanent home to some and a temporary home to others among 300 species of birds and a vast number of fish, mammals, and reptiles making their way through 35,000 acres. The arrival of the gray sandhill cranes and the white whooping cranes is a much-anticipated event for the locals every year who descend on the refuge with binoculars and cameras ready in December and January. A visitor center, an observation building, and two short nature trails help you get a closer look.
Visitors are also allowed to canoe, kayak, hike, or bike through the refuge. Any time of year, it is possible to glimpse wildlife in a natural habitat.
3. Devour Championship Barbecue And Southern Dishes Galore
Big Bob Gibson Barbecue, which was established in Decatur in 1925, has won countless awards in barbecue competitions around the country and is the restaurant first mentioned when a visitor is looking for a taste of true Decatur. Big Bob first introduced his white sauce here, and it has since been bottled for distribution everywhere. Incredible homemade pies with mile-high meringues are almost as famous as the barbecue. Coconut, chocolate, pecan, lemon icebox, and peanut butter varieties are baked fresh daily and grace many area tables during the holidays.
A couple of upscale restaurants in Decatur are Simp McGhee's on Bank Street and RailYard on Second Avenue. Whisk'D within sight of the Farmer's Market is popular for breakfast, brunch, or lunch, and Alfonso's Pizza and Italian Restaurant, now located on the Beltline (Highway 67), have been preparing delectable dishes in town since 1977. Libby's Catfish serves amazing hushpuppies to accompany its catfish plates, and JW's Steakhouse is packed for dinner Wednesdays through Saturdays. B.B. Perrins Sports Grille is lined with Alabama Crimson Tide memorabilia collected from the original owner who played football for Bear Bryant.
Another sweet tradition in Decatur is the English toffee produced at Morgan Price Candy Company on 6th Avenue, but you'll also be tempted by its chocolate-covered cherries, peanut brittle, and attractive gift packages.
4. Take One Of The Themed Trails That Pique Your Interest
Decatur has sites included on several significant trails in North Alabama. The Mural Trail is constantly adding more brightly painted walls to its collection which now totals 125 murals in 16 counties. Those located near the downtown area are particularly striking and are perfect for photos or Instagram poses.
The Hallelujah Trail consists of churches that are at least 100 years old and have been holding services continuously in the same location for all those years. Decatur's St. John's Episcopal Church is included in that list.
A Civil War Walking Tour has been designed by Decatur Morgan County Tourism. It takes visitors through the Old Decatur and New Albany historic districts, and a descriptive brochure can be downloaded here.
The Turtle Trail is fun for kids. It begins in front of the Princess Theatre on Second Avenue and ends across the street at the Alabama Center for the Arts. Ten bronze turtles are hidden in plain sight, and they teach quirky facts pertaining to the history of Decatur.
5. Attend A Production In A Historic Theatre
The Princess Theatre on Second Avenue began its life as a livery stable in 1887. After serving as a venue for silent films and vaudeville, the theatre received its art deco makeover in 1941. If those walls could talk, what tales they would tell.
Throughout the year, Decatur's Bank Street Players and Dreamweavers Children's Theater Group encourage locals to get involved in live productions, much to the delight of their audiences. When you are planning a visit to the River City, be sure to check the website to buy tickets for a performance on the calendar. 
6. Catch A Trophy Bass Or Enjoy Water Sports
The Tennessee River provides endless opportunities for catching a prize-winning fish, skiing, boating, or swimming. The Decatur Boat Harbor is a popular launching spot, as is Brickyard Landing, Ingalls Harbor, and Wheeler National Wildlife Refuge. The river has attracted many professional bass fishing organizations to Decatur for lucrative tournaments.
Point Mallard Aquatic Center is positioned along the river with a manmade beach, thrilling water slides, and the country's first wave pool.
7. Attend A Celebration Festival
The Carnegie Visual Arts Center kicks off each year's celebration schedule with its impressive Carnegie Festival and Parade held the Saturday before Mardi Gras (Fat Tuesday). Decatur mimics the traditions of Mobile and New Orleans with its own slate of crewes, and the parade features fabulous floats, music, costumes, and, of course, thousands of throws.
Memorial Day weekend brings the Alabama Jubilee Hot Air Balloon Classic providing an occasion for 50 colorful balloons to fly through the skies of Decatur. The event begins at Point Mallard Park, and even if the weather prevents a launch, the balloonists delight the crowds with a balloon glow and some tethered rides. Food and craft vendors also line the park.
The Spirit of America Festival held on July 4 is one of the largest free Independence Day celebrations in the United States. It, too, is held at Point Mallard Park with live stage entertainment, sports tournaments, food and craft vendors, speeches and award presentations, and a massive fireworks show.
Pro Tip: Some of the best views for fireworks or for the hot air balloons are from your boat in the river or along Highway 67.
8. Browse Stores That Have Welcomed Shoppers For Generations
The merchants along Bank Street and Second Avenue in Decatur inhabit buildings that have seen the days of streetcars and the bustling times when downtown was the center of the city's commerce. The interiors have been refurbished and repurposed, but the vibe remains vintage and time-honored.
Antique stores, boutiques, specialty shops, and a gourmet kitchen shop lure customers looking for one-of-a-kind items. Shops on 2nd Avenue is a business under one roof housing 39 separate shops filled with locally handcrafted items, original art, home décor, jewelry, and more.
Eighteen popular chain hotels are located at the interstate, along Highway 67, or overlooking the river. Plus, many of the best-known chain restaurants, such as Olive Garden, Cracker Barrel, Red Lobster, Applebee's, Panera Bread, Texas Roadhouse, and more can be found in Decatur.
Eighteen minutes or 12 miles south, you can enjoy additional places to shop and good things to eat in the town of Hartselle. Main Street is indeed the main hub. From there, you will see The Something Blue Shoppe, one of the state's premier wedding apparel stores, Pizza Ed's, Robin's Nest for children's clothing, The Freight House Restaurant (beside the railroad tracks), Oliwia's Shave Ice, and boutiques such as Shoefisticated, Zoey's, Katie & Grace, Indigo's, Southern Sass, and The Beehive Bathhouse.
Pro Tip: The Freight House has Poulet de Normandy and strawberry pretzel salad on its regular menu, making it perfect for girlfriend lunch outs.
Decatur is almost exactly halfway between Birmingham, Alabama, and Nashville, Tennessee, only a stone's throw from Interstate 65. Its population of 55,000 is proud of its history and has big plans for its future. Commodore Stephen Decatur is the city's namesake. He was famous for declaring, "My country, right or wrong, but still my country," and Decatur citizens take their patriotism very seriously.
These other Alabama destinations could also make your bucket list: