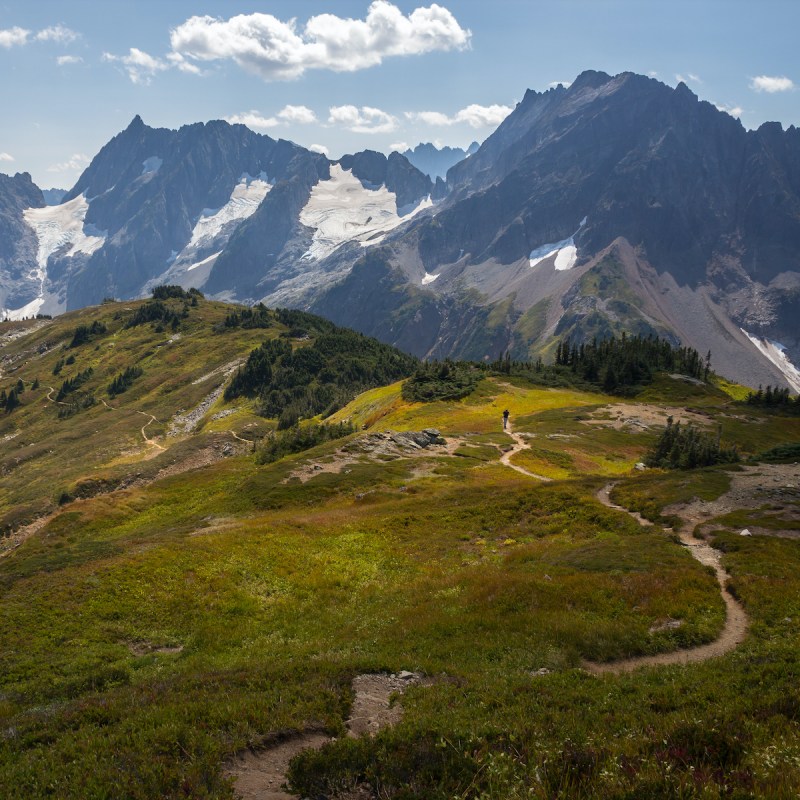 Our family's life in Seattle is busy, but when the mountains are calling, I set my sights on North Cascades National Park (NCNP), one of the most remote and rugged national parks in Washington State. When I'm trekking up a mountain trail on a crisp Washington spring day or traipsing through a wildflower-strewn meadow in August, the alpine air washes away the woes of a missed appointment here, late to soccer practice there. Blame it on aging, blame it on the mental load — whatever the cause, my antidote is nature.
Jagged peaks, towering fir trees, glaciers that gleam blue and white, and rushing rivers make up the North Cascades National Park complex, which includes the Ross Lake and Lake Chelan National Recreation Areas. Within this expanse of wilderness, day hikers, backpackers, and campers can find everything from short nature walks to challenging, day-long hikes and overnights. The best part? It's all less than 3 hours from Seattle, making these hikes excellent choices for locals as well as anyone visiting the area for several days.
When To Visit North Cascades
While some roads and mountain passes are impassable due to severe winter weather, the North Cascades trails are open year-round. The prime hiking season is April through October, with the driest period falling between mid-June and September. You can expect snow on some higher-elevation trails in July and early August. From November to March, you can expect that dampness for which the Pacific Northwest is so renowned. Bottom line: Always check with the local park ranger office and/or your favorite trail app to find out about any road closures, learn about trail conditions, and read recent trip reports.
Pro Tip: Be sure to procure an NW Forest Pass (online or at a ranger station), which is required for parking at many trailheads in North Cascades National Park.
While I could ramble on about many trails within the North Cascades, here are five of my favorites.
1. Cascade Pass Trail
Location: North Cascades Highway (Highway 20)
Length: 6.5 miles (out and back)
Elevation Change: 1,781 feet
Difficulty: Moderate
This hike holds a special place in my heart, as it was my chosen trek with a couple of long-time girlfriends on a milestone birthday. I was seeking plenty of above-treeline hiking and wow-worthy views. Cascade Pass didn't disappoint. From the parking lot in the shadow of Johannesburg Mountain, you'll start up the trail, almost immediately approaching 30+ thankfully gentle-on-the-legs switchbacks that make up the first 2.7 miles of the trail. Complete the switchbacks, then proceed one more mile, heading straight for the pass. Cross a rockfield, pass by lush meadows, make a few more twists and turns, and find yourself in full view of impressive peaks and glaciers, including Johannesburg Mountain, Mixup Peak, and Magic Mountain, with the imposing Cache Col Glacier in between.
Keep an eye out for wildlife, including marmots, pika, deer, mountain goats, and perhaps a black bear or two (usually from a distance). As one of the most popular moderate hiking trails in the North Cascades, it's a good one to do on a quieter weekday.
Fun Fact: There's some history on this trail, too; it was traversed by the area's indigenous people and early fur traders well before the space was designated a national park.
2. Heather-Maple Pass Loop
Location: North Cascades Highway (Highway 20)
Length: 7.4 miles (loop)
Elevation Change: 2,191 feet
Difficulty: Challenging
If at all possible, tackle the satisfyingly challenging Heather-Maple Pass loop in autumn. We hiked it in late September and were treated to a kaleidoscopic display of spectacular fall colors, from russet to gold to pumpkin. Challenging but not overwhelming, this is a great hike for its easy access and to feel a sense of accomplishment. Set off from the Rainy Lake Trailhead, heading either direction (the most popular is counter-clockwise for the gradual ascent and good views of Black Peak). Pass through a large meadow, then notice the trail that leads off to Lake Ann. It's a short, flat, and worth-it side trip — and makes for a great snack spot. The high point of the trail is near the peak of Frisco Mountain. From the wildflower-strewn hillsides in summer to the golden larches of fall, this hike is the stuff of postcards.
3. Diablo Lake
Location: North Cascades Highway (Highway 20)
Length: 7.6 miles
Elevation Change: 1,538 feet
Difficulty: Moderate
You can't stop staring at Diablo Lake in the Ross Lake National Recreation Area, which separates the North and South sections of NCNP. Its turquoise hew is eye-poppingly vibrant and the sturdy mountains and thick forests that surround it aren't too shabby either. Nearby big-brother Ross Lake is just as enchanting. Starting from the North Cascades Institute parking lot, the Diablo Lake Trail is an excellent way to explore the lakeside and its old-growth forests, waterfalls, and lake accesses (the glacier-fed waters are a wonderful antidote to tired feet).
4. Newhalem Area
Location: North Cascades Highway (Highway 20)
Length: 0.3 miles (Trail of the Cedars); 0.4 miles (Ladder Creek Falls)
Elevation Change: Minimal
Difficulty: Easy-Moderate
If you're looking for more of a relaxed nature walk, the Trail of the Cedars is a perennial favorite. It's in a super interesting spot along Highway 20 — the company town of Newhalem, which is home to a small number of Seattle City Light employees and those who work on the Skagit River Hydroelectric Project. It's a blip of civilization in an otherwise rugged and remote backwoods setting. The easy loop trail starts at the suspension bridge in Newhalem or from the Newhalem Creek Powerhouse and follows the Skagit River for about one-third of a mile. There are numerous interconnecting trails in the surrounding area, so feel free to explore.
To soak up local history, follow the 0.4-mile Ladder Creek Falls loop behind the Gorge Powerhouse in Upper Newhalem. You'll see the trail's pretty namesake falls and pass through gardens that have been cultivated by Skagit Hydroelectric Project employees and their families for more than 75 years. End at the powerhouse, which you can enter to view various exhibits and artifacts from this tidy company town.
5. Chain Lakes Loop
Location: Mt. Baker Scenic Byway (State Route 542)
Length: 7.1 miles
Elevation Change: 1,886 feet
Difficulty: Moderate-Challenging
Ah, the Chain Lakes. No matter the season, I simply cannot get enough. Alpine lakes, views of Mt. Shuksan and Mt. Baker, pristine forest, huckleberries … what's not to love? Take State Route 542 all the way to its twisty-turny terminus at Artist Point and head west. You'll hike beneath the towering lava walls of aptly named Table Mountain before reaching a junction with the Ptarmigan Ridge Trail (another favorite!). Go right and you'll come first to Mazama Lake, where you'll likely see a few backpacking tents scattered along the shore.
Keep going about a quarter-mile to reach Iceberg Lake, which even into July may have lingering ice chunks floating on the surface. Next up is Hayes Lake, after which you'll climb through a Hobbiton-like, boulder-strewn landscape up and over Herman Saddle before dropping steadily down to Bagley Lakes and the Heather Meadows Visitor Center. Return to Artist Point along the Wild Goose Trail, which adds a challenging 1,200 feet in one mile.
Alternatively, you can park at the Heather Meadows Visitor Center and start the loop with the Wild Goose Trail, when your legs are at their freshest. If, like me, you can't get enough, consider backpacking in and overnighting at Mazama Lake or Hayes Lake. Plan to arrive early on a weekend or go mid-week to secure a spot.
Bonus Hike: Stehekin Area
If you have a few days, consider immersing yourself in the thick of North Cascades National Park with a trip to Stehekin. This charming, pleasingly remote town at the northern tip of massive Lake Chelan is accessible only by foot, ferry, or seaplane. I recommend a ferry, which you can catch in the town of Chelan, at the southern end of the lake, or Field's Point, on the west bank of the lake.
Depending on the ferry you choose, the trip is between 90 minutes and 3 hours, and it's glorious the entire way. The emerald waters, the increasing feeling of remoteness, the blue skies (this side of the Cascades is sunnier and drier than the west side) — it's addictive. Once in town, you can camp, stay in a rental home, or treat yourself to a stay at the characterful Stehekin Valley Ranch.
As for hiking, there are countless options. The town is the hub of the Lake Chelan National Recreation Area and accesses not only NCNP but the Stephen Mather Wilderness and neighboring National Forest Wilderness Areas, too. When I'm seeking a moderately challenging, absolutely beautiful morning, I head to the Lakeshore Trail, which leaves from the Stehekin campground, right near the ferry landing.
The trail has minimal elevation gain and you can hike as far as you like before turning around (the trail technically stops 17.2 miles later at Prince Creek.) You'll wind into stands of trees, along waterside cliffs, and next to the lakeshore, intermittently passing by private land and homes, which, I'll warn you, you'll spend the next hour contemplating how to acquire for yourself. If you can't resist a refreshing swim in an alpine lake, wade or jump in at one of the lake accesses or rock outcroppings.
Pro Tip: There's one non-negotiable when you return from a hike on the Lakeshore Trail. Find your way, on foot or in a rented 4×4 buggy, available near the ferry landing, to the family-run Stehekin Pastry Company for the biggest and best cinnamon roll you'll ever taste.
Simply writing about these beloved North Cascades National park hikes has me grinning ear to ear. Here's hoping you'll adore them as well. As always, pack the 10 Essentials, respect the environment, pack out your trash, and enjoy the great outdoors.
For more Pacific Northwest inspiration, consider: