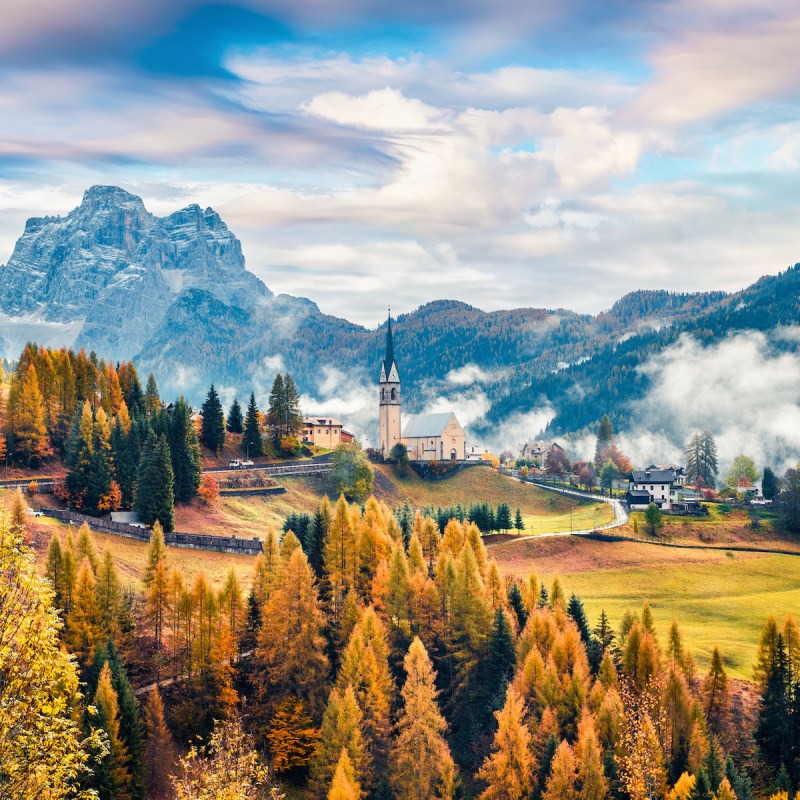 With stunning parks and woodlands that turn jewel-box colors come autumn, you might think North America owns the block on fall foliage. After all, our climate, with hot summers and cool, sunny autumns, is tailor-made for vibrant landscapes. But travelers with an equal love of leaf peeping and trips abroad during the shoulder season, when crowds are thinner and costs are cheaper, shouldn't fear missing out on their favorite time of year if they choose to fly across the pond.
Europe is an underrated destination for leaf peeping — if you know where to look. I've traveled around the continent and have selected five incredible European destinations for fall foliage, from the well-known to the road less traveled.
1. Dolomites, Italy
Northern Italy's most famous mountain range is spectacular all year round. Fall might be the most magical season, when the forests of the Dolomites erupt in crimson and amber. Drive the mountain roads, making stops to walk, hike, or explore the region's rustic villages.
If you're short on time, take the road through the Auronzo settlement to Tre Cime di Lavaredo ("Three Peaks of Lavaredo") — one of the most famous views in the Dolomites. It will cost you 30 euros to drive the private path, but it's well worth it to experience some lovely day hikes, Via Ferratas, or snap photos from vantage points so breathtaking, they feel unreal.
2. Jyväskylä Region, Finland
The world's happiest country is also one of the most colorful come fall. The Jyväskylä Region, in Lakeland Finland about 3 hours from Helsinki, is about 85 percent covered with forest. When the temperatures dip, the woods are ablaze in red, orange, and yellow. Go leaf peeping around one of the region's 3,700 lakes and you'll catch the awe-inspiring view of nature's fireworks reflected against the mirror-like waters.
While most of Jyväskylä Region has colorful foliage, its four national parks are especially scenic. Or take in the views from 2,600-foot Kärkinen Bridge, overlooking Lake Päijänne. Quaint Petäjävesi Church — a UNESCO World Heritage Site that dates to the 18th century and is surrounded by kaleidoscopic hues in autumn — is an ideal spot for photos.
3. Prague, Czechia
Urban environments usually pale in comparison to their rural counterparts' fall foliage, but Letenské Sady, or Letná Park, is an exception. A lush oasis in the middle of Prague, it's idyllic at any time of year — but especially in the fall when the trees turn shades of red, orange, and gold.
The park sits atop a hill overlooking the Vltava River and Prague's historic center, including its iconic castle. After taking in the stunning panoramas, it's easy to explore the city's historic streets and well-known landmarks, and sample its famous café culture.
4. Navarre, Spain
Located in northern Spain's Basque Country, Navarre is home to the Irati Forest, a vast woodland that stretches to the Atlantic Pyrenees in France. One of the best-preserved natural clusters of beech and fir trees in Europe, the forest is also populated by birch and oak trees, and a variety of ferns and mosses. The trees are so densely packed that they create a dramatic "ceiling" of leaves, which transform into warm hues like amber, gold, and orange come fall.
The Irati Forest has several unique residents, including deer and wild boar. It's also a Special Protection Area for birds; you'll find black- and white-backed woodpeckers and a variety of raptors, including the golden eagle.
5. New Forest National Park, England
If there's a place in Europe where the variety of autumn hues rivals those of the northeastern U.S., it's New Forest National Park in southern England. Its unusual landscape encompasses the region's largest area of rare lowland heath, as well as dense woodlands. Highland Water, almost exactly in the center of the park, is one of the best spots for leaf peeping, but you can't go wrong in any area of the park, from the landlocked north to the coast of the Solent in the south.
Fall is pannage season, when residents release their pigs into the forest to consume the fallen acorns that are poisonous to the region's free-roaming ponies and donkeys.
How To Find Incredible Fall Foliage In Europe
Autumn in Europe can be every bit as picturesque as it is here in the U.S. Although there are exceptions to the rule, the best leaf-peeping spots feature a variety of firs and deciduous trees. They have warm summers followed by sunny falls with cool nights — according to scientists, this is nature's alchemy for producing a hue-happy season. While northern Europe can be especially colorful, you'll find incredible fall foliage in central Europe and even parts of the Mediterranean. Peak foliage varies according to location and elevation, but if you aim for mid-October to early November, you're almost guaranteed a vivid spectacle.