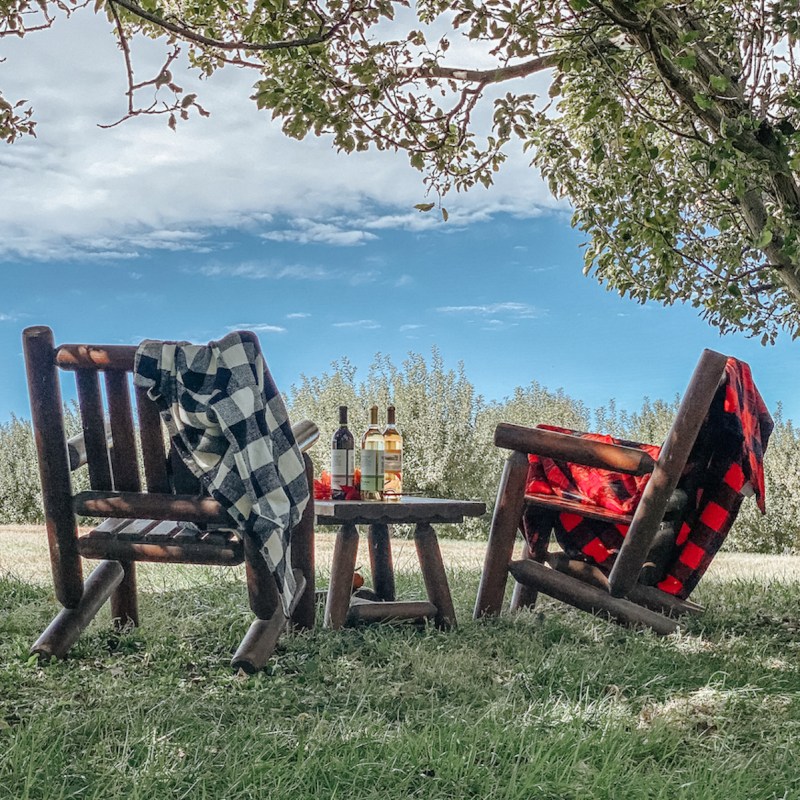 September in Nebraska brings with it a welcome change to the long, hot days of summer. Now the days are slowly turning shorter and cooler and the sun is setting earlier. With a chill in the morning air, one can sense the inevitable change in the weather that signals the arrival of fall. In Nebraska, fall means football games, haunted houses, and fall festivals! There's no better way to experience small-town Nebraska or big towns for that matter than to head out to one of the great fall festivals for a welcome change to the long, hot days of summer. Here are our favorite fall festivals to explore, in no particular order.
1. AppleJack Festival, Nebraska City
Open for fall fun on three different weekends, the AppleJack Harvest Festival is a big one! Held in Nebraska City, home of Arbor Day Farm and Arbor Lodge, the festival has a focus on all things "apple." This is my favorite fall festival and one we've gone to for years. Here you'll find so much apple goodness. You'll be able to try and buy apple pie, apple cider, apple donuts, candy apple, apple fritters, and caramel apples just to name a few! Plus, there's a wide variety of events on each weekend. Some of the events include multiple craft fairs along with a flea market, a parade, a classic car show, a carnival, 5K fun run, food trucks, and an old-fashioned street fair. The AppleJack Festival is one of the premiere fall festivals in the state and is very popular! We're talking between 60,000–80,000 people that typically attend the festival in Nebraska City each year. With so many people, it's nice to have the festival spread out in multiple areas of town so everyone has room to roam.
There are so many different things to do here that I don't think you could do it all. How about a helicopter tour? Or take in the excitement of watching the Extreme Bull Riding Tour finals! Or shop around at the Applejack Flea Market. Or check out the quilts at the Heritage Needlework Guild Quilt Show. You can do all these things and so much more! While you're in Nebraska City, make sure you pick your own apples to take home. You can go apple picking at the Arbor Day Lodge orchard or at one of the other nearby orchards, Kimmel Orchard and Union Orchard, for quaint apple picking spots nearby the festival. This year, the festival runs from September 15–24. Hours vary according to exactly what you want to do so make sure you check the website for the complete list of events and hours.
2. Junkstock: Harvest Edition, Waterloo
Are you a lover of all things vintage? How about refurbished furniture, and cool antiques along with your favorite fall delights like apple cider donuts and hayrack rides? If this all sounds appealing, Junkstock Harvest Edition is right up your alley. Named a top festival by USA Today 10 Best, Apartment Therapy, and Midwest Living, Junkstock is a festival you need to check out! Celebrating all things funky, the Harvest Edition focuses on fall fun! The festival runs two glorious weekends this year, September 29–October 1 and October 6–8. Junkstock promises to be the place for one-of-a-kind shopping, including fabulous fall-inspired décor and pretty much all of the best things that fall has to offer. Bonfires? Check. Beer Garden? Pumpkin House? Check. Check.
There will also be live bands and over 200 vendors from around the country showcasing their unique wares. One of my absolute favorite festivals, Junkstock is located on a big farm on the outer limits of Omaha, in a little town called Waterloo. The farm is a perfect setting for the festival, especially with the fall edition of the event having a harvest theme — you'll love the country setting! Junkstock encourages a wide variety of unique, vintage, and repurposed home and garden furnishings. No "new" items are allowed, ensuring that all the finds you fall in love with are one-of-a-kind, vintage pieces.
The folks at Junkstock will make sure you don't leave hungry either. With over 20 food trucks serving up unique dishes of all kinds, Junkstock has you covered in the food department. Junkstock welcomes the whole family, including your furry "kids!" Speaking of kids, they offer a Kid's World with activities for the kids like face painting, pony rides, and more.
Pro Tip: The farm can get muddy with wet weather, so if it looks like rain, wear boots!
3. Great Pumpkin Festival, Crete
Ready to explore a small town pumpkin festival in middle America? The Great Pumpkin Festival in the town of Crete, (population approximately 7,000 as of 2019) may be the perfect fall festival for you. Talk about small town fun! The whole family will love the car show while watching the fun at the Pumpkin Pie Eating Contest. The kids will love the kids' pet parade, the zipline, and the pony rides. When hunger strikes, grab some munchies from the food court. And, don't forget the pumpkin carving contest! There's even a petting zoo for the kids to enjoy. The festival promises nothing but down home fun!
The date and hours for this year's festival is Sunday, October 8, from noon–5.
Pro Tip: Cash or checks are the only forms of payment accepted, however, there is an onsite ATM located in the Perry Campus Center where you can get cash.
4. Vala's Pumpkin Patch and Apple Orchard, Gretna
A visit to Vala's Pumpkin Patch and Apple Orchard is quite unlike anything else you're likely to experience this fall. What began over 35 years ago as a small pumpkin patch has evolved into the premier fall adventure in the state of Nebraska. At a mind-boggling 400 acres, Vala's is very large with lots of space for the whole family. The wide range of attractions at Vala's means there is truly something for everyone. Try the walk-through adventures like the lost pumpkin mine, the corn maze, pirate maze, storybook barn, spook shed, haunted farmhouse, hayrack rides, and haunted trail graveyard.
Take a hayrack ride to the pumpkin field or the apple orchard. Or take a spin on the barnyard adventure ride. And there's plenty more to see and do! Their Pigtucky Derby Pig Races are quite entertaining and super fun to watch. For the perfect photo op, head over to the sunflower field for its spectacular fall backdrop for the perfect fall photo. And don't get me started on the incredible foods at Vala's. The food is extraordinary here and some people go to Vala's only for the food. It's that good! With more than 20 different food establishments, you will find something and probably many things that you like here. Its pies are so legendary that it has a pie pickup day around Thanksgiving — even though the grounds are technically closed.
Vala's is the place to revel in so much fall fun. And it's not just for the kids. Vala's offers different festival weekends during September that the over-21 age group will enjoy. Try the Cider and Sunflower Festival, the BBQ and Bluegrass Festival, or the Pumpkin Harvest Festival. These weekend festivals begin in September and run through the end of October. Sample the house-made varieties of sweet cider and hard cider. With goodies like caramel apple latte fudge, apple bread, and red velvet donuts, I'm betting you won't go hungry.
It's a place to make memories and for a really unforgettable memory, try renting a private campfire for a fun fall evening! We did this many times when my kids were little and we all have fond memories to this day. Vala's is something special. It's open for the season beginning September 2 through October 31.
Pro Tip: Get to the Pie Barn for the salted caramel apple pie. It's divine and sells out regularly!
5. Nebraska Junk Jaunt, Central Nebraska
Farmland on both sides of the two lane highway, the sandy shores of Calamus Reservoir nearby. Rolling sandhills to discover. If this sounds like your type of scenery you'll love the fun and beautiful scenery that awaits on the Nebraska Junk Jaunt. This isn't actually one festival but rather multiple activities and garage sales in each small town you choose to stop at on the route. Nebraska's Junk Jaunt is 350 miles of great scenery, great food, and small town friendliness. We did the Junk Jaunt a couple of years ago as a girls' trip. We had so much fun driving down the country roads, stopping into small towns, and pulling over to see what bargains we could find.
There are treasures to be had at any of the more than 450 vendors that typically participate. The Junk Jaunt route is along Highway 11, 91, and 2 in central Nebraska. You'll go through the scenic sandhills and can drive two of Nebraska's most scenic byways, The Sandhills Journey Scenic Byway and The Loup Rivers Scenic Byway. Always held the last weekend in September, this year's Junk Jaunt is September 22–24. Stop into any of the small town diners for fabulous country cooking.
6. Harvest Moon Festival, Chadron
For those that are out in the western part of the state or want to travel out to western Nebraska, the Harvest Moon Fall Festival in Chadron will keep you entertained. The festival, now in its 9th year, will be held this year on Saturday, October 7 from 9 a.m.–4 p.m. Bring your appetite to this festival as there will be lots of food to taste and judge. Some of the contests include a homebrewed beer contest, homemade wine contest, pie contest, chili contest, salsa contest, costume contest, scarecrow contest, hay bale decorating contest, and of course, the favorite — a liar's contest! In addition, there will be a haunted maze, live performances, and over 80 vendors.
Nebraska has its fair share of unique things to experience: