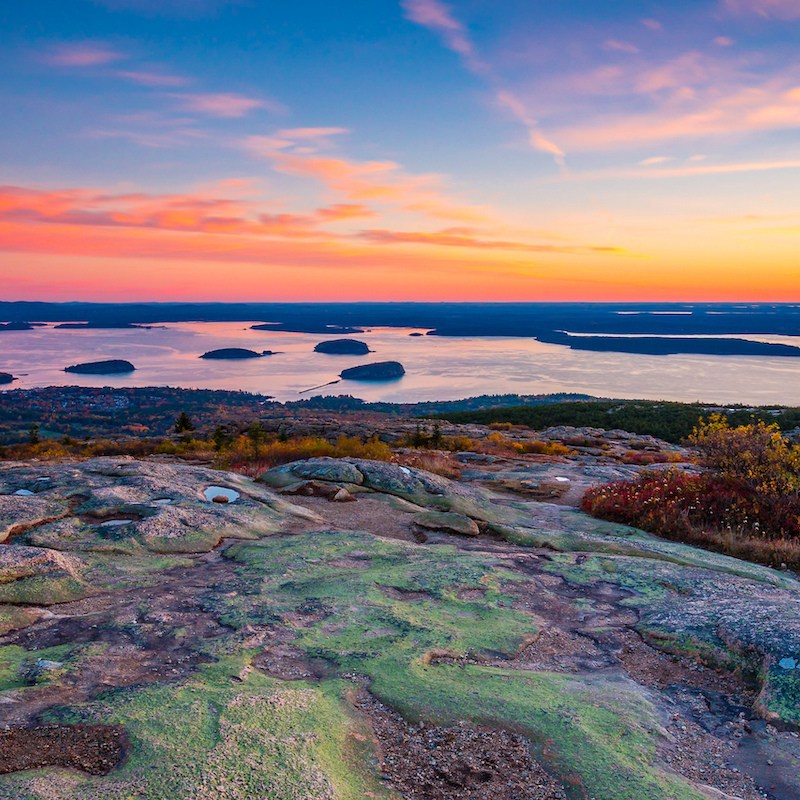 From New England to Florida, the East Coast is one of the best places to spend crisp autumn days. Below, TravelAwaits writers tell us about their favorite East Coast destinations to visit in the fall. Whether you're after fall foliage or sunshine and sand, here are the best places to go on the East Coast in autumn.
19 Best Places to Visit in the Fall East Coast
1. Acadia National Park, Maine
"Acadia National Park on Mount Desert Island is a 47,000-acre park that is beautiful year-round. It has a 27-mile park loop with plenty of places to stop and enjoy the leaves and take photographs of the foliage.
"You can also visit the highest point along the East Coast at the park's 1,527-foot Cadillac Mountain. You will have quite a view from there. Enjoy the leaves on maples and birches, along with a variety of evergreens. If you desire to get a bit of exercise, there are 120 miles of trails.
"You could spend a half or a whole day enjoying the colorful orange and red hues of nature in the park. The town of Bar Harbor is also fun with shops and many seafood restaurants. You could easily spend an entire weekend here.
"Spend the night in Bar Harbor at the Balance Rock Inn. It is a lovely hotel right on the water overlooking a secluded beach." — Robin O'Neal Smith–
Explore East Coast fall vacations hotels and Airbnbs near Acadia National Park, Maine.
2. Stowe, Vermont
"You will enjoy spending time in Stowe, Vermont, a picturesque town ablaze with beautiful leaves in the fall season.
"There are hiking trails for those who desire a bit more exercise. Many restaurants feature farm-to-table dining and craft beer. Try a cider donut from one of the many country stores in the area.
"Spend the night in the European-style Trapp Family Lodge owned by the Austrian family who inspired The Sound of Music. They have rooms, suites, and villas as well as a variety of restaurants and activities." — Robin O'Neal Smith
Explore East Coast fall vacations hotels and Airbnbs near Stowe, Vermont.
3. New Hampshire's Lakes Region
"The White Mountains of New Hampshire are probably the Granite State's most famous spot for viewing fall foliage — for good reason. The scenic drive along the Kancamagus Highway is among the country's most gorgeous areas for admiring blankets of bright orange, golden yellow, and fiery red leaves in autumn.
"If you're looking for a fall RV vacation destination that might have slightly fewer visitors in September and October, consider the Lakes Region. This area in the central part of the state is home to Lake Winnepesaukee, New Hampshire's largest body of water. Here you'll also find scenic Squam Lakes, where On Golden Pond was filmed.
"Whether you're driving around the lakes, strolling through small towns like Meredith or Wolfeboro, seeking out covered bridges, taking a scenic boat cruise, or exploring the hiking trails in the area's mountains, you'll likely be able to enjoy pretty changing leaves. Keep up with where and when leaves are peaking with the state tourist association's online foliage tracker." — Kara Williams
Explore East Coast fall vacations hotels and Airbnbs near New Hampshire's Lakes Region.
4. Portsmouth, New Hampshire
"I was raised on the New England coast and never miss an opportunity to visit. When I want an urban getaway that's still close to the shore, I head to Portsmouth, New Hampshire, just 10 minutes from the state's short-but-spectacular East Coast shoreline. With all its beautifully preserved historic architecture and walkable streets, Portsmouth is photogenic and easy to explore. It also has a vibrant arts, culture, and dining scene.
"Besides appreciating the fiery foliage, top fall activities include biking, hiking, history and food tours, and live jazz and theater (the latter in a restored vaudeville house). Through early October, you can take a cruise out to the lovely, isolated Star Island. The boutique shopping scene is memorable, especially for new and preowned clothing, books, and local art and crafts. My favorite new addition to Portsmouth is Vent, an 'alternative activity' space where you can free your frustrations by splattering paint and smashing glass." — Robin Catalano
Explore East Coast fall vacations hotels and Airbnbs near Portsmouth, New Hampshire
5. Cape Cod, Massachusetts
"I love Cape Cod any time of year, but autumn is extra special. The crowds of tourists have gone back to work, the summering students have returned to school, and the locals have begun to settle into their off-season routine.
"After Labor Day, many East Coast beaches, like Mayflower Beach in Dennis, loosen their dog restrictions. One of my favorite ways to spend a fall morning is to walk along the quiet beach with my dog happily chasing seagulls. It is one of those special moments — joyful and contemplative.
"The Cape Cod Rail Trail takes on brilliant fall colors, dotted between the evergreens; it provides a picturesque stroll through the towns and villages. A stop at Truro Vineyard for a wine tasting is a relaxing way to enjoy the cooler weather. A little further down Route 6 and you arrive in Provincetown where the streets are less congested. A brisk wind whips around Provincetown Harbor as you walk along the pier — a foretelling of the onset of freezing winter gales." — Sandi Barrett
Explore East Coast fall vacations hotels and Airbnbs near Cape Cod, Massachusetts.
6. Newport, Rhode Island
"Oozing with New England East Coast charm, Newport is a beautiful, Rhode Island coastal town with outstanding views, amazing restaurants, and majestic mansions. The fall season festivities include pick-your-own orchards, harbor cruises (through mid-October), and ghost tours. Take a lantern-led tour through Newport's oldest and most haunted locations on an Olde Town ghost walk, the most popular walking tour.
"If you'd rather take a ride, head to Pachet Brook Tree Farm in nearby Tiverton to take a 30-minute hayride through the fields and woods of the 90-acre family-run farm which terminates at the pumpkin patch (weekends through October). Or, join Rail Explorers for a fall ride on pedal-powered rail bikes along abandoned railroad tracks by the bay.
"Newport also hosts several festivals in the fall, including food fests such as Bowen's Wharf Seafood Festival (October 15-16, 2022) and Newport Food Truck & Craft Beer Festival at Fort Adams State Park (Oct 15), both of which feature some of the best eats in the area." — Laura Ray
Explore East Coast fall vacations hotels and Airbnbs near Newport, Rhode Island.
7. Hudson Valley, Upstate New York
"When it comes to crisp mornings and rich colors, it's hard to beat the Hudson Valley in Upstate New York as a fall destination. Whether you head north from New York City or south from Albany, the best stops along the Hudson River stretch from Tarrytown to Catskill.
"Gallop with the Headless Horseman by visiting the real places that inspired Washington Irving's short story in Sleepy Hollow," suggests Scott. "Admire the views once available to only the mega-rich by touring the grounds of Gilded Age mansions framed by yellow, orange, and red leaves. Or, get a bird's eye view by walking over the Hudson in Poughkeepsie.
Feel the crunch of leaves under your boots when you hike with an alpaca in Hyde Park. Drink in the beauty of Kaaterskill Falls. Let the sounds of nature serenade you to sleep when you spend the night glamping at Treetopia in Catskill." — Sage Scott
Explore East Coast fall vacations hotels and Airbnbs near Hudson Valley, Upstate New York.
8. Central Park, NYC
"It's hard to pick just one spot to take in the fall beauty on the East Coast, but New York City and Central Park in particular is a top contender. The weather in the city is perfect, the crowds are lower than in the summer, and Central Park puts on a stunning display of fall foliage. We visited last year in early November and the leaves were just about at their peak. We planned the trip so we could experience fall in the city and also catch the Christmas markets, which are typically in full swing by the first part of November. Fall is my favorite time to visit NYC." — SJ Morgensen
Explore East Coast fall vacations hotels and Airbnbs near Central Park, NYC.
9. Pennsylvania Fall Festivals
"Crisp air, vibrant autumn leaves, and the smell of apple cider and funnel cakes are just a few things that make you think of fall and the fantastic festivals in Pennsylvania. From the Bedford Fall Foliage Festival and the Ebensburg PotatoFest to the PA State Flaming Foliage Festival and the Lancaster Balloon Festival, there is a festival in Pennsylvania for everyone to enjoy." — Robin O'Neal Smith
Explore East Coast fall vacations hotels and Airbnbs near Pennsylvania Fall Festivals.
10. Boonsboro, Maryland
"Fall road trippers should consider Boonsboro, Maryland, a town I visited this week. This charming small town, all dolled up for fall, has a walkable downtown area with a well-known pizzeria, inn, and tap house from Nora Roberts's Inn BoonsBoro Trilogy. Roberts is from Boonsboro, where you will find the largest selection of her world-famous published books at Turn the Page Bookstore and much more. Try seasonal craft beer from Dan's Restaurant & Tap House and cross your fingers that they have butternut squash soup on the fall menu.
"Leaf peeping is a popular outdoor activity, as is hiking to the first Washington Monument at Washington Monument State Park. It is an easy walk from the parking lot and on the Appalachian Trail. Be on the lookout for hawks, eagles, and falcons in the fall months. History lovers should take in the Antietam National Battlefield Civil War sites, 10 minutes away." — Melody Pittman
Explore East Coast fall vacations hotels and Airbnbs near Boonsboro, Maryland.
11. Luray, Virginia
"Luray, Virginia, is a beautiful location for fall adventures in the Blue Ridge Mountains. This charming small town offers delectable eateries, the famous Luray Caverns, wineries, and a scenery overload. See the massive stalactites, flowstones, and stalagmites at Luray Caverns, a cave system with the Great Stalacpipe Organ. Don't miss the Garden Maze at the Caverns, the largest hedge maze in the Mid-Atlantic. Luray-Hawksbill Greenway is perfect for a two-mile walk or bike ride.
"Consider overnighting in a darling cottage with a jetted tub and fireplace at the Mimslyn Inn, a beautiful historic property with an onsite restaurant and bar, within walking distance of Historic Downtown Luray. I recommend the warm ham-wrapped brie appetizer from The Speakeasy, which also features live entertainment. Luray is a great spot for hopping on the central entry point of the scenic Skyline Drive in Shenandoah National Park, where the leaf-peeping should be primo." — Melody Pittman
Explore East Coast fall vacations hotels and Airbnbs near Luray, Virginia .
12. Virginia Beach, Virginia
"Although thought of as a summer destination, Virginia Beach can be enjoyed in the fall. After Labor Day, vacation crowds have thinned out, water becomes a little cooler, and beaches on the South end of the East Coast are quieter. For me, this is an ideal time.
"Enjoy long walks along the beach and lunch at one of the local eateries. Head to Famous Al's for one of their classic hot dogs with fixings. Slurp oysters at Chick's Oyster Bar. My personal favorite is the mac and cheese at BoBo's Fine Chicken whose recipes have been handed down from both family and friends.
"If you are looking to destress, get a massage or spa package at Salon@31st. Simply lying on the North End beaches or watching military aircraft land from First Landing Beach also helps put you in a relaxed state of mind. Mingle with locals in the ViBe district's Young Veterans, Smartmouth, or The Bunker breweries." — Keshler Thibert
Explore East Coast fall vacations hotels and Airbnbs near Virginia Beach, Virginia.
13. Hanging Rock State Park, North Carolina
"Hanging Rock State Park is 30 miles north of Winston-Salem. The park has more than 7,000 acres set in the Sauratown Mountains. Peaks here reach 2,500 feet. There are waterfalls, streams, and a lake. Hiking trails are a fantastic way to view the fall leaves on the rolling hills. Many of the trails here are moderate to strenuous, but there are a couple of 'easy' trails for strolling. The lake has great picture-taking angles. The picnic area near the lake has drinking water, restrooms, and wheelchair-accessible picnic tables." — Loretta Berry
Explore East Coast fall vacations hotels and Airbnbs near Hanging Rock State Park, North Carolina.
14. Asheville, North Carolina
"Is there anything better than Asheville, NC, in the Blue Ridge Mountains? Asheville is home to the iconic Biltmore, the 8,000-acre Vanderbilt Estate. Now is a wonderful time to explore Asheville's fall foliage, with dozens of deciduous color-changing trees, primarily in October. A mountain hike puts you amidst the red, orange, and yellow hues, and the brisk mountain air. Graveyard Fields on the Blue Ridge Parkway is one of the easy hiking trails, or choose Linville Falls Trails for its thundering waterfall.
"Enjoy appetizers and a local beer flight at Cedric's Tavern, where the Tavern Pork Pie is superb, before touring the Biltmore Mansion, gardens, and grounds. Shopping is enjoyable at Antler Hill Village, where you can dive into the Creamery's Winky Bar Sundae or partake in a complimentary wine tasting. Downtown Asheville should not be missed—with a mural trail, the Grove Arcade, Asheville Art Museum, and French Broad Chocolate Lounge's artisanal candies." — Melody Pittman
Explore East Coast fall vacations hotels and Airbnbs near Asheville, North Carolina.
15. Charleston, South Carolina
"Charleston is an exciting town at any time of year, but in the fall, when the weather is absolutely perfect, you will experience everything the so-called Holy City has to offer at the ideal temperature to enjoy it all.
"Charleston is an old city with a ton of history. It is known as one of the most haunted places in America. Even though they run year-round, the fall is a terrific time to take a ghost and graveyard tour as it affords you exclusive access to one of Charleston's oldest graveyards after dark." — Jeanine Consoli
Explore hotels and Airbnbs near Charleston, South Carolina.
16. Amelia Island, Florida
"Amelia Island is the perfect fall getaway on the East Coast. It is a gorgeous location year round, but in fall, you have a very tranquil, uncrowded beach with lots of wide-open outdoor space.
"A barrier island just off the coast of northeast Florida, you will find your own little piece of paradise when you visit in the fall. The soft white sand won't burn your feet, the pristine water is still warm, and the crowds are gone. The temperature in fall is in the 70s up to mid-80s.
"Historic downtown showcases some excellent specialty shops, eateries with all kinds of cuisines, the oldest bar in Florida, and more. Abundant outdoor activities include fishing, sailing, biking, hiking, golfing, and horseback riding on the beach. Take a historic tour or hit the spa. I just love walking on the beach and reading a book while sitting by the ocean. You can relax and savor the quiet and the wonders of the East Coast nature.
"Fall ushers in a myriad of festivals for visitors to enjoy from the Fish to Fork festival taking place on September 29 – October 2 to the Northeast Florida Fair happening October 13 – 23. You might also enjoy the Island Hop Craft Brew Fest and the Amelia Island Jazz Festival both happening in October.
"When we visited, we stayed in the newly built Springhill Suites by Marriott, and we loved having a bit of extra room in the suites, the pool area, and the wonderful Luna Fine Art Gallery, housed between the Springhill and the Courtyard hotel.
"I can't imagine a better place to visit and make new memories when you are desiring a much-needed escape in the fall on the East Coast." — Robin O'Neal Smith
Explore East Coast fall vacations hotels and Airbnbs near Amelia Island, Florida.
17. The Florida Keys
"Fall is a special time to visit the East Coast Florida Keys. The heat is less oppressive, the crowds are smaller, and there are lots of events planned to lure visitors during this normally slow time of the year on the East Coast.
"Fantasy Fest in Key West draws the biggest crowds. It's highlighted by outrageous events and costumes, body painting, and lots of alcohol. The nine-day non-stop party in October is decidedly LGBTQ-friendly. There is a clothing-optional pool party for men. Women are encouraged to 'Rock the Tatas,' with the best tatas winning a $500 prize. Just about every bar in town has live music every night. This is not the place for bashful people.
"Things are a little tamer elsewhere in the Keys. Key Largo hosts REEF Fest in October, with sports diving on the offshore reef. In November you'll find true gluttony at the Stone Crab Claw eating contest in Marathon. The Islamorada Sailfish Tournament is the first week in December.
"Check the official Keys website for a list of all events." — Fred Mays
Explore East Coast fall vacations hotels and Airbnbs near The Florida Keys.
18. North Conway, New Hampshire
North Conway, a picturesque village located in the town of Conway is a place I love visiting in the summer. But the fall season is stunningly beautiful there, and there's still plenty to do. To put it simply, in North Conway, you will get a complete New Hampshire fall package. From scenic train rides and historic general stores to massive corn mazes and all the apple cider and donuts you can consume, you'll experience everything.
It's a very good destination for the outdoorsy types, although, with the lack of sales tax, I find that shopping in Settlers Green Outlet Village is an ever-growing attraction.
Explore East Coast fall vacations hotels and Airbnbs near North Conway, NH.
19. Kittery, Main
Several years ago, on my Main trip, I had the opportunity to visit Kittery, located right over the New Hampshire and Massachusetts border. Apart from numerous outlet stores, you'll also have the option of eating at their delicious restaurants, such as Robert's Maine Grill and Bob's Clam Shack.
Also, don't miss to stop at Yummies, a candy store filled from top to bottom with candy you won't see anywhere else. So be sure to give the kids a budget before entering.

Explore East Coast fall vacations hotels and Airbnbs near Kittery, Maine.
When you purchase through links on our site, we may earn an affiliate commission.
FAQs
What Are Family-Friendly Fall Destinations on the East Coast?
From north to south East Coast, places like Martha's Vineyard, Massachusetts, Tarrytown/ Sleepy Hollow, New York, Disneyland in Orlando, and many more are perfect for enjoying the cooler weather and taking the kids for a quick trip to enjoy the autumn weather.
Why Choose The East Coast For Fall Getaways?
The East Coast of the US offers a kaleidoscope of colors and charming destinations for travelers. From the picturesque landscapes of Arkansas to the enchanting places in Michigan, immerse yourself in the vibrant foliage, cozy towns, and seasonal delights.
Where Can I Find the Best Fall Foliage on an East Coast Getaway?
Blue Ridge Parkway in Virginia and North Carolina, Route 100 in Vermont, and Kancamagus Highway in New Hampshire are some of the best scenic routes that offer stunning fall foliage on the East Coast.
Is The East Coast Good For a Romantic Getaway?
Yes. If you're looking for a romantic fall getaway, there are plenty of options on the East Coast. Whether it's a cozy cabin retreat, a vineyard tour, a scenic train ride or a drive, or a beach getaway, there are plenty of romantic activities for couples.
Is It Hard to Find a Cheap Fall Getaway on The East Coast?
No. The East Coast places like Hilton Head Island in South Carolina, Orlando, Florida, or even New York can be surprisingly cheap. There are fewer tourists and you'll find affordable attractions and accommodations.