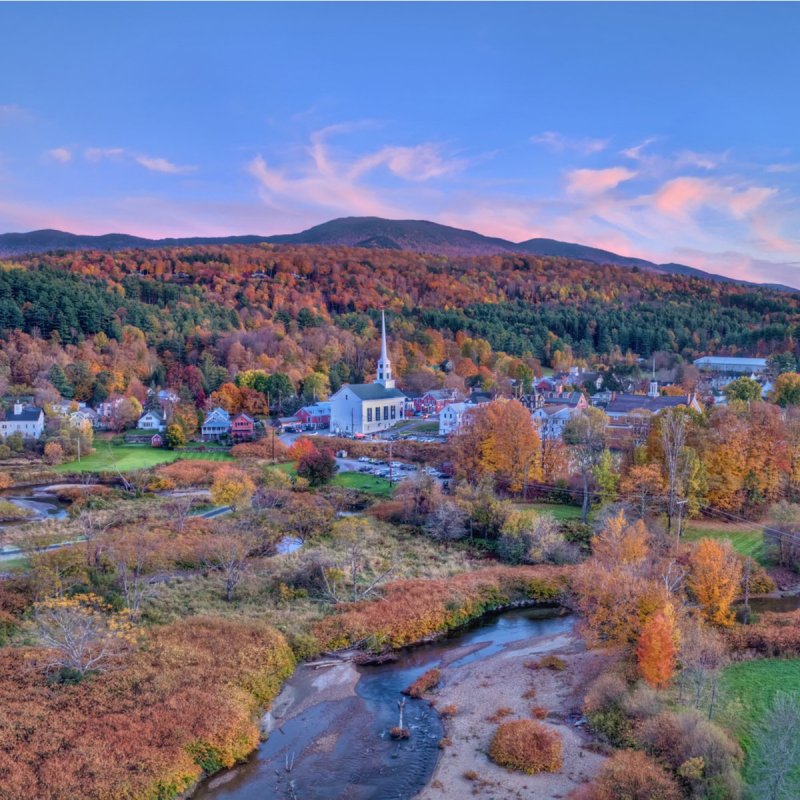 The Green Mountain peaks rise in the west while the Worcester Mountain range points skyward in the east. Nestled between, on the Little River, is the charming village of Stowe, Vermont. Famous for its year-round outdoor activities, here you will find adventures to suit your taste and pocketbook.
Delight In Colorful Leaf Peeping
When the first log hits the wood stove and the air is crisp and clear, the leaves in Stowe explode into a riot of vivid, autumnal colors. Nailing the exact time for leaf peeping is difficult, but prime foliage season runs from mid-September to mid-October.
The Vermont Fall Foliage Report contains timely information from Leaf Squad volunteers scattered around the state. It is a barometer of regional peak foliage.
Enjoy the fleeting fall colors while floating on the Waterbury Reservoir. The Fly Rod Shop offers seasonal foliage excursions where you can experience the colorful, patchwork-covered mountains while relaxing on a chartered boat. As a bonus, you may get to see whitetail deer, moose, bald eagles, osprey, ducks, and maybe even a black bear. Remember to bring your binoculars and a camera.
Take A History Tour Of The Trapp Family Lodge
Memories of The Sound of Music flood back as you visit the Trapp Family Lodge. You will hear a slightly different story than the one from the movie. However, the Austrian-inspired alpine lodge will make you feel like you stepped into a European resort. In operation since 1950, the lodge is still owned and operated by the von Trapp family.
The 90-minute von Trapp Family History Walk includes a historic overview, a documentary film, and often a von Trapp family member chat session. The tour is available to lodge guests for free and for a fee to day visitors.
Private tours are also available; contact bstafford@trappfamily.com for information on setting up a unique von Trapp Lodge experience.
Soar At The Stoweflake Hot Air Balloon Festival
Summer in Stowe, Vermont, is chock full of fun things to do. A fantastic event is the Stoweflake Hot Air Balloon Festival held in July.
As the sun rises, the gigantic, colorful balloons fill and stretch their canvas into beautifully colored orbs straining to soar. At the signal, the balloons, freed from their tethers, lift gently into the sky. With lush green mountains providing a backdrop, the ascent is magical.
Experience the exhilaration of soaring above the festival crowd with a ride in one of the hot air balloons. Reservations are required; contact sfrballoonfest.flights@gmail.com for information. Tethered balloon rides are also available and reservations are not necessary.
Experience All The Winter Fun
Stowe, Vermont, is synonymous with winter fun! Amazing downhill skiing, snowboarding, dog sledding, snowshoeing, snowmobiles, nordic skiing, and sleigh rides make for a picture-perfect, snow-filled vacation.
The ArborTrek Zip Line Canopy Tour will have you soaring. They offer a winter adventure zipping through the cold mountain air, high above the trees. Led by two local guides, the tour is beginner friendly. Experiencing the remote mountain areas from above is a nature lover's dream.
For a more sedate winter activity, sleigh rides at the Trapp Family Lodge will appeal to the outdoor enthusiast who is less adventurous. Snuggle into a cozy sleigh driven by a professional guide as you are gently pulled along through the beautiful mountain landscape. Rides are offered on Wednesdays, Saturdays, and Sundays. Reservations are required; contact Mike Martel at (802) 734-1070.
Hike In Stowe
The Stowe Area Hiking Guide is a complete source for all your hiking questions. Whether you are looking for a beginner trail or expert challenge, you will find it listed here.
During the non-winter months, you can drive through Smugglers' Notch State Park. If you love a Sunday drive, this is your route. The narrow pass runs through the Green Mountains with cliffs as high as 1,000 feet. The beautiful views, hiking trails, photo opportunities, and clean mountain air will entice you to return again and again.
Another great drive is the Auto Toll Road on Mount Mansfield. It is the easiest way to reach the summit and the spectacular views. Stop along the way for a hike or a picnic and some fresh mountain air.
Fish In Pristine Mountain Waters
The clear, cold rivers in Stowe, Vermont, are teeming with fish. The Fly Rod Shop offers many fishing excursions, from beginner casting clinics to full-day guided tours. Beginners can enjoy an instructional fly fishing tour, complete with boots and waders.
Whether you are a catch-and-release or a fish-for-dinner angler, you will love experiencing the peaceful zen of fly casting knee deep in a pristine freshwater river.
Stop For A Scoop At Ben And Jerry's
Sweet and flavorful, the best place to enjoy a Ben and Jerry's Ice Cream is at their factory in Waterbury, just minutes from Stowe.
Take a private tour of the Flavor Lab, where you will don a Ben and Jerry's tie-dyed lab coat and create your own ice cream flavor. To book the 30-minute Flavor Fanatic Experience, call (802) 882-2040.
During July and August, enjoy outdoor movie screenings. Grab a blanket and settle in with the whole family for some fun PG movie time with your favorite ice cream treat.
Jam At The Stowe Jazz Festival
The Stowe Jazz Festival is a free music event held in September. You can listen to all types of instrumental and vocal artists from many different jazz genres. Commune with nature to the beat of great music.
Eating In Stowe, Vermont
Stowe's restaurateurs take pride in locally produced meals and offer sumptuous tip-to-tail cuisine.
Michael's On The Hill For Cozy Fine Dining
Michael's On The Hill is a chef-owned, award-winning farm-to-table restaurant. Michael's presents fine dining coupled with a relaxed, inviting atmosphere.
Your meal could start with a seasonal dish like wild mushroom tartine with truffle honey gastrique and freshly shaved black truffles. The main course will not disappoint; try the spice-roasted venison loin with red wine braised cabbage and chestnut spatzli. If you still have room, finish off with the maple creme brulee and demerara sugar cookie. It will be a memorable meal!
The Whip Bar And Grill For Unique Bar Cuisine
Upscale bar food is the name of the game at The Whip Bar And Grill. They focus on preparing ingredients from Vermont farmers paired with New England microbrews on tap.
Try the duck quesadilla — duck confit, apples, brie, marinated grapes, and a port wine reduction — for starters. You can't go wrong with the Vermont cheddar chicken with Cabot cheddar-apple stuffing and whipped potatoes.
Green Goddess Cafe For Homemade Yumminess
When you are looking for a Main Street cafe that serves the best breakfast in town, check out the Green Goddess. This family-run business makes everything from scratch with ingredients sourced from local farms.
As you would expect, the eggs are perfect, but try the cinnamon raisin French toast made with house cinnamon raisin bread. Amazing!
Shopping In Stowe, Vermont
Stowe Village offers quaint boutiques, galleries, and specialty markets along Main Street and the surrounding area. There are lots of one-of-a-kind shops that offer finds that are simply unique.
Stowe Maple Products produces syrup in its own sugarhouse. The shop offers multiple varieties of wonderfully sweet maple syrup and other delights.
Situated in Stowe Village is a sweet little shop, Laughing Moon Chocolates. In addition to a large selection of homemade sweets, they offer hands-on chocolate dipping workshops. The one-hour classes are offered to large and small groups.
For an old-fashioned establishment, try the Stowe Mercantile, purveyors of gourmet food items, housewares, souvenirs, clothing, and more. The mercantile is a great place to find that perfect item to remember your Stowe adventure.
Stowe, Vermont, has something to offer every visitor who comes her way and each season the mountains offer visitors special gifts. Visit for the awe-inspiring views, to commune with nature, and to rejuvenate your mind.
Don't miss Vermont's hidden gems and best-kept secrets, or the curious history of Vermont's witch windows.