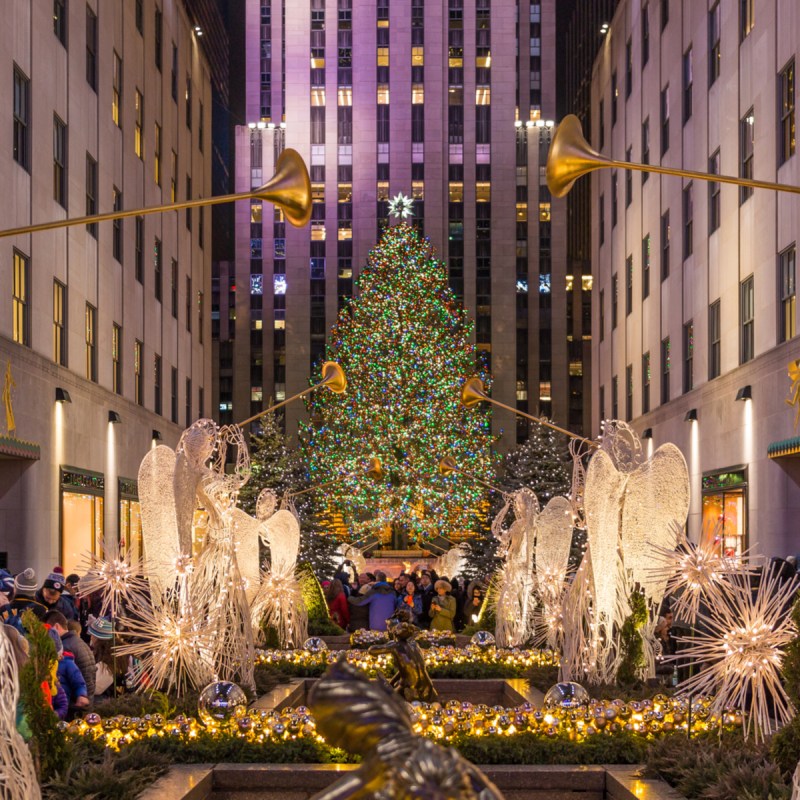 November and December weather is often cold and gray. It starts getting dark early and New Yorkers start feeling a bit grumpy. Then the Christmas and holiday markets open and it all changes.
The smell of mulled wine, hot apple cider, hot chocolate, and peppermint is in the air. A nice, warm feeling comes across us. People are cheerfully going out and about. The stalls are full of unusual gifts for friends and family, giving us the opportunity to find things not usually found in the stores.
One of our favorite discoveries at a holiday market was No Chewing Allowed — a wonderful dark chocolate truffle that melts in your mouth. We've even brought it to family and friends in Singapore.
We are looking forward to new discoveries at this year's holiday markets. The list below contains our favorite markets — the ones that we go to every year. We hope you enjoy shopping at these markets as much as we do.
1. Bank of America Winter Village
Bryant Park
Our first stop is the Bank of America Winter Village at Bryant Park. This market is one of the largest markets. It takes up half of Bryant Park and has about 60 stalls. Bryant Park has an ice-skating rink and many other activities so you can keep the kids (young and old) entertained while you're shopping. You'll find a wide assortment of handmade crafts and unique gifts for your friends and family. Keep your eye out for the apple cider donuts and the mulled wine. If you're hungry, there's food and drinks at The Lodge by the ice-skating rink and at Bryant Park Grill on the 5th Avenue side of the park. And, of course, there are many places to nosh at the market.
Pro Tip
Stop by the market before you go to a show on Broadway. The Winter Village is on 6th Avenue and 42nd Street, a short walk away from Broadway. While in the park, you can also stop by the Gertrude Stein Statue or go around the block to visit the New York Public Library, which has wonderful exhibitions, historic art, and ceiling murals.
2. Union Square Holiday Market
Union Square
The Union Square Holiday Market is our go-to place for shopping for the holidays. This is where we first discovered Kip Kids, a wonderful collection of children's books and shirts by Kip Cosson. Our nephews loved his books and shirts. This is a holiday market with a village feel. There's a farmers market in Union Square Park if you're there on the right days. Many locals shop at the farmers market and then wander by the holiday market. It's smaller than Bryant Park, but a good place to find some unique gifts.
Pro Tip
Union Square Holiday Market is located on 14th St. near University Place. There are plenty of places to eat near the Square. It's also a good jumping-off point if you want to explore the East Village or sample some authentic New York City pizza.
3. Columbus Circle Holiday Market
Columbus Circle
The Columbus Circle Holiday Market is located at the southern end of Central Park, making it one of the most picturesque markets in New York. It is incredibly beautiful when the snow is coming down and blanketing the park. It's a great place to stop after a walk through Central Park. You'll find an assortment of artisan crafts, toys, clothing, jewelry, and foods.
Pro Tip
The Columbus Circle Market is near 59th Street and Central Park West. If you want to do some shopping indoors or are looking for some designer stores, try The Shops at Columbus Circle, a short walk away from the holiday market. Nearby, you'll also find the Turnstyle Underground Market, described next on this list.
4. Turnstyle Underground Market
Columbus Circle
The Turnstyle Underground Market is one of our favorite unique shopping experiences. It is, well, underground at a subway stop. The deceptively small space is a block long. You can get your hair cut, buy a bottle of wine, and find some luscious chocolates or macaroons before hopping on the subway. There are also delicious food offerings — dumplings, bubble tea, empanadas, and more. Or, if you want to go more traditional — pizza and hotdogs.
Pro Tip
It's called the Turnstyle Underground Market, but you don't actually have to swipe a MetroCard to get into the market. It's located beneath 8th Avenue between 57th and 58th. Follow the signs to get into the market. This is also a short walk away from the Columbus Circle Holiday Market.
5. Grand Central Holiday Fair
Vanderbilt Hall In Grand Central Station
Since 1993, the Grand Central Holiday Fair has been taking place in Vanderbilt Hall in Grand Central Station (it was online in 2020 due to the COVID pandemic). It is the oldest holiday market in Manhattan. This market has a special focus on American-made crafts and products with locally sourced materials. You'll find artwork, clothing, toys, jewelry, home goods, and much more. We go every year just to see the latest offerings. It's inside, so good for when the weather is bad. There are plenty of places to eat on the street and inside the station (go to the lower level to see the eateries).
Pro Tip
Make sure to spend some time exploring Grand Central Station before or after shopping. It's a wonderful place with many surprises. Don't miss going outside to see the Tiffany clock.
6. Chelsea Flea Market
Chelsea
While technically not a holiday market, Chelsea Flea is so iconic that we had to include it. It's located in a parking lot in Chelsea and has been around forever (or at least since the early 1980s). Many New Yorkers were sad when it closed in 2019 when the owner lost his lease for the parking lot. It's back and a piece of New York history lives with it. Andy Warhol shopped there. As did many other people looking for antiques, unusual collectibles, mid-century art and furniture, records, and all manner of unusual treasures. You can spend hours looking through the offerings.
Pro Tip
Chelsea Flea is only open on the weekends and is located at 25th and 6th Avenue. It has been brought back to life by a team from Smorgasburg and Brooklyn Flea. If you were planning to go to Brooklyn to sample the innovative food trucks at Smorgasburg, you can now do it right in Chelsea.
These are our top six holiday markets in New York City. There is so much more to stumble upon in the city — street fairs, local markets, small shops, and some of the big shops too.
Know Before You Go
Check the hours for the holiday market before you go. Most are open weeknights and weekends except for the Chelsea Flea which is only open on the weekends.
The holiday markets all get crowded in the prime hours and especially as we get closer to the holidays. If you don't like crowds, we recommend visiting the markets when they first open and on weeknights.
Wandering and enjoying the offerings can take a number of hours. Make sure to leave enough time to leisurely stroll through the markets.
Walking shoes are a plus for the markets as there are limited places to sit and many stalls to see.
The New York City subway is one of the most inaccessible subways in the country, if not the world. This means that getting to the Turnstyle Underground Market can be difficult to access if stairs are a challenge. You can also take the subway and enter from there, but there are still some stairs to maneuver. The rest of the markets are in parks and on level ground. Most are wheelchair accessible.
As in any big city, be mindful of your wallet and purse, particularly in crowded markets.
The weather can change quickly in New York in November and December. It can snow one minute and sleet the next. The snow at the street corners gets very slushy. We recommend waterproof boots with good treads if you're in the city in the winter.
Most importantly, come with a sense of discovery. In addition to the holiday markets, you'll find some lovely small shops in the city that are great for unique shopping experiences. You're likely to stumble upon some wonderful holiday shopping experiences that aren't on this list. Half the fun in New York is the discovery.