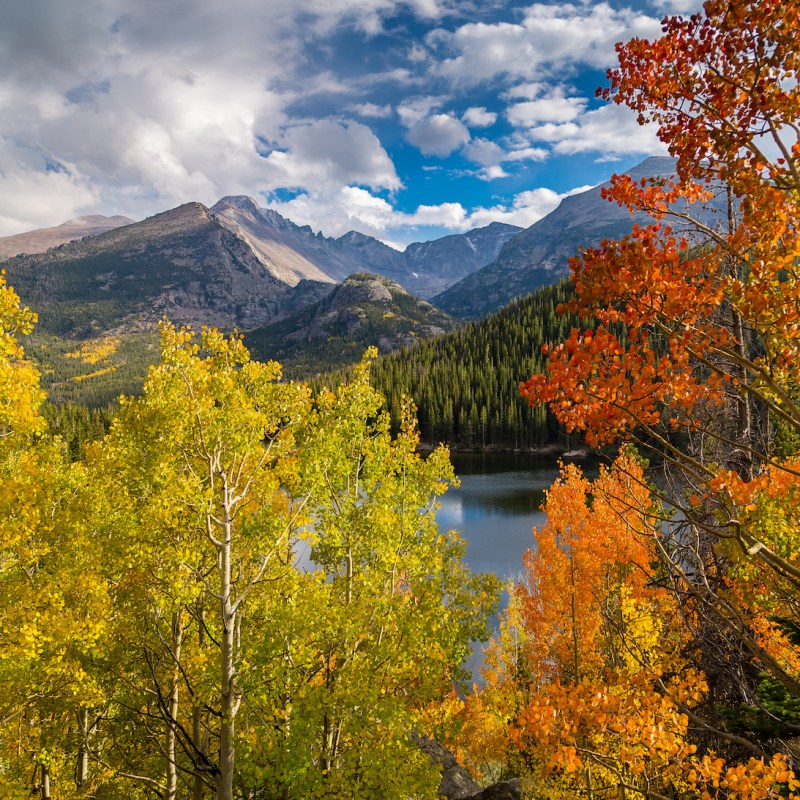 "Camping in national parks in the fall is a great way to commune with nature," says retired National Park Ranger Marilyn Irwin. Who couldn't use a little commune with Mother Nature? Irwin says, "most national parks have campgrounds where travelers can park an RV or pitch a tent."
We reached out to Irwin and a few other retired rangers to tell us their favorite places to camp in the fall. Below you can read about the national parks they suggest visiting in autumn as well as their recommended campgrounds. Keep in mind that campgrounds near national parks are extremely popular, so be sure to make reservations in advance.
1. Rocky Mountain National Park
"If you love the outdoors in the fall, enjoy seeing wildlife which are more active in the fall, like hiking or relaxing in beautiful areas, and feeling the peace of a lovely sunset at the end of your day, consider camping in one of the national parks," says Irwin. "Maybe Rocky Mountain National Park will call your name for a trip to remember."
"In Rocky Mountain National Park, there are five front-country campgrounds," she tells us. "Each beautiful in the fall and accessible by driving directly to them."
Moraine Park Campground
"Each of Rocky's campgrounds has unique features," Irwin shares. "Moraine Park Campground is tucked between two moraines with an expansive view of mountains. The nearby meadow with the Big Thompson River running through it is a good place to spot elk and mule deer any time of the year. In the fall, it's a good place to watch the elk rut [their mating ritual]."
Pro Tips: "For the past several years, Rocky has had a timed entry system," says the former ranger. "Visitors between May 27 and October 10 are required to have timed reservations. A campground reservation gives access to the park at any time and a timed entry reservation is not needed." She also notes that "pets are not allowed on trails in the park but are allowed at front-country campsites."
2. Organ Pipe Cactus National Monument
Located in southern Arizona, Organ Pipe Cactus National Monument is known for its wealth of the distinctive cactus species that is whimsically named after a pipe organ. The region also stands out for its warm and sunny winter weather that allows for stellar hiking, biking, and camping from about November through March. Former National Park Ranger Phil Selleck tells us about his favorite places to camp nearby.
Twin Peaks Campground
"For RV and tent camping, there is the Twin Peaks Campground," Selleck says. "After the middle of October, there are nice temperatures and not a lot of campers. With the temps falling in November, the number of campers picks up. There are 174 pull-through RV sites and 34 tent sites. For organized groups, there is also a group campsite. The campground has restrooms, showers, and drinking water."
For those who want to experience the quiet and views of the desert landscape, this is the place. Generator use is limited to 2 hours in the morning and 2 in the afternoon in 112 campsites; you'll be able to hear cactus wrens in the morning. Enjoy camping among mature saguaro and organ pipe cacti."
Alamo Canyon Campground
"For more quiet tent camping off the main road, check out the Alamo Canyon Campground," suggests Selleck, who says the campground boasts "wonderful hikes into the canyon." Selleck says to "look for pyrrhuloxia [dessert cardinal] and phainopepla, which are birds that are unique to the desert."
Pro Tip: "Remember a flashlight when out at night," reminds Selleck. "There are five species of rattlesnake in the park, and they are very common."
3. Pictured Rocks National Lakeshore
"In the Pictured Rocks area, temps get very cool in the fall, and, other than deer season, should have fewer campers," Selleck says. Here are his favorite places to pitch a tent near Pictured Rocks.
Bayview Campground
"About 90 minutes east of the park, on the Hiawatha National Forest, is Bayview Campground," explains Selleck. He describes the campground as "quiet and very scenic" and reminds potential campers that reservations are necessary.
Primitive Camping Along Lake Superior
"The Forest Service allows 'dispersed' camping with specific rules on how and where to camp in the forest," says Selleck. "So if you can find a spot that falls within their guidelines, you may be able to find your own little Lake Superior getaway."
Pro Tips: "The trip from Bayview Campground to Picture Rocks takes you by Whitefish Point where there is a shipwreck museum that talks about the 300-plus Lake Superior shipwrecks (remember the Edmund Fitzgerald?). Just west, there is Tahquamenon Falls State Park. You may also stumble across the Two Hearted River, made famous by Hemingway. In any case, it's a great way to find Pictured Rocks National Lakeshore," says the former national park ranger.
4. Glen Canyon National Recreation Area
"Glen Canyon National Recreation Area will have fewer campers and cooler temps in the fall," Selleck informs us of his final recommendation for fall. Here's where he likes to camp near the area that surrounds Lake Powell and lies in both Utah and Arizona.
Halls Crossing RV & Campground
"Halls Crossing RV & Campground is run by a concession and is pretty much an ordinary campground," comments Selleck. "But it is the location more than anything. It is one of the lesser-used areas of the park, and the scenery just to get there is great. For part of the trip, Monument Valley dominates the horizon. There are wonderful views of Bears Ears and Natural Bridges National Monument is just a short side trip on the way."
The views from Hall's Crossing are wonderful, especially the dark sky. You can see the Water Pocket Fold of Capitol Reef National Park and Navajo Peak, for example. And 10 minutes from the campground, if you walk out across what looks like unremarkable terrain, you will discover small canyons that narrow to slots before they reach Lake Powell — quiet and beautiful."
5. Shenandoah National Park
"Cool crisp fall nights await in Shenandoah National Park," remarks former National Park Ranger Rebecca Harriett. "The park has five campgrounds that do require advanced reservations," she tells us, "especially during the busy autumn season. Campgrounds are open from early spring until late fall. Weekends are the busiest time so try for a weekday visit if possible."
Big Meadows Campground
"Big Meadows in the middle of the park is the largest, but also closest to Big Meadows Lodge for meals," Harriett informs us. "It is centrally located for campers who like being near the main park visitor center and the concession lodge. Campers can eat at the lodge dining room or tavern if they don't want to cook."
Loft Mountain Campground
"Loft Mountain is the smallest, but quietest," Harriett tells us. "You can't go wrong with the lovely night skies."
Lewis Mountain Campground
"Lewis Mountain Campground is my favorite because it is smaller than the others, but has a camp store for easy resupply," says Harriett.
Pro Tips: "All of the campgrounds are near easily accessible hiking trails, which is my favorite part of Shenandoah National Park," continues Harriett, "They are especially beautiful in spring when wildflowers bloom, but autumn brings gorgeous fall foliage. The Rose River Loop and Rapidan Camp trails are my personal favorites. The Appalachian Trail runs parallel to Skyline Drive for 101 miles, so it is easily accessible for those who want to set foot on the iconic long-distance trail. The night sky at Big Meadows can be pretty spectacular also."
6. Cape Lookout National Seashore
"People usually associate beach camping with the summer," says Harriett, "but I enjoy the beach in early fall (mid-September to the end of October). The crisp night air will keep the bugs at bay, but fishing, birding, and beachcombing will be most pleasant. The water may even be warm enough for a September swim."
There are no designated campgrounds at Cape Lookout, but plenty of space to find a secluded spot for beach camping. Most visitors take the park concession ferry from the east end of Harkers Island, North Carolina, to either Shackleford Banks or Core Banks South near the Cape Lookout Lighthouse. The park's visitor center is located at the marina so campers can get up-to-date information about the weather and things to see and do on the islands. Campers need to be self-sufficient though, including bringing enough water as there are no camp stores within the park. There is a seasonal beach shuttle that will haul you and your gear to your beach location for a small fee, but check the ferry's website for current operating hours. Backpackers can just hike to the beach and select their spot."
Pro Tip: "The only drawback to fall beach camping is the possibility of hurricanes, so be mindful of the weather before heading out," adds Harriett.
7. Cape Hatteras National Seashore
"Cape Hatteras National Seashore is a better option for fall beach camping for those who don't want to rough it," Harriett contends.
Ocracoke Campground
"The seashore has several designated campgrounds, but the one on Ocracoke Island is my favorite," she says. "Like many national park campgrounds, it is best to make reservations ahead of time. Check the park's website for fees and amenities. We are tent campers so don't require much. This campground is near the Village of Ocracoke which has many wonderful seafood restaurants and taverns. Plus, it's fun to just wander around checking out the quaint shops and the historical museum. Getting to Ocracoke requires taking a car ferry, but is well worth the effort, adding to its charm."
8. Guadalupe Mountains National Park
"If you're tempted to visit Yellowstone for its 150th anniversary, consider visiting Guadalupe Mountains," says former National Park Ranger Greg Jackson, "It's also celebrating an anniversary in 2022: 50 years as a park."
"Both Yellowstone and Guadalupe Mountains are well known for their backcountry hiking experiences," says Jackson. "Guadalupe Mountains National Park is primarily a road-free wilderness experience. It doesn't have the major front-country infrastructure of Yellowstone. Come for the hiking and camping. Hiking options are plentiful. There are trails to suit everyone's abilities and endurance."
The two developed campgrounds are nice and typical for an arid environment. The majority of camping is in the 10 wilderness campgrounds. I mentioned that the park is primarily a wilderness experience, right?"
The park does get busy on weekends in its two short peak seasons, spring and fall; midweek, not so much. And outside of peak season, not much at all. As you would expect by its location in west Texas, adjacent to the New Mexico border, summer is hot. Winters are relatively mild but can have some seriously chilly weather due to the park's elevation."
The elevation also gives a bit of a surprise for this part of the world — fall colors. From mid-October to mid-November, in some of the canyons, there are actual deciduous trees with actual leaves that will turn color. While this may not impress those in the northeast, for this part of the world, it's quite something."
Fun Fact: "If you're looking for additional comparisons to other parks, both Guadalupe Mountains and Yosemite are known for massive monoliths known as El Capitan," explains Jackson. "The Guadalupe Mountains version is part of a fossilized reef. So you can also compare it to Capitol Reef National Monument — except the Guadalupe Mountains version was a real reef, and the other just looked like one to those who named it."
Pro Tip: "The park is often combined with a visit to nearby Carlsbad Caverns National Park and White Sands National Park," he says. "Those traveling west on Interstate 10 can also pick up Chiricahua National Monument and Saguaro National Park in Arizona on the trip."
Related Reading: