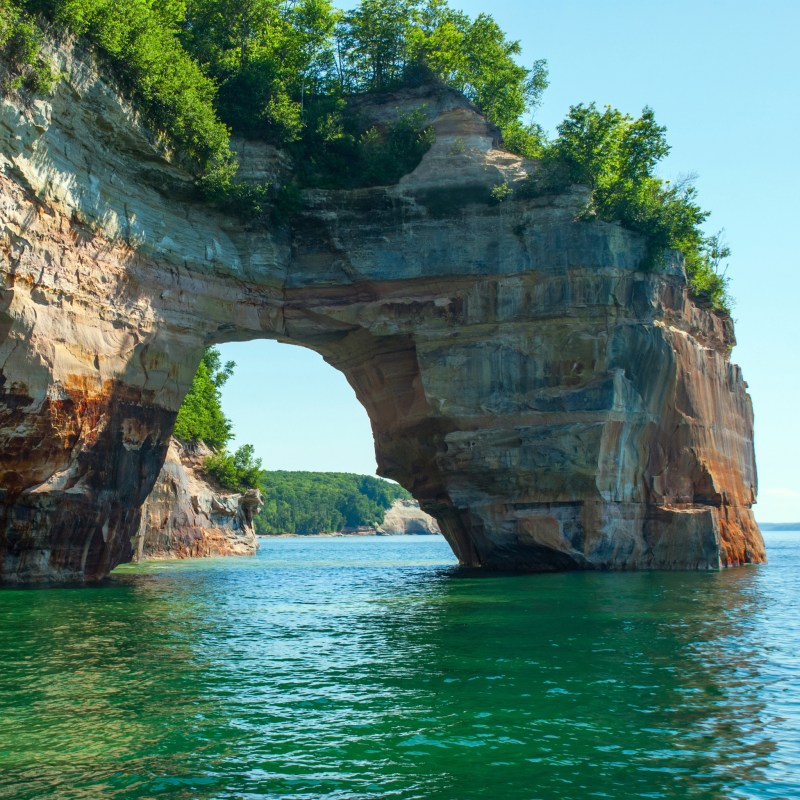 The Pictured Rocks National Lakeshore, located on Lake Superior's south shore in Michigan's Upper Peninsula, was the first of four national shorelines. The National Park Service manages the Pictured Rocks National Shoreline, where you'll find vibrant multi-colored sandstone cliffs and waterfalls. Pictured Rocks National Shoreline, situated between Munising and Grand Marais, is a nature lover's adventure.
Here are 11 things to know to visit the Pictured Rocks National Shoreline safely.
1. The "Pictures" In Pictured Rocks National Shoreline
Groundwater springing through cracks in the rocks and trickling down creates stunning colored striations referred to as "pictures." Minerals paint the multi-colored Pictured Rocks. The red and orange colors come from iron, the blue and green from copper, while manganese produces the browns and blacks, and the white comes from limonite.
2. Best Time To Visit
It's best to visit Memorial Day to Labor Day when the high temperatures are between 60 and 75 degrees Fahrenheit and the lows are between 40 and 56 degrees Fahrenheit. Summer is the best time of year for outdoor activities, like hiking and camping. September and early October are excellent times to view the magnificent fall foliage.
3. Entrance Fees To Pictured Rocks National Shoreline
If you're going for the day only, entrance to the Pictured Rocks National Shoreline is free. If you want to camp overnight, drive-in camping fees are $20 a night, while the backcountry camping fees are $15 a night. Year-round, you will need a backcountry camping permit for any overnight stay. Permits are only for the locations, dates, and number of people indicated. Every backcountry campground limits the length of visit, group size, water access, and wood fires. While they don't require permits for day hiking, hikers must follow the backcountry rules.
The reservation confirmation is not the same as a permit. Before you get to the park, you must print an official backcountry permit through your Recreation.gov account.
4. The Distinct Rock Formations Along The Shoreline Have Names
The Pictured Rocks National Lakeshore features several distinctive rock formations including Miners Castle, Battleship Row, Indian Head, and Lover's Leap.
Miners Castle is the most recognized rock formation within the Pictured Rocks National Park and Lakeshore. In 2006, Miners Castle lost one of its two turrets through erosion. It's a short walk to the visitors' platform.
Battleship Row, found just before Chapel Beach, has rock formations that resemble a row of battleships' sterns. You can see this rock formation best from a boat or kayaking tour.
Indian Head is a fantastic formation that resembles the profile of a Native American, hence the name. Also, Native Americans came to this area to trade on Grand Island.
5. Grand Portal And Petit Portal Or Lover's Leap
Grand Portal is the Pictured Rocks' highest point. Due to its size, at 200 feet above Lake Superior, you can see this beautiful arch for miles. A boat provides the best view of this rock formation.
Lover's Leap is also called Petit Portal Arch since a Native American legend says that when a Native American woman's loved one didn't return from a hunting trip, she was heartbroken and threw herself off the top of the cliff. Do NOT try jumping and swimming from the top. The waters below are shallow.
6. See The Rocks From All Angles
In addition to seeing the Pictured Rocks by hiking, there are several ways to enjoy the stunning shore from the water. Local operators offer boat tours, sea kayaking, and stand-up paddleboarding (SUP).
The 10-mile circuitous hiking trail in the Chapel Basin provides the best view from land. To hike the national shoreline, you can use a shuttle service to get to your starting point and then walk to your vehicle. If you misjudge your time and miss the shuttle at the end of your journey, you need to know the shuttle doesn't just show up. When there are no reservations, the shuttle doesn't run. Also, cell phone service is spotty, and it may be impossible to call for a different pickup.
Pictured Rocks National Lakeshore's backcountry offers almost 100 miles of trails. Running next to Lake Superior, the North Country National Scenic Trail goes through the park's 42-mile strip.
Since I have difficulty walking, I found the boat tour to be the best way to see the entire Pictured Rocks National Shoreline. It's appropriate for all activity levels, and if you have grandchildren under 12 with you, it works for them too. Pictured Rocks cruises depart from the Munising, Michigan City Dock. They have two versions of the tour; the longest includes Spray Falls and lasts 2 hours and 15 minutes, and is 32 miles roundtrip. You'll see nature's vibrant-colored landmarks along the shoreline, including Lover's Leap, Indian Head, Miners Castle, and Chapel Rock.
Sea kayaking is another way to enjoy the shoreline. The safest way to kayak is to use one of the Certified Use Authorizations (CUA) partners through the National Park Service. They have experience providing guided kayaking tours. They do offshore launches where you kayak to the most famous sections of the Pictured Rocks National Shoreline, from Chapel Rock to the Painted Coves. While on Lake Superior, there are many safety requirements for kayaking, and these tour guides are aware of them and improve your chances of having a safe trip.
North Coast Paddleboarding offers stand-up paddleboarding (SUP), which is a low-impact activity. If you become tired during the 3-hour excursion, you can attach a kayak seat and convert the paddleboard, continuing with a sit-on-top paddleboard.
7. Know The Safety Rules
First, don't depend on cell phone coverage, as cell phone service in northern Michigan is spotty. When calling for help, it could take 60 to 90 minutes for rescue services to reach you. In rough weather, it could take longer.
When kayaking on Lake Superior, you must use a sea kayak, not a recreational kayak. Don't use canoes in open waters like Lake Superior. The law requires a Personal Flotation Device (PFD) or life jacket and an air horn or whistle.
8. Check Current Conditions
The day you visit, check the National Park Service's website for instructions on current conditions. The Great Lakes can get very rough, and some days, it isn't safe to go out on the water.
Take a jacket. Even during summer, the evenings can get chilly in Michigan's Upper Peninsula. Also, be aware that Lake Superior's temperatures can be 10 to 15 degrees cooler than onshore.
9. Plan For Your Meals
While you'll find plenty of picnic tables within the lakeshore boundaries, you won't find restaurants, grocery stores, or even vending machines. You'll need to visit one of the nearby towns or pack a picnic to take with you.
A regional specialty is a pastie, and Muldoons Pasties in Munising is a great place to sample one. A pastie is a hand-held meat pie made with ground beef, potatoes, carrots, onion, and rutabaga, baked in a pie crust. They are sometimes served on a plate and covered in gravy.
10. Waterfalls On Pictured Rocks National Shoreline
Chapel Falls and Spray Falls are the two waterfalls on the Pictured Rocks National Shoreline. Chapel Falls is an 80-feet high waterfall with water coming from Section Creek. The hike to Chapel Falls takes about an hour, with a one-way walk of about 3 miles to the waterfall or 6 miles roundtrip. In the 1940s, the archway that connected the rock to the mainland collapsed. Today it is attached only by the tree roots.
Lakeshore Trail leads to the top of Spray Falls, the most remote waterfall. It's nearly a 4-mile hike from Chapel Falls. Spray Creek jets out 70 feet over the Pictured Rocks cliffs and finally drops into Lake Superior. About a quarter-mile east of the falls is a safe lookout point with a view of the falls. Spray Falls is also part of one of the Pictured Rocks boat tours and is the perfect vantage point for viewing the falls.
11. The Grand Island East Channel Lighthouse
While Grand Island is a National Recreation Area, the Grand Island East Channel Lighthouse is on private land. Therefore, you can't visit the lighthouse directly. A commercial boat tour, private boat, or sea kayak is the best way to see the lighthouse.
Pro Tip: The closest airport to Pictured Rocks National Shoreline is Marquette (MQT), the largest city in Michigan's Upper Peninsula. The driving distance between Marquette to the Pictured Rocks National Shoreline is about 43 miles. Other airports in the area are Escanaba (ESC) or Sault Ste. Marie (CIU), Michigan. When making flight reservations, be aware there's also a Sault Ste. Marie, Ontario, Canada (YAM), so don't confuse them when deciding your flight. When you arrive, you'll want to rent a car.
Related articles: