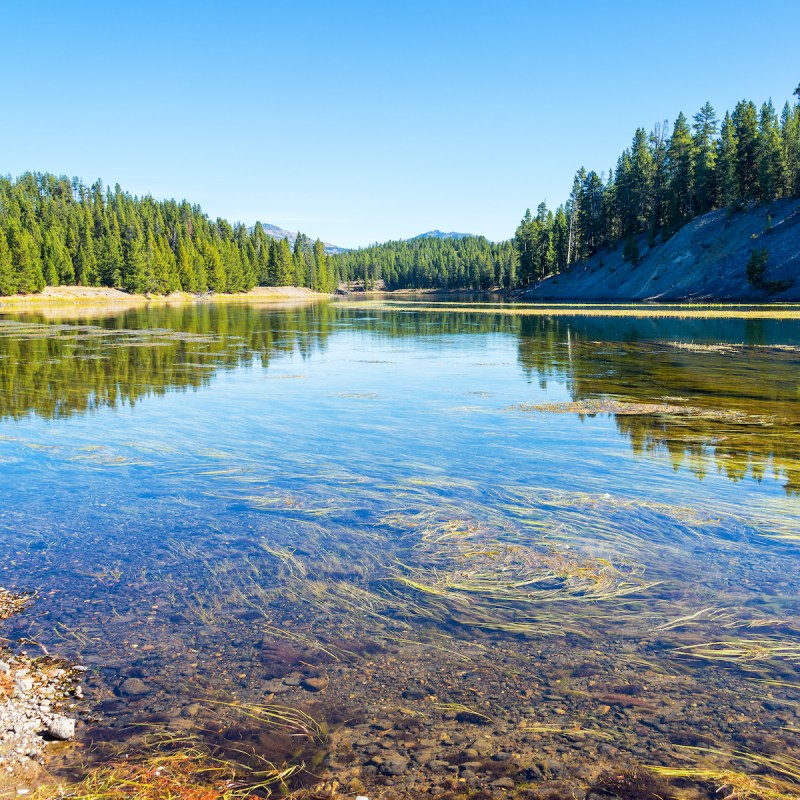 No matter when you visit, Yellowstone National Park is a pretty special place. But in 2022, you can expect everything in the park to be amazing. That's because Yellowstone is celebrating its 150th anniversary and everyone's invited to the party.
It's no wonder that this spectacular spot became the very first national park, not just in the United States but the entire world in 1852. This incredible natural habitat includes bison, elk, wolves, and raptors, and other-worldly geothermal features including geysers, hot springs, fumaroles, travertine terraces, and mud pots. The home of the famous Old Faithful geyser, Yellowstone attracts millions of people each year and 2022 is promising to be a banner year. If you want to celebrate the park's big milestone, here are some tips for planning your visit.
1. Start With Some Social Media Stalking
Yellowstone's 150th birthday is going to be chock-full of events. To keep up to date on all the announcements and possible changes of plans (for instance, if a trail shuts down for maintenance), monitor the park's social media accounts. You can find Yellowstone National Park's list of social media platforms here.
2. Plan On Visiting Three States
While Yellowstone is considered an iconic Wyoming destination, the park is technically in three states. Ninety-six percent of the park's territory is located in Wyoming but 3 percent is in Montana and 1 percent is in Idaho. Why does this matter? I have a sneaking suspicion that all three states will plan special celebrations for Yellowstone's big birthday, so it doesn't hurt to keep an eye on their respective state tourism board social media accounts to see what might be announced.
I have to say, I have a soft spot for the Montana section of Yellowstone. On my first visit, I drove in through Montana and the West Entrance and I was instantly smitten. The scenery, as you might expect, is spectacular but what really stayed with me was how incredible the air smelled. It was so crisp and clear and even smelled a bit like cinnamon. What a way to start a trip!
3. Book Your Accommodations Early. Super Early!
This is the kind of tip that applies to any National Park at any time: Book your accommodations early, especially if you want one of the highly in-demand historic park lodges. Now take one of the most popular parks around and add in the fact that 2022 is an extra special anniversary and you've got a scenario that equals really high demand and limited availability. You don't want to book early. You want to book super early! (Feel free to hop over the park's reservation page right now. We'll wait).
Thankfully, there are plenty of amazing choices within the park. Yellowstone National Park Lodges operates nine lodges (both hotel-style and cabin-style) in the park with more than 2,000 rooms. All are open from late spring through fall, but only two are open in the winter: Old Faithful Snow Lodge and Mammoth Hot Springs Hotel.
4. Know The Cancelation Schedule
Many rooms book a full year ahead of time but that doesn't mean you can't get a room if you aren't an early bird. You can try checking availability 30 days or so before your visit. Those with existing reservations get a full refund if they cancel with at least 30 days' notice. Another good benchmark for checking is at 8 days pre-trip. Summer guests lose their full deposit if they cancel with 7 days or fewer remaining before their trip. If a last-minute cancelation is going to open up, chances are it's at the 8-day mark.
5. Last-Minute Travelers Might Luck Out For Camping
If you're a last-minute kind of traveler, you'll appreciate that three of Yellowstone's 12 campgrounds are first-come, first-served. As well, there are 300 backcountry campsites. Yep, that does mean you'll have to trek to get there! But it also means getting a tiny corner of the iconic park entirely to yourself, for just a few dollars a night. You can read all the details of what backcountry camping entails here.
Another flexible option if the backcountry doesn't appeal to you is the newly renovated Fishing Bridge RV Park. It's slated to reopen in late May 2022. It will offer 172 revamped sites for hard-side RVs ranging from 40 to 95 feet, plus upgraded electrical service and additional shower and laundry facilities.
6. Consider Booking Outside The Park
While it's hard to argue with the convenience of staying within Yellowstone (to say nothing of how cool it is to experience the historic lodges), accommodations just outside the park might be a better deal. As things book up rapidly for the 150th anniversary, you might not find the availability or prices you were hoping for within Yellowstone's boundaries. The hotels and inns of the gateway towns usually offer better prices and don't book up as quickly. The Irma Hotel in nearby Cody is a good choice for anyone who wants something nearly as old as Yellowstone itself (the hotel was established in 1902) and plenty of legends (it was founded by Buffalo Bill himself.)
7. Plan On Pacing Yourself
All parks promote wide open spaces but Yellowstone is a bit more wide open than most. It's the second-largest park in the lower 48 states. Only Death Valley National Park is bigger. There are approximately 3,500 square miles to cover. There are people who've spent their whole lives exploring Yellowstone and haven't come close to experiencing it all. So plan on pacing yourself. Expect drives to take longer than you expect, thanks to frequent stops to view wildlife and the resulting traffic accumulation.
8. Try To Hang Out During Non-Peak Times
Yellowstone is beautiful any time of day but it's especially lovely in the early morning and evening. That light is a photographer's dream! And an extra nice perk is that there will be fewer people around.
I was once so keen to visit on off-peak hours that I arrived super-early, only to crash mid-day when the combination of jetlag and a pre-dawn wake-up hit me. So I did what any sensible person would do: I took a nap in my car in a parking lot! The only thing I missed was the post-lunch crowds around Old Faithful and I promptly went inside the Old Faithful Inn to visit the tiny coffee kiosk that's tucked away on the mezzanine level. One latte and a treat later and I was ready to go!
9. Don't Be Finicky About Rental Car Prices
Unless you're on an epic road trip (lucky you!) and have your own vehicle, you'll need a rental car to explore Yellowstone National Park. There's no comprehensive public transit system to rely on. Unfortunately, rental car prices just about everywhere are on the rise. When the COVID-19 pandemic began and travel all but stopped, most car rental companies sold a significant portion of their fleet in order to make up for lost revenue. Now travel is back, but these companies still haven't regained their old stock levels. My best advice is to book your rental vehicle now and don't hold off just because the choice of vehicles isn't what you envisioned. Right now, getting a large sedan instead of an SUV might seem like a letdown but you could be stuck with a tiny compact car — or nothing at all. Take what you can get now but keep looking. Having something set up is better than nothing.
10. Plan Out Some Paths
There are more than 900 miles of trails in Yellowstone National Park, ranging from short, easy, accessible paths to epic multi-day challenges. While you certainly don't need any special training to tackle the majority of the park's most popular routes, 2022 is shaping up to be an extremely busy year. If you want a path to yourself, you might have to go, well, not off the beaten path per se, but certainly along the road less traveled. Having a list of hikes that match your interests and abilities means you'll always have a backup plan should your first choice be crowded.
11. Download All Your Plans
If you're like me, you might email your travel plans to yourself or bookmark certain web pages and social media posts for easy reference when you travel. Alas, such clever plans don't exactly work out in Yellowstone because much of the park has no reliable cell signal. That means no quick email checks! As such, download your travel plans before you enter the park and include some maps and driving instructions as well. Happily, Yellowstone National Park has its own app that you can download and use offline.
Read more about Yellowstone National Park in these articles: