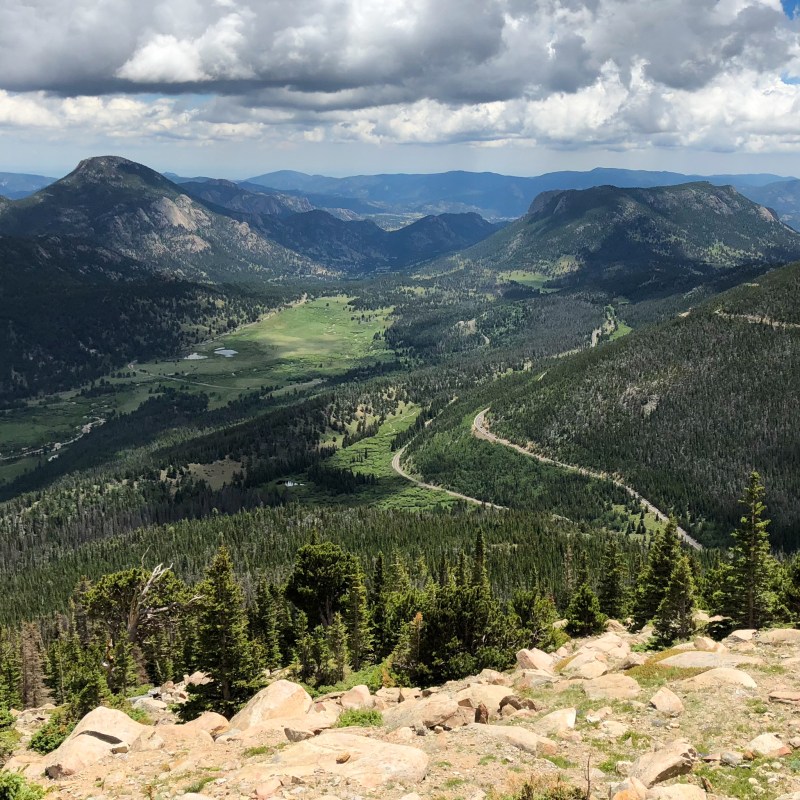 Rocky Mountain National Park (RMNP) in Colorado is about a two-hour drive from Denver. It features 76 mountains, each over 10,000 feet high, and is over 400 square miles in size.
The United States acquired the park land as part of the Louisiana Purchase back in 1803. Visitors have appreciated its towering peaks and abundant wildlife for years.
The area became a national park in 1915 when President Woodrow Wilson was in office. At the time, it was a relatively undeveloped area with few roads and private buildings dotting the landscape.
The Great Depression brought the Civilian Conservation Corps to the area to erect lodges and build roads and trails.
Trail Ridge opened in 1932 and it is the highest paved road in the United States. It takes drivers on a climb to nearly 11,500 feet above sea level. The road takes you across the Continental Divide and connects Estes Park with Grand Lake.
As you drive the highway it winds through meadows, pine forests, wind-twisted trees, windswept tundra, and snow capped mountains. At the top you have a 360-degree view of the surrounding mountains and valleys.
Rocky Mountain National Park is a popular day trip for summer visitors. You can leave Denver and drive through the park and over the Continental Divide and return as the sun sets behind the Rockies. But I recommend you spend a bit more time in the park. There is much to see and enjoy.
Why else should you put a trip to Rocky Mountain National Park on your bucket list? Here are a few good reasons.
1. Visit Estes Park
As you enter Rocky Mountain National Park, you go through the town of Estes Park. The town's wide selection of restaurants and lodging options, and the Estes Park Visitors Center, make it a nice starting point for visiting the park. It also provides stunning views and some of your early photo opportunities.
I enjoyed this little town with its quaint shops and eating areas and would like to spend a bit more time there on my next visit.
2. Enjoy Educational Programs
There are numerous educational programs for visitors of all ages every day. Check the park's newspaper (you will receive a copy when you enter the park) for current listings of ranger-led presentations. Evening programs are also available at the campgrounds.
3. Attend Discovery Days
Every Tuesday and Wednesday during the summer months, a rotating educational exhibit is provided by the Rocky Mountain National Park's Environmental Education staff. The programs, hosted in Moraine Park Campground, focus on cultural history, geology, mammals, birds, and more.
4. See Wildlife
You can see a variety of wildlife in Rocky Mountain National Park. Keep your camera handy at all times. When traffic reaches a bottleneck, it is usually because a wild animal has been sighted. Look for majestic elk, bighorn sheep, mountain goats, moose, and more.
When we visited, we saw a moose cow and her calf grazing by a river. We also saw some bighorn sheep in the distance when we were visiting the Alpine Visitor Center.
5. View Scenic Wonders
From glaciers and snow capped-mountains to waterfalls and lakes, Rocky Mountain National Park delivers scenic wonder for your viewing pleasure.
There are four separate ecosystems in the park: montane, subalpine, alpine tundra, and riparian. Each has its own wildlife, beautiful scenery, and stunning views.
6. Take A Hike Or Walk
Feeling energetic and ready for some activity? There are many places for the hiking enthusiast to enjoy. Whether a casual hiker or an experienced mountaineer, Rocky Mountain National Park has you covered. There are 112 moderate trails in the park ranging from 0.6 to 39 miles and from 7,805 to 13,047 feet above sea level. Deer Mountain, Flat Top, Hallett Peak, Estes Cone, Twin Sisters, and Mount Ida are all favorites. Make sure you give yourself plenty of time to adjust to the altitude, take water, and wear appropriate hiking shoes.
If a leisurely stroll is more your thing, how about a walk around Sprague Lake? Sprague Lake was created in 1914 to accompany a resort that is no more, but the lake remains. It is an artificial lake but offers some of the most spectacular views and is a great place for a walk and maybe a picnic.
For more hiking inspiration, read up on the best hikes in Rocky Mountain National Park.
7. Enjoy Numerous Photo Opportunities
Photo opportunities are everywhere. There are dozens of places along the road to pull off and take pictures of the beautiful scenery, wild animals, and important landmarks. Some subjects to be sure you capture are Sprague Lake, Alberta Falls, the Continental Divide sign, and the glaciers and snow-capped mountains.
Want to take stunning photos while you're in the park? Read our nine travel photography tips for amazing photos on your next trip.
8. Try Some Fishing
Grab your rod and reel and do some fishing. Glacier Creek offers easy gentle fishing in places as well as spots that require river navigation skills. Just be sure to purchase your fishing license ahead of time.
9. Straddle The Continental Divide
Head to Milner Pass, stand over the line with the sign in the background, and get a photo of yourself with one foot on each side of the continental divide.
10. View Beautiful Waterfalls
Alberta Falls is the most visited waterfall in RMNP. It is accessible from Glacier Gorge and the Bear Lake Parking area. It is a 1.4-mile round trip hike and the trail is well developed. If you only have time for one hike, this is the one to take.
11. Stop At The Alpine Visitor Center
At 11,796 feet, the Alpine Visitor Center along the Trail Ridge Road is the highest rest stop in the park and the highest facility operated by the National Park Service. It is a great place to take some pictures, spot some wildlife, use restroom facilities, and grab a quick lunch. There are also souvenirs and snacks available for purchase. It is only open in the summer months and closes by mid-October.
12. Play In The Snowcapped Mountains
Even though it might be warm when you leave, as you go up the mountain, the temperature drops significantly. Even in July, you will still see snow at higher elevations. When we visited, we had to all get out and play in the snow. It was fun to have a snowball battle in the middle of July.
13. See Some Glaciers
Several glaciers are viewable at a distance or close up from various spots around the park. Enjoy the view of the Andrews, Mills, Moomaw, Taylor Rowe, and Tyndall glaciers.
Travel Tips For Visitors
Rent A Car Or Consider Using The Park Shuttle
It is about a two-hour drive from downtown Denver to Rocky Mountain National Park. Be aware that once in the park, some of the roads are narrow and winding with lots of curves. A rental car could be perfect for the trip. Better yet, let someone else do the driving so you can sit back and enjoy the view. You can catch the shuttle at the Estes Park Fairgrounds, Beaver Meadows Visitor Center, or the Park and Ride (within the park boundaries). This service is fantastic for the over-50 crowd.
Go Early
Lines to get into the park can be long. Be prepared for slow-moving traffic at various points.
Take Warm Clothing
Even though you might be visiting in summer, the temperature is usually 30 degrees cooler at the park's higher altitudes. Make sure you have warm clothing because it will get cold as you go up.
Watch For Altitude Sickness
Rocky Mountain National Park is at a higher altitude than Denver. Don't overdo it with physical activity, and be sure to bring plenty of water to drink.
Also Note
While the park is typically open year round, there may be weather-related road closures, and some visitor centers and attractions close seasonally. You can check current conditions here.
In order to visit, you will need to reserve a timed entry permit ahead of time. These permits can be purchased online. For more information about new guidelines at the park, check out our full list of national parks requiring changes for visitors.
Or read up on how to get a National Parks Senior Pass, which are available for annual and lifetime purchase.