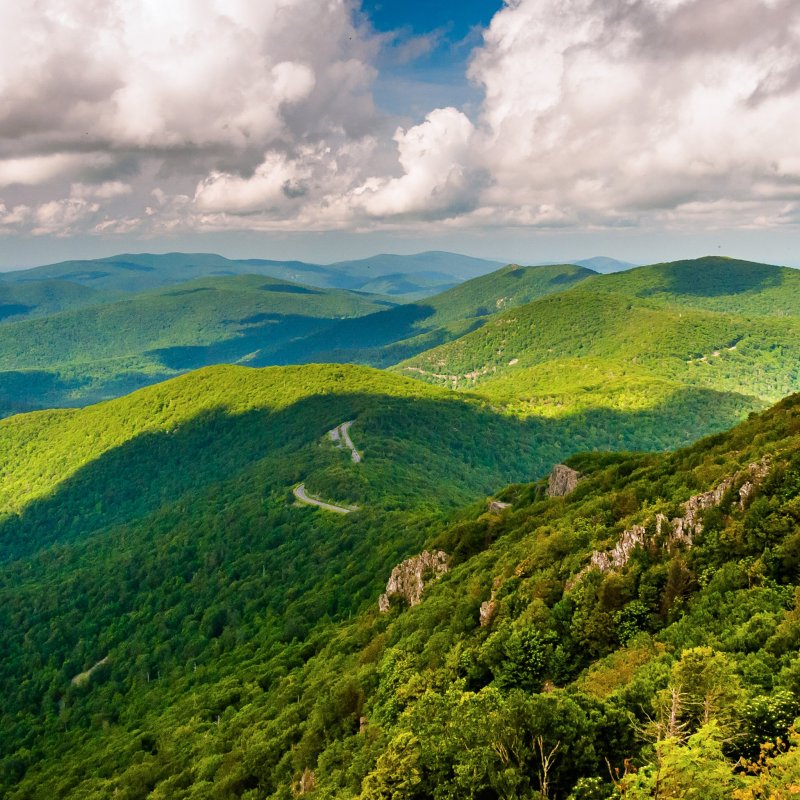 Swapping thundering waterfalls for flowing fountains and blue-tinted mountains for granite monuments, Shenandoah National Park provides a respite from America's busy capital city. Before Camp David was established, the natural beauty of the Blue Ridge Mountains helped presidents cope with the pressures of office. And less than 90 minutes west of Washington, D.C., the panoramic views, active wildlife, and miles of trails promise to help you disconnect and unwind as well.
Whether you seek a scenic drive, crave a bite to eat, or enjoy hands-on history lessons, these are the best things to do in Shenandoah National Park.
11 Best Things To Do In Shenandoah National Park
1. Start At The Visitor Center
If you don't typically start your adventures with a stop at the visitor center, Shenandoah National Park is the perfect place to begin making it a habit. The park's two visitor centers are separated by 25 miles of gorgeous Blue Ridge Mountain scenery. The Dickey Ridge Visitor Center is located 4 miles west of the Thornton Gap entrance, and the Byrd Visitor Center is just south of Big Meadows Lodge. Both facilities are home to helpful rangers, first-aid facilities, informative exhibits, and brief films that deliver fantastic overviews of the area.
Pro Tip: If you're visiting Shenandoah National Park on a road trip through Virginia, don't miss these nearby attractions.
2. Learn From A Ranger
Leverage the experience of a park ranger to explore Shenandoah National Park more intimately. Rangers often share in-depth knowledge of the history, geology, and ecology of the park during ranger chats. They also lead guided hikes and narrate nature walks that help you connect with the beautiful surroundings.
Prepare for your trip to Shenandoah National Park by watching a few Shenandoah Shorts or reading posts from park rangers on the Shenandoah National Park Facebook page.
3. Binge On Blackberries
Along the edge of the forest-topped mountains, delicate white flowers bloom on thorny bushes throughout May. As the sunny summer days grow longer, the blooms slowly transform into juicy blackberries. The seasonal fruit is so popular at Shenandoah that it is celebrated annually during Blackberry Delight, a day-long celebration in July that spotlights the sweet berries.
Regardless of when you visit Shenandoah National Park, you can nosh on blackberries — blended into a thick milkshake, baked into a cobbler, or as the main ingredient in a thick slice of blackberry ice cream pie. Look for blackberry desserts at the Big Meadows Wayside, Big Meadows Lodge, Pollock Dining Room, and other eateries within Shenandoah National Park.
Pro Tip: If you're visiting Shenandoah National Park with your four-legged best friend, don't miss Yappy Hour on the terrace at Big Meadows Lodge. While you enjoy your blackberry treat, your furry friend can devour a special doggie sundae of vanilla ice cream topped with a dog biscuit.
Pro Tip: In addition to producing juicy blackberries, Virginia is one of the nation's top harvesters of oysters. Here are the best places to enjoy fresh oysters (and other tasty treats) when you visit Virginia.
4. Enjoy A Picnic
Another way to relish Shenandoah's fresh blackberries is paired with a bottle of your favorite Shenandoah Valley wine. Add chunks of creamy cheese, slices of salty charcuterie, and other nibbles and stop for a delicious picnic in the park. From Dickey Ridge to Dundo, Shenandoah National Park offers ample picnic areas. Look for picnic tables under shady trees, and you'll find charcoal grills and restroom facilities conveniently located nearby.
5. Explore Rapidan Camp
For nearly a century, American presidents have sought solace at Camp David. But before that wooded getaway in northern Maryland was first used by Franklin D. Roosevelt, his predecessor retreated to Rapidan Camp in Shenandoah National Park during the summer.
At the start of his presidency, Iowa native Herbert Hoover purchased this 164-acre site nestled in a hemlock forest within the park. Adding 13 modest cabins, an outdoor fireplace, and rustic gardens, the Hoovers entertained heads of state, dignitaries, and family members at the first complex in American history intentionally designed as a presidential retreat.
When the stock market crash triggered the Great Depression, Hoover hiked through the woods and fished in the streams at Rapidan Camp to help manage the stress he was under from leading the nation through one of the darkest periods in modern United States history. And at the end of his troubled administration, Hoover donated the camp to the American people.
6. Tour Skyline Drive
Just as Going-to-the-Sun Road winds through Glacier National Park and Desert View Drive parallels the Grand Canyon, Skyline Drive runs the length of Shenandoah National Park. Stretching more than 100 miles, this beautiful two-lane road hugs the crest of the Blue Ridge Mountains. As you travel through tunnels carved into the mountainside and wind beneath old-growth trees, you'll be treated to breathtaking views of the hazy, greenish-blue-tinted mountains.
It typically takes about 3 hours to travel the full length of Skyline Drive, but that timeline will vary based on your stops at the nearly 70 scenic overlooks.
7. Hike The Trails
Extending from Maine to Georgia, the Appalachian Trail is the world's longest hiking-only footpath. With 544 miles of the Appalachian Trail winding through Virginia, the Old Dominion is home to the longest stretch of the famous path. The 101 miles of the Appalachian Trail that wind through Shenandoah National Park run parallel to Skyline Drive, making this park the perfect place to easily explore a section of the trail.
With more than 500 miles of trails to explore, you'll find a wide range of hiking experiences in Shenandoah. For relatively easy hikes, consider Stony Man or Blackrock Summit. Both treks are just over a mile long and are good for all skill levels. They're also an easy way to be able to brag to your friends that you hiked (a part of) the Appalachian Trail.
On the other end of the spectrum, the 9.5-mile out-and-back Whiteoak Canyon Trail and the 9.8-mile Old Rag Mountain Loop are two of the park's most challenging hikes. Both are rated difficult, with more than 2,000-foot elevation gains, but the cascading waterfalls and sweeping views make them worth the effort.
Pro Tip: For other fantastic hikes throughout the state of Virginia, check out this article.
8. Watch For Wildlife
As you twist and turn your way through the switchbacks of Skyline Road, stopping to enjoy the scenery, keep an eye out for the mammals, birds, and fish that call Shenandoah home. You'll likely spot white-tailed deer, squirrels, and chipmunks as you explore. If you're lucky, you might even see a woodchuck, beaver, or black bear.
Overhead, watch for blue jays, cardinals, and red-tailed hawks. And as you hike along mountain streams, you might see a school of trout swimming in the clear water. While many of the park's snakes are not dangerous, you will want to watch for copperheads and timber rattlesnakes, both of which are venomous.
The best places to observe wildlife at Shenandoah are along Skyline Drive and on the park's many trails. With either option, animals are most commonly seen early in the morning and just before sunset. Remember to always follow these safety tips when encountering animals at Shenandoah National Park.
9. Gaze At Waterfalls
In addition to Skyline Drive, scenic Shenandoah National Park is known for its spectacular waterfalls. You'll find at least one flowing fall in each section of the park, and all are accessible from parking lots and pull-outs along Skyline Drive.
Just south of the Big Meadows area, the 1.4-mile out-and-back Dark Hollow Falls Trail is one of the shortest waterfall hikes. While the hike down to the falls is relatively easy, don't overlook the fact that the uphill trek back to your vehicle is the equivalent of scaling a 40-story building!
10. Pitch A Tent
One of the best ways to connect with the natural beauty of Shenandoah National Park is to go camping. Fall asleep under the stars and wake to an alarm of singing birds as the sun slowly rises in the east by pitching a tent or parking your RV in one of the park's five campgrounds.
For a more adventurous experience, consider backcountry camping in the Shenandoah wilderness. You'll need to plan ahead and follow all of the backcountry rules (including obtaining a free permit) — but what an adventure!
Remember that Shenandoah National Park is in black bear country. In fact, Shenandoah has one of the nation's densest populations of black bears! So whether you are roughing it in the wilderness, tent camping at a campground, or lodging in a camper, you'll need to follow the food safety procedures and be bear aware when visiting Shenandoah.
11. Go Glamping
If you love the great outdoors — but also enjoy modern amenities like running water and flush toilets — consider lodging in one of the park's cabins. Accommodations range from rustic cabins to luxurious suites. Near Luray, the Lewis Mountain Cabins range from simple shelters (no bathrooms or running water) to two-room bungalows with private baths.
At the Big Meadows Lodge and Skyland, you'll find hotel-like lodgings with comparable amenities. Both of these accommodations offer on-site dining facilities, and most importantly, they serve delicious blackberry desserts!
From its famed Skyline Drive to its delicious blackberry desserts, Shenandoah National Park is a beautiful place to escape the crowded cities along the Eastern Seaboard and reconnect with nature.