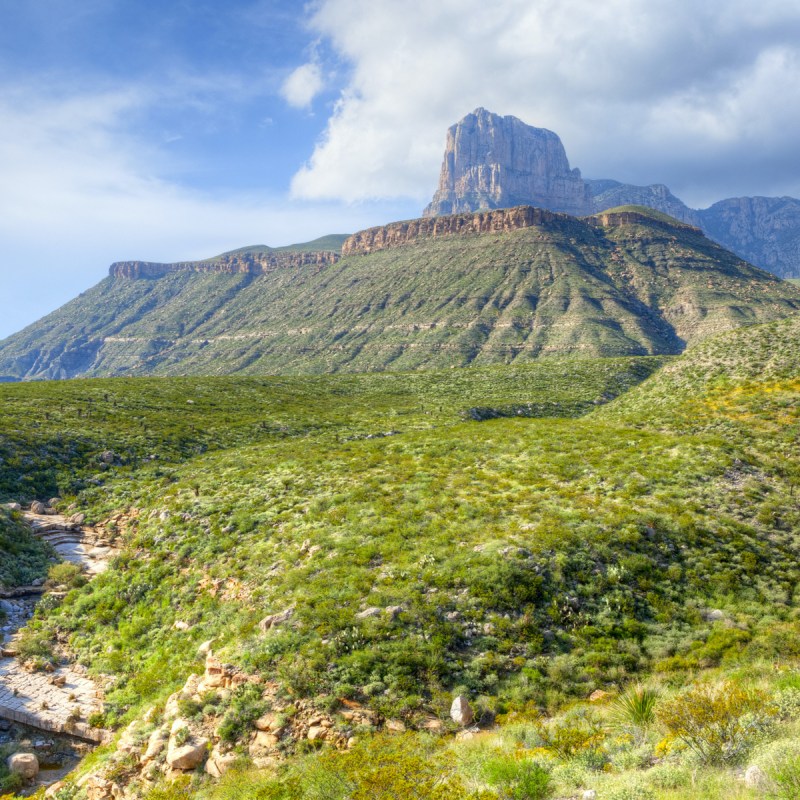 Looming high in a remote part of West Texas off Highway 62/180, the Guadalupe Mountains are a geological phenomenon straddling the Texas–New Mexico border. They became a national park on September 30, 1972. Home to El Capitan, the most visible point in Texas at 8,085 feet, there are 360-degree views of this towering signal peak, a compelling rugged limestone icon towering above the road, beckoning hikers, backpackers, and campers to the little-explored wilderness, solace, and solitude.
The highest mountain in Texas is north of El Capitan: Guadalupe Peak, at 8,751 feet. Four additional peaks in the park tower over 8,000 feet: Hunter Peak at 8,368 feet, Bartlett at 8,497 feet, Shumard Peak at 8,615 feet, and Bush Mountain at 8,631 feet.
When visiting Guadalupe Mountains National Park, bring a full gas tank and food and water, as there are no restaurants, lodging, or gas stations in or near the park. Cell phone service is spotty, so for you, that means more solitude and fewer crowds.
John Muir reminds us: "Keep close to Nature's heart and break clear, once in a while, and climb a mountain or spend a week in the woods. Wash your spirit clean."
Bring paper maps of the state and the park. I ordered National Geographic's Guadalupe Mountains National Park Map with illustrated trails and topography. It is also waterproof and tear-resistant.
Towns around the park are few and far between; the closest is Dell City to the west, where my husband's grandfather lived. Whites City, the gateway to Carlsbad Caverns, is across the state line in New Mexico, 35 miles east of the park entrance. There are RV campsites with hookups here.
Pro Tip: Be sure to check the park website for any alerts, especially hazardous weather. Add Salt Flat, Texas, and Carlsbad, New Mexico, to your weather app.
Keep an eye out for flash floods. Small creek beds can quickly become raging rivers, even when it isn't raining where you are.
Pro Tip: The main park headquarters of Pine Springs is 56 miles from Carlsbad.
1. Start At Pine Springs Headquarters And Visitor's Center
Explore the park in two or three days. The first day is devoted to the headquarters visitor center at Pine Springs, Devil's Hall Trail, and Guadalupe Peak Trail, and the historical attractions. There are few roads inside the park; however, you'll find many hiking and backcountry camping opportunities. Visitors can pay entrance and camping fees here and obtain overnight wilderness use permits. Take some time to tour the park museum. Shop and pick up camping items, brochures, books, and maps at the park store.
Pro Tip: Talk to the park rangers about backcountry conditions and trail recommendations.
2. Explore The Pinery Butterfield Stage Station
The Butterfield Overland mail route from St. Louis to San Francisco established a station at Pine Spring, constructed in 1853. The map shows the Old Butterfield Stage route through the Guadalupe Mountains. A monument marks the trail leading to rock ruins. The station was abandoned in 1859 when the road shifted south to the Davis Mountains.
Pro Tip: Hike the Pinery Nature Trail, a paved, wheelchair-accessible 0.6-mile trail leading to the historic Overland mail station from the visitor center while viewing wildflowers and cactus displays.
3. Camp At Pine Springs
Pine Springs Campground, elevation 5,822 feet, hosts 19 RV sites marked off in the parking lot — nothing fancy here. Junipers and small oak trees shade the picnic tables at 20 tent sites, all first-come, first-serve. Campground conveniences include pay phones, potable drinking water, flush toilets, and a utility sink for washing dishes. No showers or hookups are available.
Pro Tip: RV campsite #21 is wheelchair accessible.
4. Hike Devil's Hall Trail From Pine Springs
We hiked Devil's Hall Trail, a 3.8-mile round trip leading to a rocky wash, steep canyon walls, geological formations, tall trees, and majestic mountaintops. Allow two to four hours.
Pro Tip: Hiking or trekking poles make the climb easier. Wear hiking boots, and remember that no pets are allowed on the hiking trails.
5. Hike Guadalupe Peak From Pine Springs Trailhead
The Guadalupe Peak hike traverses 8.5 miles to the summit and back, with a 3,000-foot elevation gain, and takes the average hiker six to eight hours for the strenuous round trip. The reward is a fantastic view from the top of Texas. Sign the mountaintop registry located in the small metal box.
Plan an overnight campout at Guadalupe Peak Backcountry Campground. A backcountry permit is required to camp at these five designated campsites with tent pads, located 3.1 miles from Pine Springs and one mile below the summit.
6. Explore Frijole Ranch History Museum And Trails
Frijole Ranch, located off U.S. Highway 62, near Pine Springs, opened in 1992 as a ranching museum listed on the National Register of Historic Sites. The J.C. Hunter family accumulated over 76,312 acres from 1942 and sold the land to the national park in 1966, fulfilling a national park dream.
Walk a 0.2 mile, paved, wheelchair-accessible trail to Manzanita Spring, an excellent location for birding and wildlife.
At Smith Spring Trail, hike a 2.3-mile loop, where you can watch for lizards, javelinas, and mule deer. Take a break at this awe-inspiring desert paradise and look for birds.
7. Hike The McKittrick Canyon Trails
Hike McKittrick Canyon Nature Loop Trail in the fall to see the enhanced fall colors. The Chihuahuan desert contrasts with steep canyon walls, century plants, and prickly pear cacti.
Hike the McKittrick Trail to Pratt Cabin, a distance of 4.8 miles, crossing the stream twice. Enjoy a picnic lunch at the cabin picnic tables or rocking chairs on the front porch. Explore the stone structure, designed and constructed by John F. Staub.
For a three-to-six-hour trek, hike to The Grotto and Hunter Line Shack through McKittrick Canyon, a 6.8-mile round trip. The Grotto features an exposed cave with stone picnic tables near the Hunter Line Shack. It is a fabulous picnic lunch destination.
Overnight on McKittrick Ridge is the most strenuous hike in Texas, a backcountry adventure for two to three days. Enjoy a campout overnight, taking in dazzling starry night skies. Get an overnight wilderness use permit for the arduous 14.8-mile round trip with a 2,700 feet elevation change.
8. Drive To The Williams Ranch
Check out a gate key at the Pine Springs Visitor Center to access Williams Ranch, a 7.3-mile excursion along a four-wheel drive, high ground clearance, one-lane dirt road. Carry a jack and a good spare tire for this hour's drive.
The entrance gate is 8.3 miles west of Pine Springs Headquarters, on the north side, marked with a National Park Service arrowhead logo. Lock two gates behind you. The lonely Williams Ranch house stands at the base of a 3,000-foot rock cliff, with Bone Canyon beyond. The area has the oldest rock formations in the Guadalupes.
9. Hike To Shumard Canyon Wilderness Campground
Camping at the Shumard campground requires a wilderness use permit at five tent sites. Bring water, food, a map, and a compass, and be prepared for sun, wind, and weather exposure, with no trees along the way.
Pro Tip: The only fire permitted is a backpacking stove for cooking.
10. Visit Salt Basin Dunes
Check with Park Headquarters for a gate key and check road conditions. From Dell City, take Williams Road east for 7.5 miles to the entrance of Salt Basin Dunes. In the parking lot, you'll find restrooms and shaded picnic tables. Bring your water and food, plus sun protection, as the weather is much hotter here at 3,640 feet elevation.
From the trailhead, hike a mile, following the old road past the parking lot to the dunes. Gypsum grains form the bright-white dunes covering more than 2,000 acres and range from three feet high to more than sixty feet. When you leave, pay close attention that you retrace your steps back to your vehicle.
Pro Tip: As seen above, the Salt Flats sometimes form a shallow lake during the rainy summer.
11. Spend A Night At Dog Canyon
Visit the secluded, forested Dog Canyon on the park's northside. You will approach Dog Canyon on Highway 137 from Carlsbad. There is no road through the park from Pine Springs. Check weather conditions ahead of your visit.
The park elevation at 6,300 feet offers cooler weather than Pine Springs. The campground is protected beneath cliff walls and sheltered from strong gusty winds. Dog Canyon campground offers four RV sites and nine tent sites. You'll find restrooms with sinks and flush toilets but no showers. There are no hookups, and RV lengths are limited to 23 feet.
12. Hike The Trails In Dog Canyon
Indian Meadow Nature Trail is an easy 0.6-mile trail that takes 30 to 45 minutes. It's level except for crossing an arroyo.
You can hike Marcus Overlook, a moderate trail of 4.5 miles. Follow Bush Mountain Trail to Manzanita Ridge, turn around where the trail drops steeply, and appreciate the view down West Dog Canyon.
This moderate to strenuous trail takes five to six hours at 6.4 miles to Lost Peak and back. Follow the Tejas Trail through the open meadow and into the forested canyon bottom. Then begin climbing up toward Lost Peak and gain 1,540 feet in elevation.
Because of extreme drought and fire danger conditions, you can only smoke inside enclosed vehicles, and open fires are always prohibited. Lightning started the Dog Canyon wildfire on May 21. Recent rains have classified the fire as under control.
Pro Tips: View the live webcams that update every 30 seconds at Pine Springs, El Capitan, and Dell City.
While you're in the Lonestar State, consider: