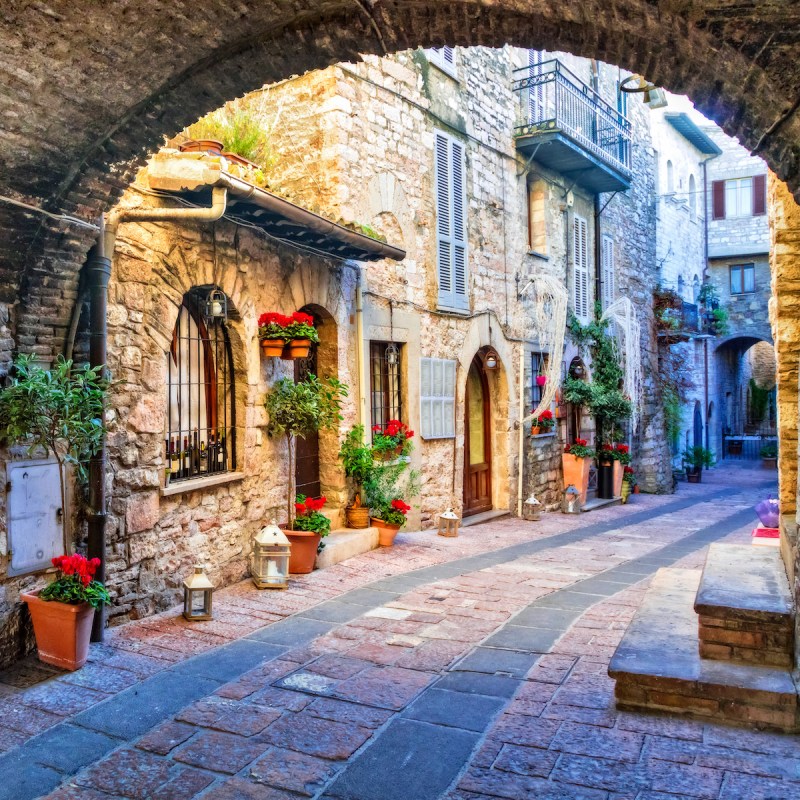 My best travel experiences have been when I decided to stay in one place for an extended length of time. I have traveled and lived in Iran, Nicaragua, Mexico, France, Italy, England, Spain, and Portugal. Each of those experiences consisted of staying in one city or village for more than 2 weeks, and in Iran for 3 months.
Staying put allows for many opportunities to engage in the local culture and connect with the people who reside there, instead of rushing around from one tourist destination to another in a frantic whirlwind. A speed-focused travel experience is not only tiring, but you miss the richness of immersing in the culture, history, and landscape of your new environment.
A few years ago, staying in Paris for a week and visiting the Louvre, I was astonished to see people running from gallery to gallery filming the artwork with their video cameras. What can a person possibly absorb when racing through as if they were in a car?
Staying in one spot allows you to get to know more about the folks who live there, including their food, traditions, music, heritage, and the daily rhythms of their lives. There is time to relax, people watch, and stroll along, absorbing the sounds, smells, and sights around you. The longer you stay, the more you begin to feel a part of where you are.
Here are my five favorite reasons for spending time in one place.
1. It's More Relaxing
When we stayed for 3 weeks in Spello, a village in Umbria, Italy, we had plenty of leisure time to explore our surroundings. Most mornings we walked to a favorite café for a delicious pastry and strong Italian coffee and sat observing the morning activity around us. Sometimes we chatted with the waiters or a couple sitting next to us. We watched as people went about their daily lives, a shop keeper sweeping her front porch, a man with a cane strolling to the river, a girl carrying flowers on a bicycle. If it was a weekday, we might see children carrying back packs as they walked to school.
When we traveled to Portugal, we stayed in the medieval city of Obidos. Some days we walked for miles on dirt roads outside the castle walls, admiring the wildflowers and surrounding vineyards. Staying in Obidos for 8 days gave us ample time to explore the town and wander down cobbled narrow streets and take day trips to historic monuments or places of importance, such as Sintra, Nazare, and Tomar. Instead of rushing from hotel to hotel, trying to squeeze in all the tourist sights, pick a few to discover. You can always say to yourself, "there will be a next time."
2. There's More Time To Learn The Language
When my husband and I stayed in both San Miguel de Allende, Mexico, and Granada, Nicaragua, I signed up for Spanish classes. This gave a little structure to my days. I enjoyed walking to class each morning, and the more I practiced the language, the more I could interact with the local people.
In Granada, I took private lessons with a delightful young woman. We would study together in a classroom and then she would take me to different parts of the city to shop or just explore. She would only speak to me in Spanish. This was a great incentive to use the language. In the open market, I would point to things and ask her to identify them in Spanish. This was a perfect hands-on way to learn the language. One day as we explored, we came across a children's parade. The students were dressed in colorful skirts and blouses, and musicians played a lively tune.
During the 3 months that I lived in Iran, I studied Farsi. Learning a language where the writing and the sounds were so different from my own was incredibly challenging, but it was so satisfying to go to the bread or yogurt store, ask for what I needed, and be understood.
Near the city of Barga in Tuscany, where we stayed in a farmhouse for a month, we discovered a monument that most tourists don't know about. One morning, we hiked up a nearby hill to get a better view of the countryside. There we found a monument dedicated to 1st Lieutenant John R. Fox, an African American soldier who had sacrificed himself along with eight other soldiers in WWII to save Italian villagers and his fellow soldiers.
Later, we learned that on December 2, 1944, his division had clashed with Austrians surrounding the small village of Sommocolonia and burning down buildings that housed wounded American soldiers. Lieutenant Fox was a forward observer in the second story of a house and, at one point in the continuing battle, he was surrounded by Austrian forces. He then ordered a barrage of mortar and artillery on his own position. His friend was stunned when Fox demanded over a walkie-talkie to go on with the fire. Ultimately, he died along with 100 enemy soldiers and was not recognized for his valiant efforts until 1982.
I don't believe that we would have found this place if we had just been on a day trip to see the city. During the month-long stay, we found other places of interest and beauty, like the nearby picturesque train station and the spectacular Grotta del Vento where atmospheric agents have worked upon limestone rocks giving rise to majestic natural sculptures.
Hidden gems don't have to be of diamond quality. They can be as simple as peering into a hidden garden as you walk along a castle wall or finding a local restaurant with regional food. When we hiked in the Garfagnana region of Italy, the restaurant served the same excellent fare that the Italian family who ran the place was having for lunch.
4. It's A Better Way To Connect With Locals And Their Daily Lives
When you decide to unpack your suitcase and hang your clothes in a closet, you begin to make the place your home. This can happen when you lodge in a Vrbo or Airbnb. Unlike a hotel, you'll most likely have a kitchen and a living room. This means you'll get to shop for groceries, which I believe is another perk of staying in one spot. Also, it allows you to view your surroundings at different times of the day.
When we stayed in L'Isle-sur-la-Sorgue, a provencal town in France, we shopped for produce at a weekly farmers market and became familiar with some of the vendors bringing in their fruit, cheeses, and local produce. We enjoyed walking home along the Sorgue River, where we would often say "hello" to residents walking their dogs or a couple sitting on a bench overlooking the old wooden water wheels.
In Granada, Nicaragua, we met a few expatriates that helped us find a local person who was willing to do our laundry for a small fee. In Lisbon, the local pharmacist, Catarina, was extremely knowledgeable about the Portuguese healthcare system when I needed a doctor.
When you stay in a town, as opposed to traveling through it, you do what you do at home and, thus, make more connections. You shop for groceries, you may need stamps at the post office, and you may get a haircut. It's an excellent way to blend in with residents of the village.
5. There's Less Hassle With Transportation And Schedules
While living in Barga, we decided to take the train to Lucca. Later during our stay, we boarded the train to Florence. This meant getting information about train schedules, buying tickets, finding out what to expect once on-board, arriving at the station, and finding the correct track. This can be stressful and takes some patience, especially in a foreign language.
If you are in a large city with a metro system, like Paris or Lisbon, you must learn how the system runs — how much a ticket costs, how to use it, and where to get on and get off to reach your destination.
When we were in Lisbon and tried to use the metro, it took us about 20 minutes to figure out where to put our euros and which screens to touch for one-way and round-trip tickets.
Renting a car has its learning curve as well. In Portugal, for example, rental cars are mostly manual transmission and that takes some adjusting if you normally drive an automatic. Next is becoming familiar with rules of the road for the country — speed limits, road signs, how to use roundabouts, managing tolls, and exiting and entering the highways. For example, the on and off ramps in Portugal are few and far between.
All these issues around transportation take time, but deciding to slow travel and perhaps just choose one or two means of transport can lessen the hassle. When you stay put, you will probably walk more and, in doing so, absorb more detail of where you are.
I am a retired individual who loves adventures and thrives on travel; however, these days, I prefer my new experiences to be closer to a place I am temporarily calling home.