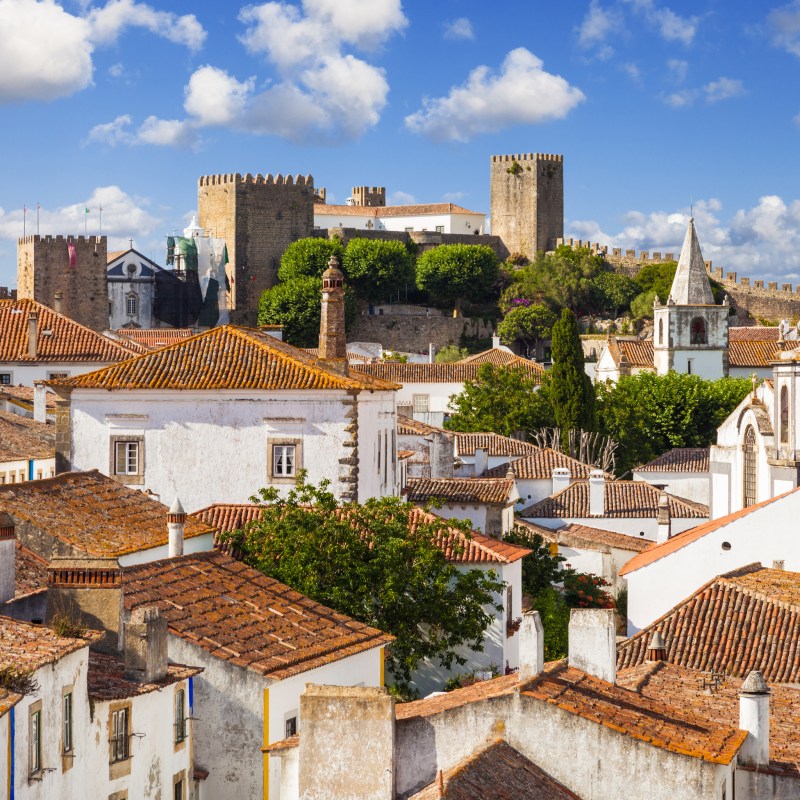 Some of our experiences in Obidos were sponsored by ARPT Centro de Portugal.
While larger cities in Portugal attract much of the attention, the romantic medieval town of Obidos in Central Portugal, just an hour's drive from Lisbon, is well worth a visit.
Obidos was a gift from King Denis of Portugal to his queen on their wedding day in 1282; she had previously expressed her love for it. The cobbled streets, whitewashed homes with brightly painted trim, and dramatic medieval castle draw you into the magical setting of this ancient walled city.
Despite its diminutive size, Obidos has numerous distinctions, features, and attractions that make it a wonderful place to spend time. Here are the best things to see and do on a visit to Obidos.
Walk The Town's Cobblestone Streets
There's no better way to experience the fairy-tale character of Obidos than by strolling down the narrow cobblestone streets.
On the back streets, you'll see traditional homes whitewashed to deflect the hot summer sun. Brightly colored flowers like bougainvillea and geraniums pepper doorways and window sills and contrast with the yellow or blue building trim, the colors of the royal coat of arms.
Stroll along Rua Diretta, the main street through town, to explore shops, restaurants, and more.
Admire Obidos Castle
A traditional stone-walled medieval castle on a hill, Obidos Castle has been around since the Moorish era. The castle as it exists today dates to King Denis's rule and has been named one of the Seven Wonders of Portugal. In the 1950s, it was turned into an upscale hotel. The castle's medieval structure is very well preserved. Visitors can walk along the stone walls and take in a view of the village as the royalty did long ago.
Discover Why Obidos Is A UNESCO Creative City Of Literature
Obidos is a UNESCO Creative City of Literature, a rare honor acknowledging a city's quantity, quality, and diversity of literary accomplishments and pursuits. Books are well integrated into every aspect of life in Obidos — libraries, museums, galleries, residences, public spaces, and markets.
Though Obidos has just over 3,000 residents, it has more than half a million books. It's fun exploring all the unlikely places where books can be found. Livraria de Santiago is in an old church. Livraria da Adega is a wine cellar-turned-bookshop. Even the Obidos Post Office is lined with books for sale.
Every year, Obidos hosts FOLIO, an international literary festival that brings together readers, authors, artists, and musicians from around the world.
Visit The Municipal Museum Of Obidos
The Municipal Museum of Obidos houses interesting works of art from the 16th through 18th centuries by Mannerist artists like Diogo Teixeira and Belchior de Matos. There is also a collection of sacred art, including works by the Spanish Baroque painter Josefa de Obidos. The Peninsular War exhibit contains French and English weapons and architectural remnants from the excavated Roman city of Eurobrittium.
Explore Saint Mary's Church And Square
When King Afonso I Henriques recaptured Obidos from the Moors, he built a church on the main square. Saint Mary's Church is the main church in Obidos. Though much of it has been destroyed over the years, the structure has been reconstructed, and the inside is covered with beautiful tiles.
Also spend time exploring the square, where a pillory was used to humiliate and punish criminals in the 15th century. It's decorated with the image of a net in remembrance of the fishermen who recovered Queen Eleanor's son after he died near the Tagus River.
Enjoy A Festival
Obidos hosts a number of marvelous festivals and markets. Don't forget to research what's happening during your visit.
Medieval Market
Considering the medieval history of the walled city, Obidos is the perfect place for a medieval market and fair. This annual event runs from mid-July through the beginning of August. You'll feel like you've been transported to the Middle Ages as you're surrounded by colorful banners and flags, costumed fairgoers, wandering minstrels, jesters, dancers, and other entertainers. Many stalls offer food, handcrafted goods, clothing, accessories, period artwork, and novelties. Reenactments of a joust and a medieval feast are other highlights. Visitors are encouraged to dress in costume themselves to become part of the festivities.
Obidos International Chocolate Festival
For chocolate lovers, there's no better event than the Obidos International Chocolate Festival each spring. Each year has a theme; previous themes have included the animal kingdom, music, love, and climate change. At the festival, people converge to taste, create, and view chocolate in all of its glory. Chocolate artists create sculptures, and visitors enjoy live entertainment, demonstrations, tastings, workshops, and displays. Chocolate vendors sell products of every sort. You'll want to get your ticket early for this popular celebration.
Where To Eat
Like other towns and cities in Portugal, Obidos offers many wonderful local specialities to taste. If you pass something that looks good, try it! Here are a couple of other suggestions.
Restaurant At Pousada Castelo Obidos
The Obidos Lagoon is loaded with fresh seafood. Clams are a delicacy caught fresh daily by local fishermen. Give them a try at the restaurant at the Pousada Castelo Obidos. Prepared Bolhao Pato-style — in olive oil with lots of fresh garlic, white wine, fresh lemon, cilantro, salt, and pepper — the small clams are melt-in-your-mouth tender. Dining inside the historic Obidos Castle sets the stage for a most memorable meal.
Bar Ibn Errik Rex
When you're exploring the main street, you'll want to stop at a quirky tavern called Bar Ibn Errik Rex. Have a taste of ginja, a sweet specialty liqueur made with locally grown cherries. It's served in a small glass or often in a tiny chocolate cup that you eat after enjoying your drink. Bar Ibn Errik Rex has only one food option on the menu — linguica sausage flame grilled on your table and served with cheese from the Azores and homemade bread. Together with the wacky decor, there's plenty to enjoy here.
Capinha D'Obidos
Plenty of bars, restaurants, and shops in town sell ginja, chocolate, and small bites like cheeses, olives, and bread. Stop at any of them that appeal to you and nibble your way through Obidos.
For traditional baked treats from a family-owned bakery that's been in business since the 1800s, visit Capinha d'Obidos.
Where To Shop
Most of the shopping in Obidos can be found on or around the main street. Take your pick of souvenir shops, art galleries, unique boutiques, and more. Some of the more interesting shops are the most unexpected.
Casa dos Azulejos sells beautiful handmade Portuguese tiles. Porta85 is a fun souvenir shop with a wide selection of unusual items, home decor, and local gifts. For a unique experience, stop by the Mercado Biologico de Obidos, which sells organic produce in a book-filled library of a store. There are also many ginja and cork shops where you can try and buy your favorites.
Where To Stay
Accommodation options in Obidos are varied. Here are a couple of our favorites.
The Literary Man
Befitting the literary love of this city, The Literary Man is a fantastic choice. The hotel boasts 40,000 books in its bookshop, library, and overall property. Many of the books are in English, so you can grab a comfy chair or sofa, relax in a quiet nook, and enjoy reading whatever you find interesting. There are also a couple of bars and a wonderful restaurant to go along with the lovely and spacious rooms. It's easy to unwind in this environment that encourages you to truly enjoy being on vacation.
Pousada Castelo Obidos
The Pousada Castelo Obidos is the famous castle that has been converted into an upscale hotel. Listed as one of the Seven Wonders of Portugal, the Pousada is both impressive and romantic. There is a fabulous restaurant and a charming bar. You have your choice of a medieval stay in the castle itself or accommodations in the Casa do Castelo right beside the castle, which feels more like a village home.
Pro Tip: Avoid the crush of summer tourists by visiting Obidos in the spring or fall. You can best appreciate how magical the village is when you have it to yourself. Spend at least one night and relish the medieval atmosphere, maze of cobblestone streets, delicious food, and — of course — many sips of ginja.
For more to see and do in Portugal, see this page.