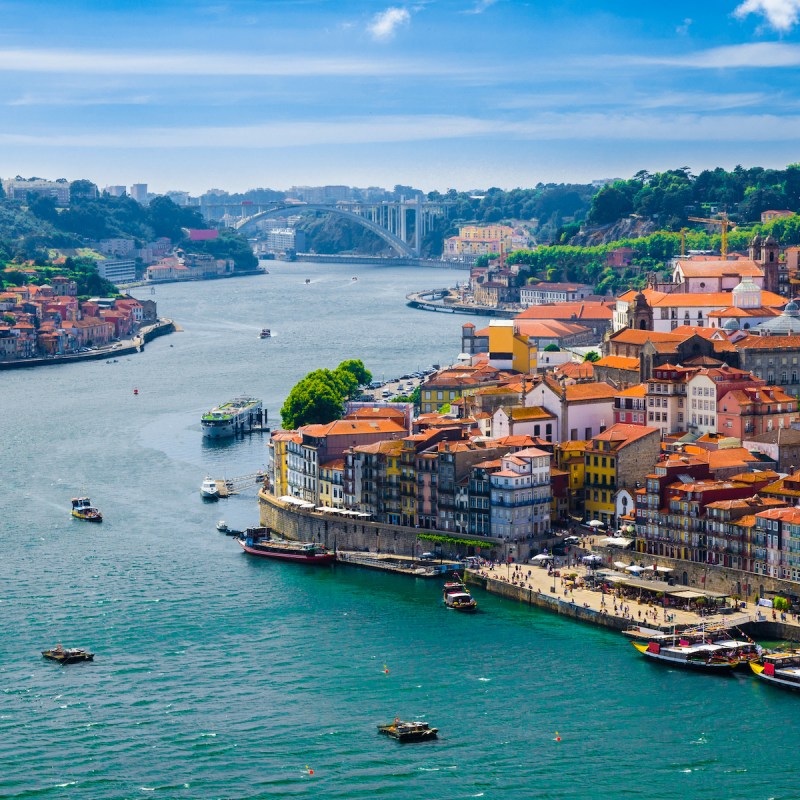 Portugal is a very forgiving country in that the ambience of the people and culture is friendly and relaxed. People are open and willing to help, especially in hotels and shops, and there are plenty of tourist information centers in the larger cities. You will also find many people, especially in more metropolitan areas, who speak English.
The climate, although colder and rainier in the north, is basically Mediterranean, which means many days of sunshine and thus lots of opportunities to explore without sheltering under an umbrella or wearing a heavy coat. Dressing in layers is the best way to ensure that you are dressed for warm days and cooler nights.
In every city that we visited during our 5 weeks, we enjoyed the many restaurants and cafes with outdoor seating. It's an enjoyable way to spend a couple of hours immersed in the scene around you. The Portuguese take their lunch hours seriously and do not rush through their meals. There are very few fast-food restaurants because most work environments include ample time for an afternoon break.
I have traveled extensively and there have been times that I wished that I had known certain things about where I was going ahead of time. Traveling with a little knowledge leaves one better prepared to deal with the unexpected and to plan ahead for the things to be expected. Using the internet and social media has made traveling easier, but it is always useful to hear some tips from a person who has travel experience in the place you plan to visit.
Here are five things I wish I had known about before we traveled to Portugal.
1. Car Rentals
Portugal is a country blessed with an excellent transportation system, especially within and between the larger cities. If you have specific destinations in your travel plans, the train and bus system is extensive and reasonably priced, and you may buy your tickets ahead of time online. However, there are many lovely spots in Portugal less accessible by public transport, and you may choose to rent a car. We rented a car in Lisbon, and it was relatively straightforward.
What I didn't know ahead of time is that most rental cars have manual transmission. If you are not familiar with driving a manual car, then practicing before you go is a good idea, especially since the cities we visited use roundabouts as the method to get from one part of town to another, and sometimes you need to shift gears quickly. When you rent your car, ask for a transponder, which allows you to pay the highway tolls without stopping. Your credit card will be charged automatically. It makes getting from one place to another so much easier when you don't have to deal with stopping in front of a gate and taking a ticket. Make sure that you get in the lanes painted green and marked "via verde."
There is a basic car insurance in Portugal that is mandatory and will be included in the price of your rental.
Pro Tip: Make sure you take both a credit card and debit card if you plan to rent a car. You will pay more for a rental car if you pay with a debit card.
2. Getting Around In Cities
We spent time in Lisbon, Porto, Guimaraes, and Coimbra and we did a good deal of walking to various places we wanted to see, such as castles, museums, monasteries, Moorish neighborhoods, parks riverfronts, and churches.
The streets of many cities are a combination of different kinds of pavement, but many sidewalks, especially in Lisbon are made of small diamond-shaped tiles. They are often uneven and worn smooth, thus you should wear shoes that have good tread — the going can be slippery and a bit hazardous, especially after rain. If you need to get from one end of a city to another or want a guided tour, there are many "hop-on-hop-off" type buses, especially in Lisbon and Porto.
In the smaller towns such as Obidos, the narrow streets are lined with cobblestone, and often a few stones are loose, so be aware of where you step. Cars and taxis move very fast in cities, often even when a light has turned green for a go-ahead to walk, there are taxis coming through that ignore this. Don't assume cars are going to stop.
It is easy to flag down a taxi, especially in Lisbon, Coimbra, and Porto because they are everywhere. The drivers signal that they are available with a green light on the roof of the cab. If you prefer, there are digital companies like Uber and Bolt as well.
3. Health And COVID
I would recommend a few things when it comes to medical issues that might arise in Portugal. First, make sure you have plenty of your necessary medications before you travel. Although there are plenty of pharmacies even in smaller towns, refilling a prescription is a bit of a hassle. I had to call my pharmacy in the states and have the pharmacist talk to the pharmacist in Portugal.
In addition to the above, I wish I had researched how the medical system in Portugal operates. My husband and I contracted COVID and had to stay for an extra 12 days in the country. I needed to see a doctor and was not sure how to go about this. I received help at a pharmacy and was able to make an appointment at a private hospital in Lisbon. Hotel managers in the larger cities may have helpful information as well. Do the research before you leave by accessing websites like this one.
Bring medical insurance and health records, especially if you have a chronic health condition. Expect to pay for services.
Pro Tip: Make certain about your own health insurance before you leave. Ask if they cover any medical expenses incurred on your trip. It's a good idea to go to the State Department's website for information on Portugal and medical issues.
4. Eating
The Portuguese love to eat and take their time when they do, so don't expect speedy service when you dine out. In some of the more tourist-frequented parts of Lisbon, expect to be approached by waiters motioning for you to sit at the tables set out along narrow streets where cars are not allowed. Some outdoor cafes that cater to tourists have familiar foods such as pizza, hamburgers, and hot dogs, but the more traditional Portuguese menus feature dishes with fish and meat as the main part of the meal. The portions served in restaurants are large, so you may consider sharing dishes, and this way you get more variety in your meal.
If you are vegetarian or vegan, you may find it a bit challenging to enjoy a variety of foods, but almost every menu we perused during our 5-week stay had some vegetarian choices, especially in cities such as Porto, Coimbra, and Lisbon.
If you stay at an Airbnb and have a kitchen, there are small and large grocery stores and some specialty markets that carry produce, wine, fresh meat, and fish. There are plenty of pastry shops as well.
5. Airports
Portugal has three international airports: Lisbon, Faro, and Porto. My husband and I flew into Lisbon from Paris and thus did not have to go through customs again in Portugal. Lisbon's airport is extremely busy, and it was difficult to find an airport map that named the terminals and check-in areas by airlines.
Expect long lines at the airport. I had a few quick questions that I wanted to ask at the tourist information center, but the line was extremely long. If you plan to get a taxi to your hotel from the Lisbon airport, you will find the place cabs park outside the terminal. People wait in line for taxis, which pull into designated parking spots. The taxi drivers will gesture to the next person in line.
If you plan to return to the U.S. from Lisbon, be aware that there is a passport checkpoint after a security check, and the queues are long. Also, the airport is arranged in such a manner that you are forced to go through duty-free shopping zones before security. We nearly missed our flight because there were far too few attendants checking people through.
When we left the country to return to the States, it took 90 minutes before we emerged from these areas to find our gate. I would strongly recommend arriving no less than 3 hours before your flight, perhaps even 4 if you plan to travel during the summer months. English is widely spoken in the airports, and most signs are in English as well as Portuguese, but Terminal 2 — where all passengers depart from — is a giant hangar and is confusing.
Pro Tip: Whichever airport you decide to fly into or from, I recommend studying the airport map online before you fly and plan to arrive 3 hours ahead of your flight.