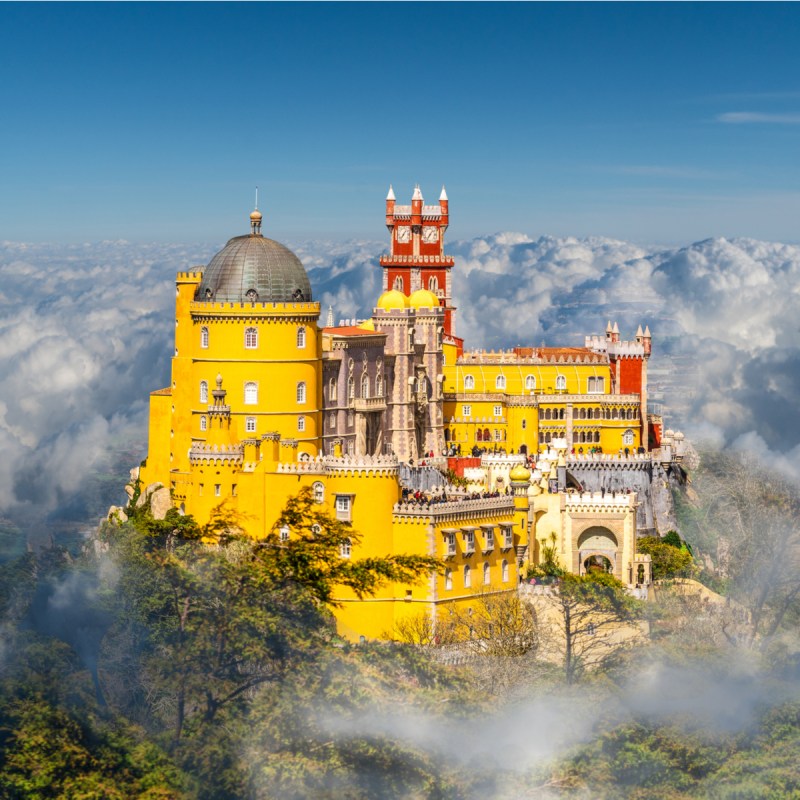 Set in the hills of a pine forest bordering the Atlantic Ocean, Sintra is located just 45 minutes from Lisbon, but it's a whole other world. Known as the Portuguese Riviera, Sintra is one of the wealthiest enclaves in Portugal, dotted with summer mansions and palaces, and also has a large expat community. 
It became popularized in the 19th century when the royalty, aristocracy, and powerful elite fled the intense summer heat of Lisbon to cool off, thus building their mansions and palaces in Sintra because of the cooler temperatures and close proximity to the Atlantic Ocean. 
A great day or overnight trip from Lisbon, there is much to see and do in Sintra. 
1. Pena Palace
The top attraction in Sintra is the Pena Palace, the former summer palace of Prince Ferdinand and the royal family in the mid-1800s, which was a medieval monastery before. The eclectic architecture comprises Neo-Gothic, Neo-Manueline, Neo-Islamic, and Neo-Renaissance styles, with whimsical architectural details and a color palette of marigold and tomato red. Inside is a stunning collection of period furniture, tapestries, and mosaic tiles. The 500-acre Pena Park, alongside the palace, is a forest filled with winding paths and labyrinths and has a collection of exotic, imported trees, including cypress, sequoia, and ginkgo, and ferns from New Zealand. In 1995, Pena Palace was designated a UNESCO heritage site. 
2. Regaleira Palace
Also known as The Palace of Monteiro the Millionaire, Regaleira Palace was the home of António Augusto Carvalho Monteiro, an heir to a wealthy Brazilian Portuguese family, who was a businessman, bibliophile, and collector. Monteiro commissioned the Italian set designer and architect Luigi Manini to design the stone mansion and the gardens. The massive home is five stories, which you can tour, and there's a separate Roman Catholic chapel, decorated with ornate stained-glass windows, frescoes, and elaborate stuccoes. 
The lush, green gardens cover over 4 acres, and the multi-level park with narrow pathways has lots of twists and turns leading to grottos, wells, waterfalls, fountains, and secret tunnels. Initiation wells, which are inverted towers, have winding staircases and were initially used for Tarot initiation rites.
The palace has a gift shop, restaurant/cafeteria, and guided tours. In the summer, they sponsor dance, theater, and music events. 
3. Cascais 
The delightful seaside town of Cascais is a must. At one time a fishing village and agricultural center for wine, olive oil, grains, and fruit, Cascais was discovered by Portuguese and European royals in the 1870s with King Luis of Portugal, King Edward VIII of England, King Juan Carlos of Spain, and King Umberto II of Italy, establishing residences. The town of Estoril, part of the Cascais, hosts major international events with Cascais, such as America's Cup, Horasis Global Meeting, Millennium Estoril Open tennis tournament, Ocean Race Europe, and Estoril Classics, a vintage car and motorcycle race. 
Take a stroll through the old town center and end at the marina, lined with hundreds of impressive yachts and sailboats. 
Beaches in Cascais are sandy and the azure blue water is calm. Praia da Duquesa is situated between two palaces; Praia do Guincho is great for water sports; Praia is a surfing beach; and Praia da Conceição, a popular beach with restaurants, a boardwalk, and paddleboat rentals, is within walking distance from the train station. 
4. Cabo Da Roca
The most western point of Europe, Cabo Da Roca, is located atop a 460-foot granite cliff with enormous boulders and swirling waters, dramatically crashing against them in a hypnotic way when you stare at them. There's also a lighthouse measuring 541 feet high, dating back from 1772, and a historic stone monolith from the Roman era. 
5. Castelo Dos Mouros
A departure from the decadent 19th-century palaces of Sintra, Castelo dos Mouros is an ancient, Moorish castle from the 8th century, which was once an important military stronghold. The path up to the castle is hilly and wooded but well worth the climb when you view the spectacular structures up close. You will see Moorish-style grain silos, the remains of a medieval Christian church, and a cemetery. Climb up one of the three towers and get a thrilling view of the Atlantic. 
6. Air Museum
The Air Museum displays over 100 aircraft and 9,500 plane artifacts in a gargantuan 30,000-square-foot hangar at Air Base #1. There's a side building that tells the history of TAP airlines, the national carrier of Portugal, since its inception in 1945 and displays its first flight recorder. Other exhibits at the museum include the original model for the Lisbon airport from 1942, halls that include the history of civil aviation and air force pilots training, and the Pioneer's room, with maps, navigation instruments, and personal artifacts from the early Portuguese pilots and flyers.
7. Monserrate Palace 
In 1789, British businessman Gerard de Visme built a neo-gothic Monserrate Palace on the ruins of an 11th-century chapel. The result is an eclectic architectural design of the Mudejar Moorish revival influenced by Romanticism. There isn't much in the way of furnishings in the house, but the surrounding park and gardens are the real attraction here. The Park Monserrate is a UNESCO World Heritage Cultural Landscape and winner of the European Garden Award in 2013. The fantasy, English-style garden has a lake, springs, grottos, and fountains. There are plant, flower, and tree species from around the world, including yuccas and agaves from Mexico; bamboo, azalea, camellia, and rhododendron from Japan; and from Australia and New Zealand, holly and strawberry bushes, plus palm trees and ferns. 
There's a self-sustaining farmyard with livestock and donkeys, horses, sheep, and a picnic area and amphitheater. 
Another highlight is a 25-foot totem pole, which is carved from a 50-year-old eucalyptus tree. Created by Welsh artist Nansi Hemming, the sculptures represent various animals. 
Where To Eat 
A Raposa 
A tea salon during the day and a restaurant at night, A Raposa doesn't look like much from the exterior, but once inside, it has a beautifully decorated, contemporary dining room. The creative chef prepares dishes such as codfish with black olives paste, sweet onion slices and potatoes, Iberian pork roast with risotto and sweet mustard, and coffee-flavored crème caramel. 
Azenhas Do Mar 
Overlooking the beach with wide pane windows and an outdoor terrace, Azenhas do Mar serves up specialties of the sea including clams, squid, lobster, stuffed crab, and tiger shrimp. They have a beach bar with a lively sunset cocktail hour on Friday, Saturday, and Sunday. 
Where To Stay
Sintra has a varied selection of accommodations at all price points from palaces and luxury hotels to a B&B in an old house and beachfront properties. 
Casa A Miradouro 
Painted with cheerful pink and yellow stripes on the façade, Casa A Miradouro is an eight-room B&B in a converted 19th-century house with amazing views of the Atlantic Ocean. The rooms are individually designed suites, and there's a lovely garden and garden terrace to relax on. 
Tivoli Palacio De Seteais
Revel in the lap of luxury in an 18th-century, neoclassical palace at Tivoli Palacio De Seteais Hotel. The rooms and suites are sumptuously decorated with antiques, and the former ballrooms have lavish tapestries and frescoes. Relax in their spa Anantara spa with a crystal healing massage, or an organic, green coffee body scrub, or an organic wine body wrap, and then take a dip in the outdoor swimming pool. The Seteais Restaurant is set in one of the former ballrooms with views of the hotel gardens and has a mixed menu of Portuguese specialties and international cuisine. 
Hotel Fortaleza Do Guincho Relais And Chateaux
Part of the prestigious Relais & Châteaux network, Hotel Fortaleza do Guincho is perched above the Atlantic Ocean with a sandy beach below. The superior-class 16 rooms have sea views with private balconies equipped with chaise lounges, and there are three junior suites. There are two restaurants, the Michelin star Fortaleza do Guincho, with award-winning French chef Antoine Westermann at the helm, specializing in local seafood. The more casual The Spot serves more casual fare of sandwiches, salads, and snacks. 
Pro Tip
We recommend doing a small, organized tour by car or van from Lisbon, as Sintra is quite spread out and the attractions are not within walking distance to each other. Lisbon Native Tours leads excellent tours of Sintra from Lisbon, and a full-day tour is a very reasonable 60 euros per person. Alternatively, you can stay in Sintra and use their local touring services. 
Sintra is very hilly and rocky, so wear sneakers or thick, rubber-bottom shoes with good support. 
Related Reading: