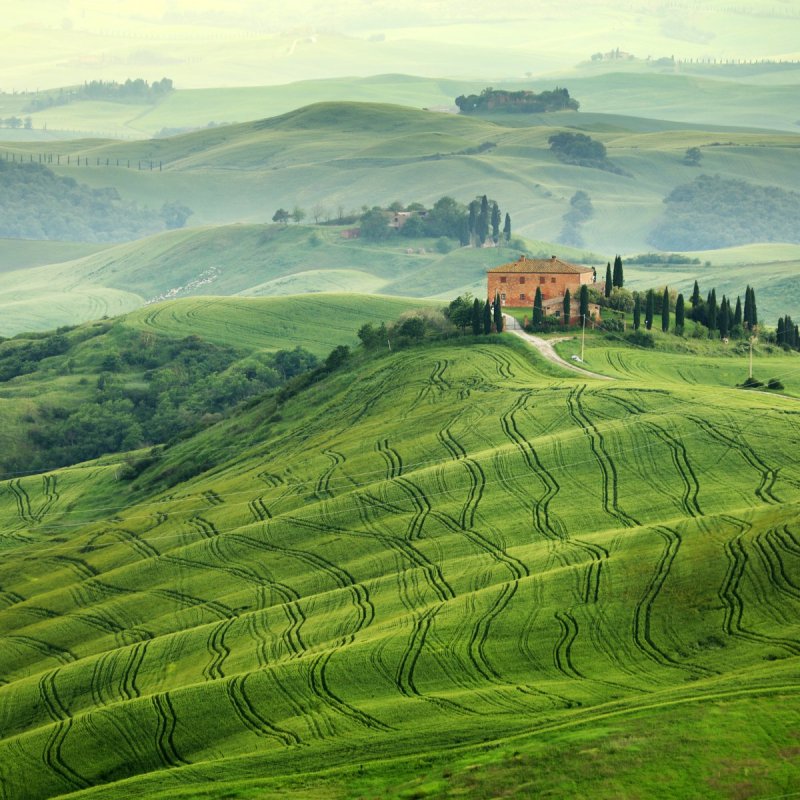 It's imperative to feel comfortable and safe while traveling. Medjet provides premier air medical transport and travel protection, providing peace of mind for an affordable price.
There are many good road trips out there, but driving through Tuscany is on a whole other level. Tuscany is a very manageable region, size-wise, roughly the size of New Jersey, and has a good and easy to maneuver road system. The countryside is picture-book perfect, with green hills dotted with slender cypress trees standing in line, vineyards, and sunflower fields at every corner, and pretty much every single town and village worth stopping off at.
It is gorgeous in summer, but it gets extremely hot in the narrow medieval town centers — too hot to sightsee, really. In spring you can get a fair bit of rain, explaining the lush green countryside, but early fall is quite perfect. If you can aim for early or mid-September, then you get the best of everything.
And, while you should obviously choose a car in accordance with your budget and level of driving comfort, can I suggest that this is the time to get a small-ish convertible? Small enough to maneuver through the narrow village lanes and the cities, but with a nice retractable roof to allow you to not only see Tuscany but to feel the Tuscan sun on your face and the Tuscan breeze in your hair. Cliche? Too right, but so worth it.
As for the itinerary detailed here — I have driven around Tuscany a few times, and these are the places I keep revisiting every time. They do not encompass every beautiful village and hilltop Tuscany has to offer, but this itinerary gives you a good overview, especially if this is your first time in the region.
Buon viaggio!
Florence
We start in Florence, as it is the capital of Tuscany and most likely the airport you will fly into. Florence is a gorgeous city with much to see, so I suggest that you spend a night or two at either end of the road trip here. Get over the jetlag, find your feet, rent a car, study the map, and then, when you're ready to leave Florence (will you ever be?), set off.
Pro Tip: When I first came to Florence, I glimpsed a lovely hotel in a side street in the city center, but at the time could not afford it. I vowed that one day I would stay there, and I did. And it was worth the wait. The Hotel Monna Lisa is not just stunning in itself, but it has the loveliest hidden garden and one room covered in paintings of the Mona Lisa, all very different and quite funny.
Vinci
Head out of Florence on the main autoroute toward Pisa, turning off after Empoli toward the little town of Vinci, some 27 miles, or roughly a 45-minute drive, away. This is your first stop on your road trip, and it is a stunner. This is the gorgeous town of Vinci, named after Leonardo da Vinci, who was born here. Head straight to the hilltop and the Leonardo da Vinci Museum and be prepared to spend at least two or three hours there, as it is packed full with models of his inventions, sketches, details and so much information that your head will burst after taking it all in. What an amazing man.
Afterward, walk around the castle, enjoying the views across the countryside; meander along the steep lanes, and stop for lunch before heading on.
Pro Tip: Have a bruschetta at Antica Cantina bi Bacco, just down from the museum. It's a simple place, cheap and cheerful, and great for a lunch in the sunshine.
Lucca
Back on the main road to Pisa, turn off to Lucca after roughly 30 miles. Here you will stop for the night, allowing you to spend the afternoon and morning exploring Lucca. Walking around Lucca is a little like stepping back in time, a sentiment which is quite true for a lot of the towns around Tuscany, but Lucca's towers and cobbled streets, especially if you catch them early in the morning without people, have changed little over the centuries. Look out for my favorite of all the towers, Torre Guinigi, with trees growing on the top of it, and marvel at the church of Chiesa di San Michele in Foro, which is eerily like the Cathedral of Pisa, which you will see tomorrow.
In the afternoon, or morning, walk along the city's walls, designed by none other than Leonardo da Vinci from Vinci.
Pro Tip: Stay the night in a 16th-century city-palace-turned-hotel and have a wood-fired pizza in Pizzeria da Felice, where they have been preparing pizzas for more than 100 years.
Pisa
Pisa is one of those stops along a Tuscan road trip, which is usually just that: a brief stop for coffee, a glimpse at the tower, and off you go again. This itinerary allows you to stay the night. So this is a relaxing day, as Pisa is only a 20-minute drive from Lucca. Arrive around lunchtime and start looking around. Take your time, explore along the river, linger until the last minute before the Place of Miracles closes for the day, to get it to yourself once the coaches have left. And after spending last night in a city palace, consider spending tonight in the Grand Duke of Tuscany's former summer palace, a lovely building with a spa that takes advantage of the local hot springs. Make sure you book yourself in for a treatment before having dinner in the candle-lit courtyard.
Pro Tip: In the morning, for a taste of home, why not breakfast on Italian coffee and American-style bagels at the Filter Coffee Lab? This will set you up for the day's driving ahead.
Montepulciano
This is the longest driving day of the trip, basically taking all day, as you will drive down the E80 along the coast down toward Follonico, stopping off to explore the coast whenever you want to. Then you will turn inland, where the roads get smaller and you will meander through the typical Tuscan countryside, through small villages, past vineyards and sunflower fields. Do not follow the advice of the GPS, as that will send you round via Florence — faster, yes, but you will miss all the fun. Stay on or near the E80 instead. Check in at Fattoria San Martino, a converted rustic farmhouse, eco-friendly and cute, set in beautiful grounds for the night. Then walk into Montepulciano for some sightseeing, and simply enjoy another gorgeous Tuscan town.
Sit in the fabulous Piazza Grande and sip a refreshing spritz, or try a glass of the local Vino Nobile, which many say is the best of the region's, and even the country's, many wines.
Pro Tip: And talking about wine, if you happen to be in Montepulciano in August, on the last Sunday the festival of Bravio delle Botti takes place. People dress in medieval costumes and participants roll wooden wine barrels through the steep lanes trying to win a cloth banner, a trophy that has been fought over since the 14th century.
Siena
Thirty-eight miles up the SS715 will take you to Siena. Siena is simply amazing. The tall, medieval brick buildings make for shady lanes, opening into the large fan-shaped Piazza del Campo, which dazzles you with light and is the site of the famous horse race, the Palio de Siena. The duomo is spectacular, the various towers and ancient city walls are just as they were when they were built centuries ago, and the various streets (which fill up very quickly in summer) offer many cafes and good shopping down Via di Citta. Stop for some superb pasta at Il Bargello off the main square.
I always get lost in Siena, but it does not matter, as you will eventually find yourself back in the main square. Take your time getting lost, and look out for the small details on the architecture, such as the 17 animals and symbols representing the different districts of Siena in the Palio. Can you spot the dragon or the tortoise?
Pro Tip: Go to your hotel, such as the Hotel Palazzo Ravizza, where you can spend the afternoon on their terrace overlooking the hills. A cool drink and a book will entertain you while the crowds of day-trippers are slowly thinning out, and you can venture out for a stroll and dinner in the evening. For even more recommendations, consider my take on How To Spend A Beautiful Long Weekend In Siena.
San Gimignano
After a slow start, maybe taking breakfast and an espresso on the piazza, head to San Gimignano, some 30 miles away. This is one of my favorite places in Tuscany — is it quite simply enchanting. This small community is famous for its tall towers, which you will see on the horizon as you approach. Built between the 11th and 13th centuries, they were a symbol of wealth and power, with the rich families competing over who would build the taller tower. Today only 13 remain, but they still make for quite a skyline.
Pro Tip: The town is great to explore at night, and the countryside around San Gimignano is just lovely, so you might want to stay another night before heading back. Try the simple Casa de Potenti, right in the center of San Gimignano, surrounded by towers.
Back To Florence
An hour's drive, and you are back in Florence for hopefully some more sightseeing and art and culture.
Pro Tip: Please note that this itinerary only lists the main stops on your road trip, but on this road trip, it is not so much the destination, even though each and every stop is superb, but it is about the journey in between. The small villages, the fields full of sunflowers, the stops by the side of the road to take pictures of the hills studded with cypress trees and beautiful villas. Take your time, breathe deep, and enjoy.