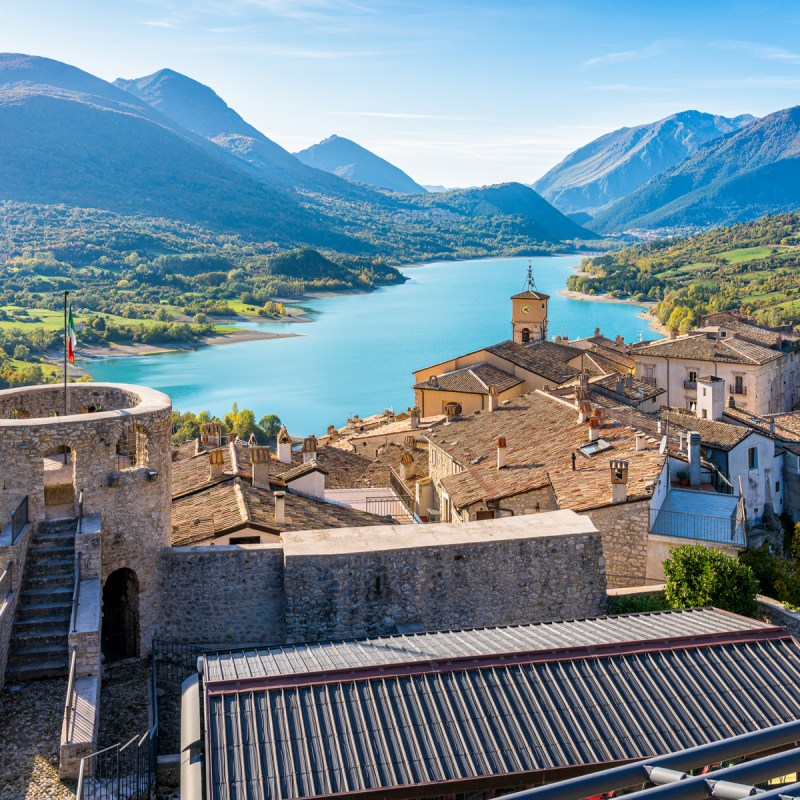 It's imperative to feel comfortable and safe while traveling.
Medjet
provides premier air medical transport, travel security, and crisis response memberships, providing peace of mind for an affordable price.
I love a travel bargain, especially when it is least expected, and the Italian region of Abruzzo is both an incredible deal and an astonishing one. How this gorgeous area isn't overrun with visitors and high price tags is a bit of a mystery to me, but I'm thrilled to take it just as it is. I suspect you (and your pocketbook) will love it just as much as I do.
Geographically, Abruzzo is just east of Rome in central Italy, however, the region is considered to be in Southern Italy. Located along the Adriatic Sea, it is surrounded by the Marche region to the north, Lazio to the west and southwest, and Molise to the southeast. Abruzzo consists of four provinces: L'Aquila, Teramo, Pescara, and Chieti.
There are ample transportation links from Rome, including trains, buses, and even rideshare programs. I was recently plotting out one journey, and I was pleasantly surprised that I could get to my destination for a fraction of the train's time and cost using rideshares. I'll take it! You can also connect to Abruzzo through eastern Italy (there are trains from Venice and Bologna to Pescara) and the south (via direct buses from Naples). Abruzzo Airport, in Pescara, serves international flights and is increasingly popular with low-cost carriers such as Ryanair.
But Abruzzo is much more than its transportation routes. The region's motto is forte e gentile, meaning "gentle and kind," and I think that captures the area's spirit perfectly. Here are some of the reasons Abruzzo will make you swoon.
1. It's Calm And Quiet
While I wouldn't go so far as to describe Abruzzo as sleepy (after all, its next-door neighbor is Rome), this is a quiet region.
To be fair, Abruzzo has good-sized cities (Pescara is home to about 120,000 people), busy seaports, and bustling medieval towns, but the overall vibe is calm and quiet, especially when you move away from the sandy beaches of the Adriatic coast and toward the rugged interior. The province of L'Aquila, with an average of 150 Abruzzese per square mile, has one of the lowest population densities in all of Italy. In some areas, visitors might just be outnumbered by animals because…
2. Abruzzo Is Europe's Nature Capital
The Abruzzo region is the heart of unspoiled Italian nature. The region is home to foxes, porcupines, wild cats, wild boars, badgers, otters, and even brown bears and wolves. It's also one of the few places to see the Pyrenean chamois. The chamois, a small, reddish-brown goat-antelope, was once almost hunted to extinction in order to make chamois leather but has since recovered.
Abruzzo animals find shelter in the area's three national parks, as well as several regional parks and nature reserves. Together, these protected areas make up half of Abruzzo's land, and the area is nicknamed "Europe's greenest region."
3. National Parks
Known as the green region of Europe, Abruzzo is home to three national parks: Lazio and Molise National Park (which is often just called Abruzzo National Park), Gran Sasso and Monti della Laga National Park, and Majella National Park.
Abruzzo National Park/Lazio And Molise National Park
Abruzzo National Park, founded in 1922–1923, offers crucial protected habitats for several endangered species, including wolves, bears, and chamois. It's an excellent spot for birdwatching and is home to six nesting pairs of golden eagles. Visitors to the park enjoy downhill and cross-country skiing, hiking, and horseback riding.
Pro Tip: Just north of Parco Nazionale d'Abruzzo, Lazio e Molise is Lago di Scanno, or Lake Scanno. The lake appears to be heart-shaped when viewed from a panoramic point that can be reached on foot in about an hour by following the Path of the Heart.
Gran Sasso And Monti Della Laga National Park
Gran Sasso and Monti della Laga National Park is home to Europe's southernmost glacier, the Calderone. There are more than 120 miles of dedicated trails for horseback riding, and the area is equally famous for snow, skiing, and mountaineering. When this relatively young park was designated in 1991, a number of tiny, centuries-old communities found themselves within the park's boundaries. Now Gran Sasso is just as popular for its village attractions as its natural ones.
Majella National Park
Majella National Park (also spelled Maiella National Park) is a scientific wonder. From 1998 to 2005 it was home to a major international geological research project known as TaskForceMajella, and in 2001 it was named a UNESCO Global Geopark. However, you don't have to be a scientist to enjoy this gorgeous destination. The park is home to more than 300 miles of hiking trails and is an excellent spot for cave exploration (and for seeing cave paintings!).
4. Foodie Hot Spot
Is there any part of Italy that isn't delicious? If there is, I haven't found it. In a land of culinary dominance, Abruzzo's cuisine really stands out. Inland, there's a heavy emphasis on goat and lamb, reflecting the area's heritage of farming and herding. Mutton skewers, or arrosticini, are one of its most famous dishes. The region also produces cheese made of lamb's milk (pecorino) and goat's milk.
Known as the land of yellow gold, Abruzzo is Italy's saffron capital, and the prized saffron crocus grow along the Navelli plateau near L'Aquila. Abruzzo is also famous for licorice, which has been harvested in the area since Roman times. As in the rest of the country, centuries-old olive trees produce excellent extra virgin olive oil.
Other local favorites include confetti di Sulmona: candy-coated almonds that are often brightly colored and arranged to look like pretty flower petals. "Guitar spaghetti" or spaghetti alla chitarra is another Abruzzo hallmark. It is named for the guitar-shaped device that cuts egg noodle spaghetti into a square shape instead of the typical rounded edges of traditional spaghetti.
5. Abruzzo Wine
Abruzzo's wines don't have the same buzz as those from, say, Tuscany, but they're absolutely beloved by oenophiles (and that lack of big-name recognition means tons of bargains). You may have already tasted Abruzzo's best grapes without even knowing it, as about two-thirds of the region's annual wine harvest is actually sold to other Italian regions to supplement their own production.
Abruzzo's most famous vino is the red wine, Montepulciano d'Abruzzo (not to be confused with a similar sounding name found in Tuscany), and the white wine, Trebbiano d'Abruzzo. Fans of rosé will want to try Cerasuolo, which is made from the Montepulciano grape in vineyards located in the mountainous interior of Abruzzo. These wines are typically a deep, bright, cherry pink — definitely unlike your usual rosé at home!
6. Homey Hill Towns
One of my favorite things to do anywhere in Italy is to explore a hill town. These picturesque destinations, ranging from tiny communities with limited amenities to bustling small towns filled with tourist-friendly services, are always charming and fun to explore. Some notable spots include:
Castel Del Monte
Castel del Monte means "Fortress of the Mountain," and evidence of human habitation dates to the 11th century B.C. However, the medieval village you see today, with its huge defensive walls, dates to the 1500s and 1600s, when the powerful Medici family was in charge. Today, the small hamlet of about 500 people has been recognized by I Borghi più belli d'Italia, Italy's official association for its most beautiful villages. It is also a Slow Food leader for cheese production and well known for its annual August festival in which the entire community participates in a folk tale re-enactment known as La Notte delle Streghe, or "The Night of the Witches."
Santo Stefano Di Sessanio
Located within Gran Sasso National Park, just over 100 people call this hilltop village home. Like its neighbor Castel del Monte, Santo Stefano di Sessanio has been named one of Italy's most beautiful villages and has been recognized by the Slow Food movement for its gourmet lentils. There's even a lentil festival each year! Every September, the Sagra delle Lenticchie celebrates the village's most famous food.
Hotel accommodations here are unique. A program called albergo diffusio has one central check-in area, but the hotel rooms themselves are located in multiple locations across the community.
Castelli
Also located within Gran Sasso National Park, this community of about 1,300 is famous for maiolicas, a kind of decorative ceramics that were once all the rage among European nobles. Castelli remains popular with ceramists and artists and is home to a ceramics museum (the Museo Delle Ceramiche) and a well-regarded church from the 17th century, San Donato.
7. Underrated Archeological Hot Spot
Some of Italy's finest archeological findings are in Abruzzo, but the area tends to be overshadowed by more famous and robust sites like Pompeii, Rome, and Tuscany. But the city of Chieti, the capital of the province of Chieti located along the Trabocchi Coast, is home to a true archeological gem. The Museo Archeologico Nazionale d'Abruzzo is home to the Warrior of Capestrano statue, which dates to the 6th century B.C. and is in excellent condition.
In the city of Teramo, you'll find the Teramo Cathedral (where construction first began in 1158), an archeological museum, and a Roman theater. And in the city of L'Aquila is the Museo Nazionale d'Abruzzo, where exhibits include artifacts dating to Roman times, medieval and modern art, and even a giant skeleton of an Archidiskon meridionalis, a kind of prehistoric elephant. The museum was located in the 16th century Castello dell'Aquila but had to be moved after a devastating 2009 earthquake — and as of May 2022, the Castello dell'Aquila itself is getting the full restoration treatment.
Not all of Abruzzo's ancient history can be found in a museum. In fact, some of the region's most significant cultural practices are still taking place today, albeit in a more limited form. The most famous of all is the transumanza, a seasonal movement of sheep flocks that dates to the region's earliest times as a pastoral area. The activity is still practiced today and is often celebrated at community festivals.
Related Reading: