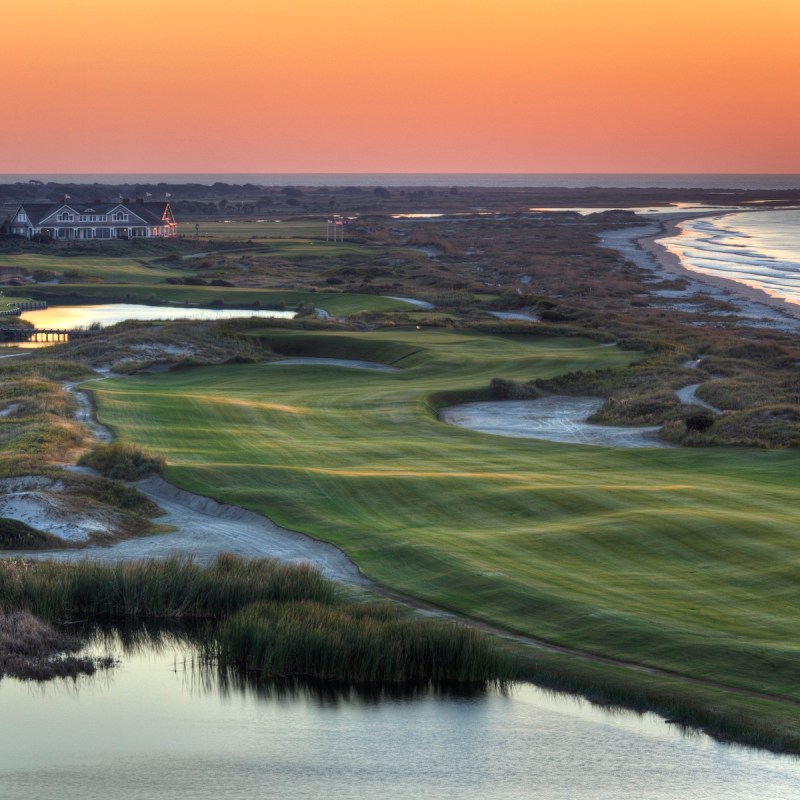 It's imperative to feel comfortable and safe while traveling.
Medjet
provides premier air medical transport, travel security, and crisis response memberships, providing peace of mind for an affordable price.
Do you like to play golf? Do you like nothing better than to luxuriate in a fabulous spa treatment? Just imagine what a great vacation you will have if you can combine the two and indulge in your two favorite pastimes. While these combined resorts are located in some of the most gorgeous parts of the world, there is nothing to prevent you from the best and healthiest break ever, be it on your own or bringing your partner and/or friends along.
We will let you into the secret of where in the world to find these magical places, and it might surprise you.
1. Druids Glen Resort, Wicklow, Ireland
Sitting between the Wicklow Mountains — with long, sandy beaches, rivers, lakes, and forests — and the Irish Sea, the Druids Glen Resort nestles in the middle of what is affectionately called "The Garden of Ireland." The resort features 145 guest rooms and suites; a spa and health club on the third floor; a pool, sauna, Jacuzzi, and steam room on the second floor; and massages and beauty treatments by fully-trained therapists. Enjoy the typical Irish hospitality, lounges, the soothing atmosphere, and great outdoor views of Hugo's restaurant, serving the finest Irish cuisine. Afternoon tea is also served and the best spirits and wines can be enjoyed with your meal at the Garden Rooms and Bar. It features lots of teal velvet, leather, and wooden floors, all of it overlooking the 13th hole of the Druids Glen Golf Course.
In fact, there are two golf courses, Druids Glen and Druids Heath. Druids Glen closed on January 5, 2022, for a year-long renovation project, but the championship Druids Heath remains open.
The resort is easy to reach and only 30 minutes from Dublin.
2. Ritz Carlton Golf And Spa, Grand Cayman
As far as I am concerned, Grand Cayman is one of my favorite Caribbean Islands and the fabulous Ritz Carlton is the icing on the cake. The resort sits along the famous Seven Mile Beach with direct access to the ocean, wonderful views and, a chance for one of my regular activities, a run along the beach. In reality, the beach is just over 6.3 miles long, plenty of space for a run or walk interrupted by a refreshing swim in the ocean.
The nine-hole golf course was designed by Greg Norman and is ideal for those golfers who like to play several rounds a day.
As far as the spa is concerned, Ritz Carlton is well known for luxury and, of course, there are all the usual amenities like pools and Jacuzzis. But for those who want to take care of their skin (very important in this tropical climate), there is something special: hydrafacial treatment. Only the very best La Prairie products are used; among them caviar crèmes.
The food in the various restaurants is a mixture between international cuisine and the tasty island dishes, predominantly seafood at Blue by Eric Ripart and a quick mahi mahi in the more informal Andiamo on the beach.
The famous Grand Cayman cook out, one of the world's great food events, was canceled this year due to COVID-19, but mark the date down for next year, January 13–17, 2023.
As of March 21, 2022, the Caymans are re-opening for cruise tourism. For all other travelers, please consult the current travel requirements.
The capital is George Town, located around a bay, a big cruise ship port, and the site of the international airport.
3. Mukul Golf And Spa Resort, Nicaragua
How would you like to play an 18-hole golf course right in front of the ocean? That is what, among other luxuries, Mukul Golf and Spa Resort on the southwestern Pacific shore of Nicaragua has to offer. Located on Nicaragua's Emerald Coast, between ocean and tropical landscapes, lies the David McLay Kid 18-hole oceanfront golf course, with many hardwood bridges gracing some of the holes and as much wood as possible kept in place. It's a challenge for any golfer but a great joy.
Accommodations are in villas and lavish rooms complete with private plunge pools. Furniture is hand crafted from local artists and artisans.
The spa treatments in this spacious and lavish resort are something else altogether. The treatments take place in six individual suites (two are currently open) and all have a different theme and different treatments. More often than not, local plants and ingredients are used. You can book 1 or 2 hours, half a day, or a full day, and if you wish, you can receive treatments on the beach or in the privacy of your room, but the cabins are much more interesting and beautiful.
Mukul is located 2–3 hours from Managua's international airport or Guanacaste Airport in Liberia, Costa Rica. The resort provides transportation by car, a driver, air conditioning, and Wi-Fi.
4. Verdura Golf And Spa Resort, Sicily, Italy
Why not enjoy spring in Sicily, south of Italy, in a wonderful golf and spa resort on the South Coast of the island? Olive trees, orange groves, and sandy beaches are only a few of the many beautiful sights that await you in Sicily. Marvelous Roman monuments and colorful Sicilian villages are never far from Rocco Forte's flagship, Verdura Golf and Spa Resort.
It is located some 25 miles from the ancient seaside town of Agrigento, but some 5 hours from Taormina.
The 18-hole golf course and world-class greens also afford fantastic views of the Mediterranean. Special packages for Easter are available. Accommodations are offered in various degrees of deluxe rooms, some with terraces that look out onto the sea.
The Verdura Spa is housed in individual pavilions around an open-air courtyard and offers all kinds of treatments, yoga classes, infrared and Finnish saunas, thalassotherapy pools, and a well-equipped gym for fitness enthusiasts.
In line with the health and fitness concept of the resort, Michelin-star chef Fulvio Pierangelini has created dishes, many made from the resort's own farms and organic orchards, served in the restaurants as well as the delightful Spa Bar. Breakfast is a healthy buffet.
5. Kiawah Island Golf Resort, South Carolina
Kiawah Island is a gorgeous barrier island just 25 miles from Charleston, South Carolina. In this lively community, you will find 10 miles of beaches, maritime forests, sand dunes, and ample wildlife, including bobcats, alligators, and sea turtles. Incorporated is a first class golf resort, the Sanctuary Spa, great shopping, and dining.
The best way to get to Kiawah Island from Charleston Airport is by shuttle bus which takes 30 minutes.
There are five golf courses on the island. Among them is Cougar Point (for players of all levels to play along the tidal marshes), Oak Point Golf Course (a Clyde Johnston design), and the Ocean Course (host of the Ryder Cup in 1991).
You will be spoilt by villas, rentals, and, as a recent extension of the Ocean Golf Course, golf cottages. If you choose The Sanctuary, you are in the heart of the golf resort and will enjoy five-star luxury in a beachfront hotel. Feeling like you step through the doors of a seaside mansion, apart from the golf and fine dining, you can get thoroughly pampered at the spa, all inspired by the seaside location.
Should you have forgotten or need to renew some of your equipment, for golf, swimming, or tennis, you are not caught short because you can buy everything you need (and more) on Kiawah Island.
6. Heritage Le Telfair Resort, Mauritius
It doesn't get more exotic than golfing and relaxing in great spas than on the island of Mauritius in the Indian Ocean.
When we landed in the capital of Port Louis, I could hardly tear my eyes away from the multiple hues of the Indian Ocean below me and the lush vegetation that came into sight.
The Heritage Le Telfair Golf & Wellness Resort is located on the Southwest Coast of Mauritius and reaches along the Bel Ombre coastal road. It is not a very big resort, which adds to its intimacy and charm. The hotel has 158 suites with four poster beds, free standing baths, butler service, and is accessed either by the beach and ocean, or by the landscaped garden.
You can play unlimited rounds on the best golf course near the Indian Ocean, between rolling mountains and the lagoon of the ocean itself.
Your golf pleasure is equaled by the Bliss Program, offering an individual, holistic approach to wellness and fitness for every guest at this Millesime collection spa. Not only can you enjoy a great variety of massages but also yoga and beauty treatments with a distinctly Asian flavor. Meditation and yoga in the beautiful and peaceful gardens is especially beneficial.
Of course, there is also the beach and the ocean for swimming and sunbathing, but always remember that the tropical sun is fierce. Don't forget a sunhat and adequate protection.
The entire complex is known as Bel Ombre and offers 12 restaurants and bars, which include French and Japanese food, curries, and plenty of seafood.
There is no national language. French and English is considered the de facto language of the island.
7. Pebble Beach, California
This list would not be complete for golf enthusiasts without mentioning the legendary golf links of Pebble Beach, winding around California's Monterey Peninsula. Six-time host of the U.S. Open Championship, the courses at Pebble Beach are rated as the best public golf courses in the U.S. The emphasis here lies on the wellness this great sport provides, not lounging in a spa. Every person has their own hobbies and preferences, and here, it's golf.