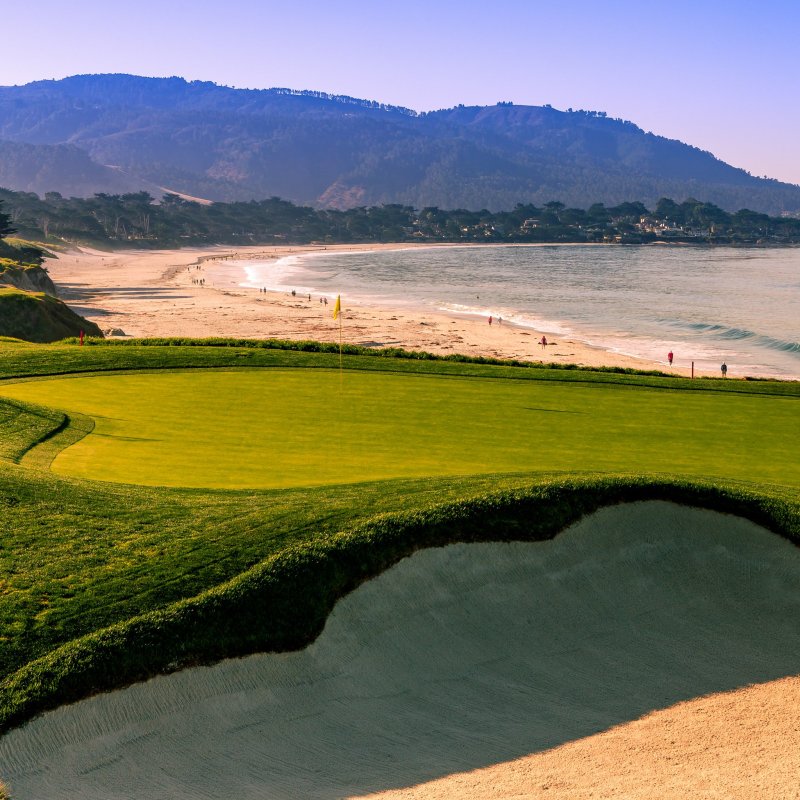 Public golf in California has one big advantage that other states can't provide in the same numbers: access to high-end courses by staying at resorts. A golf club that might be completely private if it was in Pennsylvania will be "open to members as well as guests at the resort" in California. This opens the door to so many courses that would almost always be private clubs elsewhere.
And this is true all over the state. In the Coachella Valley area — Palm Springs, Palm Desert, and Indio — there are multiple resorts offering high-end golf for the visitor. And the 10th-best public course in South Dakota might not even equal the 10th-best public course in Palm Springs alone.
There's great golf at private clubs all over the United States. Public golf often means the "other courses," and some states are lacking there. But not in California.
Here are 11 fantastic California courses where you can book a tee time.
1. Pebble Beach Golf Links
Pebble Beach
It has to start here. This is one of the most famous golf courses in the world. Not only is there a PGA Tour event held here every year, but Pebble Beach Golf Links also hosts the U.S. Open quite frequently. So many of golf's famous shots — Tom Watson chipping in to beat Jack Nicklaus at the 1982 U.S. Open, for example — happened at Pebble Beach.
And it's a course you can play. I'd say that for most golfers in the United States, the two public courses at the top of the bucket list are Pinehurst No. 2 in North Carolina and Pebble Beach. It's certainly not cheap, but it's a once-in-a-lifetime golf experience. Standing on the tee of the par-3 7th hole might be the greatest view in golf.
Pebble Beach Peak Tee Time: $575
2. Torrey Pines
La Jolla
This is another PGA Tour course. Torrey Pines hosts the Farmers Insurance Open every January. And in 2021, Torrey Pines will host two events as it is also the site of the 2021 U.S. Open. The last time the U.S. Open was held at Torrey Pines? Tiger Woods's famous "won while playing on a broken leg" playoff victory over Rocco Mediate.
And would you believe that it's a muni? When people think "muni," they think of their local golf course, usually run by the park district, often without the maintenance staff of a public or private course. But Torrey Pines is technically a "muni" and dubs itself "The Nation's Foremost Municipal Golf Course."
Because it's a muni, residents of San Diego get the best deal in all of golf — with a resident card, someone from San Diego can book 18 holes at Torrey Pines' famous South Course for $78! The rest of us aren't that lucky, but the fact that we can play a U.S. Open course on the cliffs above the Pacific Ocean is amazing enough.
Torrey Pines Peak Tee Time (non-resident rate): $252
3. TPC Harding Park
San Francisco
Speaking of public golf in California and major championships on the PGA Tour, TPC Harding Park just hosted the 2020 PGA Championship, won by Collin Morikawa. And it has also hosted other professional golf events such as the President's Cup in 2009 and the 2015 WGC Match Play.
Harding Park is right in the heart of San Francisco, located on Lake Merced, just south of the famous Sunset District. I think many visitors to San Francisco are surprised by the location. If you're staying in the Mission District, it's five miles to TPC Harding Park.
And it's a gorgeous course. Framed by hundreds of cypress trees, it's an extremely playable course for the amateur golfer (as well as a great test from the back tees for the professional golfer). Morikawa drove the 16th green with a 3-wood (and sank the eagle putt) on the famous short par four. Play the same tee and see if you can do the same with your driver.
TPC Harding Park Peak Tee Time: $250
4. Pasatiempo
Santa Cruz
It seems like a miracle that you can get a public tee time at Pasatiempo. It's a mostly private club designed by Alister MacKenzie, and MacKenzie's two most famous designs (Augusta National and Cypress Point) are the two most ultra-private courses in the United States. So the fact that MacKenzie's third-most famous golf course can be accessed by the public is truly amazing.
MacKenzie didn't just love the course at Pasatiempo. He chose to live there. His former home still sits along the 6th hole. And the 16th hole at Pasatiempo remains one of the greatest holes in golf. Look through "what's your favorite hole on any course you've ever played" lists and you're bound to see the 16th at Pasa.
Pasatiempo Peak Tee Time: $333
5. Spyglass Hill Golf Course
Pebble Beach
The "second" course at Pebble Beach is no slouch. When PGA Tour golfers play the Pebble Beach Pro-Am, one of their rounds is held at Spyglass Hill Golf Course. And there's talk of Spyglass soon landing a major like the PGA Championship.
So while Pebble Beach Golf Links grabs all the headlines, the other courses in the area provide incredible golfing experiences. It's not cheap (because there's such incredible demand), but a golf trip including Pebble and Spyglass can provide a lifetime of memories.
Spyglass Hill Peak Tee Time: $415
6. PGA West Stadium Course
La Quinta
Everywhere we turn on this list is another course where the pros play. The Desert Classic, formerly known as the Bob Hope Invitational, is a PGA Tour event held at several courses in the Coachella Valley. The first three rounds are split between The Stadium Course, The Nicklaus Course, and La Quinta Country Club, with the final round held at The Stadium Course.
And if you watch the tournament on TV, you'll remember many of the famous holes when you play it. The back nine is probably most famous for the jagged rocks lining the edge of much of the water (and some of the tee boxes). And if you've ever wondered why the 17th hole is known as "Alcatraz," you'll understand after you play it. The green looks like it's guarded by the jagged rocks of Alcatraz Island.
PGA West Stadium Peak Tee Time: $215
7. Rustic Canyon
Moorpark
I know what you're thinking. All of these courses are over $200. So far, that's been true. Because of the demand for some of these golf courses (especially at Pebble Beach), the costs are extremely high. I'm not saying it's not worth it if you want to play a course like Pasatiempo, but perhaps you're looking for something a little more affordable.
Then Rustic Canyon Golf Course has to be your first choice. Located in Ventura County not far from Los Angeles, Rustic Canyon is a somewhat newer course, having opened in 2002. This was right on the downside of the golf course construction boom during which courses were built as part of subdivision developments. Give the best land to the houses, route the golf holes in between, and sell as many lots of "golf course view" as you can. Golf suffered during this time.
But courses like Rustic Canyon brought it back. Designed by Gil Hanse, this course uses all of the canyon for golf. It wasn't built with residential development in mind — it was built with golf in mind. And with no tee time over $85 (you can walk 18 holes at 3 o'clock on a Tuesday afternoon for $25!), the cost will make you very happy as well.
Rustic Canyon Peak Tee Time: $85
8. Northwood Golf Club
Monte Rio
I'm a huge fan of nine-hole courses. My former house in St. Louis was next to Forest Park, and Forest Park has the choice of a 9-hole course and an 18-hole course. I always preferred the 9-hole course (one of my picks for the eight best golf courses for the money in Missouri). There's something about a quick nine holes in the evening before the sun goes down.
And Northwood Golf Club is one of the more famous 9-hole courses in the United States. For starters, it was designed by Alister MacKenzie, mentioned above as the designer of Augusta National, Cypress Point, and Pasatiempo. Second, it's just outside of Guerneville, California, on the Russian River. If you've never been to the area, this is the perfect reason to go. Towering redwood trees guard this river an hour north of San Francisco, and this golf course plays in and out of those redwoods. What a treat.
Northwood Peak Tee Time (18 holes, playing the 9 holes twice): $64
9. Ojai Valley Inn And Golf Club
Ojai
This is a golf course with a long history. Bing Crosby and Bob Hope, two very important figures in the history of golf in the United States, hosted a fundraiser here for the Navy Relief Welfare Fund in 1945. Ojai is north of Ventura, right up against the national forest, so it's fairly easy to access from Los Angeles.
And the course at Ojai Valley Inn and Golf Club is fantastic. My friend who took a trip there (just to play this course) tells me that it feels like you're playing one of the famous old golf courses out East. It's a "classic" golf course and well worth driving out of your way to play it.
Ojai Valley Peak Tee Time: $175
10. Old Greenwood/Gray's Crossing
Truckee
Okay, I'm probably cheating here. This list says 11, but I'm putting two courses here under #10. That's because most people who travel up to the Lake Tahoe area will play both sister courses here: Old Greenwood and Gray's Crossing. So I will speak of them as if they're one.
This is golf in the mountains, so please note that this is not a year-round course. It speaks to California's size that there are courses in Palm Springs where you can play a round on Christmas Day when it's 78 degrees, and there are courses near Lake Tahoe that don't open until early June because they're waiting for the snow to melt.
Old Greenwood was designed by Jack Nicklaus and Gray's Crossing was designed by Peter Jacobsen. They designed two great courses (both are the same price) with a fantastic mountainous background. Truckee is right on I-80, so you don't have to climb the mountain roads up to the lake to find these courses. That makes for an easy drive from the Bay Area (or Reno) to play a fantastic golf course (or two!).
Old Greenwood/Gray's Crossing Peak Tee Time: $230
11. Yocha Dehe Golf Club
Brooks
This is a hidden gem that's somewhat in the middle of nowhere (at least as far as tourism in California goes). Yocha Dehe Golf Club is located in the Capay Valley, right along the Cache River, just outside Brooks, California, on the Rumsey Indian Reservation.
There's a full resort here with a casino, so this is definitely a multi-day destination. But if you just want to drive up and play some great golf, this is a little-known (but fantastic) option. It's pricy but worth it.
Yocha Dehe Peak Tee Time: $145