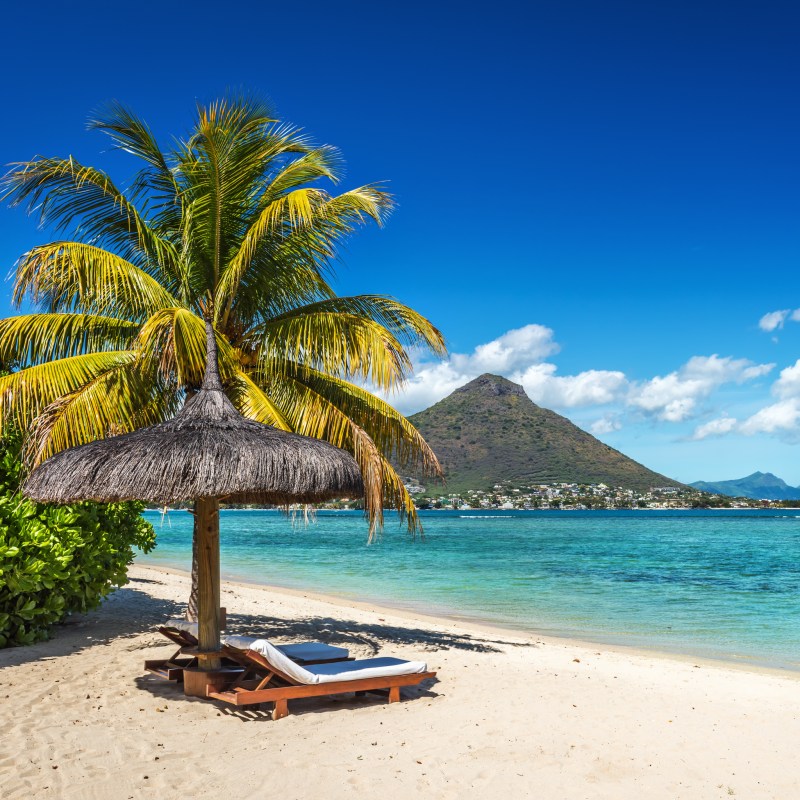 There are many islands in the Indian Ocean, and each has something special to offer visitors. The island nation of Mauritius, with its 16 islands altogether, has long worn the tag of Honeymoon Island, but while it is perfect for a romantic beach getaway, it is also just as exciting as an action-packed vacation, a cultural and historical hotspot, a foodie destination, or, best of all, really, a mixed-bunch sort of trip where you can enjoy a little of everything.
Getting to Mauritius is a time-consuming undertaking. It is a lengthy trip from wherever you are setting off from, so make it worth your while. You can either combine Mauritius with a safari trip in Africa, or maybe make it an extension to a cultural city-hopping trip to Europe — either way, make sure you have time to spare and time to relax here. Block out at least one week, better two, otherwise you will feel as if you barely stepped off a plane. There is plenty in Mauritius to keep you occupied.
I loved lazing on the beach most days, taking either day- or half-day trips to the capital and to the forest, exploring other beaches rather than "just" the local beach, enjoying various water sports, and taking road trips across the varied island. There is enough to do, but not so much that you cannot relax in your resorts without feeling guilty. Best of all worlds.
How To Get To Mauritius
Flights from the U.S. will require at least one transit hub, with the easiest being either in Europe or the Middle East. From, say, London, flights are around 12 hours long. You will get a tourist visa on arrival, allowing you to stay for 60 days.
Best Time To Visit Mauritius
Mauritius has only two seasons: summer and winter, opposite to our seasons, as the island lies in the southern hemisphere. It has no distinct rainy seasons, and pretty steady temperatures throughout the year make any time a good time to visit Mauritius. The hottest temperatures are in January, reaching mid-80s, and coolest in August, reaching mid-60s.
Things To Know
Languages spoken are French and English; the currency is the Rupee, which is readily available at exchange kiosks at the airport, the cities, or the hotel receptions, but is easiest to obtain through the ATMs. Healthwise, the good news is that you will not need to take malaria prophylaxis. However, your regular vaccinations such as MMR and diphtheria should be up to date, and vaccinations against hepatitis (A and B) and typhoid are recommended but not mandatory. A yellow fever vaccine is not necessary if you are just visiting Mauritius. If you are combining the trip with a safari, then other vaccinations will be necessary.
Best Things To Do In Mauritius
While there are plenty of things to do, I don't want to take away from your relaxation time on the beach. Many of the sights and activities can easily be combined and put together in a one-day trip, or even a half-day excursion, saving you time and money. Here are some of my must-do things in Mauritius.
Port Louis
The colorful capital of Port Louis is great for meandering and exploring the bustling streets, but for some structure for your day's explorations, start at the Caudan Waterfront. There are shops, cafes, restaurants, the Blue Penny Museum detailing the history of Mauritius, a craft market, and more. Plan for at least an hour or two. Then there is the Central Market (more of that in the "Where To Eat In Mauritius" section below). Learn about the dark history of Mauritius at the Aapravasi Ghat, and don't miss the La Citadelle, or Fort Adelaide, rising above the city.
The Botanical Gardens
Not far outside of Port Louis toward the north, in the rather nicely named district of Pamplemousses, you will find the Sir Seewoosagur Ramgoolam Botanical Gardens. Exotic plants, indigenous and foreign; medicinal and herbal gardens; a superb display of enormous water lilies and gigantic trees vie for your attention. There is also a plethora of birds, bats, turtles, and fish to see, so allow plenty of time. The Cafe Mon Plaisir, just opposite the gardens, has a pleasant terrace for a drink or snack before you head on.
The Southern Forests And Parks
There are three spectacular natural wonders quite close to each other in the south of the island. The Black River Gorges National Park protects the island's rainforest full of indigenous flora and fauna and nearly 40 miles of hiking trails. The Ebony Forest is a haven of indigenous hardwoods with the tallest waterfall on the island, the Chamarel Waterfall. It offers great hikes and views over the ocean and interior of the island. Then there is the colored earth valley, La Vallee des Couleurs. Here you can spot 23 different colors of soil, and you can look out over them from a superb selection of ziplines, which are safe for nearly all ages, and such good fun. After ziplining, take a well-deserved swim in a natural pool by a waterfall.
You can arrange tours to all these places individually, with guides or simply drivers, depending on your preference. All hotel receptions offer a variety of trips, or you can book in advance for tours of the many other delights of the southern edge of Mauritius along the way.
Grand Baie
This small seaside town in the north of the island is both picturesque and perfect for an afternoon away from the beach. It offers beachy shopping, with pareos, jewelry, sunglasses, and colorful towels. Local arts and crafts are available from market stalls and small individual boutiques that line the beachside promenade. There are cafes and restaurants for relaxing and people watching, and some small art galleries.
Explore The Underwater World
You cannot come all the way to Mauritius and not enjoy what the ocean has to offer, whether on the surface or below it. If you are a scuba-diver or would like to learn, this is a perfect location for it, with a colorful underwater world and currents that are not too strong. If you would like to have a look underwater but prefer to stay dry, then there are glass-bottom boat rides or even trips on a submarine. On top of the water, most beach resorts offer water skiing, kite surfing, sailing, donut or banana rides, and more, making Mauritius a veritable watersports hub.
Eureka Mansion
One of the many colonial buildings on the island, Eureka Mansion tells about the regrettable era of colonialism, when Mauritius was ruled by British and/or French governors. Both left a huge legacy on the island, some good and some bad. Today, Eureka is a beautifully kept Creole-style building with lovely gardens. Inside offers a look at what life was like in the 1800s — for the colonists — while outside, the vast grounds, complete with a river and green hills, offer lovely trails past waterfalls and through fruit-bearing trees and wildflowers.
Where To Eat In Mauritius
Mauritius has several superb, even world-class-standard restaurants, but there are some much more interesting ways to sample the local cuisine. Chances are that you will be enjoying some sit-down dinners in your chosen resort, so I will include a selection of quirkier options for you.
Food Tour: I love going on locally guided food tours, where you learn about the culture, history, and traditions of your destination through its food. You can even go on a full-day tour across the island experiencing all sorts of interesting titbits.
Grand Market, Port Louis: My second favorite way of discovering my destination is by visiting the local market. This covered market in Port Louis not only sells fresh and locally grown produce, but also has food stalls where you can sample the snacks and street food popular on the island.
Underwater Lunch: Okay, this is a sit-down meal, but one that is a little different. Blue Water offers a special lunch for two in a submarine cruising at 100 feet below the surface. Just don't order the fish — you'll feel guilty.
Best Places To Stay In Mauritius
Mauritius has 100 miles of beaches stretched around its coastline, and each beach offers beach resorts which might just be the perfect one for you. Whether you want to stay on the north, south, east, or west side of the island is pretty much up to you — each side is great, and distances are always manageable. Just to get the ball rolling, I chose three that are great for their own reasons.
For golfers, the Dinarobin Beachcomber Golf Resort and Spa in the southwest is a five-star resort set in lush gardens, and it has all the usual amenities, from restaurants to a spa and numerous pools. Plus its very own golf course.
For interior design aficionados, the LUX Grand Gaube Resorts and Villas was beautifully styled by celebrity designer Kelly Hoppen and is a feast for the eyes. You can choose hotel rooms or your own private villa set in the garden by the beach.
For special occasions, the One and Only Le Saint Geran is a super luxury resort on its own private peninsula on the east coast. It is perfect for honeymoons, romantic getaways, anniversaries, or any excuse you can come up with to splash out. Just stunning.
Pro Tip
It is a great idea to hire a car to explore the island's many sights, but bear in mind that Mauritians drive on the left. If you prefer not to chance it, then hiring a driver for the day is a reasonably priced option that also gives you a chance to chat and find out more about life on the island.
Further Reading: