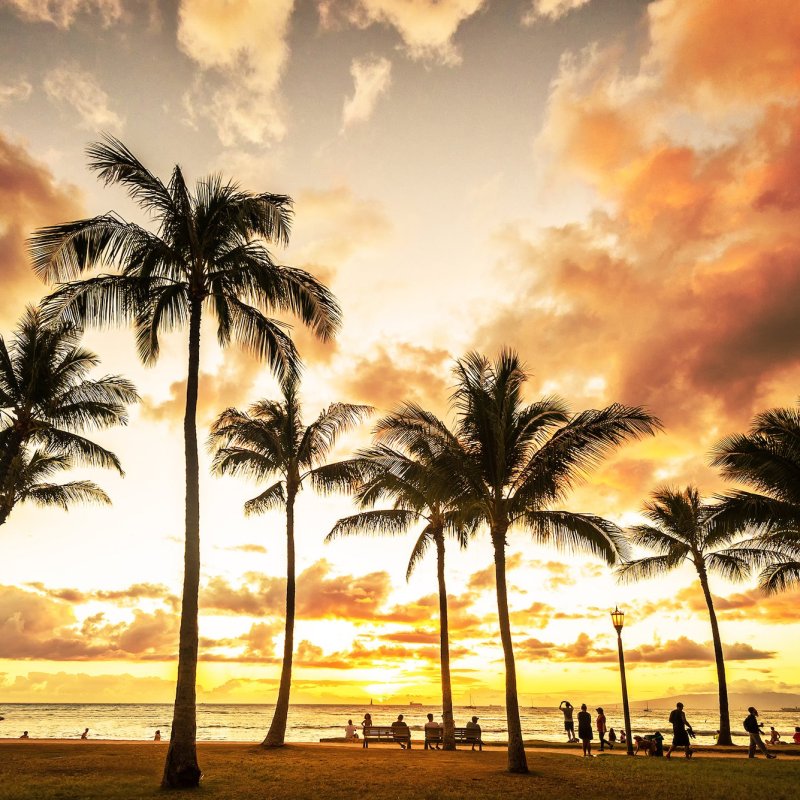 Thinking about renewing your wedding vows? Whether you spared no expense or celebrated on a budget, your wedding was one to remember. Now, years later, you find yourself in a very different stage of life, still very much in love, and wanting to tell your spouse how lucky you feel that they agreed to a lifetime with you all those years ago.
You aren't alone — many couples are choosing to commit to each other all over again. Vow renewals are trending so much these days that couples have their pick of gorgeous resorts at which to renew their vows for free. These resorts in the United States and abroad all offer jaw-dropping vow renewals, minus the jaw-dropping price tag.
Tucked in the foothills of volcanoes, shrouded in jungle, and backed by Playa El Jobo, Dreams Las Mareas Resort & Spa in Costa Rica is the honeymoon destination you'll wish you had known about the first time around. Picture thatched palaces, numerous swimming pools, nightly entertainment, bars, lounges, and the signature, all-inclusive luxury of Dreams resorts worldwide.
As part of the Dreams experience, couples can commit to each other all over again with the Dreams Ever After vow-renewal package, complimentary when a couple books a minimum of five nights. The package features romantic dining, a sparkling wine toast for two, breakfast in bed, and more. It also includes a dedicated on-site coordinator, a ceremony, a corsage and boutonniere, a certificate of renewed vows, and a special dining experience for two on the evening of the ceremony.
Arguably the most romantic destination in America, Hawaii has hosted destination weddings and honeymoons for decades. Outrigger Reef Waikiki Beach Resort in Honolulu is one of the most beautiful hotels on Oahu, with oceanfront rooms, fantastic dining, a variety of activities, and a complimentary vow-renewal ceremony for couples looking to say "I do" once more.
Guests of the resort are invited to renew their vows in weekly ceremonies following Hawaiian traditions. Vow renewals take place on Tuesdays and Fridays from 7:45 a.m. onward. To participate in a ceremony, guests should contact the front desk to make arrangements.
Couples who want to stay a little closer to home — and who enjoy the outdoor life — can explore Thousand Trails Lake Conroe, part of the Thousand Trails network of resorts and campgrounds. (Fun fact: Thousand Trails is celebrating a milestone of its own this year: its 50th anniversary.) The camping and RV resort just outside of Houston is perched on the water's edge, surrounded by trees and wide-open sky and perfect for kayaking, paddleboating, canoeing, and more. This year the resort is opening brand-new two- and three-bedroom cottages.
For the third year in a row, Thousand Trails Lake Conroe will be offering a free vow-renewal event over Labor Day weekend. The ceremony began as a one-time special event, but it was so popular that the resort decided to make it an annual celebration. Couples can renew their commitment to each other at the beautiful site for a very affordable rate.
On the sugary shores of Montego Bay, Jamaica, is Hilton Rose Hall Resort & Spa, an all-inclusive resort with oceanfront views and a recently renovated waterpark.
The resort offers vow renewals with its Just the Two of You and Intimate Elegance packages. The Just the Two of You package offers a complimentary vow renewal oceanside, in a gazebo, or under the arches of a historic aqueduct with a seven-night stay. For those who wish to have family present, the Intimate Elegance package offers a complimentary vow-renewal ceremony for up to 10 guests with a booking of 25 room nights or more (three-night minimum per room). It also includes a couples massage and a romantic dinner for two.
Tip: Plan your vow renewal for after 2019. The resort is set to complete extensive renovations this year.
One of the most breathtaking resorts in the Dominican Republic, Sanctuary Cap Cana is a sophisticated, sleek, and stylish option for couples looking to renew their vows and go on a second honeymoon. The private retreat sits on 30,000 acres of pristine beach and offers a variety of activities, high quality restaurants, and hideaways perfect for couples in love. The destination is also home to the Punta Espada Golf Club and an on-site spa.
Couples receive a free vow-renewal ceremony for up to 10 guests with a booking of 25 room nights or more. The Majestic Intimate Elegance package offers free planning services by on-site professionals, a celebratory cake, a couples massage, discounts on top-shelf liquor, and a complimentary dinner reservation for 12 guests at one of the resort's gourmet restaurants.
Couples can enjoy the best of both worlds at The Fives Azul Beach Resort, a gorgeous beach getaway that is just minutes from the electric restaurant scene and nightlife of Playa del Carmen. The resort has a designated adults-only section as well as family-friendly amenities and activities. Accommodations range from swim-up suites to three-bedroom residences, so every traveler can find something that appeals to them. All guests are entitled to the Gourmet Inclusive Experience, a signature feature of the resort: All meals are included, including a welcome glass of champagne and beverages throughout the stay.
The resort's vow-renewal package is perfect for couples who want to renew their vows in a beautiful setting with up to 24 guests present. The outdoor celebration comes with a sleek rooftop location, a table draped in white linen, garden chairs, a sound system with speakers and a microphone, a nondenominational officiant, welcome cocktails for all, and more. Signature services include a designer to help plan the event, a dinner reservation for the group, and special amenities for the couple, including a private four-course candlelit dinner on the beach and breakfast in bed.
Overlooking turquoise water and powdery sand, Coconut Bay Beach Resort & Spa sits on 85 acres of Saint Lucia's south coast. The property features 250 rooms, seven pools, nine restaurants, a spa, and more. The all-inclusive resort offers two worlds in one: one for families and one for adults, so couples can choose the vibe that's right for them. The Harmony wing is the adults-only oasis, where couples can unwind in a private cabana bed or steal away to a secluded sound deck near the pool. The suites in this part of the resort have all been recently renovated. The newly expanded adults-only bar is the perfect place for evening cocktails.
Coconut Bay's complimentary vow-renewal package includes a decorated oceanfront gazebo, a corsage and boutonniere, a one-tier cake, a chilled bottle of sparkling wine, a vow-renewal certificate, an officiant, an event coordinator, a beach picnic, a dinner reservation for the couple and their guests, and an oceanfront dinner for two in La Luna.
Secrets Resorts & Spas are known throughout the world for their attention to romance. These adults-only escapes throughout Mexico and the Caribbean provide beautiful backdrops for couples looking to reconnect.
Each Secrets resort, no matter the location, offers a complimentary vow-renewal package for two people with a five-night booking. The package includes an on-site coordinator, a renewal ceremony, a corsage and boutonniere, a sparkling wine toast, a certificate of renewed vows, and a special dinner for two on the evening of the ceremony.
As part of the AMResorts family of brands, Secrets resorts also offer guests an all-inclusive experience. Secrets has resorts in Mexico, Costa Rica, the Dominican Republic, Jamaica, Spain, Saint Martin, and more.
Photo Credit: Outrigger Reef Waikiki Beach Resort
Photo Credit: Dreams Las Mareas Costa Rica