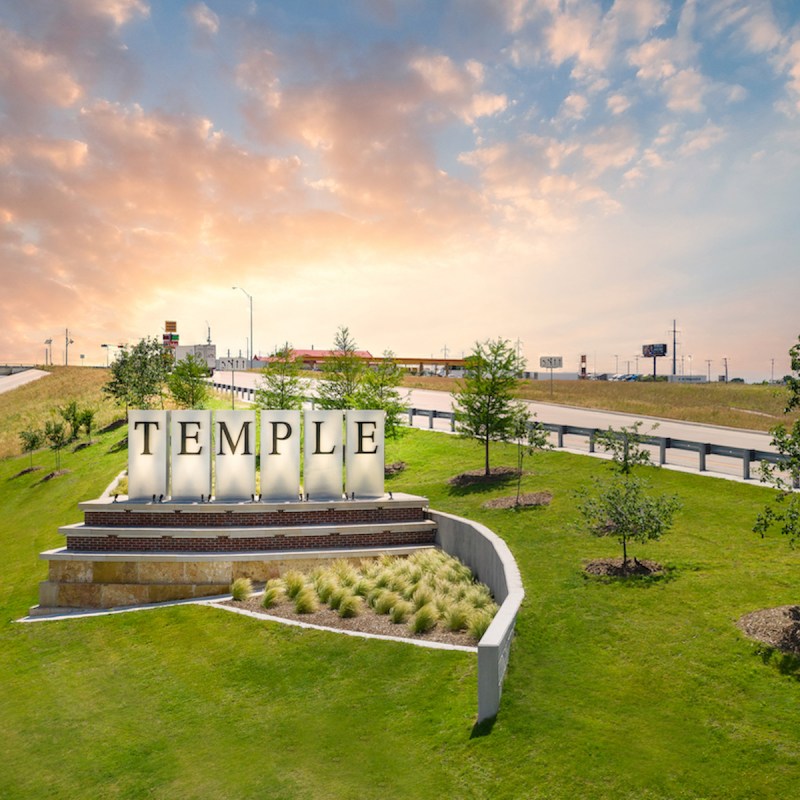 Temple, Texas, is known for its growing restaurant scene and innovative Central Texas cuisine. Restaurant offerings consist of locally-owned fine dining to international cuisine and great food trucks to boot. No one will go hungry in this small Southern town centrally located between Waco and Austin, making it a pleasant drive from Dallas and San Antonio.
The downtown food scene is the most noteworthy. I do love a quaint downtown with locally owned one-of-a-kind restaurants. I suppose I'm an authentic food seeker when it comes to having a fabulously tasty meal. Yes, you'll find chain restaurants off the highway that are nice and family-friendly, including a Buc-ee's. Yep, in 2015, Temple, Texas got a Buc-ee's. Buc-ee's is a Texas chain convenience store for snacks, Texas-themed clothing, and the most lovely home furnishings and gift-giving items for those unfamiliar. Plus, gasoline is usually cheaper than anywhere else, and that little beaver makes its way into photos quite often. I guess having a store like this in your town is a boost for the economy.
I've listed some of the best places in Temple for good food, and a trip downtown is well worth a drive to get a feel of local establishments. But first, a shout out to Tentrr for hosting me at Paradise Cove in Temple. And just my luck, the deluxe tent sits on private land with a small family-owned winery. Oh yes, I indulged in sipping wine.
And, if you're looking for a drive-thru and walk-up coffee shop, I've been told Atrium Coffee Company on S. 31st Street is the best, and its muffins are mega good!
1. Pignetti's
Come for the fine Italian dining, incredible wine selection, excellent service, and stay for dessert! Whether you're there for business, a family dinner, a social gathering, or even a romantic date, Pignetti's can create the perfect environment for you. Dine inside or on the patio for a quaint dinner — desirable atmosphere locals say.
I even stumbled on the cutest retail store featuring over 70 vendors called The Hub. It's across the street and is definitely a place to pick up gifts and even something for yourself — I found both.
2. Bird Creek Burger Company
For gourmet-style burgers, take your pick of either lamb, bison, chicken, black bean, or beef, head to Bird Creek Burger Co., a locally-owned, scratch-based restaurant serving breakfast and lunch using local ingredients. I enjoyed The Classic and fries with a helping of chopped raw onions because it's not a hamburger without the spice and the crunch! So big and juicy you'll want to ask for a second napkin.
If you like desserts in a jar, I suggest saving room for the bread pudding with whiskey sauce, or perhaps the peach cobbler will do you good.
Pro Tip: Burgers here are the best in town, says a few locals that I met. If you like their burgers, you'll probably love Treno's Pizzaria — same owner.
3. Treno Pizzeria And Taproom
There's a pizza war going on in town between three pizza establishments. It seems locals have their favorites. Treno Pizzeria and Taproom serves up brick oven artisan pies and 36 beer and wine taps. For me, when a pizza joint calls their pizzas "pies," that's a reason for me to try it out!
I'm divulging the other two pizza places that may be worth checking out… but I wouldn't know! Fire Street Pizza is in the next town over (Belton) and Pizza Piero (a traveling food truck located somewhere new all the time) — so good luck with that one!!
Pro Tip: People go to Treno's just for the ranch dressing. Yes, the ranch! Whether they dip their pizza crust in it or top a salad — they swear by the taste!
4. MexiKo Cafe
Merge Mexican and Korean flavors, and you get MexiKo Cafe. It's next to Treno's downtown with outdoor seating and ample free parking on the street and in the parking lot across the street. I couldn't possibly eat at every place on my list here, but if I had, this place would be my choice. It's a local hotspot, and I hear the MexiKo-style loaded fries are the bomb — add kimchi for $1 more!
5. Cheeves Brothers Steakhouse
Cheeves Brothers Steakhouse, a fine dining establishment, and if looking, you can have a romantic fine dining experience with the love of your life. Either way, it's known for being a great place to indulge in mouthwatering USDA prime steaks. If you have the time, go early to enjoy happy hour in its cozy lounge area and stay late for wine from the wine cellar.
Pro Tip: My number one pick for impeccable service and luxury dining.
6. Ras Kitchen
After spending many years in Killeen serving the community there, owner Chef Ras moved his restaurant to downtown Temple in a newly renovated historic building. Since moving, he has expanded his menu in the seafood arena to include lobster, crab, shrimp, and more. Visit Ras Kitchen Tuesday through Saturday for authentic Jamaican food featuring jerk, brown stew, and curry. He promises the freshest ingredients.
7. The Yard Food Truck Plaza
Food trucks have skyrocketed everywhere these days, including downtown Temple. The Yard Temple, located behind the local barbershop, houses eight spots for food trucks featuring a variety of food. They are equipped with picnic tables under a tarp for outdoor seating and a small playground area for kids. Dogs on leashes allowed.
One thing I've noticed about food trucks — they come and go. Just know there are always eight spots, but not all may be filled, but it gets lots of love from the community, and I think it's sure worth a gander to see the ones that are there and what they are serving up.
Pro Tip: The Plaza is hard to spot. Walk down S. 1st Street towards the railroad tracks and look to the right.
8. Green's Sausage House
Just outside of Temple, but not too far, is this affordable family diner and a Temple staple known for its small prices and big portions. Green's Sausage House serves its customers breakfast and lunch or dinner if you choose to eat early because doors close at 5 p.m. When we were there for an early breakfast, I noticed the meat market side and the kolache counter were busier than the restaurant. I'd say a trip to the country is worth the drive for breakfast or at least the kolaches!
Pro Tip: Locals say they have the best kolaches in Temple.
9. Megg's Cafe
A long-time local favorite, this family-owned spot for locally sourced fresh dishes (including fresh-baked bread) for breakfast, lunch, and dinner is a place to consider. The owners grew up in the area, and it's their mission to support their local farmers. For that reason, menus are updated regularly with what's in season and locally available. It was jam-packed when I drove by, and I noticed a picnic-style table right on the grass where a large family was enjoying a meal. It's hard to beat that type of outdoor atmosphere. Megg's Cafe is an all-American Temple restaurant that's worth checking out. I don't know about you, but when I hear the words "fresh baked bread," I try to make a point to stop by!
10. BackPorch DraftHouse
Another great spot for burgers is Backporch Drafthouse — an all-American casual pub food with burgers, tacos, beer, and TVs showing sports. I read on its Facebook page that the Hardy Jack hamburger is what everyone is talking about, but I opted for the 3 Little Pigs sliders. It's a superb choice for smoked pulled pork, creamy slaw, barbeque sauce smack-dab in the middle of a buttery brioche bun with a side of fried onion strings. It went great with the beer flight I ordered.
And, wouldn't you know it, I walked in on the Dallas Cowboys playing on all the screens. So, while enjoying my meal and beer, I watched a little bit of the game, and afterward, I saw a movie next door at Cinemark.
Pro Tip: If you're going to watch your favorite sports team (which a lot were), sit in the bar area for optimal viewing. I counted at least 16 TVs in the bar area alone.
Temple, Texas, has proven its worthiness in the restaurant scene and has provided its community with well-established cuisine to enjoy. So, the next time you're on your way to Austin or somewhere else off I-35, be sure to stop in to enjoy a bite to eat!
The different regions of Texas feature many different types of cuisine: