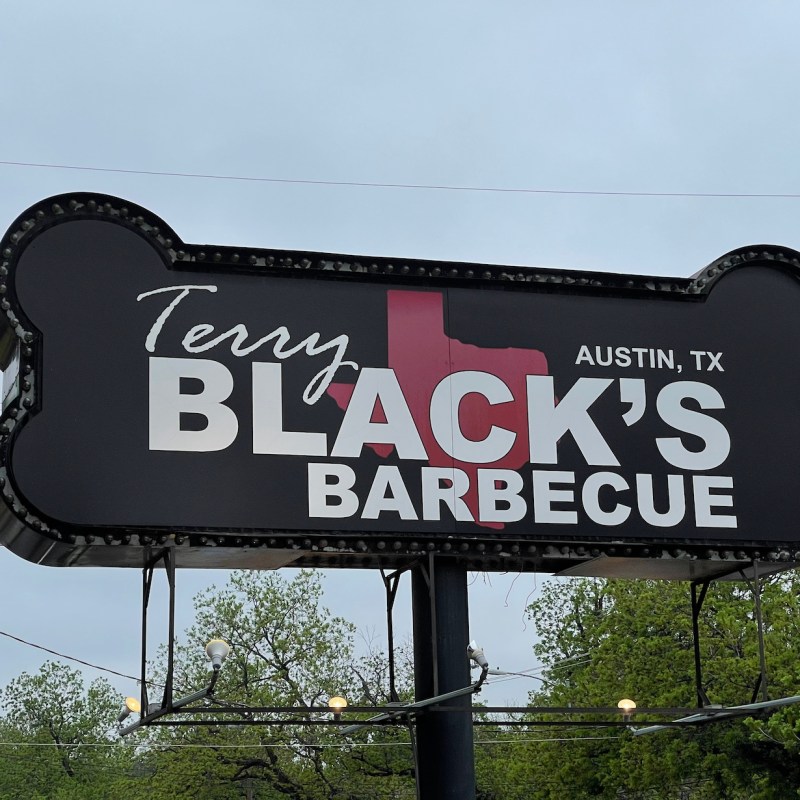 Quick, what food is Austin, Texas, famous for? Trick question. Barbecue, chili, and tacos — especially breakfast tacos — are all acceptable answers. Shoot, we'd even take pecan pie.
You could always hit the hot spots to sample these and other delicacies the next time you're in the Texas capital. Franklin Barbecue has an international reputation (and maybe even an interstellar one — Texas Monthly called the restaurant's offerings "the best barbecue in the known universe"). The Texas Chili Parlor was name-checked in a Guy Clark song, which is about as famous as you can get for a Texas institution.
But once you've exhausted all the big names, you may find yourself hungry for more. You might want to eat like an Austinite. No worries — just seek out one of these 13 culinary secrets of the Austin dining scene.
1. ATX Cocina
Authentic Mexican food is everywhere in Austin. It takes a real standout to make it in this culinary capital — and we found that standout in ATX Cocina. This local foodie favorite starts with Mexican tradition and twists it into imaginative new forms and flavors. Oh, and did we mention that the dishes are 100 percent gluten-free?
The fine-dining restaurant's ambiance reflects its sophistication, with "proper attire" required, valet parking available, reservations recommended, and small-plate price points in the $12 to $20 range.
2. Little Deli & Pizzeria
Less than 10 miles north of downtown Austin, you'll find the finest flavors of New Jersey in the South. The Little Deli & Pizzeria occupies an unassuming Crestview storefront, but the Italian deli-style sandwiches are excellent, and the pizza could hold its own in the Northeast. The East coast-style pizzeria and deli is so popular with Austinites that a Windsor Park location on Briarcliff Boulevard was added at the end of 2019.
Dine-in or carry-out: This is a casual spot. Jersey-style thin-crust pizzas are in the $20 range and sandwiches are generally between $7 and $11.
3. Fresa's Chicken Al Carbon
Mexican fire-grilled chicken — pollo al carbon — gets a celebrity makeover at Fresa's. Here, chefs wood-grill just about everything, with plenty for meat lovers, vegetarians, and the gluten intolerant alike. Book a table at the South First Street location for a full-yet-casual dine-in experience. If you're on the go, swing by the drive-through-only location near downtown, at Ninth and Lamar.
Good, cheap breakfast tacos are available between 8 and 11 a.m., each for less than $4. Lunch and dinner sides typically cost less than $5, while entrées like tortas and bowls cost between $10 and $13. Best of all, you can order a whole wood-grilled meal for your party; those prices aren't listed, but expect them to top out the menu's pricing scale.
4. Odd Duck
The farm-to-table movement is alive and well in Austin. Local locavores make their pilgrimages to Odd Duck, a founding establishment that promises Austin food for Austin folks. This is the only place in the city — maybe in the world — where you can pair a pork-and-quail corn dog with pinto falafel fritters.
Prices for dinner entrées range from $16 to $36 and up. Make a reservation; this place fills up fast.
5. Foreign & Domestic
When you're in the mood for simple, good food made with wholesome local ingredients, look for the winged pig painting on East 53rd Street. It's here that Foreign & Domestic works its nose-to-tail magic for hearty, no-frills dishes that let the quality ingredients take center stage.
The pricing is mid- to top-tier, though the establishment's seasonal menus make exact pricing predictions difficult; think fine dining when making your plans.
6. Magnolia Cafe
Hunger doesn't check the clock. If you find yourself peckish on a late night in Austin, make your way to the original Magnolia Cafe on Lake Austin Boulevard. This 24/7 diner is the ideal place for Southern breakfast, any time of the day or night. Check out the omelets in the $10 range. Better yet, grab an affordable, delicious breakfast taco, starting at $3.50.
If you're closer to Austin's south side, you can visit Magnolia South, a second location on South Congress Avenue. As for the ambiance, it is indeed a diner — just a really good one.
7. Salt & Time
Texans are not known as a meat-averse people. If you share their taste for meat — and cured meat in particular — do whatever it takes to have dinner at Salt & Time. This restaurant is attached to a full-service butcher shop. They source their animals carefully and cure, age, and otherwise treat the careful cuts for next-level flavor. And guess where the restaurant gets all its meat?
Be prepared to spend a bit more for the quality, and make a reservation if you can.
8. La Barbecue
You can't take a culinary tour of Austin without barbecue. And while Franklin Barbecue deserves its accolades, we're here to steer you a bit off the beaten path. Enter la Barbecue, a female-owned representative of Central Texas's proud tradition of rubs, smokes, and sears. Just listen to this quote from the website: "We cook our brisket low 'n' slow over Texas post oak for 14 to 16 hours. It'll melt in your mouth!"
Meats by the pound are a bit over $20 per, for the most part. Sandwiches will run you just shy of $12. Come as you are; it ain't fancy, y'all.
9. Curra's Grill
It's time to talk tacos again. This is Austin, after all. And from what we can tell, Curra's Grill is hiding some of the world's greatest tacos al pastor over on Oltorf Street off of I-35. This no-frills Tex-Mex joint is decorated with colorful murals. Just about every meal in Austin starts with chips and salsa, and Curra's housemade salsa is delightfully fresh and spicy. Wash it all down with a smoothie-like avocado margarita.
10. Hopfields
Austin is a thriving metropolis, and it has a little bit of everything — and that includes a French-inspired gastropub. Hopfields on Guadalupe Street is casual enough for a T-shirt and upscale enough for an evening dress, a conjuring trick that's pulled off by the shabby-chic aesthetic. (The low lighting certainly doesn't hurt, either.)
Anyway, the important thing here is the menu, which is packed with contemporary takes on French classics. Try the escargot dumplings, why don't you? Or a plate of salad Nicoise with delicate yellowfin tuna? Prices are generally mid- to upper-range.
11. Terry Black's BBQ
In Texas, barbecue is a generational thing, and Terry Black's BBQ on Barton Springs Road is rich with pedigree. This is the spot to show off Central Texas-style barbecue when your party doesn't have time for the line at Franklin Barbecue.
Buy the dry-rubbed, wood-fired meats by the pound for $16 to about $23. Or let everyone pick out a sandwich, which will run you $8.50 to $11 apiece as of this writing. Oh, and don't worry about the dinner jacket. This is Central Texas barbecue, not a white-tablecloth event.
12. Uchi
Here's something you might not expect: One of the world's most original contemporary Japanese restaurants is hidden in a bungalow in South Austin. It's called Uchi (or "house" in Japanese), and it's the brainchild of James Beard Award-winning chef Tyson Cole.
Chef Cole's twist on traditional Japanese cuisine launched in 2003; since then, it's grown into a foodie standby for the city's well-heeled. The restaurant doesn't make any public statements about appropriate attire, but you might be more comfortable going in at least business casual. Prices vary, with tasting dishes around $18 and makimono (sushi rolls) hovering around $12 per roll. Reservations are recommended.
13. Arturo's Underground Cafe
When you're in downtown Austin looking for a quick breakfast or an unforgettable lunch, you can't do much better than Arturo's Underground Cafe. This eclectic local favorite has been slinging Austin-style breakfast tacos since 1996. It's also got the market cornered on eggs Benedict variations.
The "underground" part comes both from the hip, countercultural aesthetic of the place and its unique dining room, which is, yes, sort of in a basement. Items are affordable ($9 for breakfast plates, for instance), the service is fast, and the atmosphere is full of "Keep Austin Weird" spirit. Come as you are.
No matter which of the above 13 restaurants you visit the next time you're in Austin, do yourself a favor: Scan the dessert menu for pecan pie. You're just not in Texas until your chin is hopelessly sticky with pecan filling. Enjoy the city's culinary riches, and don't worry too much about keeping Austin weird, as the local bumper stickers like to implore. This capital city will take care of that on its own.
Planning a trip to Austin? Check out these five cool and unusual things to do in the capital city. And if you've got time for a day trip, Hamilton Pool would be a great one.
Related Reading: