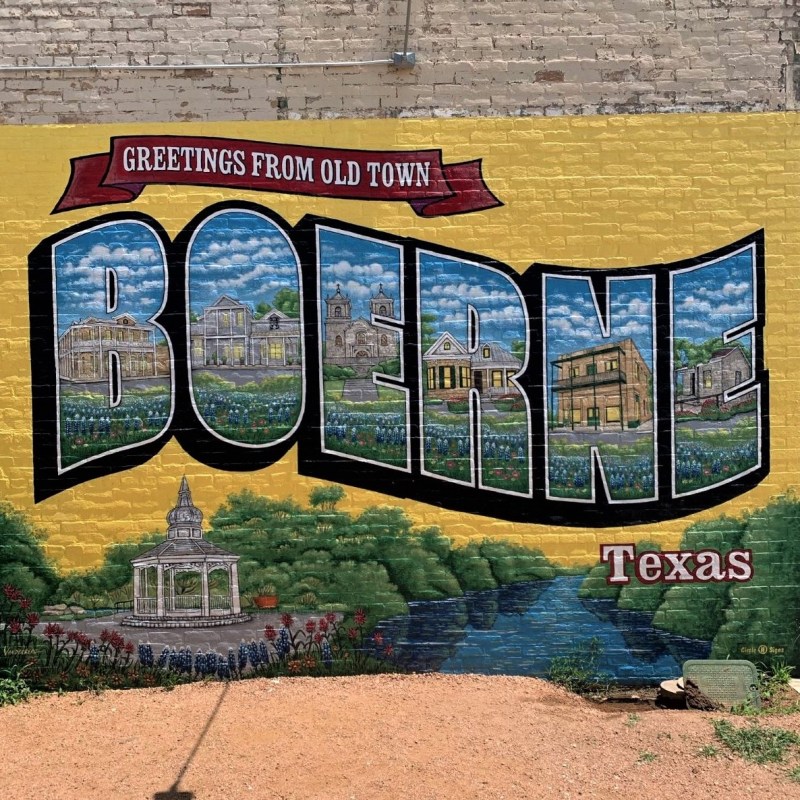 Located in the Texas Hill Country 25 minutes north of San Antonio and 90 minutes from Austin is the charming town of Boerne (pronounced Ber-nee). Known for its rich history of German heritage, natural beauty, and the most lively Main Street you'll ever visit, Boerne's historic charm coupled with its modernism makes it a top Hill Country destination.
Unique for its Hill Country Mile and its beautiful setting along the Cibolo Creek it is a true Hill Country experience. Boerne is the perfect destination for a weekend of shopping, sipping a libation, dining, and enjoying nature.
My trip was hosted by Visit Boerne and the Hampton Inn and Suites, where the hospitality was superb. My opinions here are my very own.
Things To Do In Boerne
If shopping, sipping, and dining excites you, then you're in luck — there's plenty of that to do. But, if you're looking for more to do, caving, visiting a park or two, and basking in the sun at Cibolo Creek are highly recommended. Boerne's Main Street, aka Hill Country Mile, is a one-of-a-kind experience and is a huge part of what makes the town so magical. Boerne is also a dog-friendly town so bring your pooch along.
A great place to start your adventure is at Boerne's Visitors Center, where you can pick up brochures, ask questions, park, and use the restroom.
Pro Tip: Many businesses have their own hours, and from what I experienced, some shops and restaurants are closed on Mondays.
1. Explore Hill Country Mile
Boerne's Hill Country Mile is a huge reason why visitors flock to town year round. It's an enjoyable one-mile walk along the sidewalks of Main Street, where you'll be immersed in over 80 shops that fill up charming storefronts and historic buildings. Get ready to embark on fabulous shopping, dining, sipping, entertainment, public art, and beautiful scenery. You'll find high-end boutiques, antique and vintage stores, mom and pop stores, galleries, breweries, and more. I loved that each boutique I went in had its own unique flair and no two were alike.
The Hill Country Mile is truly an all-day affair so put on a good pair of walking shoes, fill up your water bottle, and set sail to explore one of the best things to do in Boerne. And, while you're at it, marvel at the outdoor public art along the way. If needed, take a break at Cibolo Creek or in the garden of A Little Nature Store where there's plenty of shade. Don't worry — there are benches along the way and public restrooms throughout. So that you know, you may find yourself continuing where you left off the next day — there's a lot to see and do.
If you're looking for Texas-size gifts such as salsas, dips, candy, and jellies, head to Texas Gourmet Pantry and have them wrap it all up for you.
Pro Tip: There's free parking on Main Street, behind some buildings, and at the Visitors Center. The weekends can get hectic, and you may need to search a little longer for parking.
2. Breweries In Boerne
Craft breweries are about the unique flavor, the history of the beer-making process, and of course, the atmosphere and location. Boerne has no shortage of beer in town and a few quaint breweries to boot! If you're going for beer and bites, you'll want to check out family-owned Cibolo Creek Brewing Co. for its fabulous indoor-outdoor casual atmosphere, handcrafted house beers, and farm-to-table menu. The fish tacos were amazing. For 14-plus craft beers to choose from, a full dining menu that includes delicious 3-layer sandwiches and live music on Friday and Saturday, pull up a chair at Tusculum Brewing Co. While you're there, ask to take a tour of its onsite brewery.
3. Take A Tour Of The Old Jail Museum
The Kendall County Historic Jail was built in 1887 and operated for 99 years. After sitting there for years, two friends saw the value in its history and decided it needed to come back to life. They took it upon themselves, using their own creativity and sweat equity, to restore the place into what is known as The Old Jail Museum. There are all sorts of local history and artifacts and collections inside, mostly from the collection of one of the owners, including Cartwright Brothers, Newton Boys, and Moonshine Still, to name a few. The museum is open for tours on Saturdays — but be careful … they may lock you up for good!
4. Visit The Wineries
Grab your partner and drive out to the wineries and vineyards to enjoy the picturesque scenery of the Hill Country and find a new favorite wine. About 15 minutes from town, Saint Tryphon Farm & Vineyard will not only delight you with the best Texas wines, but if you want, the owner will fill your ear with terrific stories on how he got started in the wine business at a very young age. A very interesting story for sure.
Then, take a 3-minute drive to Sister Creek Vineyards in Sisterdale, where you can enjoy the admirable scenery of the surroundings, the historic cotton gin that now houses its winery, and if time allows, take a tour of where they make and bottle the wines.
5. Take A Cave Tour And Go Sluicing
The Cave Without A Name is a national natural landmark that offers daily guided tours down into the cave. The weather in the cave is a moderate 66 degrees year round and makes it a wonderful activity to do all year long. The facility even holds concerts and wedding ceremonies in the cave! Nothing too strenuous, but, trust me, it was easier going down than up.
Sluicing, also known as panning for gold, is a must-do. After your cave tour, buy a bag in the gift shop to pan with. Every child, teen, and adult is going to want their own bag! I got lucky and got a bag full of crystals, a gorgeous amethyst, and various stones that were keepers. Sluicing was probably the most exciting thing I did. I got all giddy seeing what all came out of that bag …and I'm an adult!
6. Breathe In Nature At Cibolo Center For Conservation
Take a break from shopping and get your crew out on the Cibolo Center for Conservation trails and engulf yourself in nature for hours. Its low-impact paved trails offer easy hiking and you'll want to make sure you let the young ones walk in the dinosaur tracks located out there. There's plenty of shade to relax and picnic tables to enjoy lunch.
Boerne Restaurants
Boerne offers everything from casual dining to coffee shops & bistros to high-end dining and upscale bar food, so no matter what your taste buds are craving, you'll find it in Boerne. Restaurants are up and down Main Street and side streets, but some of the best restaurants are found off the main drag.
To start your day with a bold cup of coffee or a latte, head to Black Rifle Coffee Co. and if you're looking for something sweet for a midday snack, stop by Bear Moon Bakery for a gigantic cookie. The gingerbread cookie I ordered was all it took to satisfy my sweet tooth.
Peggy's On The Green
Located adjacent to The Kendall, Peggy's on the Green offers a nice indoor setting for lunch and dinner and serves all-American food with daily specials that are not on the menu. My friend who joined me for lunch said we had to order the homemade pimento cheese spread, and the waitress agreed, so we did. Not sure what I liked best, the cheese spread or the fish tacos I ordered. You can't go wrong with anything on the menu.
259 Brantley's Bistro
For a nice light lunch, head for 259 Brantley's Bistro, where you can choose from delicious salads, sandwiches, and soups. Before you leave, make sure to snap a selfie in front of the Boerne mural right across the path from the main entrance.
Little Gretel Restaurant
Welcome to handcrafted cuisine where the owner and executive chef Denise serves up a variety of German food, American favorites, and the best authentic Czech food in the Hill Country. Find a seat inside or outside in the Biergarten at Little Gretel Restaurant and get ready to be in awe of a menu full of flavor and love.
When I read that Little Gretel was a finalist in the recent Best Small Town Restaurant category, I knew I had to go. Save room for the kolaches — the best I've ever had!
Pro Tip: Little Gretel serves a wonderful brunch on Sunday, but from what I've been told, you need to get there early and be prepared to wait in line.
Klein Smokehaus
Where do you go for finger-licking smoked barbeque ribs and a plate full of goodness? The town's favorite butcher shop, that's where! Klein Smokehaus has been a Boerne tradition since 1950 and is a local's favorite for a grab-n-go lunch. Pick up a mouthwatering brisket sandwich or a barbeque plate and all the sides then go enjoy a picnic at River Road Park or any other nearby park. The restaurant is located on Main Street across from the Visitors Center.
Pro Tip: I went for the ribs and left with a tummy full of their smoked turkey — it was that good! I highly recommend adding some to your plate!
Cypress Grille
Delight your taste buds with locally sourced meat, handmade pasta, fresh herbs from the garden, and an extensive wine list at Cypress Grille. Open for lunch and dinner and reservations are recommended.
The Dienger Trading Co.
The DiengerTrading Co. located inside one of the oldest historic buildings in town that once served as a fancy grocery store and the home for the Dienger family, is now a bakery & bistro, boutique, and event venue all in one. The store serves up breakfast and lunch in the bistro while selling trendy merchandise and clothing for women, men, and babies in its boutique.
Pro Tip: I received the biggest Texas welcome from the owners of the Klein Smokehaus when I got into town, and it continued that way throughout my 4-day stay. Boerne is truly what hospitality in the Hill Country is all about.
Texas hospitality takes center stage in the Hill Country and in other parts of the state: