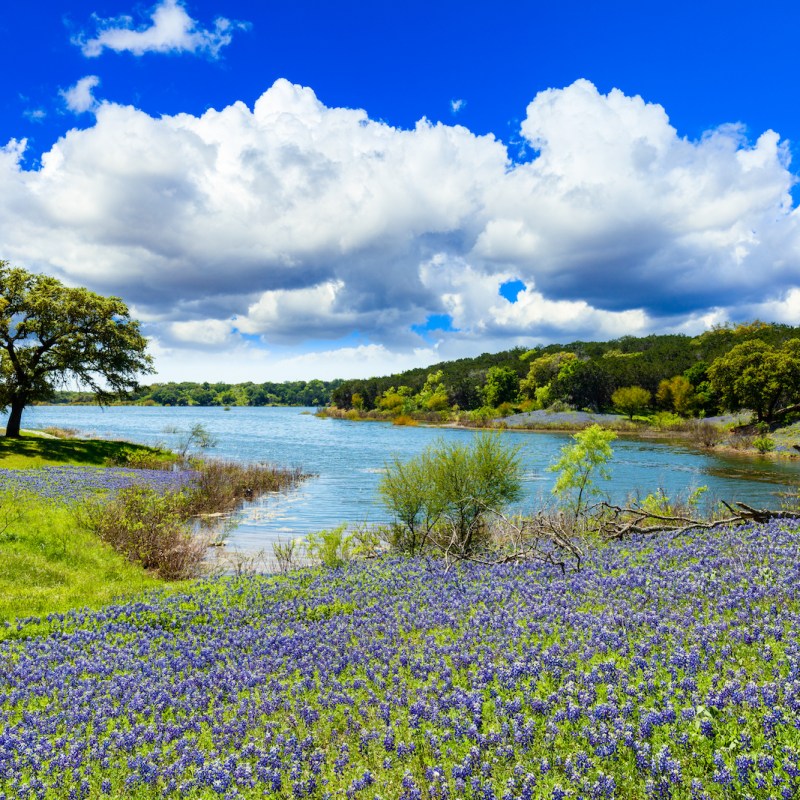 Draw a circle in the center of Texas, and you've practically defined the Texas Hill Country, an area of rugged hills comprised of limestone and granite west of Austin and San Antonio reaching southwest, almost to the Mexico border. Take this drive in the spring to see the bluebonnets and wildflowers, or in the fall to see the changing colors. You'll find cool oases in spite of the Texas heat.
For a real taste of Texas, begin your Texas Hill Country road trip at one of San Antonio's most luxurious locales, the Hotel Emma, then move on to Uvalde, and picturesque Leakey, the Swiss Alps of Texas. Stay at a dude ranch in Bandera, the "Cowboy Capital of the World." We'll explore the scenic route to Kerrville, the wineries and tasting rooms on Main Street in Fredericksburg, and Johnson City, LBJ's home. Plus, I've added my favorite eateries along the way.
1. San Antonio
The 22-acre Pearl mixed-use development was formerly a brewery, and Hotel Emma was the main brewhouse that was transformed into a top 146 room luxury hotel that keeps winning awards. Make reservations through the concierge for Hiatus Spa & Retreat, just steps across Brewer's Alley in the Cellars Residences building.
Dine at the newly opened French Brasserie Mon Chou Chou, featuring quintessential French comfort food and named after an affectionate French nickname. Indulge in the likes of lobster Benedict for brunch, escargots in garlic butter as an appetizer, and a lemon tart for dessert.
The Asian-American concept evident in Best Quality Daughter offers a collection of comfort food from Chef Jennifer Dobbertin's youthful approach teaming with Quealy Watson for a warm, gorgeous atmosphere. Small plates feature Impossible Potstickers and Crab Boudin Egg Rolls. Savor family-style dishes like salt-n-pepper shrimp or Thai pork-fried rice.
Hopscotch is an interactive art gallery in downtown San Antonio that brings together artists in collaborative environments co-founded by Nicole Jensen and Hunter Inman. Hopscotch creates platforms for local, national, and international artists to experiment with a broad spectrum of mediums and techniques.
Don't miss the sophisticated cocktails that pay homage to the tiki atmosphere at Hugman's Oasis by restaurateur Chris Hill along the River Walk. The bar menu follows an Izakaya tavern concept: small dishes for snacking so you can linger with good drinks, good food, and good friends.
2. Uvalde
Located halfway between San Antonio and the Mexican border at Del Rio, Uvalde has some unique sites along our driving tour.
The first floor of the Briscoe-Garner Museum documents the life of Uvalde's "Cactus Jack" Garner, vice president of the United States during President Roosevelt's first two terms. The second floor honors Dolph Briscoe, who served two terms as Texas governor and led a distinguished career in public service, business, and ranching.
Briscoe Art & Antique Collection represents former Governor Dolph Briscoe and his wife Janey's extensive art collection, including western oils, bronzes, and works by Rembrandt, Remington, and other artists.
Constructed in 1881, the Benson Guest House, located in the heart of Uvalde, is filled with historic touches, mid-century modern décor, with a historical marker honoring the Benson family.
Ox Ranch offers a personal guide to help you and your grandkids hand-feed the giraffes, pet the rhinos, and view dozens of wild exotic animals on a photo safari. You can explore caves, hunt for arrowheads, visit fossilized dinosaur tracks, kayak, paddleboard, and swim. Stay in comfortable cabins and eat delicious meals, including the best cookies and bear claws ever. Dad and the boys can drive and shoot fiery 76mm Sherman WWII tanks at the facility. You don't have to come for the exotic hunting that is also available.
Pro Tip: Fly and land or drive to Hangar 6 Air Café, at Garner Field, formerly one of 65 Texas Airfields training WWII Army Air Force pilots. Enjoy hot plates, chef-inspired entrees including ribeye steak, sandwiches, salads, appetizers, and desserts like a classic coke or root beer float. A rare special on this menu: The $100 Hamburger. Buy $100 of AvGas or Jet-A fuel from Uvalde Flight Center and get any of the Hangar burger meals FREE. Take your pick from six hangar burgers like the P-51 Mustang or The Spitfire.
3. Leakey
Known as the Swiss Alps of Texas and one of the most picturesque areas of the rugged Hill Country, Leakey (LAY-key) is 35 miles north of Uvalde.
Known for scenic drives in the area, F. M. 337 east and west traverse wooded inclines, secluded valleys, and river camps on the picturesque Nueces River. A turn north on F. M. 187 leads to Lost Maples State Natural Area. U.S. 83 North, skirting the East Frio River, leads 12 miles north to a roadside park that offers spectacular views of the Texas Hill Country and relaxing picnic areas. Texas 39 East, paralleling the Guadalupe River, takes you along gently winding roads, runaway creeks, and breathtaking sunset views to Ingram and Hunt.
Real County Historical Museum preserves pioneer living with a log-cabin parlor, bedroom, and kitchen with locally donated pieces. See the extensive collection of arrowheads, an 1880s horse-drawn hearse, blacksmith shop, ranch relics, and farm implements.
Rio Frio Landmark Oak is the third-largest live oak tree in the state, with a historical marker posted. The tree is on private property on the east side of the Rio Frio on Farm Road 1120.
Pro Tip: Lost Maples Café on Main Street in nearby Utopia is famous for homemade pies like coconut, lemon, chocolate meringue, fudge pecan, buttermilk, apple, and cherry.
4. Bandera
Bandera, known as the Cowboy Capital of the World, is situated on the banks of the Medina River, in the Texas Hill Country, an hour's drive northwest of San Antonio. At least eight Texas Dude Ranches surround Bandera. Among the most familiar are Dixie Dude Ranch, Mayan Dude Ranch, The Flying L Ranch, and Twin Elm Guest Ranch, to name a few. Attend Friday Night Rodeos all summer long.
Pro Tip: OST Restaurant, a family Old Spanish Trail restaurant since 1921, boasts saddle bar stools, a John Wayne Room, plus family-style meals like chicken fried steak, fried catfish, and fried chicken.
Arkey Blue's Silver Dollar Saloon in Bandera is one of the oldest continuously operating honky-tonks in Texas, featuring country music stars like Ernest Tubb, Willie Nelson, and Arkey Blue himself.
5. Kerrville
Take the scenic drive from Bandera to Kerrville along Highway 16, left on 470 to Vanderpool, right on 337 to Medina, and north on Hwy 16 to Kerrville.
Museum of Western Art represents the most distinguished living artists who follow Russell and Remington, documenting memories of the Old West. See the rotating collection of art, the western art library, and teaching facilities.
In the heart of downtown Kerrville, Schreiner Mansion Historic Site & Event Center appears on the National Register of Historic Places. The mansion courtyard, overlooking the expansive plaza, is available for special events. Don't miss the guided mansion tour on Tuesdays and Thursdays from 10 a.m. to 2 p.m.
YO Ranch Headquarters, Mountain Home has recently come under new ownership, with extensive renovations, including new roads, unique lodging, and more land expansion. Cabin or room rates include three meals at the Chuckwagon, an open bar in the lodge, and plenty of water and sodas for the kids. Enjoy the pool, exotic game photo safaris, wildlife tours, the traditional Y. O. social hunting club, or even a wedding venue.
Pro Tip: Savor lunch or dinner at Rails, A Café at the Depot, offering steaks, beef tenderloin, or shrimp Alfredo. Save room for the crème Brulee of the day or brownie turtle torte.
The Sleepy Side of Rails, a Guest House located in the historic train depot, is a charming one-bedroom apartment next door to the bakery, candy store, and Rails restaurant.
Basement Brewers of Texas, the best craft brewery in Kerrville, has the largest selection in the Texas Hill Country. Kids, dogs, and outside food are welcome.
6. Fredericksburg
Enjoy over a dozen wineries and tasting rooms on Main Street in Fredericksburg, stay safe, and keep the business in town. Here are a few to visit: Grape Creek On Main Tasting Room, serving vineyard-designated collections from the owner's estates in Fredericksburg and Paso Robles, California. Fat Ass Ranch & Winery, which has a catchy phrase (check it out), and Pontotoc Vineyard Weingarten which makes award-winning vintage wines from Texas Hill Country grapes.
Fiesta Winery Fredericksburg offers wine from four locations or shipped to your door. Narrow Path Main Street Tasting Room has offered Narrow Path wines from the Turbeville family since the early 2000s.
Japanese Garden Of Peace was installed at the National Museum of the Pacific War in Fredericksburg, dedicated, and opened on May 8, 1976, celebrating the 130th anniversary of the founding of Fredericksburg, then renovated in 2015 to restore the original design.
The Vaudeville Supper Club is designed for epicureans searching for culinary adventures, with seven-course menus featuring rich cultural flavors and paired with exquisite wines by chef Jordan Muraglia.
The Blacksmith Quarters On Barons Creek offers the main house and cottages with private hot tubs, gardens, and more for groups or single rentals, located one block off Main Street.
7. Johnson City
Lyndon B Johnson National Historical Park, in Johnson City, and the LBJ Ranch District, protect the birthplace, the grandfather's Johnson Settlement, visitor center, the ranch known as the Texas Whitehouse, the home, the Jet-Star, LBJ's plane, the family cemetery, and final resting place of our 36th President, Lyndon B. Johnson and his wife, Lady Bird.
The Crossroads Inn, located in Johnson City, has more than 50 wineries within 30 miles of the Inn. It's situated on six acres with herb gardens and perennial flowers leading to private porch swings and benches among 100-year-old shady oak trees surrounding the Inn. Enjoy art galleries, gift shops, antique shops, clothing boutiques, wine cafes, and restaurants within walking distance.
In conclusion, Texan Matthew McConaughey recently reflected: "In Texas, there is a certain honor of being a Texan that is doing something the best that you can."
Road trips have gained popularity in the last few years, and there are many scenic drives to choose from: