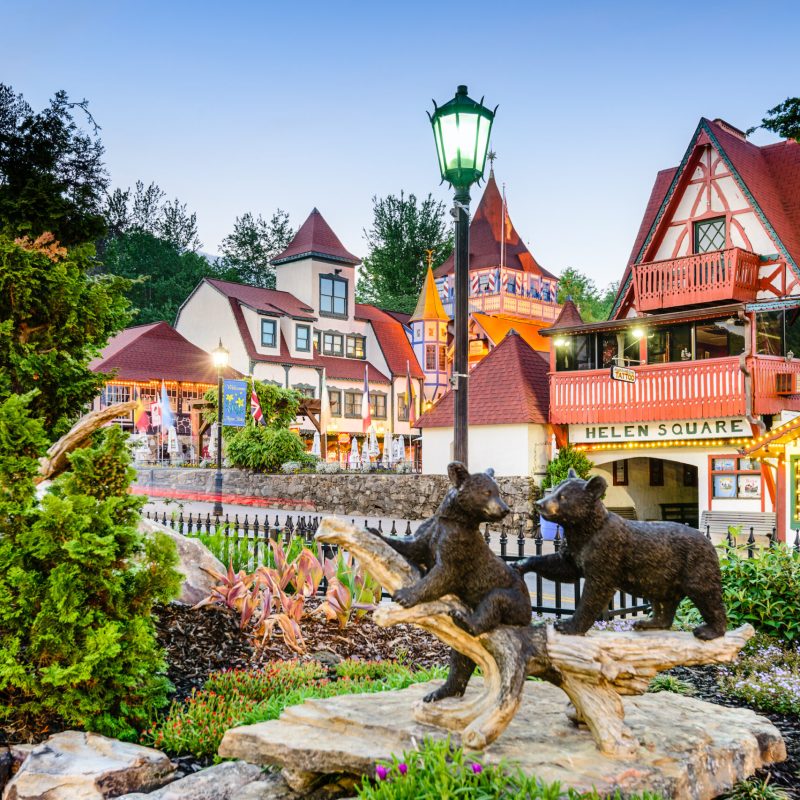 Beer steins raised in the air, Eins, Zwei, Drei, G'suffa was the chant before everyone would chug their beer. It was my first Oktoberfest in Munich. The long tables at the world-famous Hofbräuhaus were filled with festive Germans and tourists alike, chanting and drinking cellar-temperature beer from large steins.
The annual Oktoberfest celebration originated with the marriage of Crown Prince Ludgwig to Princess Therese von Sachsen-Hildburghausen on October 12, 1810 in Bavaria. The festival itself was held five days after the marriage — and morphed into a tourist attraction where visitors could learn about Bavaria and its people.
In Munich (and some U.S. cities), Oktoberfests are now held in September because the weather is milder. Other venues in the U.S. still run their Oktoberfests according to traditional dates, either for one weekend in or the entire month of October.
Attending Oktoberfest in Munich is an experience one doesn't soon forget. Luckily, even if you can't make it to Germany for the annual two-week Oktoberfest, many German communities in the U.S. put on authentic festivals each year. You won't need to speak German, but it's always impressive when you order like a local. So, head to one of these Oktoberfest celebrations and order Noch ein Bier, bitte! (Another beer, please!).
Indianapolis, Indiana
September 5–7
Indianapolis has a proud German heritage, and Indy residents and visitors can enjoy a three-day Oktoberfest hosted by the city's German American Klub. This is Indianapolis's largest Oktoberfest, and its hosts expect some 3,000 visitors over the course of the long weekend.
Can't make it to Indy in September? Later in the year — October 12 to be exact — the German Athenaeum, a German American Klub sister organization, will host its annual GermanFest. It's not an Oktoberfest per se, but it's hosted in Indianapolis's Athenaeum, a building that, along with many others in Indy, was designed by the grandfather of literary legend Kurt Vonnegut. The building's German heritage lends itself to the festivities, now in their 11th year.
Enjoy drinking games, live wiener dog races, a strongman competition, ZwergenLand for kids, a yodeling contest, plus live performances by German bands, German beer, German food, and more.
Hermann, Missouri
Every Weekend In October
Hermann is in the heart of Missouri wine country, and was the settling place of many German immigrants. The region reminded the settlers of the Rhine River valley of their homeland. Now each year, Oktoberfest draws thousands to this beautiful little river town. The entire town celebrates the festivities with live music on the patios of many wineries and restaurants as the smell of bratwursts on the grill fills the air.
To keep the party going after you return home, stop by Hermann Wurst Haus to stock up on brats for the road. They offer 47 flavors of award-winning bratwurst to choose from. If you can't make it to the festival, you can order their brats online.
Helen, Georgia
Long Weekends In September
Daily September 26–October 27
The downtown Helen, Georgia, Oktoberfest will celebrate its 49th year with another installment of the city's biggest celebration, complete with German music, dancing, food, and drinks.
You'll find beer, brats, bands, and Lederhosen (of course!) at the Helen Oktoberfest. German-style bands from around the country and the world play on stage, meaning you can see (and hear) alphorns blown, cowbells rung, and accordions squeezed. Take a spin on the dance floor to the timeless tunes of the polka. The Festhalle is set up with rows of long tables so you can eat and drink while watching the show. Enjoy a good German beer with a brat on a roll and partake in the Gemütlichkeit (a word used to convey the feeling of comradery and good cheer.).
West Annapolis, Maryland
Sunday, September 29
This year, West Annapolis, Maryland, celebrates its 29th Annual Oktoberfest with a two-block festival that's free to attend. More than 100 vendors will showcase their products, services, and fine art. Plus there'll be plenty of traditional German food and beer, oom-pah-pah music, and games for the kids. This Oktoberfest is sponsored by the West Annapolis Business Affiliation.
Breckenridge, Colorado
September 6–8
Home to one of the first Oktoberfests in the nation, for the past 25 years, Breckenridge, Colorado, has put on a festival that coincides with the changing of fall colors so revelers can enjoy beer and the beauty of the turning leaves at 9,600 feet above sea level. During this weekend of celebration, you can treat yourself to German cuisine, Paulaner beer, and collectible steins imported from Germany.
La Crosse, Wisconsin
September 26–29
Das Beste! Oktoberfest USA, held in La Crosse each year is, according to some, actually das beste. Charish Badzinski, a writer and travel blogger, says, "I lived in La Crosse, Wisconsin, for 20 years and I can tell you without a doubt they host the best Oktoberfest outside of Munich. The celebration lasts for days and includes events all over town, a family friendly midway [and] carnival, a second midway on the other side of town with a massive beer garden, and performers from around the world. The four-hour parade on Saturday is an event in itself, and not to be missed. People set furniture along the route and tailgate or grill out, have drinks, dance, and overall just enjoy a sense of fun and community."
Leavenworth, Washington
October 4-5, 11-12, and 18-19
Oktoberfest in the Bavarian-themed town of Leavenworth is, according to Bob Ellis of Bavarian Clockworks, "the next best thing to celebrating in Munich." Each weekend kicks off with a Saturday procession through the streets of downtown Leavenworth at noon, followed by a ceremonial keg tapping at 1 p.m.
The events and entertainment take place in the Festhalle, Bier Stube, Tanz Halle, and Spass Platz. A map of the venue layout and locations lets you stay current on which bands are playing when and on what stage. And while you're there, don't forget that you can stay "tiny" in the Bavarian-themed Leavenworth Tiny House Village.
Ellis says of the Leavenworth Oktoberfest, "It feels like you are in the Black Forest region of Germany. It's an amazing event tucked away in the Cascade Mountains of the Pacific Northwest. This US alpine-style village is authentically German and the beer is delicious."
Austin, Texas
Saturday, September 28
A new-comer at only six years old, Austin's AustOberfest has become a must-do in the fall in Austin, Texas. In the mid to late 1800s, Germans came to Texas in large numbers. Many descendants of these German immigrants are still in Austin, and the AustOberfest takes place at the original German singing society hall in downtown Austin. Festival goers enjoy sausage, local German-style beers, and live music, plus contests for best stein holding, costumes, air accordion, and more.
Photo Credit: Sean Pavone / Shutterstock, Kzenon / Shutterstock