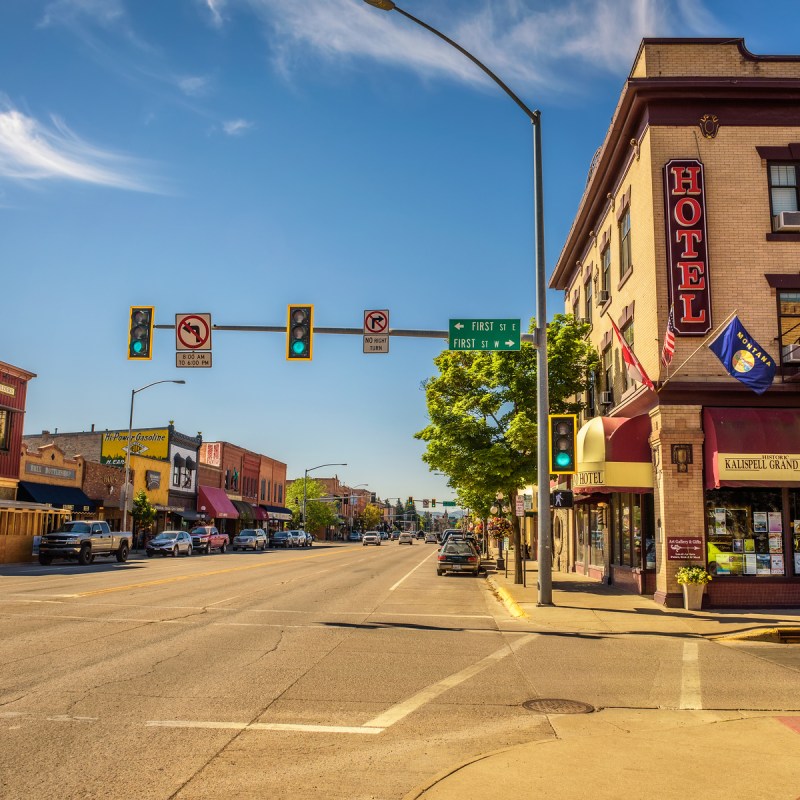 On the north bank of Flathead Lake, nestled between two national forests and located in the shadow of Glacier National Park, Kalispell is a gorgeous city in the Flathead Valley. While it's a beautiful destination year-round, my favorite time to visit Kalispell is in the late spring and early summer. In these seasons, typically the wettest months of the year, you'll see acres of bright yellow canola flowers and calves sticking close to their moms grazing in the lush fields. 
About a 40-minute drive from West Glacier, this city of 23,000 residents offers a variety of accommodations, restaurants, and things to do for non-campers who want a more modern home base when visiting Glacier National Park. And I swear you can see Canada on a clear day! 
Whether you're visiting Kalispell to spend time on the lake, breathe in the fresh mountain air, or enjoy all things huckleberry, here are some of the best things to see and do in this lovely city.
1. Tour The Historic Conrad Mansion
Built in 1895 for Charles E. Conrad and his family, the Conrad Mansion is a shingle-style, turn-of-the-century Victorian surrounded by a city block of beautifully maintained green space at the corner of Woodland Avenue and Fourth Street. Celebrating his business success in banking, cattle, and mining, Charles spared no expense in building an elaborate 13,000-square-foot home with steam heat, running water, and a hand-driven freight elevator at a time when many Montanans still lived in rustic log cabins. The servant call board, biscuit machine, and gorgeous stained glass windows are also impressive features.
The home remained in the Conrad family for nearly a century before it was gifted to the city of Kalispell by Charles's youngest daughter. Containing all of the home's original furniture, the 26-room mansion has been called the most authentic pre-1900 mansion in the Pacific Northwest. Explore the home at your own pace via a self-guided tour, or enjoy a 1.5-hour docent-led tour for greater insight into the home's history and the Conrad family's contributions to Kalispell.
Fun Fact: President Teddy Roosevelt spent time in this home when he came to Montana on hunting expeditions.
2. Enjoy The Great Outdoors
While many people visiting Northwestern Montana spend time at Glacier National Park, the state parks in Kalispell are also scenic places to breathe in the fresh mountain air and enjoy the spectacular views.
Just south of Kalispell, Flathead Lake offers a variety of water activities, including fishing, boating, and swimming. Located on the lake's Big Arm Bay, Big Arm State Park includes tree-shaded campgrounds, scenic hikes, and one of the best spots for boating to Wild Horse Island. 
Only accessible by boat, Wild Horse Island is the largest island in Flathead Lake. Spend a day under old-growth Ponderosa pines with binoculars in hand or a long camera lens at the ready as you search for the wild horses, bighorn sheep, bald eagles, and other wildlife that call this state park home.
3. Hit The Trails
Many scenic trails in and around Kalispell invite outdoorsy visitors to wander. The Bearly There Loop Trail in Lone Pine State Park, rated easy, is a great 1.3-mile forested hike with a 354-foot elevation gain. For beautiful lake views, hike the West Shore Loop on the west bank of Flathead Lake. With an elevation gain of only 360 feet, this 1.5-mile trail is also rated easy. For a longer hike with water views, trek the Swan River Trail near Bigfork, Montana. This 4.2-mile out-and-back trail hugs the north bank of the winding river that connects Swan Lake and Flathead Lake.
Pro Tip: Nearby Glacier National Park is home to the nation's largest population of grizzly bears in the contiguous U.S. Always carry bear spray when you hike, and follow these safety tips to avoid a bear encounter when enjoying the great outdoors of Northwestern Montana.
4. Explore The Northwest Montana History Museum
In addition to gorgeous scenery, Kalispell is home to the most extensive local history museum in Northwestern Montana. To learn more about the history, people, and culture of Big Sky Country, step inside the brick-and-stone Romanesque building that was a school for nearly 100 years before being expertly renovated to become the Northwest Montana History Museum.
Fun Fact: Academy Award-nominated actress Michelle Williams was born and raised in Kalispell.
5. Admire The Art At The Hockaday Museum
Surrounded by the untamed, rugged scenery of Northwestern Montana, the collection inside this century-old former Carnegie library focuses on artists from and works inspired by the Flathead Valley. Named for commercial artist Hugh Hockaday, the Hockaday Museum features works by Charles "Kid" Russell, one of the most renowned American Old West artists, whose paintings, sculptures, and other pieces were heavily influenced by this part of the country.
6. Browse The Kalispell Farmers Market
One of the benefits of visiting a destination dotted with family-owned farms and more cows than people is getting to sample fresh produce and locally sourced meat. From May through October, the Kalispell Farmers Market is open Saturday mornings in the Flathead Valley Community College south parking lot. Stop by for farm-to-table ingredients for a picnic and unique souvenirs from Big Sky Country.
7. Shop The Apple Barrel Country Market
If the Saturday-morning Kalispell Farmers Market doesn't fit into your itinerary, shop for locally sourced fresh ingredients seven days a week at the Apple Barrel Country Market on Highway 2. It's a great place to pick up huckleberry-flavored treats, from ready-to-eat huckleberry popcorn to huckleberry barbecue sauce. My family loves the Flathead Lake Gourmet Soda. Naturally, huckleberry is our favorite flavor of this locally produced fizzy drink, but you can also enjoy sour cherry, black raspberry, Granny apple, or strawberry orange.
8. Sip Handcrafted Adult Beverages
For a drink with a little more kick, travel 5 minutes south on Highway 2 to Whitefish Handcrafted Spirits, where husband-and-wife team Tom and Danette Sefcak have created a delightful spot that feels like an old friend's mountain lodge. He distills small-batch spirits like Montana wheat vodka and smooth handcrafted gin, while she whips up seasonally inspired dishes that would make James Beard proud. My favorite spirit is the huckleberry liqueur, which infuses Montana's unofficial state fruit into their house-made rum. 
And what's better than the huckleberry liqueur at Whitefish Handcrafted Spirits? The huckleberry liqueur paired with the I'm Your Huckleberry Burger! You won't want to miss this ground-in-house, all-beef patty topped with caramelized onions, huckleberry compote, and your choice of either Havarti or goat cheese.
9. Savor Some Suds
If you prefer craft beer to small-batch spirits, you've come to the right place. After all, the Flathead Valley Community College in Kalispell is home to the Brewing Academy of Montana. Along Highway 2, you'll find Sacred Waters Brewing Company adjacent to the Apple Barrel Country Market. In downtown Kalispell, SunRift Beer Company pairs its craft brewery with a tasting room and restaurant. And a few blocks east of Main is Bias Brewing, one of Kalispell's newest craft breweries with an emphasis on sustainable practices. 
10. Make Memories At Moose's Saloon
What would a Western town be without a historic saloon? Nothing! And that's why any trip to Kalispell should include a stop at Moose's Saloon. With its sawdust floors and swinging wooden doors, Moose's has been a legendary stop in Northwestern Montana — attracting everyone from laborers and politicians to tradesmen and business tycoons — for 60 years. Order a pizza, sip a few beers, carve your name in the wood, and soak up the spirit of the Wild West!
Fun Fact: Montana native Evel Knievel was inspired to make his Snake River Canyon jump after an evening with a friend at Moose's Saloon. 
11. Bite Into The Best Ice Cream In Montana
From the rich cream produced in regional dairies to the locally sourced ingredients, 
Sweet Peaks embraces its Rocky Mountain heritage with ice cream flavors inspired by Montana. As you explore Kalispell's charming downtown, stop in for a scoop at Fourth and Main. The native Montanans in my family always select the huckleberry ice cream at Sweet Peaks. Because these precious purple berries can't be cultivated, they can be quite pricey, so many other ice cream companies add blueberries to their huckleberry ice cream. But Sweet Peaks only uses locally sourced huckleberries, and you can taste the difference!
Other locally inspired flavors to try include the Mountain Mint, made with mint extract from Passmore Farms; the Bear Scat, with mini chocolate chips and dried blueberries mixed into dark chocolate ice cream; and the Going-to-the-Sun Road, with sponge toffee and caramel ice cream that will delight your taste buds as much as its namesake scenic drive will impress your eyes.
Pro Tip: Looking for more delicious desserts? These are the best ice cream shops in the U.S. from coast to coast.
From enjoying the great outdoors to immersing yourself in history, these are the best things to see and do in vibrant Kalispell, Montana. 

Pro Tip: For more fun in Northwestern Montana, spend a day in nearby Whitefish.