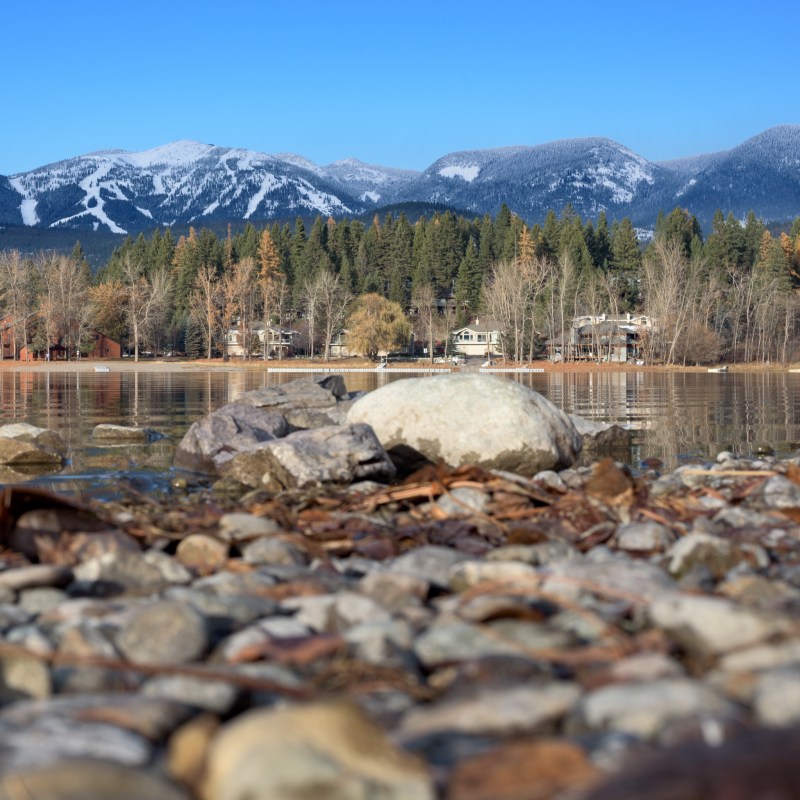 A gateway to Western Montana's Glacier National Park, Whitefish is a friendly, close-knit community that's used to welcoming visitors and outfitting them for all their park adventures. However, it's also very much a destination in and of itself.
I had the opportunity to visit Whitefish as part of a press trip, and I fell in love with this cozy town and its expansive list of activities; its wide selection of cute, casual cafes; and its outstanding variety of fun, funky shops.
What To Do In Whitefish
Whitefish is a year-round destination for outdoor enthusiasts. Skiing, hiking, cycling, paddling, and snowshoeing are all hugely popular here, but there are some unexpected finds as well!
Consider these activities on your Whitefish vacation.
Head To Whitefish Mountain Resort
It's impossible to talk about Whitefish without talking about skiing. The Whitefish Mountain Resort was recently named the third-best ski resort in North America by SKI Magazine.
This beautiful location is also popular in the summer, when guests can ride a gondola up the mountain to enjoy the spectacular views and then hike back down at a leisurely pace.
Take In The Whitefish Winter Carnival
This joyous annual event — which usually takes place the second week of February — can turn anyone into a winter lover. The Whitefish Winter Carnival features a parade, a "penguin plunge," snow sculptures, and plenty of community festivities.
Appreciate The Views At The Whitefish Lake Golf Club
The only 36-hole golf course in Montana, the Whitefish Lake Golf Club has fantastic views of both the lake and Big Mountain.
Hike The Whitefish Trail
The Whitefish Trail, a community-driven, multipartner project to develop a recreational trail system around Whitefish Lake, provides 42 miles of surface trails and 12 trailheads. Spending some time here hiking, mountain biking, running, or horseback riding will make you feel like a local, far removed from the typical tourist track.
Go Canoeing, Kayaking, Or Stand-Up Paddleboarding
With its many gorgeous lakes, Whitefish is a popular destination for canoeing, kayaking, and stand-up paddleboarding. Numerous outfitters offer lessons, equipment rentals, and tours. Sea Me Paddle offers a wide variety of options, even winter kayaking tours! Spoke & Paddle can deliver water sports rental equipment to you. The Marina at the Lodge at Whitefish Lake provides kayak, canoe, and stand-up paddleboard rentals in central Whitefish, plus private boat tours of the lake.
Take A Class At Stumptown Art Studio
A nonprofit organization, Stumptown Art Studio offers pottery-painting and glass-fusing classes for kids and adults. It's the perfect activity for a cloudy day! You'll likely notice some of their artistic touches around town as part of the Windows on Whitefish project.
Go Llama Trekking
Easily one of the most fun activities I've ever participated in, llama trekking is an unforgettable experience. Led by the team at Swan Mountain (about 1 hour and 45 minutes outside Whitefish), the llama excursions range from short day activities to complete overnight adventures. The llamas — who love the exercise — happily walk beside you and carry the day's supplies in their special packs. They're gentle, cheerful creatures who will help take your mind off all the exercise!
Take A Cycling Trip
Whether you're looking for a multiday adventure or just a relaxing afternoon, the team at Whitefish Bike Retreat can help set you up with all the gear and guidance you'll need for a cycling trip. They also offer trailside lodging and camping for cyclists, outdoor adventurers, and budget-focused travelers.
Where To Eat In Whitefish
Huckleberries are the star on most Montana restaurant menus, and Whitefish is no exception. Huckleberries are equally popular in sweet and savory dishes, finding their way into sauces, marinades, salad dressings, baked goods, and more. You won't regret trying them!
Here are some of the Whitefish area's best places to eat.
Whitefish Downtown Farmers Market
Every Tuesday from late May through September (5 p.m. to 7:30 p.m.), the Whitefish Downtown Farmers Market welcomes farm vendors, craftspeople, food trucks, and live musicians. Some crowd favorites include Dixon Melons, Sweet Meadow Farm's cut flowers, Montana Coffee Traders, and Amazing Crepes.
Swift Creek Cafe
Swift Creek Cafe is my favorite lunch spot in Whitefish, and my go-to order is the turkey club sandwich with a side of simple greens and avocado. This little spot is also popular at breakfast, with options like lemon ricotta pancakes with a lemon elderflower curd and corned-beef hash with ancho Hollandaise.
Tupelo Grille
A popular Whitefish fine-dining spot since 1995, Tupelo Grille can best be described as a New Orleans-Montana fusion hot spot. Fried green tomatoes with shrimp remoulade share menu space with elk meatloaf sliders. If it's available, I highly recommend you save some room for the boozy bread pudding for dessert.
Loula's Cafe
A from-scratch diner set in a historic Mason temple, Loula's Cafe offers breakfast and lunch in a sunny spot filled with art. This is where to go when you're craving a breakfast burrito or stack of French toast with a side of bacon before hitting the slopes. The homemade pies are hugely popular.
Central Avenue Bakery & Deli
This low-key little shop offers homemade bagels, soups, and sandwiches and packaged cheese, cured meats, and other road-trip friendly snacks. Plus, they serve up coffee from Fieldheads Coffee in nearby Big Fork.
Sweet Peaks Ice Cream
This beloved local ice cream shop sells a variety of seasonal flavors and year-round offerings like Madagascar vanilla, salty caramel, and huckleberry. During my visit, I opted for an old-fashioned root beer float. It was the perfect choice! Sweet Peaks also offers chicken ice cream for dogs.
Where To Shop In Whitefish
Whitefish is a browser's dream. The downtown area is full of beautiful little specialty shops and, in my experience, the proprietors are more than happy to chat and give their own personal recommendations on what to see and do around town.
These are some of my favorite shopping spots.
Polka Dot Sheep Fine Yarns
This gorgeous little jewel of a shop boasts Instagram-worthy displays of beautiful wool. I don't even knit, and I still bought some!
Whitefish Quilts & Gifts
As you might imagine, Whitefish Quilts & Gifts is chock-full of quilting materials and other craft supplies, but there's also a wide selection of huckleberry-flavored candies, drinks, and condiments.
Copperleaf Chocolat & Voyageur Booksellers
With a secondhand bookstore in the front and a chocolate shop in the back, Copperleaf Chocolat & Voyageur Booksellers might just have been my favorite stop in all Whitefish. On the book side, there's a particularly strong selection of outdoor adventures, nature books, Westerns, and local guides. On the chocolate side, you'll find lots of huckleberry (look for the huckleberry lemon cheesecake truffle dipped in dark chocolate). My personal favorite, however, was the Seafoam, organic blackstrap molasses cooked until crunchy and then dipped in milk or dark chocolate.
Tailwaggers
This cute pet shop specializes in healthy pet food and treats and is an ideal spot to grab a small surprise for a furry friend. If you happen to be traveling with your dog, note that they also offer a self-serve dog wash station!
Spotted Bear Spirits
A community-minded craft distillery, Spotted Bear Spirits produces vodka, coffee liqueur, and gin. The beautiful tasting room is one of the liveliest spots in town and serves up incredible cocktails. My favorite, the Barracuda, is a frothy blend of serrano-infused agave, pineapple, lime, and cucumber.
Where To Stay In Whitefish
For a community of just 6,000 people, Whitefish has quite a few accommodation options, from lodges and resorts to brand-name hotels and independent motels. You'll find private vacation rentals ranging from low-key Airbnbs to upscale options. You'll even find treehouses for rent!
These are two of the places I'd recommend again and again.
The Lodge At Whitefish Lake
As Montana's only AAA Four Diamond resort, The Lodge at Whitefish Lake offers a long list of amenities for travelers, from valet parking and charging stations for electric cars to heated pools, hot tubs, and private beach areas.
The Lodge is Whitefish's most luxurious accommodation, but despite this, it retains an air of old-fashioned hospitality. It reminded me of one of the grand old lodges you'd find in a national park, with its lobby adorned with timber and stone and its program sheet full of snug activities like Montana movie nights and s'mores on the terrace. I loved the rooms in the Main Lodge in particular, with the studio suites (approximately 600 square feet) offering guests a lot of space and homey comforts.
Snow Bear Chalets
Snow Bear Chalets offers ski-in, ski-out luxury vacation rental treehouses and chalets near Whitefish Mountain Resort. Guests can expect plenty of luxury, including private hot tubs, gourmet kitchens, and beautiful fireplaces. The rentals are also exceptionally cozy, with touches including heated bathroom floors, baskets by the front door so that every family member has their own cubby, turrets with ceilings painted to look like the midnight sky, and even copies of The Little Book of Hygge.