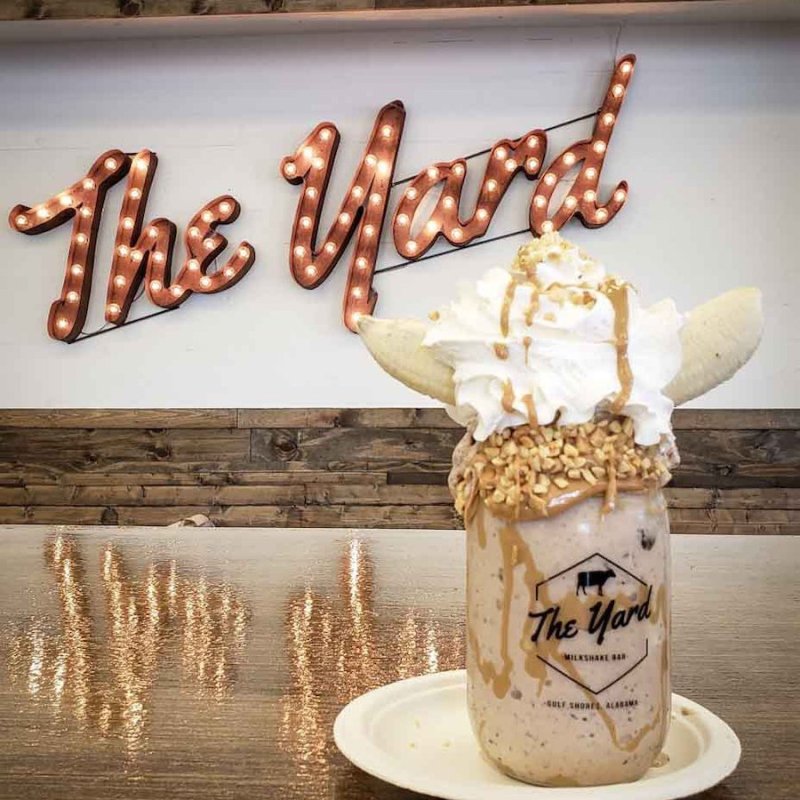 Heavy cream, granulated sugar, farm-fresh eggs, and sea salt — individually, these four ingredients can shape a variety of dishes. But blend them together and freeze, and you have something magical: ice cream! From East Coast to West Coast, in big cities and small towns, these are the tastiest ice cream shops in the United States.
Mount Desert Island Ice Cream, Portland And Bar Harbor, Maine
Maine's largest city is well known as an epicurean town. In fact, Portland was named Restaurant City of the Year in 2018 by Bon Appetit. And as with many phenomenal dishes fit for a foodie, it all starts with premium ingredients. That's why the chocolate wasabi at Mount Desert Island Ice Cream is made with real chocolate and not cocoa powder.
Explore Mount Desert Island's unique, fearless flavors like butterbeer (inspired by the Harry Potter series) or fresh basil (leveraging the sweet, pungent herb). And if you're visiting Maine with your favorite pooch, be sure to get a pint of Mount Desert Island canine ice cream, topped off with a housemade dog bone treat!
To enjoy the tastiest ice cream in the Pine Tree State at its original location, travel north on Highway 1, one of the most scenic drives in the U.S., to Mount Desert Island near Acadia National Park. You can also score a scoop in the Mount Pleasant neighborhood of Washington, D.C., and in Matsumoto, Japan.
The Inside Scoop, North Kingstown, Rhode Island
Since the early 2000s, the Bucci family has been making Rhode Island a sweeter place from spring through summer at The Inside Scoop. About 30 minutes south of Providence, this family-owned store strives to recreate the ice cream parlor of yesteryear and has been recognized as one of the best ice cream shops in New England.
The Inside Scoop always features at least 60 flavors, from basic to decadent. Fruit lovers may be tempted to try the grapefruit or orange pineapple, and chocoholics will delight in the rich chocolate brownie, chocolate walnut, and chocolate peanut butter cup.
If you're traveling with a food allergy or dietary restriction, The Inside Scoop offers at least four non-dairy/vegan flavors at all times. They also have no-sugar-added versions of their coffee, maple, pistachio, and vanilla ice cream.
Graeter's Ice Cream, Cincinnati, Ohio
In the mid-1800s, Cincinnati swelled as European immigrants flocked to the Midwestern city along the north bank of the Ohio River, manning its pork-processing plants and creating one of the nation's most prolific beer-brewing towns. But German immigrant Louis Charles Graeter focused on a different industry: making ice cream by hand in French pots and selling it from food carts. Though the company is now run by the fourth generation of Graeters, the ice cream is still handmade in French pots, producing just 2.5 gallons at a time.
Be sure to try Graeter's signature black raspberry chocolate chip ice cream. Beginning with a creamy, cotton candy-colored black raspberry base, a stream of rich melted chocolate then adds the chocolate chips to the French pot. Other signature chocolate chip flavors created by the same method include black cherry, cookie dough, and salted caramel. And if you won't take my word for it, how about Oprah's? On her show, she declared Graeter's to be "absolutely the best ice cream I've ever tasted."
After 150 years in business, Graeter's has expanded beyond its Cincinnati locations. You can now score a scoop in Chicago, Pittsburgh, and Indianapolis in addition to several locations throughout Ohio and Kentucky.
The Yard Milkshake Bar, Gulf Shores, Alabama
With massive milkshakes mixed up in mason jars, The Yard Milkshake Bar is an over-the-top ice cream experience. And the names for its signature concoctions are just as memorable as the desserts themselves. There's the Monkey Meets the Moose, which pairs Moose Tracks ice cream with a banana that looks like antlers in a jar encrusted with peanut butter and crushed peanuts. Or you can make your milkshake the most important meal of the day by digging into The Cereal Killer — vanilla ice cream paired with Fruity Pebbles and red marshmallow cream drizzle and topped with a massive serving of whipped cream.
After opening its doors in Gulf Shores, Alabama, in 2017, The Yard expanded to several additional locations throughout the Southeast, and its founders appeared on Shark Tank.
Crank & Boom Ice Cream Lounge, Lexington, Kentucky
From coconut ice cream churned in a 2-quart Cuisinart ice cream maker to a small ice cream cart, this delicious ice cream shop in the Horse Capital of the World grew from humble beginnings. Today, Crank & Boom Ice Cream Lounge crafts its ice cream from locally sourced dairy farms and makes everything it serves from scratch (with the exception of the sprinkles and gummy worms).
Be sure to enjoy the Kentucky bourbon and honey ice cream at Crank & Boom. Or kick things up a notch with a bourbon ball sundae, which tops the boozy scoops of bourbon ice cream with chocolate bombe sauce and candied pecans. If it's other Kentucky flavors that you're after, try the Kentucky blackberry and buttermilk ice cream.
Pro Tip: If you visit Crank & Boom Ice Cream Lounge at its Distillery District location on Manchester Street, order a spiked scoop. This extra-decadent dessert will add a shot of bourbon, bourbon cream, amaretto, or another essential cocktail ingredient to your scoop.
Clementine's Naughty And Nice Creamery, Saint Louis, Missouri
Growing up with limited means, Tamara Keefe's family had to opt out of their church's weekly trip to the ice cream parlor, but the tight-knit Italian-American family created their own ritual. With a hand-crank ice cream maker purchased secondhand, they bonded by making ice cream at home. Now the self-proclaimed "flavor temptress" has four decadent ice cream shops sprinkled throughout Saint Louis.
If you've ever stared down an indulgent dessert with an angel on your right shoulder and a devil on your left, you'll understand the idea behind Clementine's Naughty and Nice Creamery. For it's Tamara's secret process of freezing alcohol into ice cream that creates the fine line between naughty and nice.
For a G-rated dessert experience, go "nice" with a cup of gooey butter cake ice cream that celebrates the Gateway to the West's iconic pastry. Or score a scoop of salted crack caramel. Please note that while the chocolate, caramel, and three types of crackers folded into salted caramel ice cream are truly addictive, this treat does not include actual crack.
If you succumb to the influence of the devil on your left shoulder, cross to the naughty side and order a boozy scoop. Bourbon always pairs well with sweet cream, so you can't go wrong with the creation Tamara made for her dad, starring maple bourbon and salted candied pecans. And if you're a wine lover, you already know that the chocolate cabernet is another delicious option.
Purple Door Ice Cream, Milwaukee, Wisconsin
As one of the top milk-producing states in the country, Wisconsin has its fair share of great ice cream shops, and Purple Door Ice Cream is a favorite in America's Dairyland. As you explore Milwaukee's historic Walker's Point, stop in for a scoop and a glimpse of the ice cream team hard at work.
Purple Door Ice Cream goes above and beyond to incorporate the best locally sourced ingredients. Try Beer and Pretzels or Eastside Dark, both made with Lakefront Brewery's Eastside Dark lager. Anodyne Coffee fans will love the espresso ice cream options, including espresso blackberry chip and espresso bourbon chocolate chip. Or check out Blackberry Quark, featuring Clock Shadow Creamery's quark cheese — because you are in the land of cheeseheads, after all!
To treat your taste buds to an exotic adventure outside of the Brew City, try a scoop of blackberry cornbread, chai with pink peppercorn, fig and black tea, or juniper berry and lime ice cream.
Betty Rae's Ice Cream, Kansas City, Missouri
David Friesen and Mary Nguyen, the dynamic duo behind Betty Rae's Ice Cream, met in college, where they scooped ice cream and co-created a lavender honey flavor at Sparky's Homemade Ice Cream. A few years later, the couple started their family and their ice cream shop at once by giving birth to a baby and their new business in the same week. They've been churning out some of the best ice cream in Kansas City ever since!
A must-try seasonal flavor is Joe's KC Burnt Ends and Sauce. Betty Rae's partnered with one of Kansas City's most popular barbecue joints to create this unique flavor that mixes candied chunks of smoked beef brisket into sweet cream ice cream swirled with caramel sauce. But if you're not interested in sampling Kansas City's world-famous barbecue as a dessert, don't worry. There are plenty of other delicious flavors to try, including goat cheese, apricot, and candied walnut, or a dish of Thou Mayest coffee ice cream.
Betty Rae's robin's-egg blue mobile ice cream truck is a staple at Dog-N-Jog, an annual run/walk benefiting The Humane Society of Greater Kansas City. To cool off at the end of the race, both pups and humans queue up for a scoop of ice cream.
Ted & Wally's, Omaha, Nebraska
Beginning with 20 percent butterfat cream (and not the usual 14 percent), and with plenty of local eggs, real sugar, and nothing artificial, Ted & Wally's ice cream has been a can't-miss treat in Omaha's Historic Old Market since 1986 and is listed in 100 Things to Do in Omaha Before You Die.
Because every ice creamery has the classic Neapolitan flavors, I usually skip over them as recommendations. But if you like chocolate, you'll love Ted & Wally's Dutch chocolate ice cream, either on its own or as a base for something even more glamorous.
Pro Tip: Feeling guilty after that scoop of full-fat ice cream? Burn off some calories by strolling across the nearby Bob Kerrey Pedestrian Bridge.
Izzy's Ice Cream, Twin Cities, Minnesota
Just as the twin cities of Minneapolis and Saint Paul unite across the Mississippi River, husband-and-wife team Jeff Sommers and Lara Hammel have been churning out some of the tastiest ice cream on both sides of the Mississippi for the past two decades. You'll find Izzy's Ice Cream in upscale markets and grocery stores across Minnesota. Or, just steps from sweeping views of the Mill City's iconic stone arch bridge, you can visit their Minneapolis ice cream shop.
Enjoy the cool, fresh, mint taste of Izzy's peppermint bon bon that includes house-made chocolate chips. Try a different kind of cookies and cream by ordering a scoop of Caramelia Cookie Crunch with Valrhona Caramelia chocolate, Oreo cookie pieces, and salted caramel mixed into Izzy's vanilla ice cream. Or let the road rise to meet you with a scoop of Irish Moxie that combines coffee ice cream with pieces of Heath bar, chunks of Oreo cookies, and Jameson Irish Whiskey.
Amy's Ice Creams, Austin, Texas
Amy's Ice Creams has been serving up some of the tastiest ice cream in Austin since 1984, and this Lone Star State favorite now has shops in Houston and San Antonio. With a focus on the most essential food groups — cream, vanilla, chocolate, and coffee — Amy's does the standard flavors exceptionally well using Mexican vanilla, Belgian Callebaut chocolate, and El Marino espresso.
Take your palate on an exotic trip with All Thai'd Up, which blends ginger, fresh basil, and coconut flavors into a delicious dessert. Or stick close to home by enjoying some apple pie ice cream. If you like a little heat with your sweet, try the Hatch chile peach or honey habanero. And if you'd rather eat dessert for breakfast, grab a scoop of Big Boy Breakfast, which features maple syrup, ground cinnamon, and chunks of waffle cone swirled into a sweet cream base.
Little Man Ice Cream, Denver, Colorado
From a landmark two-story cylindrical milk jug in Denver's Highland neighborhood, Little Man Ice Cream serves up delicious scoops of classic and unique seasonal flavors of ice cream. In addition to vanilla bean, chocolate, and strawberry, try the French toast, oatmeal cookie, or salted caramel peanut butter cup.
If you're looking for a vegan or lower-calorie option, you'll be delighted with Little Man's sorbets and dairy- and egg-free selections. For an ice cream alternative, try the vegan horchata or vegan chocolate salted Oreo. If sorbet is more your style, choose from lemon lavender poppy, mango chile, and margarita flavors.
Through its Scoop for Scoop program, Little Man Ice Cream matches each purchased scoop of ice cream with a scoop of rice, beans, or other food essentials for needy communities around the world. The program has fed thousands of the world's hungry, generating more than two million scoops of food since 2008.
Sweet Peaks Ice Cream, Whitefish, Montana
In the shadow of Glacier National Park, the first Sweet Peaks Ice Cream shop opened in the town of Whitefish, Montana, a decade ago. From the rich cream produced at Montana dairies to the locally sourced ingredients, the flavors are inspired by the Rocky Mountains.
Montana is the land of everything huckleberry. So when you visit Sweet Peaks, you'll absolutely want to try the huckleberry ice cream. Because huckleberries only grow wild (and are a favorite food of grizzly bears), these small purple berries can be pricey. While many huckleberry foods are cut with blueberries or another fruit, Sweet Peaks uses locally sourced huckleberries, and you can taste the difference!
Other locally inspired flavors to try include the Mountain Mint made with mint extract from Passmore Farms; the Bear Scat with mini chocolate chips and dried blueberries mixed into dark chocolate ice cream; and the Going to the Sun Road, with sponge toffee and caramel ice cream that will delight your taste buds as much as its namesake scenic drive will impress your eyes.
The STIL, Boise, Idaho
In Kentucky, you can pour a shot over your scoop of ice cream. In Saint Louis, you can be "naughty" by digging into a dessert with alcohol frozen inside. And in Boise, you can enjoy a pairing experience that matches select scoops of The STIL's delicious ice cream with regional beers and wine.
Inspired by the creamery's mountain location, you'll find flavors like Fresh Powder (vanilla cream cheese), Idaho Wilderness (lavender and berries), and Summer Hike (strawberry sorbet). When you cross over to the alcohol-infused options, the creative names continue with Highway 1 (vanilla cream ale with toffee and butterscotch) and Parachuting Beavers (peanut butter stout with peanut butter and chocolate).
The STIL also makes frozen paw print and dog bone treats from peanut butter, pumpkin, and banana for your favorite furry travel companion.
Bi-Rite Creamery, San Francisco, California
After you've eaten your weight in Dungeness crab and scarfed down all the freshly baked sourdough you can stand, top off your time in the City by the Bay with a visit to Bi-Rite Creamery. In a building the color of mint chocolate chip ice cream, you'll discover probably the only ice cream you'll ever eat churned from water buffalo milk.
A San Francisco institution for eight decades, Bi-Rite has always focused on good, fresh food. Today, it continues to incorporate the best locally sourced seasonal flavors into its ice cream, making in house everything that goes into its frozen dessert. Enjoy Bi-Rite's Ricanelas, homemade snickerdoodles mixed into cinnamon ice cream, or travel to Japan with a scoop of black sesame ice cream.
Vegan visitors will be delighted to see so many creative dairy-free options on Bi-Rite's ice cream menu. Try the balsamic strawberry coconut or pina colada rum made with coconut milk. Or enjoy the chai latte and cinnamon maple oat crunch churned from oat milk.