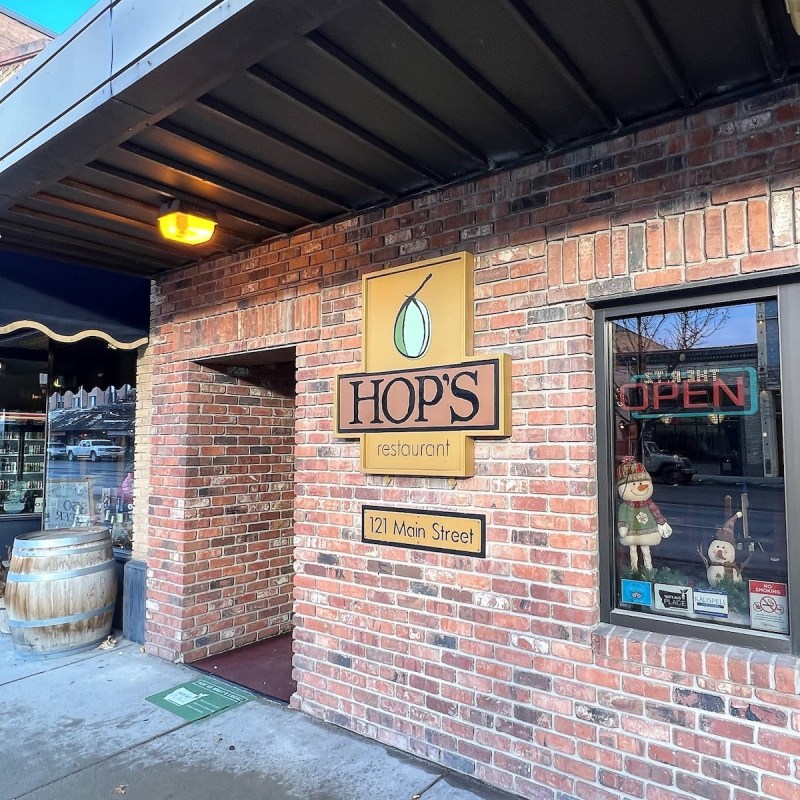 Kalispell, Montana, is an energetic mountain city that sits between two stunning natural treasures: Glacier National Park and Flathead Lake. It's also a booming culinary hotspot infused with regional flavors and creative flair.
During a recent media visit, I made the rounds of restaurants and cafes for a true taste of Kalispell. Here are my seven favorite dining experiences, in no particular order. The visit was hosted, but all opinions and recommendations are my own.
Pro Tip: Huckleberries are a sweet, tangy blueberry-esque fruit that thrives mostly in the wilderness of the Rocky Mountains. They are also a delicacy, so indulge when you can. (Bears love them, too!)
1. Ceres Bakery
Wake up to the wafting fragrances of freshly brewed espresso and fruity danishes right out of the oven, and you've arrived at Ceres Bakery in downtown Kalispell. The adjoining dining room is a brightly lit space with plenty of seating and a live garden wall.
An impressive menu of flaky pastries, crusty dinner breads, and breakfast and lunch sandwiches is hand-made in-house and changes daily. During my visit, cardamom knots and sweet potato sticky buns were featured.
Beverage options are just as extensive. The local favorite is a sweet, caramel espresso blend, which has been on the menu for more than 10 years. The list goes on with more coffee variations, teas, chai, kombucha, and hot chocolate. Add any of a dozen flavored syrups.
The adjoining dining room is a brightly lit space with a live garden wall overlooking the street. The side walls are lined with the works of local artists, and the back wall is a vertical garden filled with well-tended live plants.
What To Order At Ceres Bakery
My frosted cinnamon roll was enormous, super-moist, and flaky. My hot cup of chocolate was full-bodied but not overly sweet. A perfect beginning to the day!
Pro Tip: While you're waiting for your order, check out the many works by local artists that adorn the walls.
2. Big Mountain Ciderworks
The big red barn in the Kalispell countryside is Big Mountain Ciderworks, a family-operated orchard, cidery, tasting room, and restaurant. The ambiance is industrial chic, highlighted with reclaimed woods and garage-door windows that open on balmy days. Behind the building is a large patio that overlooks the 40-acre orchard where 7,000 apple and pear trees are planted.
Apple cider is the star, with a rotating roster of 16 on tap on any given day. These apple ciders are crisp, clean, and palate-quenching. They tasted more like wine than juice. Start off, like I did, with a cider flight of four small but generous glasses. Choose from dry, semi-dry, combination, or let the bartender choose.
The dining menu is made up of creative comfort foods, loaded with burgers and sandwiches, flatbreads, salads, and the like. Burgers are a hot item, and they come with a side of tots, fries, onion rings, or a side salad. I ordered the apple bacon grilled cheese on toasted ciabatta bread with a side of perky seasoned fries.
What To Order At Big Mountain Ciderworks
The perfect companion to your apple cider flight is the house soup. It's a smooth, tasty concoction of butternut squash, apple cider, cream, and herbs garnished with toasted pumpkin seeds and honey crema.
Pro Tip: From the windowed west side of the restaurant or the patio beyond, you'll catch exquisite orchard views and stunning sunsets.
3. KM Bar
Kick back at KM Bar, located downtown in the historic 1894 Kalispell Mercantile building. Today, KM Bar is an American gastropub serving up camaraderie and good tastes in a darkened ambiance. Live entertainment is a regular experience.
The bar menu lists numerous offerings from local and regional distilleries, breweries, and cider houses, as well as a retinue of specialty drinks that nod to the area and its history. My Bear Bait cocktail, for instance, featured "Bearproof," a single-malt whiskey from nearby Glacier Distilling; ginger beer; Angostura bitters; and fresh lime.
On the hearty food menu are small bites, grilled steaks, sandwiches, salads, and sides. We ordered an ensemble of starters including mushroom toast and calamari piccata.
What To Order At KM Bar
The Korean short rib plate, slathered with a porcini rub and bold chimichurri sauce, is a clear winner.
Pro Tip: Walk behind the stage at KM Bar and you'll enter the upscale Mercantile Steak, which is the next restaurant I'll tell you about.
4. Mercantile Steak
Also located in the historic Kalispell Mercantile building is Mercantile Steak, an upscale steakhouse with a touch of Old West glam. The space is richly adorned with a copper-tinned ceiling, Tiffany-style chandeliers, stained glass windows, and an ornate mirrored bar.
The classic steakhouse menu is meat-centric, including steaks, bison ribeye, pork chops, and racks of lamb. On the side are traditional offerings like Ceasar salad and baked potato but also seasonal specials. The extensive beverage menu begins with extensive wine and cocktail listings plus beers and ciders.
My companions and I chose to follow tradition and order steaks. Two shared a humongous porterhouse while I claimed a filet mignon. Plus, a scattering of sides and a trio of desserts. We raved about it all.
What To Order At Mercantile Steak
If you're not of a mind for meat, the sides and salads are equally interesting. There's always a fish special as well. I could have made a memorable meal from the loaded wedge salad and a couple of veggie dishes. Hello, caramelized baby carrots.
Pro Tip: Do not miss the house-made popovers with garlic butter pats. I'm serious about this. They are softball-sized but oh-so-fluffy and delicious!
5. Hop's Downtown Grill
A long-time Kalispell dining tradition, Hop's Downtown Grill is renowned for craft beer, beef and game meats, and warm hospitality. The decor sports an intimate vibe with soft lighting and woody accents, Behind the bar is a wall hung with vintage album covers and a teeth-gnashing bear head.
Hop's Downtown Grill is a destination restaurant for locally sourced yak, bison, wild boar, and elk. Burgers are a big deal, and there's a lentil and quinoa burger for non-meat-eaters. I picked the Hunter's Trio, a sampler platter of yak, elk, and wild boar sliders. One of my companions chose the elk bratwurst simmered in beer and grilled, served with salted Bavarian pretzel, dark ale mustard, and blue cheese fondue.
The beverage menu boasts more than 100 craft beers, and the wine list is international, with many labels from California and the Pacific Northwest.
What To Order At Hop's Downtown Grill
Hop's Poutine, fries topped with cheese curds and something called Moose Drool gravy.
Pro Tip: Reservations are highly recommended, or you're in for a long wait. Diners come in from a long way to eat at Hop's, especially on Thursdays, when house-smoked huckleberry glazed prime rib is a special.
6. DeSoto Grill
Formerly a blacksmith shop from a century ago, DeSoto Grill found new life as a lively, offbeat barbecue joint. The space is filled to the rafters with kitsch: auto parts, advertising signs, horseshoes, and assorted old-timey memorabilia. The hostess stand was fashioned from the front of a 1934 DeSoto truck.
Specialties of the house are slow-smoked brisket and pulled pork, sure to be piled high and doused in secret-recipe barbecue sauce. Order a sandwich, or make it a platter with cornbread and sides.
I went for another local favorite, the stuffed baked potato. The enormous spud was piled with tender brisket, corn, and cheddar cheese, then drizzled with sour cream and barbecue sauce. It paired perfectly with Flathead Lake Huckleberry soda, a new love of my life.
What To Order At DeSoto Grill
Don't miss out on the cornbread — it's a family recipe.
Pro Tip: Be sure to check out the bathrooms. The ladies' room is decorated with vintage mirrors and vanity items, and the men's room is decorated with vintage shaving paraphernalia.
7. MontaVino Winery And Tasting Room
After a day of activity or before your dinner reservation, a great place to sit and snack is at MontaVino Winery and Tasting Room. The winery produces more than a dozen white, red, and rose varietals and blends under its own label. Grapes are sourced primarily from the Columbia Valley and Yakima Valley in Washington state.
You can buy your wine by the glass or bottle. My recommendation is to order a wine flight, which consists of your choice of any three varietals. In my view, the Rosa Bella Rose, a happy blend of white and red grapes, is top-notch. There's also a lovely selection of wine cocktails, including flavored spritzers, mimosas, mules, and sangria. Warm, spiced wine is on the menu during the colder months.
The tasting room is generously sized, but the spaces are broken up into smaller arrangements that create intimacy and invite conversation. Take a spot at one of the party tables, cozy fireside groupings, the wine bar, or on the patio.
What To Order At MontaVino Winery And Tasting Room
Design your own charcuterie board for munching. The deluxe board comes with 3 gourmet meats, 3 cheeses, fresh fruit, fresh veggies, nuts, and crackers.
Pro Tip: Wine by the glass is discounted during happy hour, 4 p.m. to 6 p.m.
Related Reading: