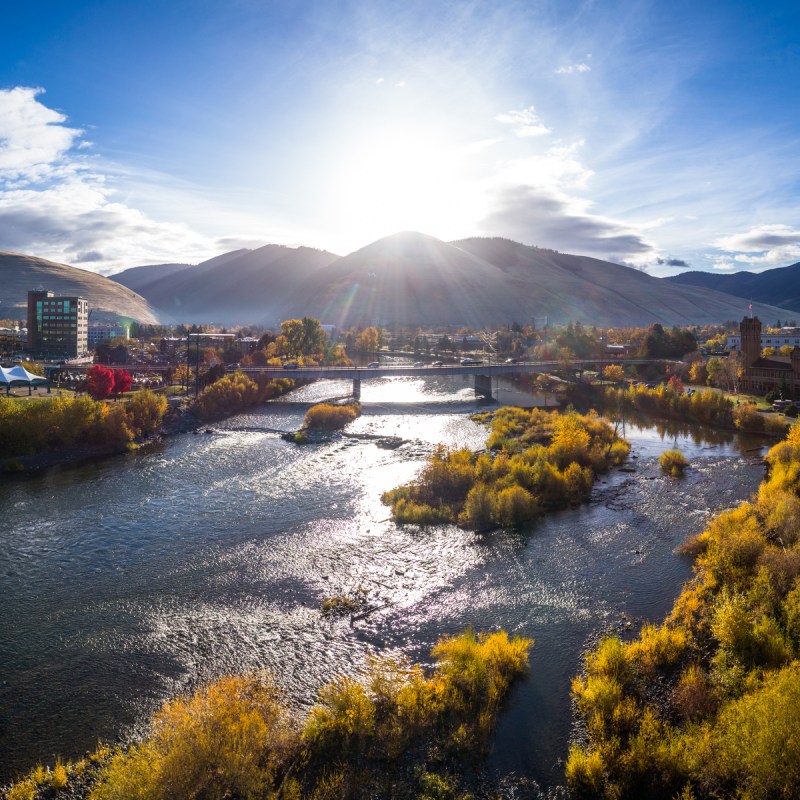 When it comes to beautiful places to visit, Montana immediately comes to mind. There's a reason people from all over the world gravitate to its gorgeous, awe-inspiring scenery. And two of Montana's best places are the college towns of Missoula and Bozeman. While they have a lot in common, there are also key differences to consider if you only have time to visit one or want a place to start. We'll give you our take on the differences we think are worth knowing to help you decide for yourself what most appeals to you.
We were hosted on visits to Bozeman and Missoula by Yellowstone Country Montana and Destination Missoula. All opinions remain our own.
1. Size And Location
Both Missoula and Bozeman are small cities. Missoula, with about 77,000 residents, is the larger of the two. Missoula is the second-largest city in Montana, with around 29 square miles of space compared to Bozeman's 19 square miles. Bozeman's population now is almost 53,000, and it's one of the fastest-growing in the United States.
Bozeman is in the southwestern part of Montana in Gallatin County near Big Sky, with its tall mountains and incredible skiing. Missoula, on the other hand, is on the western side of the state, just 45 miles from the Idaho border. Missoula is tucked into Montana's Northern Rockies, west of the Continental Divide.
While neither place feels like the center of a huge metropolitan area, we can say that Bozeman's downtown feels more condensed. Missoula is more spread out, having distinct neighborhoods with their own vibes, even within the downtown area. For a more compact place, Bozeman is the spot; if you want greater variety and more room to roam, Missoula fits the bill.
2. Outdoor Activities
With spectacular scenery, incredible mountains, lovely rivers, and more, there's no shortage of natural beauty in Montana. And while both Missoula and Bozeman offer ample opportunity for outdoor activities, you might prefer one spot over another, depending on how you like to spend your time. Both cities offer great places to run, walk, hike, bike, and generally get a breath of fresh air. There's even a crossover activity of hiking to the "M," a concrete landmark at the top of Mount Sentinel. Missoulians hike up one trail and Bozeman hikers use another.
For the most challenging and exciting skiing, snowboarding, and hiking, Bozeman is likely to have the edge. Famous snowy spots like Moonlight Basin and Bridger Bowl are nearby. The area is breathtakingly beautiful and offers many places to hike for scenic views and great exercise.
For water sports like kayaking, fly fishing, tubing, SUP, rafting, or floating, Missoula is remarkable. The Clark Fork River cuts right through the heart of town, making it as convenient as it is fun.
3. Ambiance
One key difference between these two great college towns is the ambiance of each. A strong pride in local heritage expresses itself through the rivalry between Missoula's University of Montana Grizzlies and the Montana State University Bobcats of Bozeman. But beyond college sports, the two cities have different vibes that are pretty distinct.
Bozeman is a city on the rise. The boom in population growth over the past decade has been great for business, but it also has the small town dealing with challenges like construction, traffic, and crowding that are also on the rise. There's a buzz and bustle in Bozeman that provides energy, new places to eat and drink, and a bit of an upscale feel. If Bozeman were an outfit, you might call it pressed jeans and a collared shirt.
On the other hand, Missoula, Montana, is most definitely a funky t-shirt and favorite pair of well-worn jeans kind of place. It's more laid-back, casual, and diverse. Missoula's Hip Strip shopping area is chock full of quirky spots selling herbs, vintage-inspired clothing, music, and more. Our favorite odd spot in Missoula is Circle Square 2nd Hand, affectionately known by locals as the "We Buy Anything!" store because that's what's painted on the outside wall. As you can imagine, this shop is a whole adventure in itself.
4. Food And Drink
It's not hard to find great food and drinks in Bozeman and Missoula. As a ranching state, burgers and steaks are some of the best that carnivores can enjoy.
The Missoula Club has killer burgers, and locals love steaks from The Depot, including a garlic roasted filet and the well-loved prime rib. But Missoula dining is diverse, including global cuisines, like Italian, Mexican, Indian, and Greek. One of our favorite spots has a great name as well as great barbecue, The Notorious PIG. Missoula's craft beer scene is outstanding, with spots like Tamarack Brewing, Imagine Nation Brewing, and Draught Works Brewery, whose "That's What She Said" cream ale is one of our favorites.
Bozeman also features some fantastic dining, with South 9th Bistro offering innovative fresh fare as well as French bistro classics such as Coquille St. Jacques and beef bourguignon. Korean barbecue, raw bar, and for a really great slice, stop at MacKenzie River Pizza. these are just a few offerings. We devoured huge breakfasts at Western Cafe and sipped wine with a tasty charcuterie board at Plonk. There are definitely plenty of options for drinking and dining in either town. We might say that there is a little more on the cheap and cheerful side and a few more brewpubs in Missoula.
5. Arts, Culture, And Entertainment
While one of the big draws of visiting either Bozeman or Missoula is the landscape, there are other enticements to enjoy in each city. Local farmer's markets, outdoor festivals, and events can vary with the season. But there are lots of places to go and things to do no matter what's going on outside.
Science and technology lovers will enjoy the American Computer and Robotics Museum in Bozeman. It's a fascinating look into the world of technology with free admission. Also in Bozeman, the Museum of the Rockies is worth exploring. It's a Smithsonian Affiliate full of great natural history, including dinosaur fossils and a full-size T. Rex skeleton. Performing arts spaces, such as The Ellen Theatre and several great art galleries, provide unique and memorable experiences of art and entertainment in Bozeman.
Music is an important part of Missoula's entertainment offerings. The music scene is well known and full of great concerts, from its symphony, opera, local musicians, and headliners. Among several noteworthy venues, The Wilma is a standout for its history dating back to 1921 and glorious recent restoration and renovation, making it a perfect place to catch diverse acts like Sheryl Crow, The Flaming Lips, Brandi Carlile, Train, and more. Missoula's nightlife is quite active, with bars, dance clubs, and places like Top Hat, where you can get something great to eat and watch local and national touring artists perform. Missoula has excellent galleries and museums exploring art and culture as well.
6. Weather
Montana is known as a place for cold and snow lovers, but the weather is actually a key difference worth noting between Bozeman and Missoula. Each city is on a different side of the Continental Divide, with Bozeman on the east and Missoula to the west, which makes for different winter weather patterns.
Those who love cold temperatures and big snow will thrive in Bozeman. Snowfall can start in October and begin sticking on the ground later in November. There are a few extremely cold weeks in January with sub-zero temperatures. Things begin to warm up in late March or April.
On the other hand, Missoula can have milder winters because the western mountains provide shelter from the cold arctic air that blows down from Canada. Some complain that Missoula winters can be quite gray and cloudy, but the temperatures are definitely milder than those in Bozeman. Spring can be rainy in both places, and summers get hot, hot, hot.
7. Day Trips
Depending upon your interests, you may find one city a better jumping-off point for exploration. Big Sky is great to visit from Bozeman. It has phenomenal ski areas in winter and ample places to hike and just hang out when the snow is gone. Another great day trip is Yellowstone National Park, the first park of the national park system. Old Faithful geyser, wildlife watching, and the beauty of this huge park's diverse landscape are worthy of a visit. We loved Yellowstone even more in the winter, which you can read more about here! We also enjoyed the small town of Livingston, where famous writers and artists go to create under the radar.
Missoula offers great day trips as well. Flathead Lake is the largest freshwater lake west of the Mississippi. The old mining town of Phillipsburg is recognized for its beautiful architecture as well as its great local beer. Glacier National Park is astoundingly beautiful and offers mountains, forests, meadows, lakes, and hundreds of miles of hiking trails with unforgettable views. And one other special day trip from Missoula is Dunrovin Ranch, in the town of Lolo, where you can ride a horse, perhaps even while crossing a river, as we did. They also have webcams where you can see what's happening around the ranch and check out ospreys in their nest.
Bozeman and Missoula offer the best of Montana, with some key differences. Those seeking a relaxed, casual, liberal, artsy type of environment may gravitate toward Missoula first. Visitors wanting the hubbub of a busy, growing town with lots of newness and surrounded by gorgeous mountains may find Bozeman sparks their interest first. The beauty and uniqueness of the Montana landscape is sure to captivate visitors no matter where they begin their visit.
Related Reading: