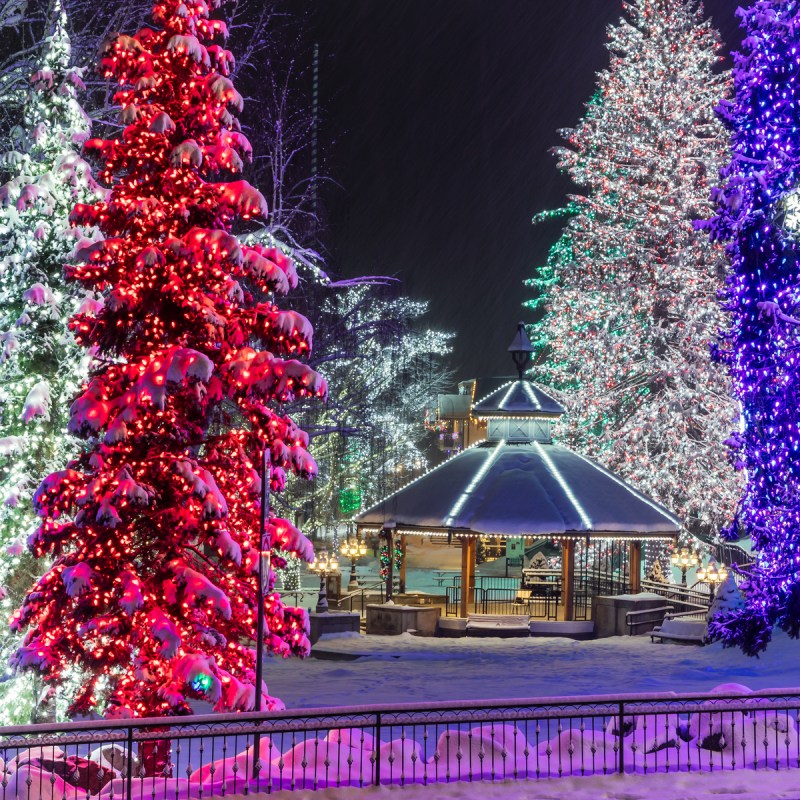 Some of this information was gathered during a hosted press trip. All opinions remain my own.
Mulled wine, enormous soft pretzels, and fairy-tale settings: The magic of Europe's Christmas markets has long been an irresistible draw for American travelers during the holidays.
But even if you can't get to Europe to take in the fabulous markets in Berlin, Amsterdam, Vienna, or London, there are authentic and charming markets all across the United States that offer German, Dutch, and Austrian influences.
In some cases, these markets have risen from immigrant communities' European roots, and in others, the markets have thrived by taking full advantage of beautiful parks and downtown settings.
From suburban Indiana to small-town Michigan to America's megacities of New York, Chicago, and Philadelphia, Christmas markets are flourishing.
Here are nine fabulous U.S. Christmas markets to get you into the holiday spirit — from the obscure to the celebrated.
1. Carmel Christkindlmarkt — Carmel, Indiana
If not for the occasional sign in English, you would swear you were in Germany as you take in the slowly rotating blades of a 33-foot-high German-made wood Gluhwein Pyramid, sip warm elderberry wine, and browse stands featuring beer steins and cuckoo clocks.
It's not Germany, however, but Carmel, Indiana — a suburban area about 40 minutes north of Indianapolis. For the past several years, the pretty Carmel City Center has been transformed into a traditional Christkindlmarkt, complete with an ice-skating rink, dozens of food vendors serving everything from raclette to schnitzel, and live Christmas music.
Although more than 4,000 miles separate Carmel from its European inspiration, the community takes its Christkindlmarkt seriously, sourcing all of the market's merchandise and food from Germany.
And don't be surprised if you hear German being spoken. Many of the vendors hail from Germany, and Indiana's strong German heritage is on display at a fascinating museum that details 10 U.S. Christmas traditions that you didn't know were from Germany. (It turns out that virtually all of the popular holiday symbols — Christmas trees, candy canes, gingerbread houses, glass ornaments, and Christmas markets — originated in Germany.)
The Carmel Christkindlmarkt runs annually from late November through Christmas Eve.
2. Christmas Village Of Baltimore — Baltimore, Maryland
A harbor setting combines with authentic wood shopping huts, a 65-foot-high Ferris wheel, and a Christmas-tree lighting on an ice rink to create an authentic German Christmas market experience right on the Baltimore Waterfront.
The Christmas Village is a beloved Baltimore tradition that features old-world charm and family-friendly entertainment.
With more than 50 food vendors, the Christmas Village boasts German-influenced fare for a variety of tastes.
"Follow the smell of gingerbread and freshly charcoal-grilled brats to the authentic wooden huts and to the grand heated tent which features a full menu of European food, sweets, and drinks," says a press release about the event.
The Christmas Village, which dates to 2013, runs annually from the week of Thanksgiving through Christmas Eve.
3. Leavenworth Village Of Lights — Leavenworth, Washington
Located in the midst of the Cascade Range, Leavenworth fully capitalizes on its alpine setting. The Washington community is known for its Bavarian-style architecture as well as its lively German beer scene.
Although the alpine village is a tourist draw year-round, Leavenworth shines bright at Christmastime with its Village of Lights, Christkindlmarkt, live German-style music, and Nutcracker Museum.
The village features town lights that shine brightly every day of the week, plus many events during the weekdays.
"This December, midweek and on weekends, we plan on celebrating our eye popping display of over half a million lights and with music & entertainment, holiday characters for your photo ops, strolling carolers, kids' activities, roasting chestnuts, Santa photos and so much more!" says the event's website.
The lights remain on from Thanksgiving through Valentine's Day weekend.
4. Denver Christkindl Market — Denver, Colorado
For nearly two decades, Denver has hosted an old-world German village, complete with sparkling overhead lights, wooden huts, and a German beer hall. The market recently moved to a new open-air venue at Civic Center Park.
The Denver Christkindl Market features Bavarian musicians playing Christmas classics while vendors offer holiday specialties such as baked apples, gingerbread biscuits, Austrian-inspired goulash, and charcoal-grilled sausages.
"Stroll through alleys lined with cozy wooden huts and shop for unique, finely crafted artisan gifts and tasty treats brought to you by local and international small businesses," says the festival's website. "As cheerful sounds of live holiday music fill the air, savor the season with traditional gluhwein, German biers, and traditional holiday fare from across Europe."
The market is open from Thanksgiving through December 23.
5. Christkindlmarket Chicago — Chicago, Illinois
Located in Chicago's Daley Plaza, Christkindlmarket Chicago has been bringing German charm to the city's downtown Loop area for nearly a quarter-century.
Christkindlmarket Chicago was inspired by the Christmas market in Nuremberg, Germany, which began in the 1500s. The Chicago event — the city's largest open-air Christmas market — was first held on Pioneer Court in 1996, according to the event's website.
Well known for its red-and-white-striped vendor booths, the Christkindlmarket features vendors from around the world offering handcrafted ornaments and toys and traditional German food, sweets, and drinks.
Unique to the market is the Stammtisch, a German tradition that allows for the reservation of a private table to be shared with friends and family amidst the cozy atmosphere of the heated Grand Timber Haus.
The market is open through Christmas Eve.
6. Downtown Holiday Market — Washington, D.C.
As a traditional part of the Washington, D.C. holiday season, the sidewalk in front of the National Portrait Gallery is transformed into the Downtown Holiday Market.
More than 70 regional artisans, crafters, and boutique businesses converge on the area, all offering ethically produced goods.
"The market brings a unique and festive shopping 'village' to the heart of downtown D.C., including lively seasonal entertainment plus great snacks and festive treats," said event organizers.
The market runs from late November through December 23.
7. Columbus Circle Holiday Market — New York City, New York
With Central Park as a backdrop, the Columbus Circle Holiday Market is back, providing a stylish outdoor holiday shopping venue to New York City.
"The Columbus Circle Holiday Market is internationally known as one of the most elegant and beautiful places for holiday shopping," says the event's website.
Featuring glittering aisles of art, jewelry, home goods, and festive treats, the market offers shoppers a unique opportunity to do their holiday shopping while soaking up the splendor of winter in New York City.
The market runs from late November through Christmas Eve.
8. Kerstmarkt — Holland, Michigan
For a taste of the holidays in the Netherlands, head to Holland, Michigan, where the annual Kerstmarkt celebrates the Dutch roots of the Lower Peninsula city.
Featuring wares such as wooden toys, heirloom spoons, and blacksmithed hooks and hangers, the Kerstmarkt has been bringing a Dutch Christmas to the Holland area since 1997.
Even after the mid-December end of the Kerstmarkt, visitors can take in Holland's festive DeKlomp Wooden Shoe & Delft Factory.
9. Christmas Village — Philadelphia, Pennsylvania
For some holiday love, visitors to Philadelphia flock to the Christmas Village, an authentic German Christmas market that takes place annually at the city's LOVE Park and City Hall.
The unique atmosphere features thousands of lights and the delicious fragrance of waffles, gingerbread, bratwurst and mulled wine.
The Christmas Village runs from Thanksgiving through Christmas Eve.
Further Reading: