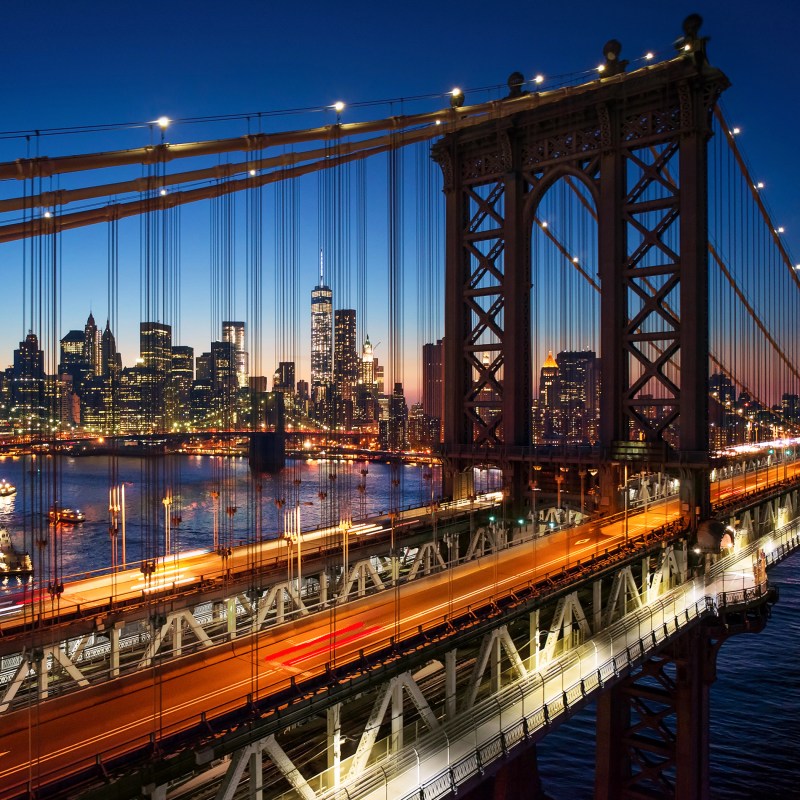 Heading to the big city comes with a lot of big questions. New York City is home to over 8 million people, all crammed into five boroughs: Brooklyn, Manhattan, Queens, The Bronx, and Staten Island, with Manhattan being the most popular to visit. For a first timer, there will be plenty to keep you busy in Manhattan, but don't overlook Brooklyn and Queens if time allows.
On your maiden visit to the Big Apple, be sure to allow a minimum of three days so you can take a breath and enjoy all the city has to offer without being in transit every moment of your trip. The following will only scratch the surface of what to expect but will arm you with information to feel confident during your time in New York City.
The Basics
1. New York is expensive; everything from beer to toiletries will be higher than you pay back home.
2. Despite its unsafe reputation still lingering from the 1980s, New York is the safest large metropolis in the U.S., with a crime rate per inhabitant even lower than the national average.
3. You don't have to buy tickets in advance to most attractions and museums, but you can often get a better deal if you do.
4. It's impossible to see it all in one trip. Prioritize your must-see attractions and don't sweat what you don't get around to — there's always your next trip.
5. It's going to be loud, crowded, and even overwhelming at times. You will hear a dozen different languages and encounter people from all over the world. The city is always alive and full of action, so don't expect to get much R&R on this trip.
Transportation And Getting Around
Get the logistics anxiety out of the way before you head out. These tips are your overview of how to navigate the big city. The only thing else required is a good pair of walking shoes!
6. Three airports serve the New York Metropolitan area, so be sure you are aware of transportation options from each — and where it is situated in relation to where you'll be staying — in advance of arrival.
7. John F. Kennedy International Airport (JFK) is the largest and busiest airport in all of New York and located in Southern Queens on Long Island. JFK sits 12 to 15 miles from Manhattan and (depending on your destination) is accessible by subway. If you arrive into JFK during high-traffic times, the subway is the fastest way into the city and the cheapest.
8. LaGuardia Airport (LGA) is also located in Queens, and is the closest to Manhattan, situated only eight miles to Midtown. La Guardia has been undergoing massive renovations for years — so prepare for a mess and construction upon arrival. Despite its proximity to Manhattan, the biggest downfall of flying into LGA is the lack of subway or train access into the city. So your best options from LGA are rideshares, taxis, or a shuttle.
9. Newark Liberty Airport (EWR) is the furthest airport from the city, located across the Hudson River in highly industrialized Newark, New Jersey. While the airport itself is state of the art, the descent into the area isn't particularly visually appealing. The plus side of arrival in Jersey is the clean and efficient NJ Transit train system that takes you into Penn Station in the heart of the city for only $12.50.
10. The subways and trains are easy to figure out, and mostly intuitive. The Manhattan Transit Authority (MTA) map doesn't require tons of research beforehand, but it's good to know which subway station is nearest to your hotel and map out routes you anticipate using during your trip in advance.
11. It's easy to purchase a MetroCard upon entering any subway station. Self-service kiosk are generally located right before the turnstiles and are easy to operate. Load funds onto the card and fare is subtracted each time you ride. MetroCards work for both buses and the subway.
12. During rush hour, plan on walking or taking the subway. You will spend a fortune and lots of time sitting in traffic otherwise. The subways are incredibly safe, so don't be shy about using them, especially when there are lots of other riders. Late at night, opt for a taxi or rideshare as it's much easier to get around town and the trains run less frequently.
13. Over 60 million tourists visit NYC each year, so you are in good company. Despite New Yorkers' reputations for being rude, they are generally very helpful; if you find yourself lost or needing directions, they are typically happy to help or point you in the right direction.
Insider tip: Just don't walk too slow or take up the entire sidewalk, that's no way to endear yourself to native New Yorkers.
14. There is almost no reason to rent a car when visiting NYC unless you plan on taking lots of day trips outside the city. Uber, Lyft, and other rideshares are readily available, as is the iconic yellow cab. Most of your transportation within the city will be on foot, subway, or bike. New York is bicycle friendly with tons of dedicated lanes and bike rental companies available.
Eat All The Foods!
New York is one of the best food cities in the world, and eating at a chain restaurant there is a sin. Be sure to plan out your meals with the same attention to detail you give the rest of your trip planning.
15. New York has many iconic foods, including New York-style pizza, bagels, and cheesecake, just to name a few. No visit is complete without having as many of these all-American delicacies as possible. Many restaurants will claim to have the best, so do your research and don't waste a meal.
16. Make sure your restaurant of choice has an A rating from the NYC Health Department. If you do not see an "A" posted outside the restaurant, leave immediately and find somewhere else to eat. Alternatively, check Health Department restaurant ratings online ahead of time.
17. Get a reservation, or expect long wait times and lines at most popular restaurants. Iconic places like Katz's Deli, Joe's Pizza, and Russ and Daughters don't take reservations, but the lines are worth it, so stay the course or go at off-peak times.
It's Almost Always A Good Time To Visit
Every season brings different NYC challenges and things to consider, so depending on the season, keep the following in mind:
18. When it rains, it stinks; there's really no way around it. It's also near impossible to hail a cab during a downpour, so head underground to the subway or pop into a store if an unexpected rain shower hits.
19. There isn't air conditioning in most subway stations, but the trains themselves are both heated and cooled.
20. As the temperature rises, New York tends to have a smell problem. A peak summer visit will involve its fair share of unpleasant aromas. Chalk it up to being part of the city's charm.
21. Locals head out of the city during most summer holidays, so the 4th of July and Memorial Day are great opportunities to avoid large crowds.
22. Wintertime and the Christmas season are particularly magical in the city. If traveling during winter and a snowstorm hits, the MTA is very responsive, so the city rarely shuts down during snowfall.
Lodging
You won't spend much time in your hotel room while in the city that never sleeps, but picking a good location is important to maximizing your time in the city.
23. Hotel rooms are expensive, and they are generally pretty small. Home shares are a popular option if looking for cheaper or larger accommodations.
24. First-time visitors should stay in Manhattan or just across the river for an easy commute in and out. Brooklyn and Queens might be cheaper, but you don't want to spend the majority of your trip commuting into and out of Manhattan.
25. The majority of the big chain hotels are in Midtown Manhattan and Times Square, and these central locations are generally good starting points for traversing the island of Manhattan.
Ready for your trip to New York? Don't let all the details or information overload get in the way of having a good time. There are a million ways to have fun in New York, and it'll be a once-in-a-lifetime trip. Eat all the best foods, see all the sites, and enjoy being a city slicker for a few days.
New York City bound? Read up on: