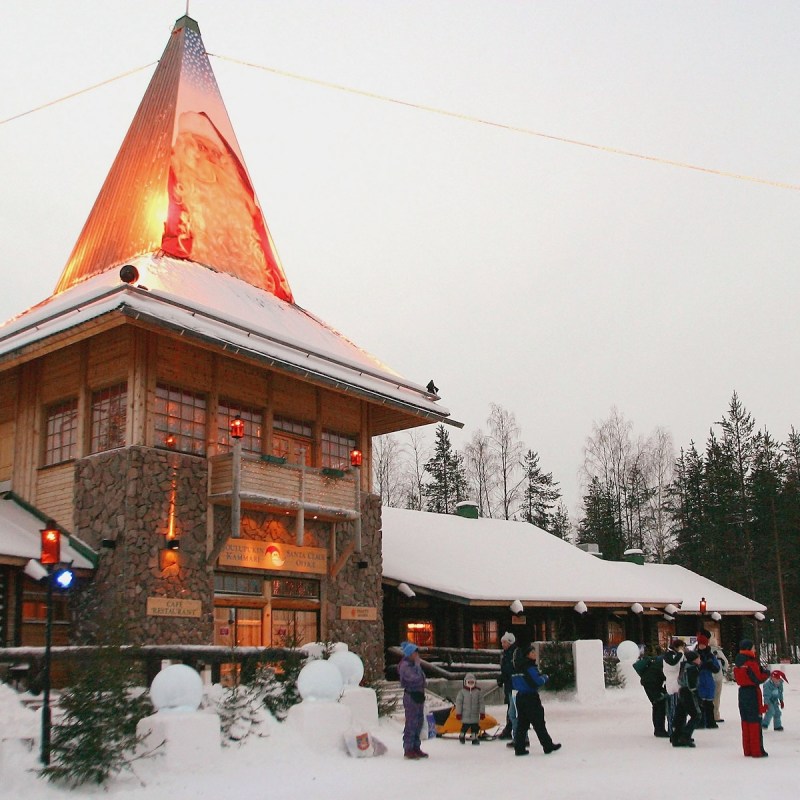 Merry Christmas from towns around the world that celebrate the holiday every day of the year. Explore festive cobblestone streets where you can meet Santa, encounter real reindeer, enjoy an endless array of twinkling lights, giggle at Christmas-themed amusement park rides, and immerse yourself in Christmas cheer.
This list of Holiday spirit, ho, ho, ho stops are listed in no particular order.
1. North Pole, Alaska
Of course, any city named North Pole has to embrace the chilly moniker. North Pole, Alaska, has opened its arms and welcomed the scenic Christmas decorations year round. Just 20 minutes outside of Fairbanks, you can snap a pic with candy-cane-striped street lights any time of year.
The Santa Claus House has been entertaining children of all ages for decades. It is a wonderful Christmas store famous for its Christmas Letter to Santa program. The festive letters will put all the youngsters in a jolly Christmas spirit.
Pro Tip: When you are in Fairbanks, visit Running Reindeer Ranch where you can walk in the boreal forest with a friendly herd of playful, goofy reindeer.
2. North Pole, New York
Way up in New York's Adirondack Mountains is another North Pole. In the charming town of Wilmington, Santa's Workshop is humming with Christmas excitement. The historic theme park is filled with fun kiddy rides, charming shops, winter wonderland shows, and an authentic Christmas village.
Where else can you have a visit with the talking Christmas tree named Tannenbaum, ride a carousel with reindeer instead of horses, and hop on Santa's Sleigh Coaster?
3. Rothenburg Ob Der Tauber, Germany
German Christmas markets are the hallmark of old-fashioned European Christmas towns. The charming Bavarian village of Rothenburg ob der Tauber has one such Christmas market and much more. The town is home to Deutsches Weihnachtsmuseum, the world-famous German Christmas museum.
Celebrating the history of beautiful German Christmas decorations, the museum houses rare Christmas decorations from the 19th and 20th centuries along with traditional Christmas decorations that are still very popular in modern times. Display cases twinkle with delicate handcrafted decorations showcasing the beautiful history of the Christmas celebration.
4. Christmas, Florida
On Christmas Day 1837, U.S. Army soldiers began building a fort and named it Fort Christmas in honor of the day.
Christmas, Florida, is about 30 minutes from Orlando. So the next time you are exploring Disney World and need a break from all the fanatical fun, take a short drive to Christmas. If you are there during the holiday season, stop into the post office with your Christmas cards and have them postmarked from Christmas.
5. Santa Claus, Indiana
The town of Santa Claus, Indiana, is the proud home of a 22-foot-tall Santa Claus statue. It is the perfect setting for your family Christmas photo.
Spend a little getaway family time with a stay at one of Santa's themed Lakeside Cottages perched along West Christmas Boulevard. There is lots to experience; visit with reindeer, roast chestnuts by the fire, and have dinner with Santa during the Christmas season.
6. Pigeon Forge, Tennessee
Celebrate Christmas all year long with a stay at The Inn at Christmas Place. No matter what time of year, enjoy a visit from Santa and Mrs. Claus, decorated Christmas trees in your suite, and cookies at bedtime.
The festive lobby draped with twinkling lights and graceful fir boughs is a support player to the glockenspiel, which plays beautiful Christmas carols for all the delighted guests.
7. Rovaniemi, Finland
In Lapland, near the Arctic Circle, is the city of Rovaniemi — the official home of Santa Claus. Visitors can explore Santa Claus Village with themed shops and restaurants covered with plenty of ice and snow. Intrepid travelers will enjoy a snowmobile tour, reindeer rides, and other snow-focused outdoor activities.
Be sure to stop by the Santa Claus Main Post Office and have your postcard or Christmas letter stamped with an Arctic Circle postmark.
Pro Tip: If viewing the aurora borealis is on your bucket list, Rovaniemi is a great option. Stay in an arctic treehouse or glass igloo for the most amazing viewing all night long.
8. Frankenmuth, Michigan
Any and all Christmas-related items can be found at one of the most amazing Christmas stores in the world. Bronner's Christmas Wonderland is a winter wonderland destination for Christmas decoration collectors. Imagine browsing 6,000 different Christmas ornament options, over 100 Christmas stocking designs, and hundreds of lighting styles.
Don your dapper red velveteen Santa fedora — yes you can get one at Bronner's — and let the holiday festivities begin.
9. Chalfont, Pennsylvania
How is your Christmas caroller collection coming along? Do you need more Dickensian Christmas decor for your mantel display? The Christmas Museum is a showcase for Byers' Choice Ltd., the premier crafter of caroler figures. The highly collectable figurines set a Christmas tableau under your tree, atop your mantel, or scattered in groups around your home. They lend a festive spirit to your holiday decorations.
The museum is an inspiration to Christmas lovers everywhere. Glean insight into creating inviting holiday displays while enjoying the myriad of Victorian carolers. Guests can watch as the carolers are handcrafted by adept artists. Finally, add a few more carolers to your own display when you visit the Gift Emporium.