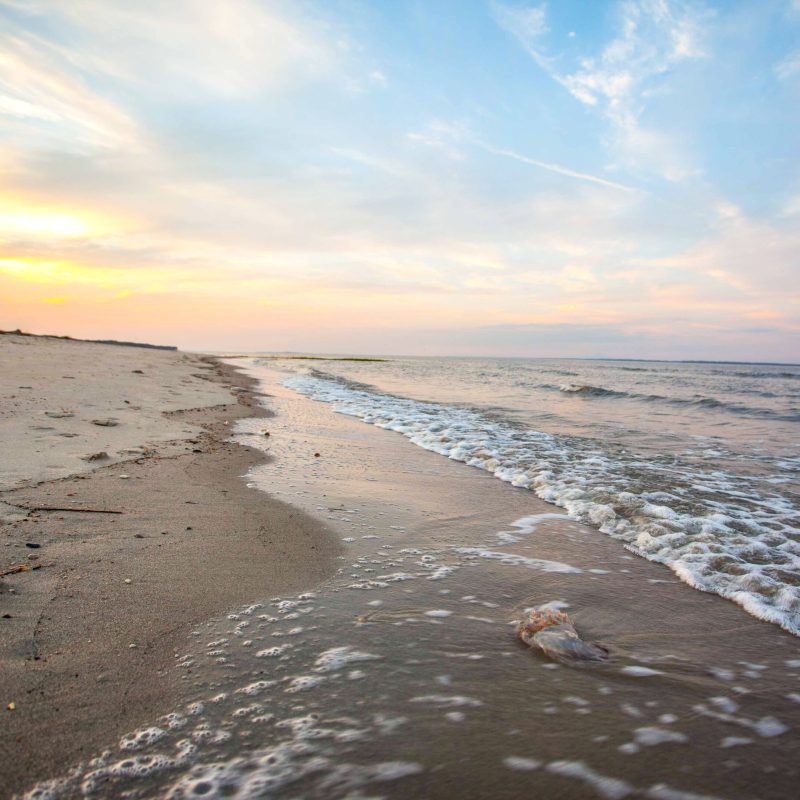 If you're looking for a relaxing island getaway but don't want to spend hours traveling to a remote destination, look no further than South Carolina. The Palmetto State is home to multiple islands, as well as some of the most beautiful beaches in the country, all set along the coast of the Atlantic Ocean.
While Myrtle Beach might be the most well-known destination in the state, the islands of Kiawah and Hilton Head are two hidden gems, perfect for a weekend respite. Both islands have miles of beaches, high-end golf courses, and a variety of outdoor activities.
But which one is better? That depends, of course, on what you want out of your vacation. After all, we're talking about resort islands; they're both terrific. It can be tough to choose one over the other.
In the spirit of informed decision-making, then, here's everything you need to know to decide which island is perfect for your next vacation.
1. Location
The islands of Hilton Head and Kiawah are both located along the coast in the southern portion of South Carolina. Kiawah Island is the smaller of the two, with an area of a little over 13 square miles, and is about a 45-minute drive from Charleston, South Carolina. The more southern island, Hilton Head, is the larger of the two (covering 69 square miles) and is about a 2-hour drive from Charleston. If you're traveling north to the island, Hilton Head is only 35 miles from Savannah, Georgia.
2. Accessibility
Luckily, you can easily access both Kiawah and Hilton Head from the mainland. Using a single causeway connection to the mainland, travelers can drive directly to each location. That's right! No boats necessary.
Charleston contains the closest international airport to Kiawah, and the Savannah airport is the closest to Hilton Head, but you can easily get to either island from either city.
The most direct route to Kiawah from Charleston takes you down Highway 700 West and through Johns Island. Eventually, you'll turn off Betsy Kerrison Parkway via roundabout and onto Kiawah Island Parkway, the causeway that will lead you to the island. If you're traveling via private jet, landing at the Charleston Executive Airport on Johns Island will give you an even shorter drive to the island.
Tourists warn that the drive to Kiawah involves narrow and unclearly marked roads, so be sure to have detailed instructions before you start your drive to the island. This drive can be especially difficult at night, so it's best to plan for daytime travel.
When traveling to Hilton Head, you can either fly directly to the island or drive from the Savannah/Hilton Head International Airport. Highway 278 will take you to Hilton Head and is the road you will have to use whether you are coming from Savannah or Charleston.
Because of Hilton Head's relatively large size, it's a good idea to rent a car when visiting the island. There are ride-share options and plenty of bike rentals, but little to no public transportation. Because there are so many attractions spread out across the area, it's easiest to have your own car.
Kiawah is much smaller and easily traversable by bike. However, if you think you'd prefer driving to the island destination, you must rent a car before arriving on the island. There are no rental companies on Kiawah — that's how exclusive the island is! If you're staying at the resort, there is a complimentary shuttle service that will take you anywhere on the island.
3. Accommodations
One of the biggest differences between these two islands is the availability of accommodations. Hilton Head has numerous commercial hotel options, including everything from Best Western to high-end oceanfront resorts. Rooms start at around $100 per night and go up to $400 or more per night (depending on the level of exclusivity you're looking for). There are also private vacation homes and villas available for rent, also starting at around $100 per night. Again, the price depends on the location and relative opulence.
The accommodations on Kiawah, on the other hand, are very limited. This island is all about exclusivity, which is maintained with restricted access to visitors (all of Kiawah is set up as a private, gated resort). There is one main resort on the island, the Kiawah Island Golf Resort, that offers a variety of room options.
You could also book a room in the resort's luxurious The Sanctuary Hotel (starting at around $130 per night) or stay in one of the resort's villas (starting at around $170 per night). There are some privately owned rentals available, but not nearly as many as there are on Hilton Head.
Pro tip: To get the best deal and best room for your needs, it's better to book as far in advance of your trip as you can. This is true for accommodations on both islands.
4. Cost
A vacation on either of these islands is going to carry a high price tag. You can find booking packages, free perks, and other deals, but the exclusivity of both places comes with a cost.
Because Hilton Head is bigger and offers more options for accommodations, dining, and activities, you'll most likely find slightly cheaper prices on this island. Kiawah is all about luxury and relaxation every step of the way, and with fewer options all around, you're going to pay more.
5. Dining Options
If you're looking for a variety of culinary options, Hilton Head has got you covered. The island offers everything from casual fast food to fine dining, with more than 200 restaurants to choose from. Even the pickiest eater will find something to enjoy on Hilton Head. Some of the best spots to try are Crane's Tavern, The Crazy Crab, and the Old Oyster Factory.
At the Kiawah Resort, you can choose from a dozen or so restaurants and cafés located on the resort grounds. Otherwise, there are a handful of casual to high-end places scattered throughout the island.
The Atlantic Room is one of Kiawah's best fine-dining spots for an amazing seafood dinner. This restaurant offers a great view in addition to its stunning menu. If you're looking for something more casual, Beaches & Cream (located in The Sanctuary Hotel) offers breakfast and lunch sandwiches, baked goods, and coffee, as well as tasty ice cream treats.
6. Attractions
You aren't going to find large commercial attractions on either Hilton Head or Kiawah Island. The main focus in both locations is gentle recreation — enjoying the great outdoors and the wonderful scenery that surrounds you.
That includes, of course, golf. The whole island of Kiawah is set up as a private golf resort, offering some of the best courses in the whole country. There are five championship courses with more than 90 holes to choose from. But remember the exclusivity of the island — to book tee time, you'll have to go through the resort. If you're looking to spend all your time on the greens, be sure to check out the golf-centric packages when booking your stay.
If you aren't as interested in golf, Kiawah has some of the most beautiful beaches in the country as well. Kiawah Beachwalker Park is one of the nicest spots to relax or swim. On the beach, you'll also find a snack bar, shower stalls, restrooms, a boardwalk, and beach-chair and umbrella rentals. There is a small admission fee (either $5 or $10, depending on the month).
The Kiawah Island Nature Center within Night Heron Park is a nature epicenter. With its bike and hiking trails, kayaking opportunities, walking tours, and variety of local wildlife, this is the ideal destination for nature lovers.
If you're worried about traffic, or are simply looking for a way to better immerse yourself in the environment, there are more than 30 miles of bike trails and 10 miles of bikeable beaches across Kiawah. There are bike rental shops all over the island, making it easy to enjoy the scenery at your own speed.
When building your dream Kiawah vacation, if you're not staying at the resort, make sure your accommodations offer resort privileges. Otherwise you won't have access to certain areas and activities of the island, and that isn't any fun.
Hilton Head is another golfer's dream destination, with more than 24 world-class courses to play. Unlike Kiawah, Hilton Head offers both public and private courses, making the island slightly more accessible to tourists.
When you're finished on the greens, you can pick a spot to relax along the island's 12 miles of uninterrupted beachfront. Burkes Beach and Islanders Beach are two great spots to soak up the sun and lounge in the sand. Burkes Beach is easily accessible by car or bike path, and has basketball and tennis courts nearby — plus a dog park for those who like to vacation with their furry friends in tow. Islanders Beach is a great stop for the whole family, with its playground, picnic pavilions, grills, restrooms, and showers.
Hilton Head also offers plenty of other water-based activities. You can spend an afternoon fishing, taking a dolphin-watching cruise, kayaking, surfing, sailing, or waterskiing.
Biking is encouraged on this island as well, which has over 60 miles of paved trails. On a bike, you can easily travel to the beach or into town without the stress of traffic or parking.
If you need a break from the outdoors, there are a variety of shopping, spa, and self-care options to take advantage of.
7. Best Time To Visit
While the summer months are the most common time to visit both Hilton Head and Kiawah, it's possible to enjoy these islands at any time of the year. Both have a similar tourism pattern that follows the change in seasons. This pattern affects room availability, price, and crowds on the islands.
When traveling in the spring, you can expect a flowering, picturesque setting. Both islands are in full bloom with temperatures just warm enough for swimming and enjoying the beach, but not too hot. Springtime highs from March through May range from the mid-60s to the mid-80s, with minimal precipitation.
As you might expect, summertime is the busiest season for both of these islands. Each year more than 2.5 million people visit Hilton Head, with most passing through during the summer months. Kiawah's population is around 1,400, which increases to 8,000 to 10,000 people per day during the summer.
From June through August, beaches on both islands will be packed, reservations might be more difficult to make, and accommodations will be more expensive and harder to find — but that doesn't mean you should avoid traveling to these islands during this time.
In the summer, all outdoor activities and vendors are in full swing, the ocean is at the perfect swimming temperature, and the sun sets later in the day, allowing for more time to enjoy your vacation. The area experiences highs in the mid-80s to the mid-90s. The summer is also the rainy season for both of these islands, averaging around 6.2 inches of rain per month (with August being the rainiest).
8. Off-Season Options
Some say fall is the best time to visit the islands. The summer weather extends well into this season, with highs in the mid-80s in September and dropping to the upper 60s and lower 70s in November. The number of tourists drops after Labor Day, leaving you with excellent weather and smaller crowds. On Hilton Head, a number of fall festivals take place each year, whereas Kiawah only has one fall community event currently listed.
Don't rule out the winter season as a vacation option. If you don't mind chilly weather (highs in the mid-50s) and a calm and serene environment, this might be the time for you to book your stay. The winter season comes with very little traffic, hardly any tourists, and more housing options available for cheaper prices. It'll seem like you have the islands to yourself.
Hopefully this information will help you choose between the slightly larger, potentially more affordable island of Hilton Head and the exclusive, resort-focused Kiawah Island. Happy adventuring!
Planning a visit to Charleston? Be sure to book a table at one of the charming Southern town's best waterfront restaurants.
And if you're headed to Savannah instead, these historic places, hidden gems, and great dining experiences won't disappoint.