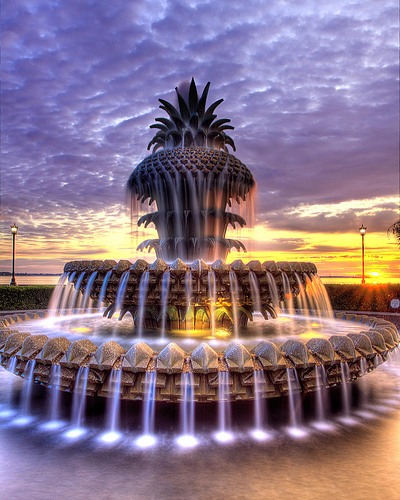 The folks who call this charming southern city home are famous for their hospitality. Cobblestone streets and antebellum homes beckon you to stroll along quaint Palmetto-lined drives. Known as the Holy City, the steeples of Charleston's churches rise above skyline, peeking down at you as you wind toward the historic downtown.
Here's our ultimate guide to one of America's favorite cities.
Morning:
There are two fantastic ways to start your day; it depends on whether you want to break your fast on the go, or sit and savor.
Caviar & Bananas is in the Great Hall of the historic Charleston City Market. You can grab a cappuccino, a pastry, or a breakfast sandwich, and explore the market. This is where local entrepreneurs come to sell everything from photographs to sweetgrass baskets. The market is made up of three open air brick buildings and the great hall. This is the place to buy a piece of Lowcountry to remember your trip.
Poogan's Porch is a delicious sit-down option for breakfast. The restaurant serves brunch 7 days a week, including the Lowcountry specialty – She-Crab Soup. Pimiento Cheese Fritters, Fried Green Tomatoes, and Sunrise Shrimp and Grits will give you the full taste of Charleston. While this isn't advertised on its website, the restaurant is said to be one of the most haunted in Charleston. Their ghost, Zoe, is said to wander her former home looking for her sister. The restaurant itself is actually named after a friendly neighborhood pooch that used to hang out on the porch when the home became a restaurant in the late 1970's.
If you choose to eat at Poogan's Porch, walk over to the Market when you're finished. You'll want to smell the beautiful sweetgrass baskets, but they can be expensive because of the work that goes into them. They're made by Gullah artisans whose ancestors were slaves. The Gullah have been able to preserve more of their distinct cultural heritage than any other group of African Americans. They maintain their traditional arts, speak Creole, and enjoy a rich cuisine. You'll see Gullah artwork, food, and other items in the market.
Near the market, there's a relaxing and informative way to see the city. While they may sound touristy, Horse-Drawn Carriage Tours will weave you through downtown Charleston, as your guide/driver retells the history of the city. It's a fabulous way to learn about the area in a short period of time. The carriage routes are randomly assigned by city tourism officials as the tour is leaving, so the carriage companies can never guarantee what you'll see. But each option is as interesting as the next!
Charleston Carriage Works, Old South Carriage Company, and Palmetto Carriage Works are three popular options. The tours last an hour, and tickets are around $25 per person. In addition to regulating the routes they take, the City of Charleston won't let carriages operate if the temperature is above 95 degrees; they also collect records of the horses' work activity and conduct veterinary inspections twice a year. (If you aren't interested in a tour, the Carriage Companies are happy to have visitors come to their city stables just to see their animals.)
Downtown Charleston is very walkable if you prefer to walk. King Street is known for its antique stores, cute clothing boutiques, bakeries, and other independently-owned shops. East Bay Street is where you will find Rainbow Row and, after a street name change, also the Battery – in case you didn't go by these Charleston landmarks during your carriage ride. From the Battery, you can see Fort Sumter, which is where the first shots of the Civil War were fired.
Afternoon:
For lunch (and some beach time), you'll want to jump in your car and head to Sullivan's Island, about a 20-minute drive from downtown. Make Poe's Tavern your first stop. It's named after Edgar Allen Poe, who was stationed at Fort Moultrie on the island in 1828. Poe's has a great laid-back island feel, fabulous food, and agreeable drink options. Poe's menu is pretty rudimentary: a few apps, salads, burgers (beef or chicken), and fish tacos. It's the combination of toppings that make their burgers special. You can't go wrong with the Gold Bug Plus or Tell-Tale Heart, and the Fish Tacos are a fantastic option if you want something a little lighter.
Poe's is just a few easy blocks from the beach. Just one block north from the restaurant is Station 22 ½ Street. Follow it east and it will take you right onto the beach path. You can walk the beach for a while; hopefully you threw some beach chairs in your trunk so you can pop a squat and watch the waves roll in. Folly Beach, southeast of Charleston, and Isle of Palms, north of Sullivan's, are also popular beaches. They just tend to be a bit more touristy.
Evening:
You can stay at the beach until sunset, or make your way closer to downtown and stop at Tavern & Table on Shem Creek. The restaurant has a comfortable patio with spectacular sunset views. You can enjoy a cocktail and a small bite while watching the sun go down. If you haven't had pimento cheese yet today, try it here.
A third sunset option is Waterfront Park in downtown Charleston. It's where you'll find one of the city's most recognizable landmarks: the pineapple water fountain. Pineapples are a sign of southern hospitality, and you will have spotted them throughout the downtown area during the day.
The stories about how pineapples came to symbolize hospitality differ. Some say it's because the rare and expensive fruit was part of elaborate centerpieces during dinner parties held by influential members of the community. Others say sea captains displayed pineapples outside their homes to inform neighbors that their ships had returned, inviting visitation.
The fountain is beautiful any time of day, but it is striking when lit up at night.
Depending on the timing of sunset and whether mother nature cooperates, there is one very Charleston experience left to try: a ghost tour with either Ghost City Tours or Old Charleston Walking Tours. The city is rumored to be the most haunted in the country, although New Orleans occasionally disputes this. If attempting to interact with spirits isn't for you, make your way back to your hotel, and chance your own private encounter in this holy, and haunted, city.