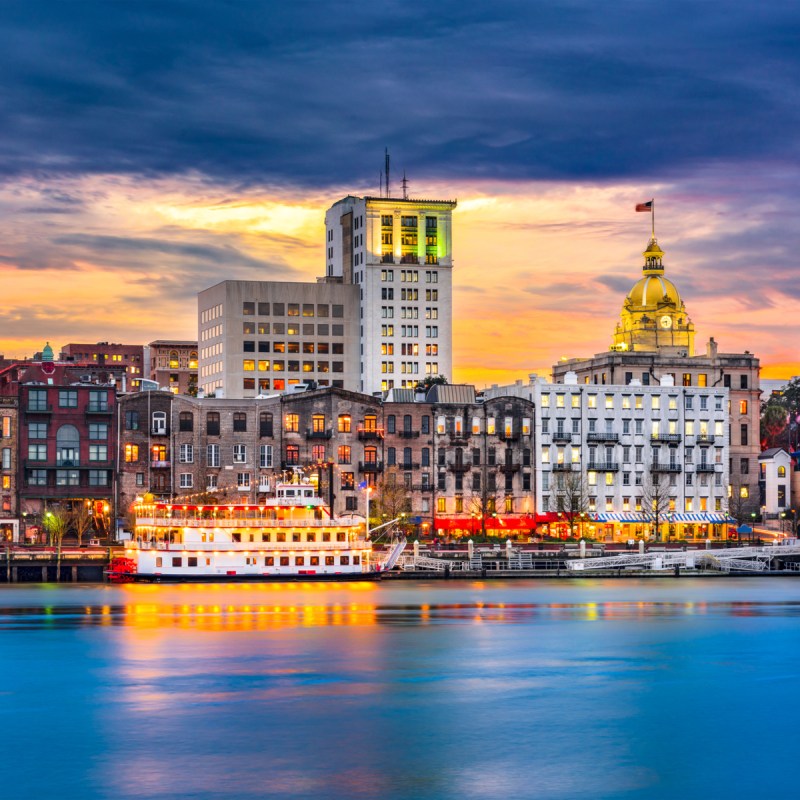 Savannah, the state of Georgia's oldest city, is recognized for its history, tree-lined streets, and beauty. As "The Hostess City of the South," this charming city boasts hidden gems and a food scene worth a deep dive.
Savannah is a foodie's dream destination brimming with dining opportunities that will thrill both the discriminating palate and the diner eager to savor "down-South" cooking. If you get yourself to Savannah, Georgia, here are the eight eats, drinks, and places that'll bring you gastronomical merriment (that means good eatin', ya'll).
1. Sweet Tea
There is iced tea, sweetened, and there is sweet iced tea. When you choose your iced tea "sweetened" in Savannah, you are choosing sweet tea, the favorite drink of the South. Your taste buds will spot the distinction instantly. How is Southern sweet tea made? The answer depends on the teachings and recipes passed down to the one making it.
Cane sugar may be added to the water prior to steeping the tea bags, liquid sugar may be used in lieu of cane sugar, or 1 to 2 cups of sugar may be added to the steeped tea. However it's made, sweet tea is the happy ending to a Southern meal and a must if you are in Savannah.
2. The Grey Restaurant And The Grey Market
There's no missing The Grey restaurant. However you get there, when you round the corner and look up, you'll see a regal Greyhound statue perched atop the restaurant's name. This award-winning restaurant, housed in an old Greyhound bus terminal, is a true example of something old, something new. The Grey Market is located within a four-minute walk. It serves casual meals you can hold in your hand or drink through a straw. Both restaurants boast menus that represent the culinary prowess of Chef Mashama Bailey.  
At The Grey, the diner bar menu consists of small plate dishes such as duck pastrami, sauerkraut, poached egg, and potato rossi. You can also find a combo that includes boiled peanut hummus. Boiled peanuts are definitely a thing in Georgia.  The dinner menu provides you with two choices: a four-course or six-course meal. 
The Grey Market picks up where the diner bar vibe in the restaurant lets off, offering take-out, dining at the lunch counter, groceries, sundries, and coffee. Whether you order the TGM Burger with its homemade potato bun and Comeback Sauce, dinner for two consisting of hearty comfort foods to enjoy in your own kitchen, a decadent dessert, or a frozen daiquiri from the daiquiri machine, you can't go wrong. There is something for every vibe and on-the-go situation at this market. 
The Grey and The Grey Market are establishments led by an award-winning chef whose menus pay homage to the South, community,  and the kitchen she grew up in. If you have the opportunity to dine at either place, take it!
At The Grey, classic collard greens are prepared with an onion trifecta, apple cider vinegar, and mustard greens mixed in. The chefs also honor local seafood in the dayboat catch, made with Yukon gold potatoes, spring garlic, and ham hock.
The Grey restaurant is both history and history in the making. It is an industry-celebrated establishment led by a famous chef who's menu pays homage to the regional foods of the South and the kitchen she grew up in. If you have the opportunity to dine here, take it!
3. Sweet Potato Pie At Ms. Polly's Cake Giant
Stop by any home in the South during Thanksgiving and you will find a sweet potato pie on the dessert table. The pie, comprising of mashed sweet potatoes (not to be confused with yams), evaporated milk, sugar, and spices, is a Southern dessert staple. Make a stop into Ms. Polly's and you may find one just out of the oven. According to the sign outside of Ms. Polly's shop, her pies and cakes are the go-to for locals.
Walking by Ms. Polly's is similar to passing the kitchen where your mother, Big Mama, or Auntie is cooking. If she hears your footsteps as you pass by the kitchen, without even looking at you, she'll call, "Come on in here! I've got some pies in the oven. Come get some!"
If Ms. Polly is in the store with the doors open and you pass by she will extend the same invitation to you — and this is an invitation you won't want to turn down!
The sweet potato pies at Ms. Polly's are individually sized, each with its own pie crust and tin pie plate. Pies are not the only items in this hometown bakery. You will have your choice of cakes, cookies, cobblers, and cupcakes to name a few. Ms. Polly's Cake Giant is the welcome to Savannah, Georgia, that every visitor to the South needs.
4. Shrimp And Grits
Grits are an essential food found in the cupboards of most Southern homes. In fact, they were declared the state's official prepared food by the Georgia General Assembly in 2010. Southern families have been preparing shrimp and grits together for generations, and now you can get the pairing in many fine dining establishments across the country. Grits provide the creamy base and are topped with a mixture of shrimp sauteed in butter with other savory ingredients — smoked sausage, ham, onions, garlic, to name a few. Of course, the shrimp mixture will vary according to the chef's preferences, which is part of the fun of trying shrimp and grits from different kitchens.
What's so special about shrimp and grits? It can be enjoyed during breakfast, lunch, or dinner. What makes it exceptional in Savannah? The fresh seafood from the coastal town adds to the quality of the dish, making this a must-try dish when in Savannah.
5. Blends Coffee Boutique
This coffee boutique is just what its name suggests: small, trendy, and specialized. Don't worry, coffee has not been dubbed a traditional Southern sip since the last time you checked.
In fact, Blends continues to offer beans from the countries of Guatemala, Colombia, Brazil, Puerto Rico, Ethiopia, and Sumatra.
What establishes this as a must-try in Savannah? The charming atmosphere, the care with which your customized drink is crafted, and the intoxicating aroma of the coffee roasting inside that spills out onto the street as you go by. You will crave a stop in. Consider this your permission slip.
6. Low Country Boil At Savannah Seafood Shack
Low Country is a name given to coastal South Carolina, but the cuisine extends to the areas by the Savannah River. If you have the pleasure of having a meal in Savannah and see a Low Country boil option on the menu, go for it! Shrimp or a shellfish are typically boiled with corn on the cob, smoked sausage, potato, and distinctive seasonings that create the unforgettable Low Country boil flavor combination. The ingredients go together in one pot so the flavors can meld. Each unique element of the boil shines through and they combine to deliver a hearty meal.
The Savannah Seafood Shack serves a rendition of the Low Country boil cooked inside of clear plastic sacks and served inside a deep dish for easy eating. Each of your five senses will be engaged as soon as your plate appears. You'll get a waft of warm seasonings and spices well before the bag is opened. Roll up your sleeves and get ready for flavors and ingredients that will pop on the palate, no additional seasoning required.
7. Byrd's Famous Cookies At City Market
Peaches are the state fruit of Georgia, and there is no better way to appreciate the creative uses of the Georgia peach than in a modest, bite-size cookie. Byrd's Famous Cookies is a cookie maven for the cookie connoisseur. Several flavors are available and most are even eligible for sampling!
Byrd's has gluten-free cookie options, making their diverse treats enjoyable for all cookie lovers. It is easy to become overwhelmed when you wander into the store and witness all the varieties, so I suggest pacing yourself. Start at the sample bar — one cookie at a time, you'll uncover your favorite.
With a sample in your mouth and your eyes closed, you could easily convince yourself that you're eating a key lime pie, a slice of chocolate cheesecake, or salted caramel. If you decide on the Georgia peach cookie, you will soon discover it is the next best thing to eating a fresh peach.
Once you've determined your favorite flavor, you can purchase it in a tin, a vacuum-sealed bagged, or a mix-and-match self-serve box. Savannah boasts three Byrd's locations to choose from, so whatever part of town you're in, a mini cookie is standing by to make your acquaintance.
8. Georgia Tasting Room At City Market
The Georgia Tasting Room is a one-stop shop for locally produced wines and craft beers that highlights those made in Savannah. When you see the sign outside advertising the low-cost wine tasting (six tastes for $3) you'll know you've happened upon a gold mine. The Georgia Tasting Room is just one of the many bars and libation stations within City Market — an open-air market featuring eateries and retail stores.
What makes this place worth a stop on the stroll is its wine smoothies. This family-run establishment serves up fun flavors of smoothies with wine blended in. And they're available to go. That's right: You can leave the store with them. Have your choice of a wine smoothie or a moonshine smoothie (if you've never had moonshine, I suggest going for this option).
Another element you'll love is that everybody gets carded. If it's been a while since someone questioned whether you were over 21, the day you stroll into the Georgia Tasting Room will be your lucky day.
There is culinary wonder and adventure in Savannah, Georgia. Seek and you will find. Enjoy!