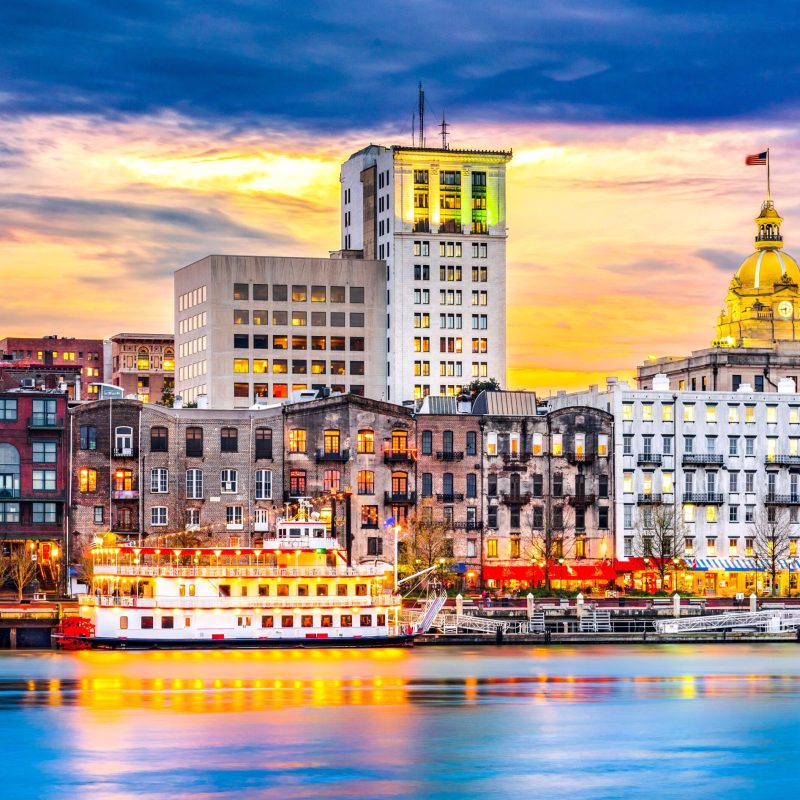 Ranking among the most exciting places in the American South, Savannah is a city teeming with antebellum history, architecture, culture, and even a few otherworldly residents. Be sure to visit some of these fun hidden gems on your next adventure through Georgia!
1. Alex Raskin Antiques
Boldly billing itself as "Savannah's most interesting shop," Alex Raskin Antiques may just live up to the hype. You'll find it nestled in an old 1800s mansion which proudly remains completely unrestored. The walls here are still lined with the original 19th-century hand-painted wallpaper, peeling in a hauntingly beautiful Miss Havisham-esque fashion. The rooms themselves are packed with wall-to-wall antiques, many of which are interesting enough just to come by and take a look at whether you plan on purchasing anything or not.
2. The Pirates' House
Enjoy a bit of history as you dine on classic Southern cuisine inside an old pirate hangout. Established in 1753, The Pirates' House was once a historic inn and rendezvous for both sailors and buccaneers looking for a break from the high seas. Featuring an extensive menu, the restaurant includes a sprawling 15-room setup, each with its own distinct maritime charm.
3. The Paris Market
Established in 2001, The Paris Market is the brainchild of Paula and Taras Danyluk, two travel lovers who set out to emulate some of the world's best markets, such as the Marche aux Puces, Paris. As they reveal on their website, their 5,000 square foot, two-story store is so much more than your traditional shopping destination.
"We are a design concept experience rather than just a store; an impermanent and ever-changing museum installation, that, if you wish, you can then take home," the couple explains. Not only can you shop or admire the wonders you'll find inside the emporium, but you can also stop for a delicious latte or glass of champagne at the adjoining Paris Market Café.
4. Leopold's Ice Cream
Travel blogger and physician Nadeen White of The Sophisticated Life told TravelAwaits Leopold's Ice Cream is a must-try for anyone playing tourist in Savannah. Why? She said the ice cream parlor, founded in 1919, "has a large variety of flavors of award-winning homemade ice cream."
She told us "the shop has a section with tables so you can eat in, but it does get crowded and during the warmer weather there are long lines." Despite the crowds, White said Leopold's is "definitely worth it."
5. Sweets At River Street
Scouting out other sweet treats in Savannah? Shylar Bredewold, owner of Odyssean Travel, road tripped through Savannah last year with his wife on the way from Washington, D.C., to Miami and suggests a stop at Savannah's Candy Kitchen at their River Street location.
He told us he and his wife "enjoyed perusing the sweets and watching the confectioners making fudge and candied apples."
While there are other Savannah Candy Kitchen locations, River Street is the spot where Stan "The Candy Man" Strickland first brought his mother's pralines, nut brittles, and "Divinity Candy" to the masses.
6. The Cathedral Of St. John The Baptist
Whether or not going to church is generally on your vacation to-do list, you'll want to stop by this one. For over 100 years, the historic cathedral with its striking steeples has attracted visitors from around the world to gaze upon its remarkable architecture.
With its gothic pillars, intricate artwork, and shimmering stained glass, the Cathedral looks more like something you'd find in a large European city than nestled among the weeping willows of the deep South. Be sure to check out the cathedral's website for visiting hours or mass schedules.
7. First African Baptist Church
Erin Clarkson, a Savannah-based blogger and author of the Savannah First-Timer's Guide, recommends adding another church to your tour: the First African Baptist Church on Franklin Square.
She told us the tour of the church, which was a stop on the Underground Railroad, is worth adding to your Savannah agenda. The church's pastors, who host the tour, will "point out hidden symbols throughout the church and allow visitors to explore their archives room, which is filled with artifacts dating back hundreds of years."
Clarkson said, "The floors on the lower level of the church, which can easily be accessed by elevator — no stairs necessary, have a pattern punched into the floor that looks decorative, but actually served a purpose; it allowed air to circulate for those hiding below as they awaited nightfall to travel to the next stop on the Underground Railroad."
The tour was awarded a 2017 TripAdvisor Certificate of Excellence and a TripExperts' Expert Choice award.
8. American Prohibition Museum
Take a trip back to the roaring '20s as you discover just how much American culture Prohibition accidentally ushered in! At the American Prohibition museum, you'll see everything from the stills of moonshiners to the Tommy guns of gangsters who made a living off of bootlegged booze during America's "dry era."
Among the flapper exhibits and jazz history, you can even learn to make your own "white lightening." Afterward, you'll get wise with a special password that will grant you access to Congress Up Speak, the museum's authentic 1920s style speakeasy. Once inside, you'll find bartenders who are happy to treat you to upscale prohibition-style cocktails.
9. Oktoberfest on the River
Though you'll have to be in Savannah around the first weekend of October to enjoy Oktoberfest, we were powerless to resist mentioning it for one reason. Among the music, drinks, and festivities, you'll find a priceless event: the annual Wiener Dog race. Wiener dogs. Racing. Enough said.
10. Olde Pink House
If you're looking for a beautiful dining experience, be sure to stop by the Olde Pink House restaurant. Originally built in 1771 for a member of one of Savannah's founding families, the structure is among the city's only remaining 18th-century Gregorian mansions. Featuring elegant colonial architecture, the restaurant is rumored to remain the home of one long-time resident named James Habersham, Jr. Though Mr. Habersham is deceased, having hanged himself in the basement in 1799, a handful of past patrons claim to have had conversations with him.
11. Mansion On Forsyth Park
By now you know mansions play into Savannah's appeal. So why not stay in one? White said the Mansion on Forsyth Park is one of her favorite hotels in the U.S., and that's high praise from someone who's traveled coast to coast and all around the globe. Located across from the park, White told TravelAwaits "The hotel is rumored to be haunted."
Of course that's not the only reason she ranks it so highly. "The rooms are very spacious and well appointed and there is a restaurant on site. But what's unique and charming is that this hotel doubles as an art gallery and it has a art/jewelry shop on site." Even if they're not staying at the hotel, she urges folks to "explore this amazing property."
"There are paintings throughout the main areas and hallways as well as sculptures and minor exhibits. You can visit the shop to purchase jewelry and smaller prints."
12. Henry's Restaurant
After what we hope will be a restful night's sleep in Savannah (even if you're staying in a haunted hotel!), a great breakfast is in order. Bredewold recommends starting your morning at Henry's Restaurant.
"Henry's Restaurant looks pretty much as you'd expect a diner to look," Brendewold told us, "but the breakfast was particularly tasty. We elected to depart from our overnight stop just south of Charlotte and wait for breakfast until we had arrived in Savannah in order to try this place out."
He warned that Henry's has a "somewhat rudimentary website," but emphasizes that the food is great and the staff was very friendly.
13. Forsyth Park
If you find yourself in need of a little relaxation during your trip, be sure to stop by Forsyth Park. Here you can enjoy 30 acres of the beautiful Southern trees and verdant land that Savannah has become known for. Whether you're out for an afternoon of sunbathing, reading, or pure relaxation, there are few places more beautiful than Savannah's little oasis.
14. Hearse Ghost Tour
Due to Savannah's extensive supernatural history, no visit to town is quite complete without a historic Savannah ghost tour. Which one to choose? If you're up for a next-level adventure, check out the Hearse Ghost Tour. A driver will pick you up from your hotel in an actual hearse and take you for a cruise past some of Savannah's most haunted sites. A mix of history, ghoulish tales, and delightfully quirky fun, the hearse tour will teach you the stories of Savannah's most dearly departed residents.
15. Savannah National Wildlife Refuge
Cele Seldon, travel writer and coauthor of 100 Things to Do in Charleston Before You Die, told us she frequents Savannah quite a bit. Her favorite Savannah hidden gem? The Savannah National Wildlife Refuge, which she said "extends from just north of downtown Savannah to the South Carolina state line."
"Just 15 minutes from the historic district lies an outdoors mecca filled with Lowcountry landscapes featuring freshwater marshes, tidal creeks, and rivers, abundant wildlife including thousands of migratory birds, alligators, bobcats, and more, and recreational activities like hiking, biking, birding, photography, hunting, and fishing."
Want to see more historic Savannah spots? Don't miss these seven historic places in the "Hostess City of the South." Hungry for more Savannah eats? We outline the best of Savannah's food scene here.
*Updated May 2019 by Linsey Stevens