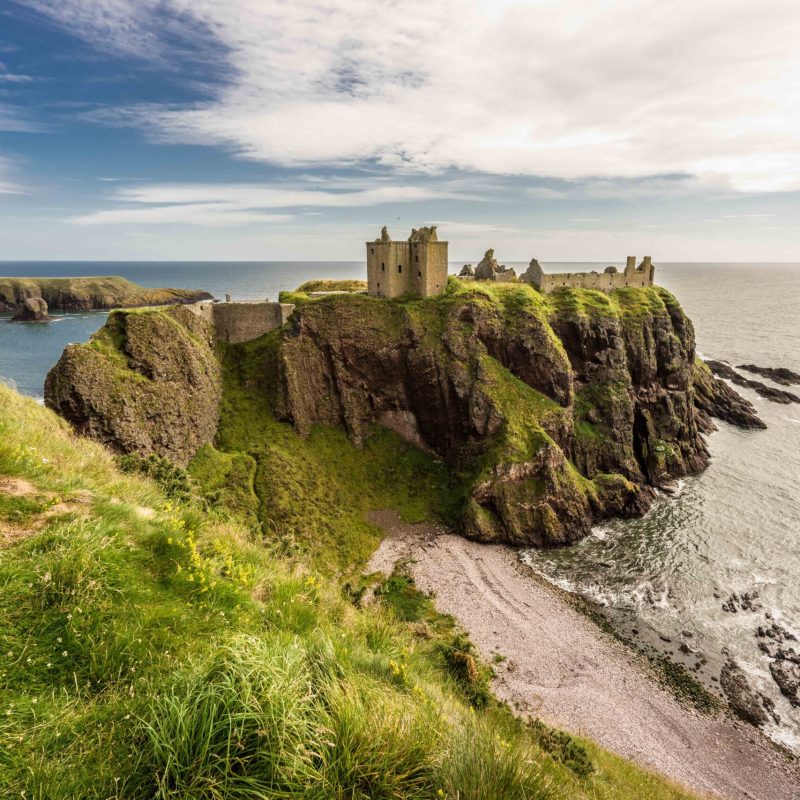 Years ago, before we all just logged on to find out everything we needed to know about new places we were visiting, a trip to the bookshop to buy a new guidebook always came before any trip to any new place. I've always loved the experience of buying a new book full of beautiful photos and packed with information on museums and restaurants and beaches and bars. Yes, it's so much easier now to browse websites and there's so much information available to us, but there's still something so magical about buying and reading a guidebook. But why stop there? When it comes to traveling, there are many different kinds of books to immerse yourself in — letting you live in that land before you get there.
Scotland is a unique country, unlike England, or anywhere else really. To fully get to know the place before you go, there are a few books that get right under the skin of Scotland and show the country as it really is. As well as guidebooks, there are beautifully written and intriguing memoirs, travel essays, cookbooks, and novels. Here's my pick of books you should read before visiting Scotland.
Buy Now
$19.59
Lonely Planet is the most popular guidebook publisher in the world, but its new series of guidebooks, the Experience series, is a little different. Written by local experts, these guides take you through when to visit, what to see, what to eat, what to drink, and how to get from one place to another. Because they are written by local experts, these guides include experiences you might not know about, the kinds of things you won't find online.
I love how this guidebook covers a wide range of experiences and places in Scotland, while getting right to the heart of each one. You can browse by area, or you can bike, hike, take a whisky trail, or a foodie tour on your way around Scotland, and you can do it all by planning the trip yourself through this book. The book includes pull-out maps, bus routes, and in-depth city guides. There's a great guide to the islands of Scotland as well as a page on whisky written by a master distiller.
Buy Now
$18.99
This lyrical travel memoir takes you on a journey with Leonie and her friend, Shuna, as they ride their ponies, Ross and Chief, through the Hebridean landscape. Much more than just a travel book, Marram guides you through the nature of this area and what it really feels like to be in this place, with the added element of traveling this land on horseback.
The book is written in diary form, with each day — from start to finish — giving you a detailed account of their travels, how Leonie felt, what she thought about, what they ate, and everything in between. It's a true travel memoir, as the author tries to come to terms with her difficult relationship with her mother while riding through this wild Scottish land. Beautifully written and poetic, this book not only introduces you to a breathtaking area of Scotland, but also to Scottish people. Simply put, a must-read for anyone visiting the area for the first time, and for anyone who knows the place well, but has never experienced it on horseback!
Buy Now
$15.87
Beyond the Bagpipes is an interesting book, as it's written by an English author who initially didn't know Scotland at all. As she takes you through her first impressions of a surprising country that turned out to be so much more than she'd imagined, we walk with her and it's like we are also discovering the country for the first time.
This is perfect reading for anyone who's never been to Scotland before. It's like Helen is on your journey with you, like she is your own personal travel buddy. It takes me right back to my first experiences of Scotland and how eye-opening it is once you venture out of Edinburgh to discover a vast country of incredible and diverse regions, towns, islands, cities, and villages. The book also touches on why the author took this journey and, in a similar vein to Marram, we learn about Ochyra's relationship with her mother and the grief of losing her. Touching and funny in places, it's a lovely companion to travel with.
Buy Now
$13.12
If you want to get to the heart of who the Scottish people really are, Billy Connolly is a good person to start with. If you don't know who he is, Billy Connolly is Scotland's most famous comedian. From a working class family in Glasgow, Billy has a truthful humor and a thick Glaswegian accent!
This is just one of the reasons why an audiobook version can be a good option — if you're not overly familiar with the way people speak in Glasgow. Not only will this help you to understand the nuts and bolts of what he's saying, it will also introduce you to this unique accent and dialogue. A Glasgow accent can be quite difficult to come to grips with if you're not familiar, and the use of some words might be a little confusing. An audiobook also makes a great traveling companion, especially if you have quite the journey to make. Traveling with this book will bring Scotland to you before you arrive. It is an ode to Billy's homeland, and his love for the place really shines through.
Buy Now
There's perhaps no better way to get to know a country than through its food. At Kinloch Lodge on the Isle of Skye, food is very important. And, celebrating their 50th year in business, Kinloch is releasing a very special celebratory book. The book includes the history of the lodge — delving back long into its past before it was a hotel — the nature and wildlife of the area, and its dramatic landscape. And, sprinkled through this beautiful book of photographs and stories, are simple but sumptuous recipes.
This is a really beautiful book, written with passion for the place. It covers a lot of the island and talks about how the people of Kinloch live their lives, but it's the recipes and stories about the food that really bring it all together. If you follow the gamekeeper, the fisherman, and the forager, you'll see just how the local produce arrives so delicately on the plates at Kinloch. A warning though, this immersive book will definitely make you want to stay at the lodge!
Buy Now
$12.49
Sometimes a novel can bring a place to life better than any guidebook, and Kate Atkinson is a wonderful storyteller who creates a solid sense of place and treats Scotland like it's one of the characters. In this book, we meet Jackson Brodie, a cynical private investigator who follows three unconnected mysteries, only to find connections where they are least expected and nothing is ever as it seems. Jackson is brusque, he rubs people the wrong way, he's a bit of a loner, of course, but he does love his dog.
Set in Edinburgh, Case Histories is the first in a series of novels featuring Jackson Brodie, so if you like the first one, you have a few more to carry on with. But if you're looking for a happy-go-lucky kind of book, Atkinson doesn't really write those. It's gritty, honest, and not always sunny — a bit like Scotland.
These are all great books to read before you set off on your first trip to Scotland, but they are also great books to take with you to read once you arrive. There's something so satisfying about reading a travel memoir or novel in the place it was written in and written about. It grounds you in that place like nothing else can.
To find out more about where to go and what to see in Scotland, check out My 6 Favorite Unique Places To Visit In Scotland. You never know, you might be inspired to write your own travel memoir. It all begins with a trip.
For more on Scotland, check out these articles: