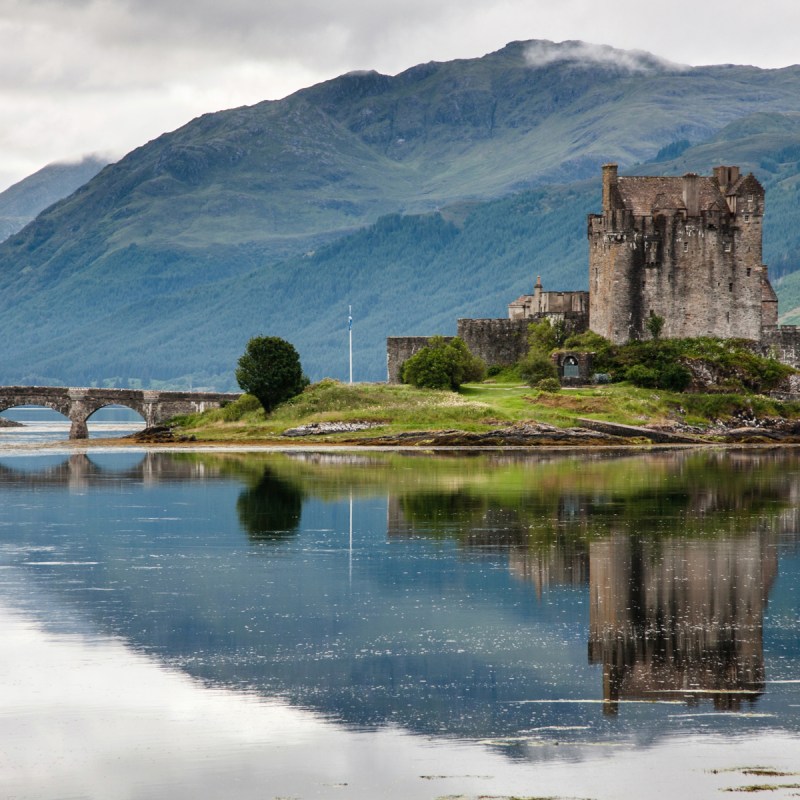 I've lived in the UK all my life, so you might think finding somewhere unique after all these years would be pretty difficult. But the UK has so many quirky and unusual places to visit, I'm constantly discovering more. My grandmother's family was from Scotland, so as soon as I had the opportunity, I started traveling up to explore this other vast country. Uniqueness can come in many different forms and I love that you can turn a corner in Scotland and find something so unexpected it truly amazes. Here are my favorite unique places to visit in Scotland.
1. Haymarket, Edinburgh
Haymarket might not be the first area of the city most people would think of visiting, it's a little way out of the center and away from the main attractions, but it has a certain charm to it that makes it one of my favorite places to be. Haymarket feels like a separate community from the rest of the city. It has a long row of shops, its own train station, restaurants and pubs, and even its own cathedral. You could miss St. Mary's Cathedral if you didn't know it was there. As you walk down the high street of busy shops and cafés, the cathedral rises up behind the roofs, on a side street. It's worth seeking out if only to see the incredible Eduardo Paolozzi stained glass window.
Where To Stay
Dunstane House is an incredible Victorian villa, built in 1851 as a private residence, and now a luxury boutique hotel. This intimate hotel still has the feel of a family home, but has all the luxury of a five-star hotel. The owners also bought Hampton House across the road, only discovering afterward that the former owner of that house was the sister of the Dunstane House's owner. The street feels a million miles away from the city, but it's just around the corner from Haymarket train station.
2. Eilean Shona
The private island that inspired J.M. Barrie's "Neverland," Eilean Shona allows guests to escape to the wilderness while enjoying both cozy croft comfort and a touch of luxury at its nine luxury boutique holiday cottages. Only a short boat ride from the mainland, over the still waters of Loch Moidart, the 3-mile-long island boasts 2,000 acres of pristine moor, hills, and woodland crisscrossed by tempting trails. Here, guests can walk for hours without seeing another soul and instead disconnect from the outside world and turn back the clock to a slower, gentle pace of life. Smartphones, tablets, and TVs are substituted by the stunning natural environment and the former village hall is stocked with ping-pong, board games, and books. If you want something a bit more active, Shona's coastline is ideal for wild swimming, sea kayaking, paddle boarding, and generally messing about on boats. All the properties are within walking distance of Shoe Bay, Eilean Shona's own secluded silver sand beach which is lapped by an aquamarine sea. It was here, during summer holidays taken in the 1920s, that the author and playwright J.M. Barrie took inspiration from the magical surroundings, the enchanted moss-covered woods, wild open hills, and white sand beaches, to create Neverland in Peter Pan.
Pro Tip
Eilean Shona is also a wildlife spotter's dream, and there is typically more animal than human life on the island. It boasts its own "Big Five," with seals, sea eagles, sea otters, red squirrel, and pine martens commonly seen. In the summer, as the island's waters warm up, there's the chance, too, to spot dolphins, minke whales, and even basking sharks. The island was once owned by a seafaring captain who brought back rare trees and plants from his travels and, still today, Eilean Shona boasts one of the most diverse pinetum plantations in Europe.
3. Dornoch
On the drive up to Dornoch, you cross water a fair few times and it's soon clear that water forms a big part of the landscape up here. Dornoch is a town right by the sea, and the beach here is windswept and unspoiled, but what makes this place really unique is the collection of landscapes that are gathered together all in one place. Two steps over the sand dunes from the beach, the golf course rumbles out. You can walk across designated paths, as long as you listen out for the call of "fore," which means a golf ball could be hurtling your way! If you like to play golf, you won't find a more beautiful place for it. A 2-minute walk away is the town, where you can shop for handmade chocolates and whiskey, and see the old castle, which is now a hotel. And then there are the woodland walks that meander around the town and take you back towards the beach.
Where To Stay
Links House at Royal Dornoch has accommodation to suit varying needs, from hotel rooms to a stunning suite with its own balcony. Golfers love it here as it's right next to the golf course, but it's also the perfect place to have a wedding or celebrate a birthday, or for a quiet weekend away for two. The food is amazing — definitely try the taster menu with the wine flight.
4. Brucefield Estate
Brucefield Estate in Forestmill, Clackmannanshire, dates back 700 years to when it was part of the Barony of Schenbothy. The estate was first owned by the Stewarts of Rosyth. Brucefield Estate is now owned by Victoria Bruce-Winkler, a biologist who returned home to manage the Estate in 2012. The family has ancestry dating back to Robert the Bruce. The estate covers 420 hectares of semi-ancient birch, oak, and Scots pine woodland, pasture, and arable farmland, dotted with dry stone dyke walls. The 10-year wildlife plan monitors and manages the diverse habitats on the estate which include a wealth of wildlife including bats, barn and tawny owls, pine martens, red squirrels, rare wildflowers, butterflies, and plant species. The estate is located off the A907, a 40-minute drive from Glasgow and 50 minutes from Edinburgh. The Estate is a 30-minute cycle from Alloa train station along the almost traffic-free Inner Forth Route.
Pro Tip
This incredibly unique estate is something of a work in progress. Future plans include the launch of eco bothies on the estate and workshops for both residents and non-residents such as ancestry, wood turning, garden design, and badger watching.
5. Dundee
The city of Dundee has many attractions and, in some ways, it's an underrated, lesser-visited Scottish city, but there's one thing in particular that makes it unique: I can't think of any other Scottish city with the kind of street art Dundee has. You have to be a certain age to remember the comic characters Desperate Dan and Minnie the Minx, but stroll through the city center of Dundee and you can see them as large as life in their sculptured form. Caught mid-stride through the streets, Desperate Dan and Minnie the Minx play out a section from the comic strip they once inhabited. There's also now a sculpture of a polar bear chasing a man through the street, taken from a real life event that happened in Dundee in 1878, when a polar bear did indeed escape from a traveling show and made his bid for freedom.
6. Argaty Red Kites
Argaty Red Kites is situated on the Argaty Estate, a working farm owned by the Bowser family since 1916. The farm lies on the Braes of Doune in Stirlingshire, an area traditionally known as The Gateway to the Highlands. This is where the civilized Scottish Lowlands end and the wild Highlands begin. This area of Central Scotland is where the RSPB and Scottish Natural Heritage have reintroduced the red kite, and the Argaty estate is home to a large number of these exciting birds and an abundance of rare red squirrels. In partnership with both the RSPB and Scottish Natural Heritage, Argaty Red Kites has provided Central Scotland's only red kite feeding station for the last 20 years, making it totally unique. This allows guests to enjoy these exciting birds and their spectacular flying in comfort but without the risk of disturbing what is still a fragile population.
Pro Tip
The owners Tom and Sarah Bowser have just renovated the new Argaty Cottage to offer guests the chance to stay on the estate, explore further, and enjoy a relaxing break surrounded by stunning scenery. Tom and Sarah are the fifth generation of family members to live on the estate and run the conservation project. The cottage comfortably sleeps six guests, but is cozy enough as a getaway for two. From free Wi-Fi to a log-burning stove and gorgeous garden, Argaty Cottage offers all the amenities needed for a perfect country break. During their stay, guests can enjoy discounted rates for visits to see the kites, red squirrels, and ATV buggy tours of Argaty. In the spring and summer, guests can also enjoy dragonfly walks, pond dipping sessions, and bespoke wildlife tours.
Check out some more of our Scotland coverage: