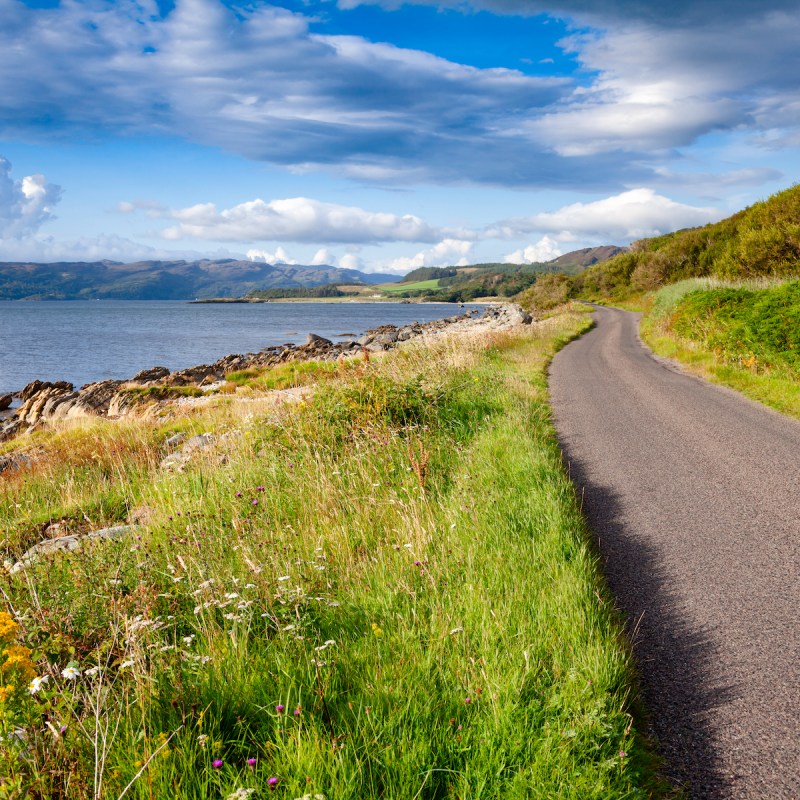 To be fair, there aren't many areas in Scotland where you won't find incredibly scenic drives. The country is just full of them. Even some of the cities are surrounded by dramatic hills and rolling greenery, lochs, and castles. The small towns and villages are picturesque and sleepy and the coastal roads are rugged with soft sand beaches that are virtually empty.
You can drive by ancient forests and fairy tale manor houses and take a car ferry over to the islands for an experience in remoteness where the roads are yours alone. Scotland is one of the most tranquil, beautiful, and relaxing places I've ever driven. To get you started on where to take a leisurely drive, here are 6 gorgeous scenic drives to experience in Scotland.
1. Edinburgh To St Andrews
Fife
Inscribed as a UNESCO World Heritage site in 2015, you can start your drive after the Forth Road Bridge — a pedestrian and public transport-only bridge crossing the Firth of Forth. Then drive up north to East Neuk, which is the coastal area of Fife. Neuk means "nook" or corner, and it's the perfect word to describe this seaside area, with its pretty fishing villages and beautiful coastline.
Stop off in Anstruther for the best fish and chips in this part of Scotland. The road then takes you all the way up to St Andrews, a town famous for golf and the stunning ruins of St Andrews Castle. The beaches in Fife are long and sandy, and in some of the villages, you'll have them all to yourself.
Perfect For Golf Lovers
This drive is ideal for fans of quiet windswept coasts. It's also perfect for golf lovers as you end in one of Scotland's most famous golf towns.
Length Of Drive: The drive will take you 2 hours from start to finish, though you may want to stop off a few times to enjoy the views.
2. North Coast 500
The North Coast And Highlands
If you want a longer drive that covers a wider area and shows you what Scotland really has to offer, the North Coast 500 is an 805-kilometer drive across some of Scotland's most stunning landscapes. It's a round trip, starting and ending in Inverness, that takes in the best of the Highlands. Head towards Skye and drive through the North West Highlands, and all the way to John O'Groats, Scotland's most northerly town.
The drive doesn't include the Isle of Skye, but a detour to the island will certainly be a good addition. From John O'Groats, you'll drive back down to Inverness. The route is well signposted, but be aware that in places the roads do get narrow, so care needs to be taken for oncoming traffic.
Perfect For Adventurers
This drive is ideal for anyone with a real sense of adventure and discovery and anyone who loves a good long road trip. This is a week-long trip, so you've got to love driving too!
Length Of Drive: It's a long way, and this drive can usually be done in 4 to 5 days. If you want to stop off at Skye, or anywhere else on route, give yourself 7 days and you can enjoy a leisurely drive with plenty of stop-offs and overnight stays.
3. Argyll Coastal Route
Lower Western Scotland
Your drive for this route starts at Loch Lomond, just north of Glasgow, which takes in the Trossachs National Park. This is a beautiful place to spend some time before you set off. From there you'll travel up the west coast, where it's possible to take a little detour over to the islands of Iona and Staffa.
The drive then takes you through Inverary, where there's a historic castle and Inverary Jail, which is now open to guided tours. You'll then travel all the way up to Fort William, where the rugged mountain range begins, including Ben Nevis, the highest mountain in Scotland. If you fancy a walk amongst the mountains, or you're an experienced climber, this is the ideal place to end the trip.
Perfect For Hikers
The west of Scotland is very different from the east; it's more rugged and wilder, so this drive is perfect for anyone who likes craggy landscapes, climbing, and exploring small islands.
Length Of Drive: The route takes 4 and a half hours to drive, but longer if you stop off a few times, and much longer if you take a trip over to the islands.
4. Borders Historic Route
Southern Scotland
This scenic drive takes you from the Scottish border with England right up to the city of Edinburgh. Start in Carlisle and drive up the road to Gretna Green. Gretna Green is famous for being the place elopers and those wishing to marry in secret would go. You can still get married there, or you can take a look around the museum.
As you skirt the Northumberland National Park, you'll stick to the Scottish side of the border and head up to Scott's View. This is where Sir Walter Scott loved to sit and write, due to the incredible views over the land. Before you reach Edinburgh you'll come across the Dalkeith Country Park, where you can stop for a walk around. There are 100 acres to roam around, so put aside some time. You'll finish the trip in Edinburgh, where there's enough to keep you busy for days.
Perfect For Culture Lovers
Fans of culture and history will love this drive, as it takes you to some interesting and culturally significant spots and ends in the historic city of Edinburgh.
Length Of Drive: This drive takes just over 3 hours to complete, and a little longer if you make stops along the way.
5. Stornoway To Seilebost
Outer Hebrides
If you want to explore a little further than mainland Scotland, take the car ferry over to Stornoway, the capital of the Isle of Lewis and the Isle of Harris, for the start of a very special scenic drive. The Outer Hebrides feel like a different world, far away from the busy cities and lively towns and villages of the mainland. These are small and remote islands with few people and a quiet and slow pace of life.
As you drive out of Stornoway, you can take the A859 and drive down through Lewis and then onto Harris. You'll take in the most beautiful landscape of unspoiled beauty as you explore these islands. Stop off at the Isle of Harris Distillery where you can learn how they make their whisky. The drive ends in Seilebost, where the coastline opens up to the sea and the soft sands of Luskentyre will make you never want to leave.
Perfect For Solitude
This drive is ideal for anyone who wants to truly get away from it all. These islands make you feel like you've really jumped ship to another place; it's so quietly beautiful.
Length Of Drive: The drive will take around 1 hour and 10 minutes, not including your ferry ride over to Stornoway.
6. Highlands Tourist Route
Northeast Scotland
Starting in the coastal city of Aberdeen, this highland route takes you west to Pitfichie Forest where you can see Craigievar Castle, a fairy tale pink castle that is said to have inspired Walt Disney to create his Cinderella castle. The castle opens to visitors from January till September. From here you'll drive through the Cairngorms, a stunning area of national parkland. Climbers love it here, so if you feel like a climb or even just a good hike, this is a great place to make a stop.
Cawdor Castle awaits you next, also with a famous connection, but this time for being in Shakespeare's Macbeth. The last stop before you reach the end of the route in Inverness is Culloden Battlefield. This was the site of the 1746 battle between the Scottish and the English. This is much more than just a field and includes a museum, café, and shop.
Perfect For Historic Finds
This is definitely a drive for history fans. With castles with historical connections and a historic battlefield en route, anyone with a passing interest in the past will love this one.
Length Of Drive: The drive takes 4 hours and 15 minutes total driving time, but with so many interesting stops along the way, it's bound to take longer.