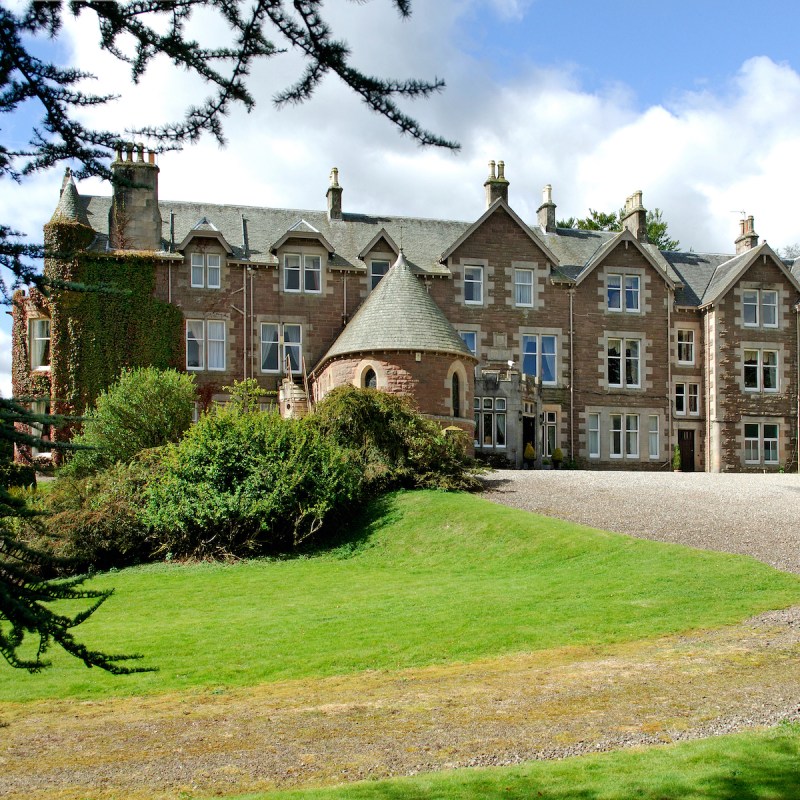 You don't have to be a tennis fan to know who Andy Murray is. He's famous for his "no emotion" style of giving interviews, his determination to win, and for his 2013 and 2016 Wimbledon Championships, of course. But what you might not know about this tennis legend is he also owns a hotel close to his hometown in Scotland.
A short drive from the town of Dunblane, where Murray grew up, is the Cromlix Hotel. Just past the village of Kinbuck, in a picturesque countryside, the hotel is a tucked-away gem with everything you need for a quiet retreat or to indulge in some outdoor activities. The hotel is even more special because it was almost lost to us forever when it fell into disrepair and the business went into administration. Murray simply couldn't let this stunning old former manor house crumble. So, in 2013, he bought it, saved it from ruin, and restored it to a glory the place had never seen before.
History Of The Cromlix Hotel
The very grand Cromlix Hotel was once a private residence. The estate has been owned by the same family since the 15th century and they do still own some of the estate, but the house wasn't built until 1874.
It was originally named "Cromlix Cottage," though it certainly isn't a mere cottage. This is a large and beautiful manor house, complete with its own little chapel. But to be fair to Captain Arthur Drummond, who had Cromlix Cottage built as his own private house, it was originally smaller than the house we see today. So, it may well have seemed like a cottage to Arthur at the time. It was extended by the captain's nephew in 1903 and he also employed 12 gardeners to landscape the grounds. It was converted into a luxury country house hotel in 1981.
If you're considering a Scottish wedding, this is a perfect venue for getting married. The on-site chapel and the home-away-from-home feel of the hotel makes it an ideal location for a wedding. The Murray family has made good use of it in this way already.
Andy's brother Jamie was married here in 2010. It's not known if this had a hand in inspiring Andy to buy the hotel when it closed down, following financial problems a couple of years later, but he certainly knew the hotel well by this point. In 2015, Andy Murray held his own wedding reception at Cromlix after a wedding ceremony at Dunblane Cathedral. A year later, his father married here too. The perfectly landscaped lawns and patio seating area make this ideal for a country estate wedding, and the photo opportunities are endless.
Things To See And Do At The Cromlix Hotel
Outdoor Activities
If you are a tennis fan, there won't be anything much more thrilling than playing a game or two on the small court at Andy Murray's hotel. If you're just practicing your beginner game, there is also a practice wall. Or, if you prefer, you can play croquet on the lawn or why not try a giant game of chess?
At first glance you might think this hotel is a bit in the middle of nowhere, which it is, but there's so much going on here, you don't really need to go much further. The hotel organizes various activities, including archery, fishing on the loch, and falconry displays. These activities do need to be booked in advance as the hotel works with external partners to arrange them, and they do come at an additional cost to your stay. There's also a full-sized snooker table at the hotel and lots of board games.
The Cromlix Hotel Roosters
Next to the tennis court is the chicken coup where the hens lay the eggs that'll be served at breakfast. These fowls are such characters at the hotel. Colin the rooster even has his own Instagram page @colintherooster.
Amenities
If you're just looking to relax, you can book an in-room spa treatment and order a champagne bucket to be delivered to your door. The restaurant, Chez Roux, was originally run by iconic French chef Albert Roux, and is now overseen by his son, Michel Roux Jr. As you might expect, this guarantees an incredible dining experience (included at breakfast). The bar area is cozy and it's a lovely spot for a pre-dinner cocktail or a post-dinner dram of whisky. The chapel is open to the public and it's just through a small chapel door off the sitting room, which is a cozy place to enjoy a drink or afternoon tea by a roaring fire.
Tips For Visiting The Cromlix Hotel
Suite Options
This is a beautiful luxury hotel no matter which room you stay in, but I can recommend The Hoy Spa Suite. Each hotel room is named after a famous Scot, like Robert the Bruce, Robbie Burns, William Wallace, Sir Alex Fergusen, and Olympic cyclist Sir Chris Hoy. Some have a separate sitting room, some have luxury bathrooms with free standing baths, and some have all of the above. The Hoy Suite has an incredible bathroom, with a walk-in shower room that doubles as a steam room.
Menu Options
If you're wondering where the tea and coffee facilities are when you get to your room, all you have to do is pick up the phone and ask for them. You won't find them already in your room, but when they arrive, you'll receive a delectable luxury tray of tea, coffee, and biscuits. The menus in the restaurant are seasonal and they alter depending on the ingredients that can be sourced locally at the time. There is a lounge menu, which is a lunch menu with some light snacks, and two main menus: menu one and menu two. These two main menus are alternated day by day so that guests who stay for more than one night will have more of a choice and will get to see a different menu on their second night. I don't think I've ever stayed anywhere else that does this. It's a really interesting idea that gives guests the feeling of dining differently on subsequent evenings. If it's on the menu when you stay, I recommend the venison. It's locally-sourced in Perthshire and is served with a peanut crumble.
Transportation
Cromlix will arrange a rental vehicle for you if you want to explore the area and don't have your own car with you. They work with 4×4 Hire, who have a great range in Land Rovers and other off-road vehicles, ideal for driving around the Perthshire countryside. If you really want to push the luxury, Cromlix can also arrange a helicopter transfer for you with Heli Air. They also run bespoke chartered tours of the area by air — a unique way to view the landscape.
Edinburgh is only 1 hour and 15 minutes away, so it's an easy day trip to make while staying at Cromlix. For more on things to do in Edinburgh, take a look at The Best Things To Experience In Edinburgh After Seeing The Castle. Even better still, Glasgow is just 45 minutes away, so you can stay in the beautiful rolling scenery at Cromlix and make a day trip to the big busy city.
Read up on all of our tips for the perfect Scotland getaway: