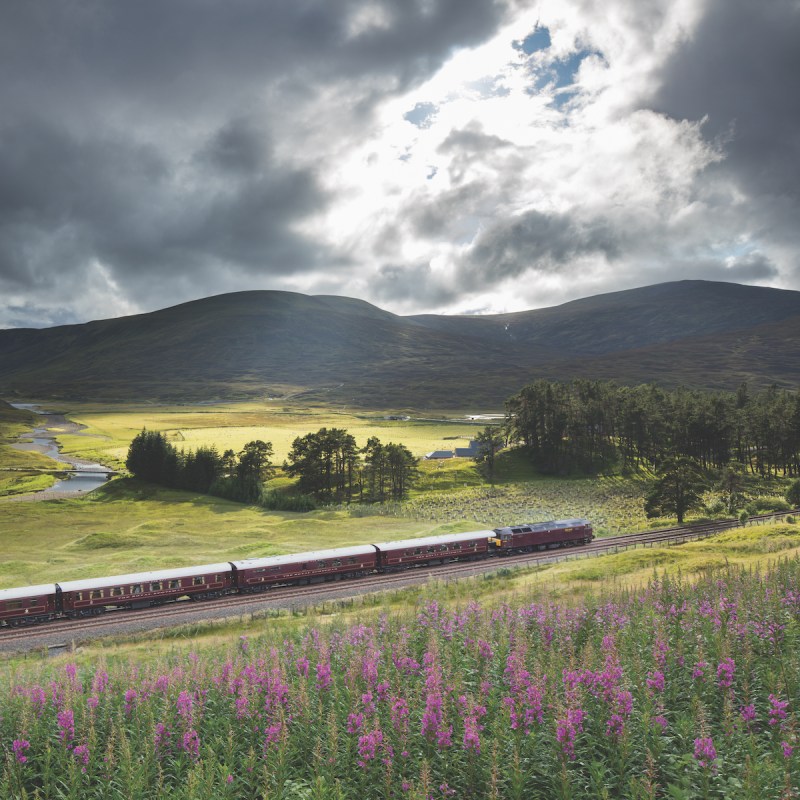 I spend a lot of time traveling around Scotland and I never tire of the incredible views, but sometimes it's how you travel that's important. For many reasons, train travel is a great way to travel around this rugged and beautiful country. Apart from the environmental benefits of train travel versus other modes of travel like cars and air travel, traveling by train creates a more relaxing journey and a brilliant way to see some of the scenery as you make your way from A to B.
Quiet coastlines, dramatic mountains and castles, and still and calm lochs all glide past your window as you sit back and breathe in these stunning landscapes. I've taken most of these train rides myself, though The Royal Scotsman is still on my must-do list! Here are eight scenic train rides with the most stunning views in Scotland.
1. Royal Scotsman
Various Routes Across Scotland
Between 2 And 7 Days
I'm starting with a train journey that's as much about the train itself as it is about the scenery and the journey. Royal Scotsman train tours are operated by Belmond, who operate luxury train vacations around the world. This is much more than just a train ride — it's a luxury hotel on rails. If you want to get a taste of traditional Scotland while riding through some breathtaking Scottish scenery, this is a great way to do it.
The Royal Scotsman's 10 carriages feature double en-suite rooms, a regal-looking dining car, an observation car, and two spa rooms. All train tours on The Royal Scotsman depart from Edinburgh Waverley station and travel to various locations including Ben Nevis, Loch Lomond, and The Isle of Bute. Enjoy Scottish cuisine and taste a few whiskies while the countryside rolls by. You can choose from two all the way up to seven-day train journeys on this incredible luxury train.
2. The West Highland Line
Glasgow To Mallaig
5.5 Hours
I'm a lot more familiar with the east side of Scotland than I am with the west, but this train journey through the West Highlands shows that this side of the country has some truly stunning scenery and though very different to the east side, is equally beautiful. Often said to be one of the most visually incredible train journeys in the world, The West Highland Line begins at Glasgow and travels through Loch Lomond and The Trossachs National Park and on to Fort William.
It's a beautiful ride, showing you parts of the landscape you can't see in any other way. This unique perspective on the land and its features, like castles and coastlines, makes this a must for train lovers and anyone who loves a great view.
3. The Far North Line
Inverness To Dunrobin Castle
4 Hours
The Far North Line is Britain's most rural railway, which won't surprise anyone who knows the north of Scotland even a little. If you like your landscapes rugged, wild, and remote, this is the train ride for you. Beginning at Inverness, the journey takes you through peatland and Flow Country, which is a wetland blanket bog and an important environmental area. It's incredible to see, but it's not somewhere you'd go walking, so seeing it from the train is a real privilege. You can spot castles along the way and stop off for some whisky tasting at one of the distilleries in this area.
4. The Kyle Line
Inverness To Kyle Of Lochalsh
2.5 Hours
If you like views of rugged and majestic mountains, this train ride is perfect. The Kyle Line offers views of The Torridon Peaks and other imposing mountains that create a backdrop to the quiet lochs and the sleepy villages that dot the landscape. It's a largely untouched area, and though you'll pass beautiful sandy beaches on this coastline, you won't see many people out on them.
It often feels like you've entered another world, and if you opt to take one of the steam trains that use this line, organized by one of the heritage train companies, you'll really feel like you've stepped back in time. At the end of the line you reach the village of Kyle of Lochalsh, the gateway to The Isle of Skye, which you can travel onto from here.
5. Strathspey Steam Railway
Aviemore To Broomhill
1.5 Hours
The Strathspey Steam Railway is a short train ride, but it's more of an event in itself than simply a train journey. For a start, you have the steam element. Traveling on a steam train has a certain kind of nostalgia about it and it's a special way to enjoy the views in this part of the country. Sometimes you're allowed up to the footplate at stops, which the train makes so travelers can enjoy the views and take photos.
Many people hop off at stops to explore a little, but it's so nice on the train many opt to view from the viewing areas and windows. You'll pass by the Cairngorm Mountains and the River Spey, and "Osprey Village," an RSPB nature reserve where you can do a little bird spotting. Depending on when you travel, Sunday lunch and afternoon tea are served onboard the train.
6. ScotRail Commuter Line
Edinburgh To Inverness
4 Hours
Unlike the other train journeys on this list, this one is a commuter line, a train ride taken by ordinary people going about their daily lives rather than a train ride for leisure, but it's still a strikingly beautiful journey. Beginning in Edinburgh, the line hugs the east coast, where you can sit back and enjoy the views of the sea and the small untouched beaches.
But before that, on leaving Edinburgh, passengers get to marvel at the beauty and the engineering of the red Forth Bridge, built in 1889. If you like bridges, this is a treat. From the pretty east coast stretch of the line, the train takes you through Perthshire and The Cairngorms National Park, with views of the parkland you can't gain any other way. The line ends in Inverness, near Loch Ness, where you can explore the historic city and the loch.
7. The Borders Line
Edinburgh To Tweedbank
1 Hour
The highlands of Scotland are very impressive, there's no doubt, but the borderlands also have their charms and don't get as much love as they perhaps should. This train ride is a great way to explore this area of Scotland and a great introduction to the borderlands.
It's a short train ride, but even before you've left Edinburgh you'll get to view attractions like Arthur's Seat, a grassy hill loved by hikers that covers an extinct volcano. From here you'll travel through Midlothian and then the small villages, farmlands, lochs, and hills of the Borders. The line ends at Tweedbank. There's a lot to explore in the village of Tweedbank, including Abbotsford House, the former home of Sir Walter Scott.
8. The Bo'ness And Kinneil Railway
Bo'ness Return Journey
1 Hour
This one is for railway lovers and is perfect for taking the grandkids to, but it's equally fascinating for anyone with just a passing interest in the railways. The Bo'ness and Kinneil Railway journey is best taken as part of a wider railway-themed day out. The Museum of Scottish Railways is located at the beginning of this ride, and as you might expect for a rail enthusiasts attraction, you can take this journey by steam train.
The railway line goes through some beautiful scenery, but most people take this journey for the experience of the steam train. There are added attractions like a day with Thomas the Tank Engine for children, afternoon tea onboard, or a murder mystery train ride for adults.
Pro Tip
Always book your tickets in advance. Train journeys in the UK are fun, but can be expensive if you buy your tickets on the day of travel. Always check your train is running and on time before you travel. If a train is canceled or late you can waste time waiting at the station.
Related Reading: